See how my living room overhaul took shape and get all the details on the sources!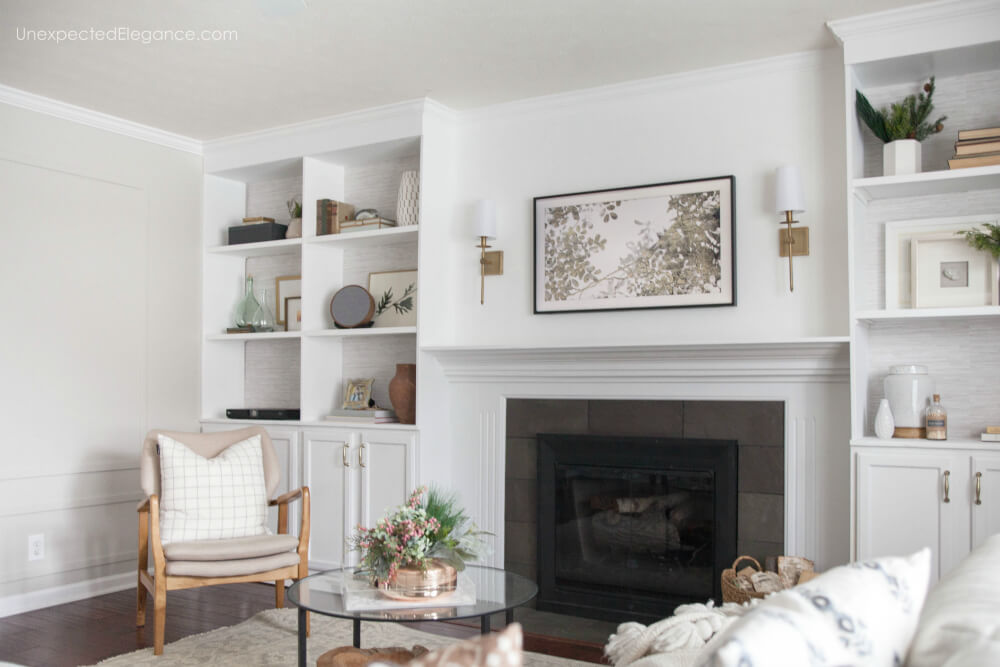 It's been a long time coming, but I think my living room is finally done…at least for a couple of years (fingers crossed!). I made some changed to my fireplace surround and moved the TV above the mantel, which really opened up the room.
Living Room OVERHAUL…
Check below each section for where to find decor sources.
Fireplace Surround
Moving the TV from the corner of the living to the center, opened up that area of the room.  You can see how it looked before, HERE.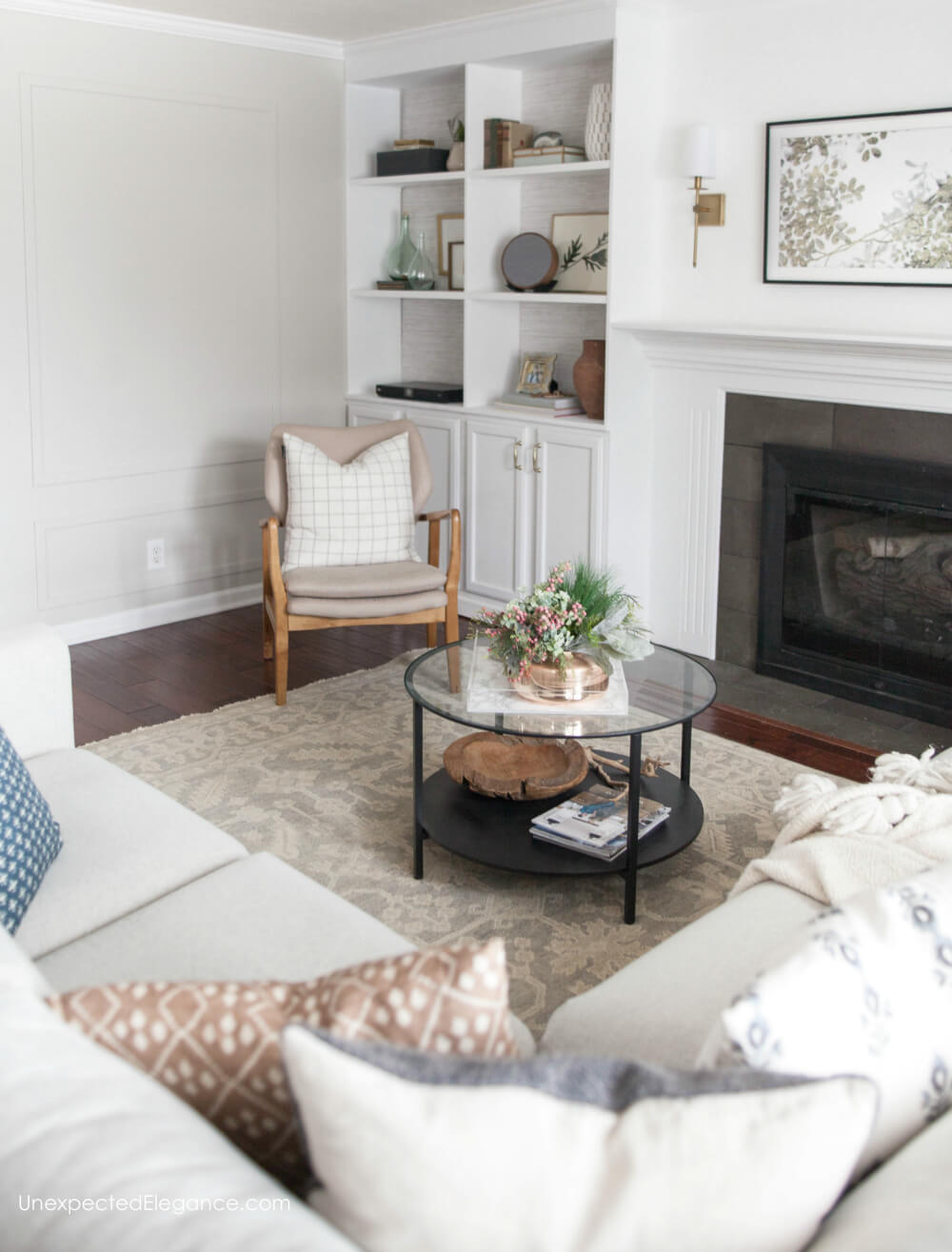 This change also gave me more shelving and a better display area.  To give the shelves a little more interest, I added a simple peel-and-stick wallpaper.  It looks like a grasscloth but it easy to put up and remove…when I want to change it!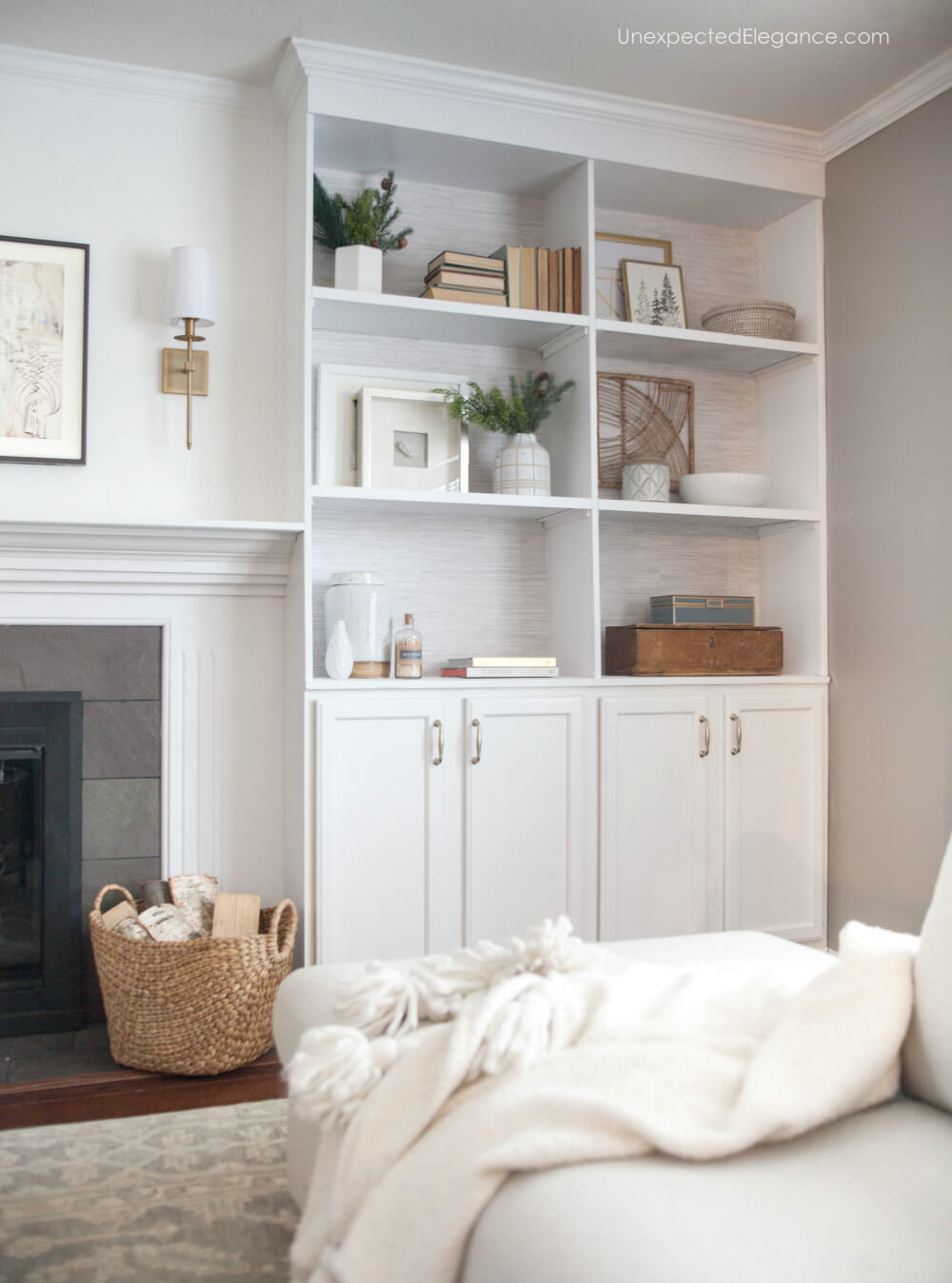 SHOP ↓
TV Above the Mantel
The television above the mantel has been a game changer!  It is not only in a better location for viewing, but the features are amazing.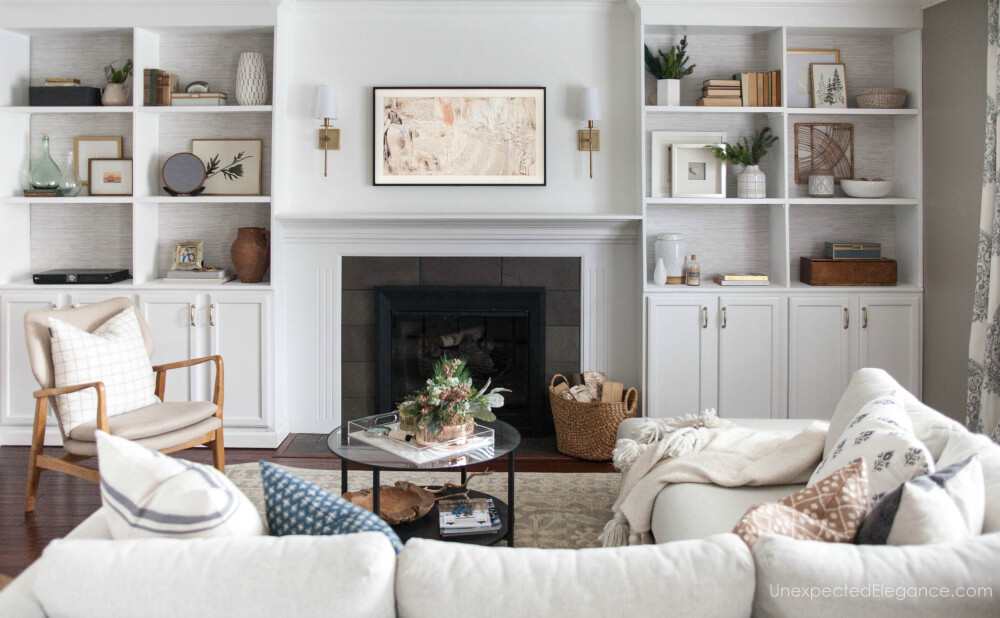 Yes, that "artwork" is a smart TV.  I get to have something pretty over the mantel and my husband gets his TV.  WIN-WIN!
You can read about this Samsung Frame TV in this post.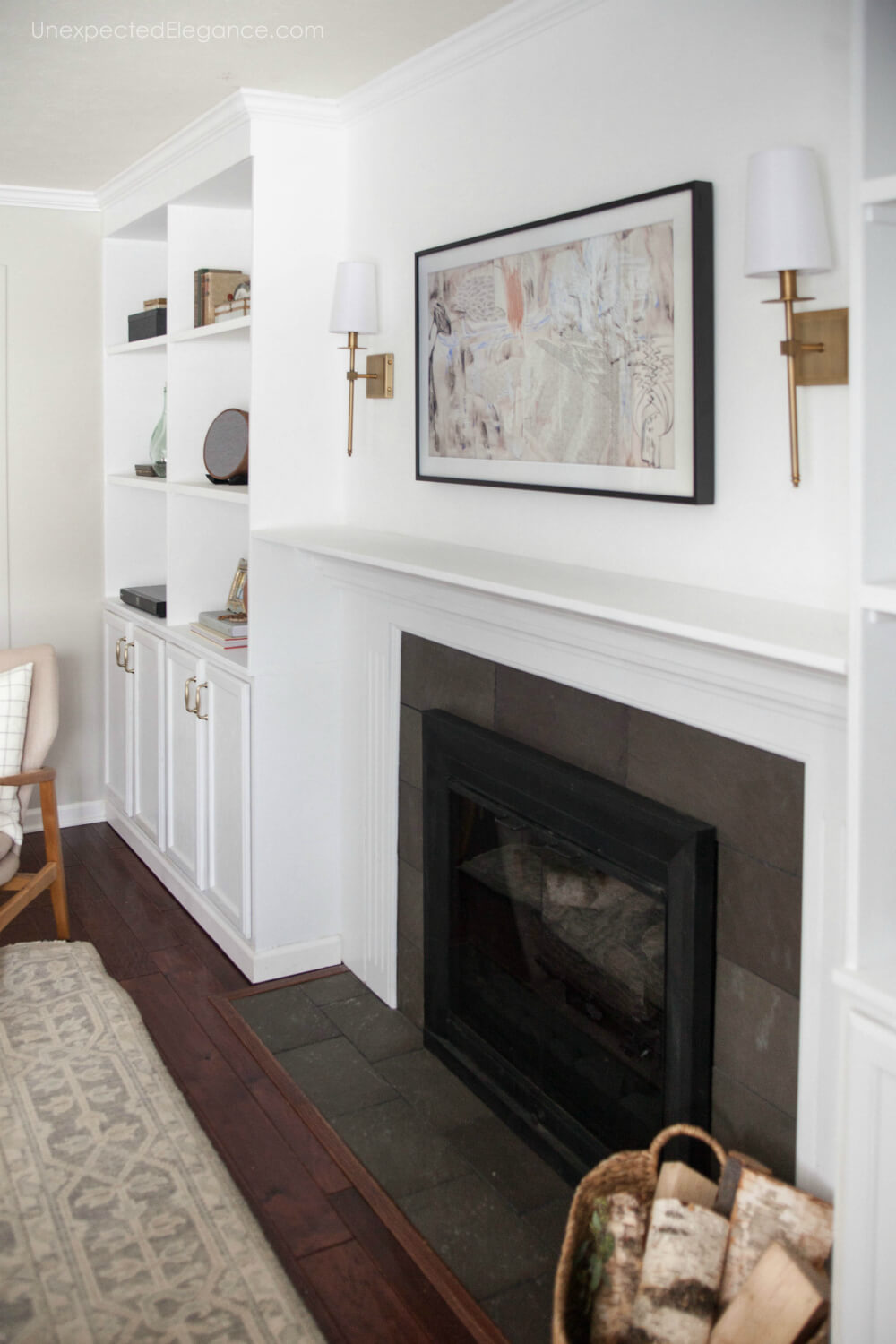 The sconces add some interested and to make this area feel more finished.  I don't feel like I need any other decor…it's simple and clean!
The absolute best part…I can change up the artwork with the press of a button. 😍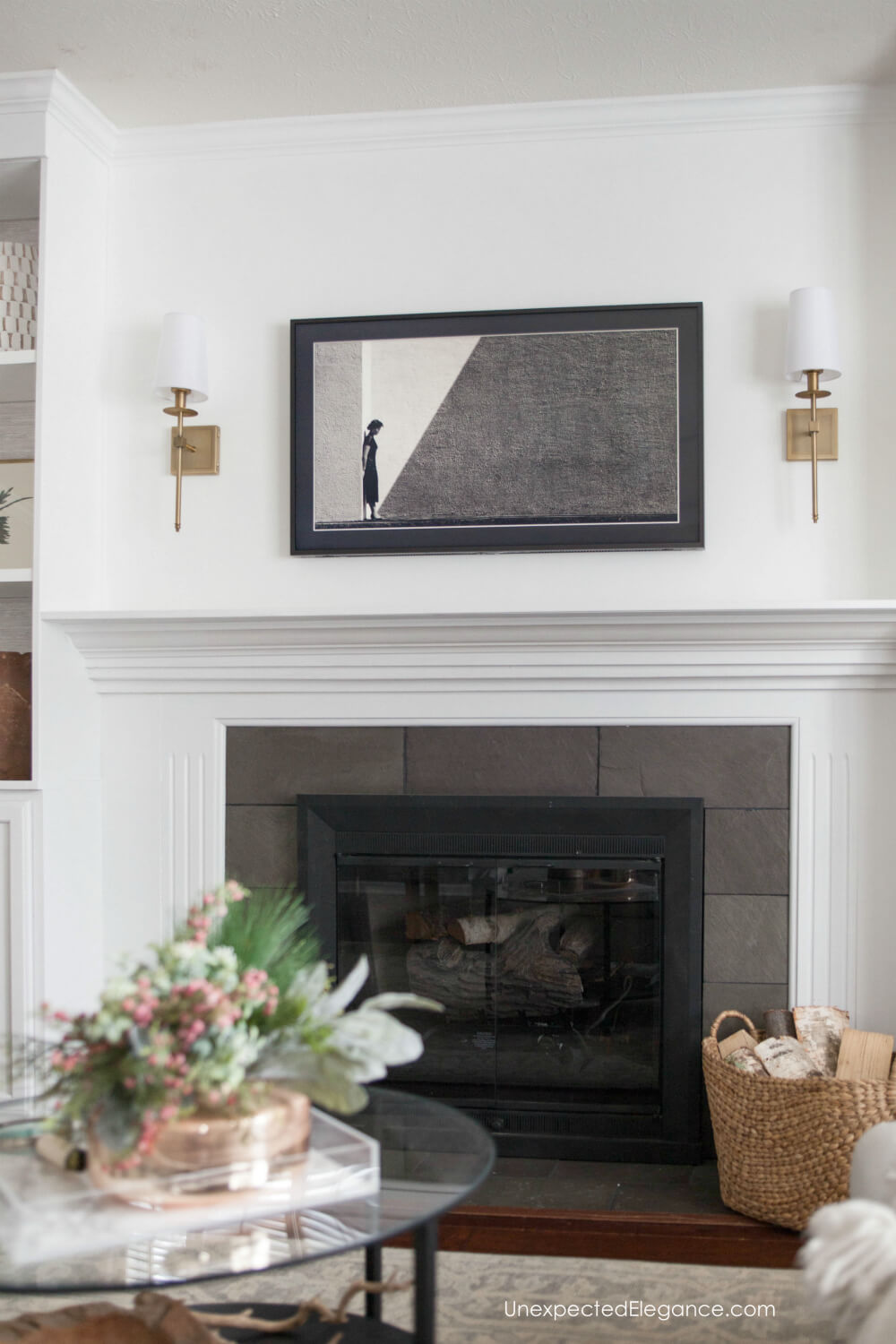 SHOP ↓
The RUG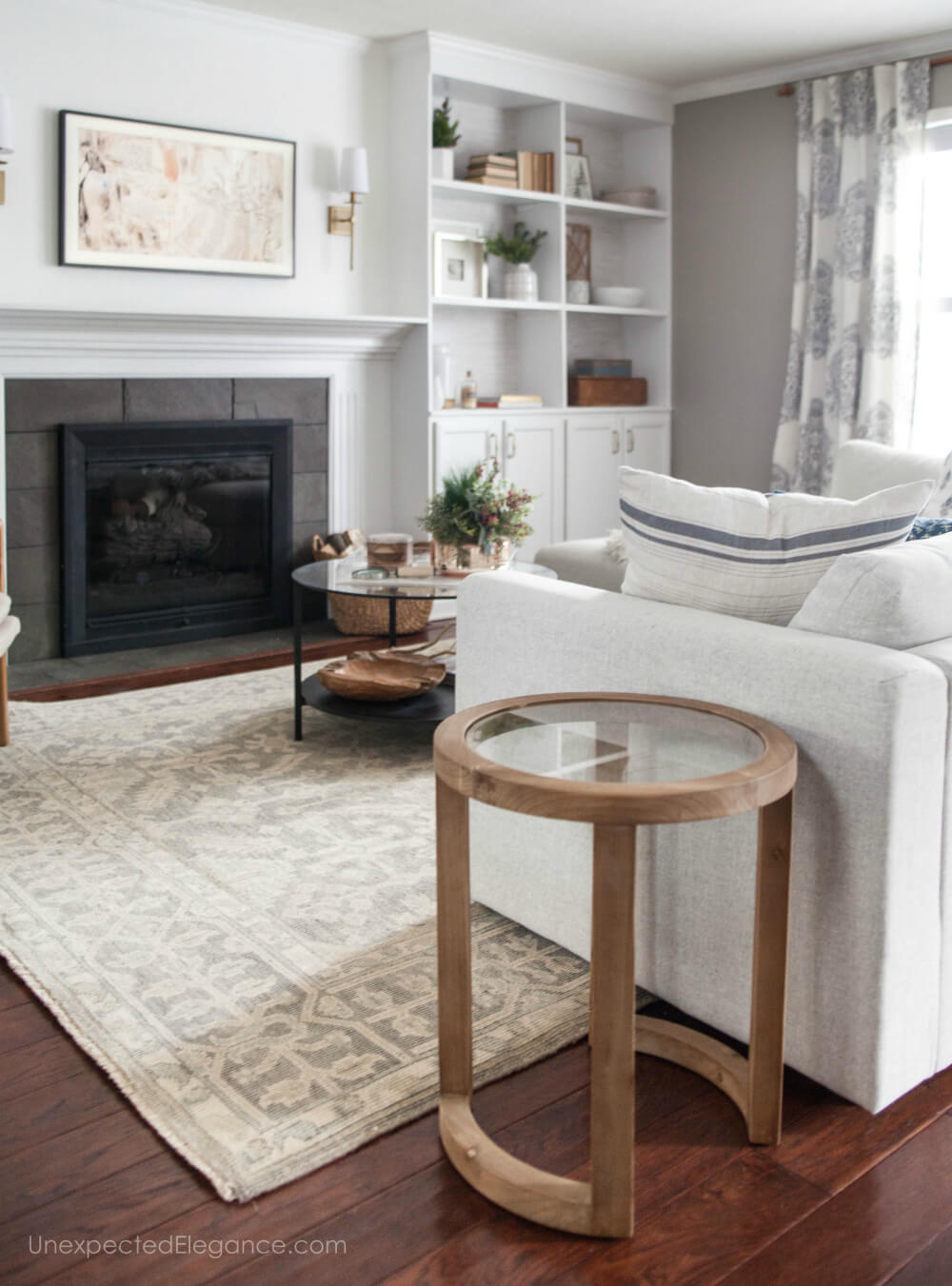 You might recognize the rug?  I looked for the perfect one for this room and found it in my dining room!  I love the colors and the size is great.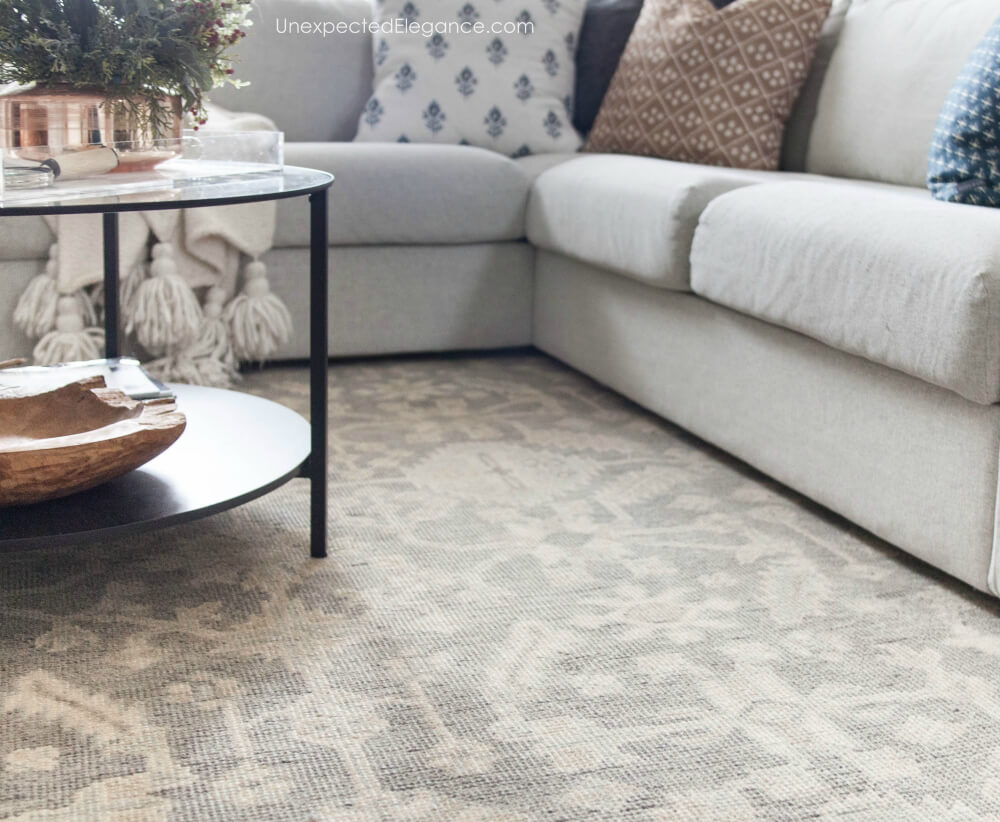 It brings the entire room together. It's from Ecarpetgallery.com and is hand-knotted, wool.
Unfortunately, it's one of a kind but this is a similar one.  (Keyword search for Beaumont on the Ecarpet Gallery site.)
Ecarpet Gallery is my favorite rug resource and I have bought quite a few from their site over the years.  I LOVE their options and quality.  Here are a few of their rugs in my home:  Hall, Office, Master Bedroom
They are offering my readers a 20% discount if you use this link or coupon code:  ECGANGELBLOG.  Seriously, their prices can not beat for their hand-knotted, one of kind, rugs!!
Taking the rug from the dining room, meant that I needed to replace it…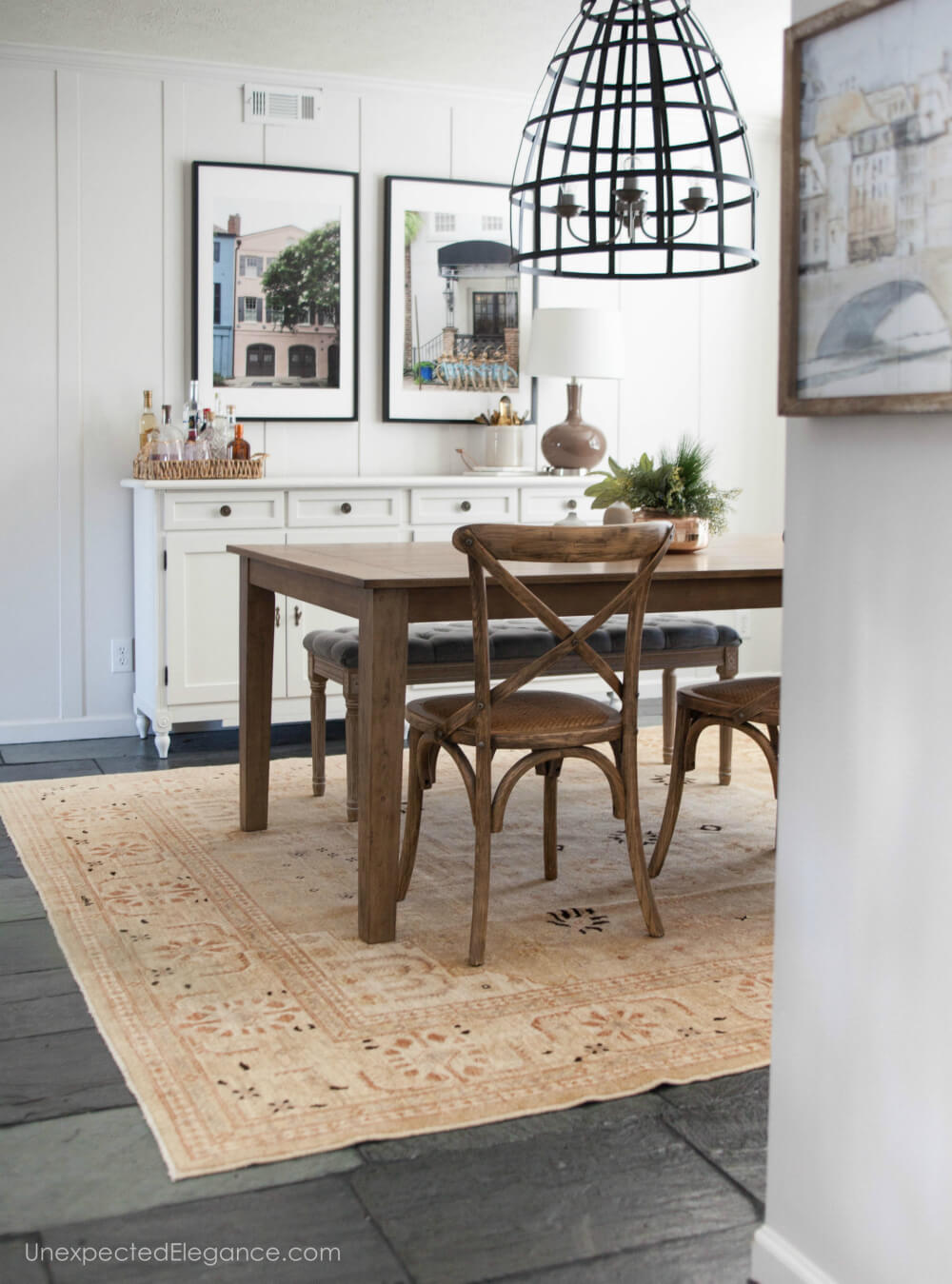 So, of course, I got another rug from Ecarpet Gallery.  (Here is a similar rug or you can search for Chobi Finest.)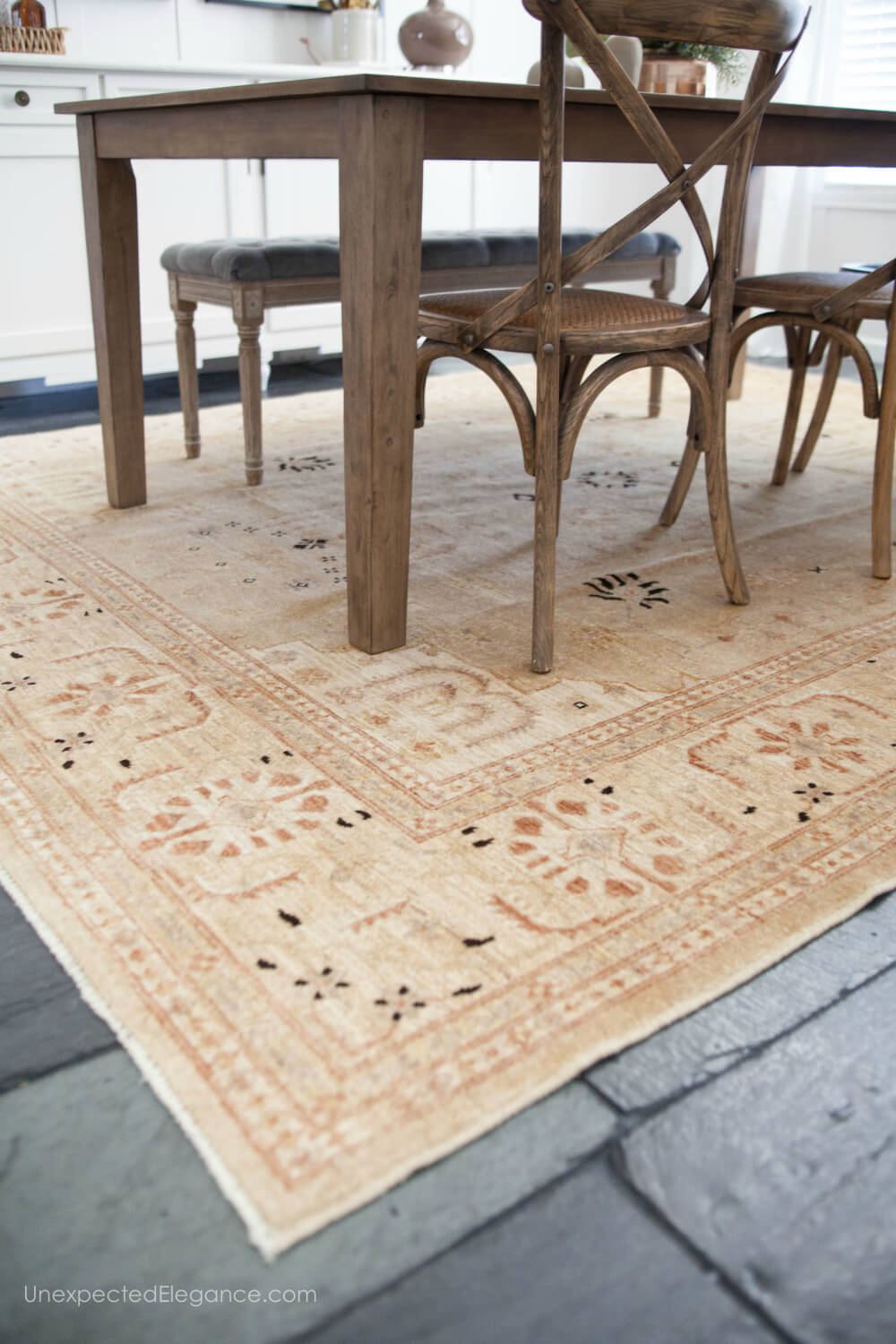 SHOP ↓
The Sofa | Living Room Seating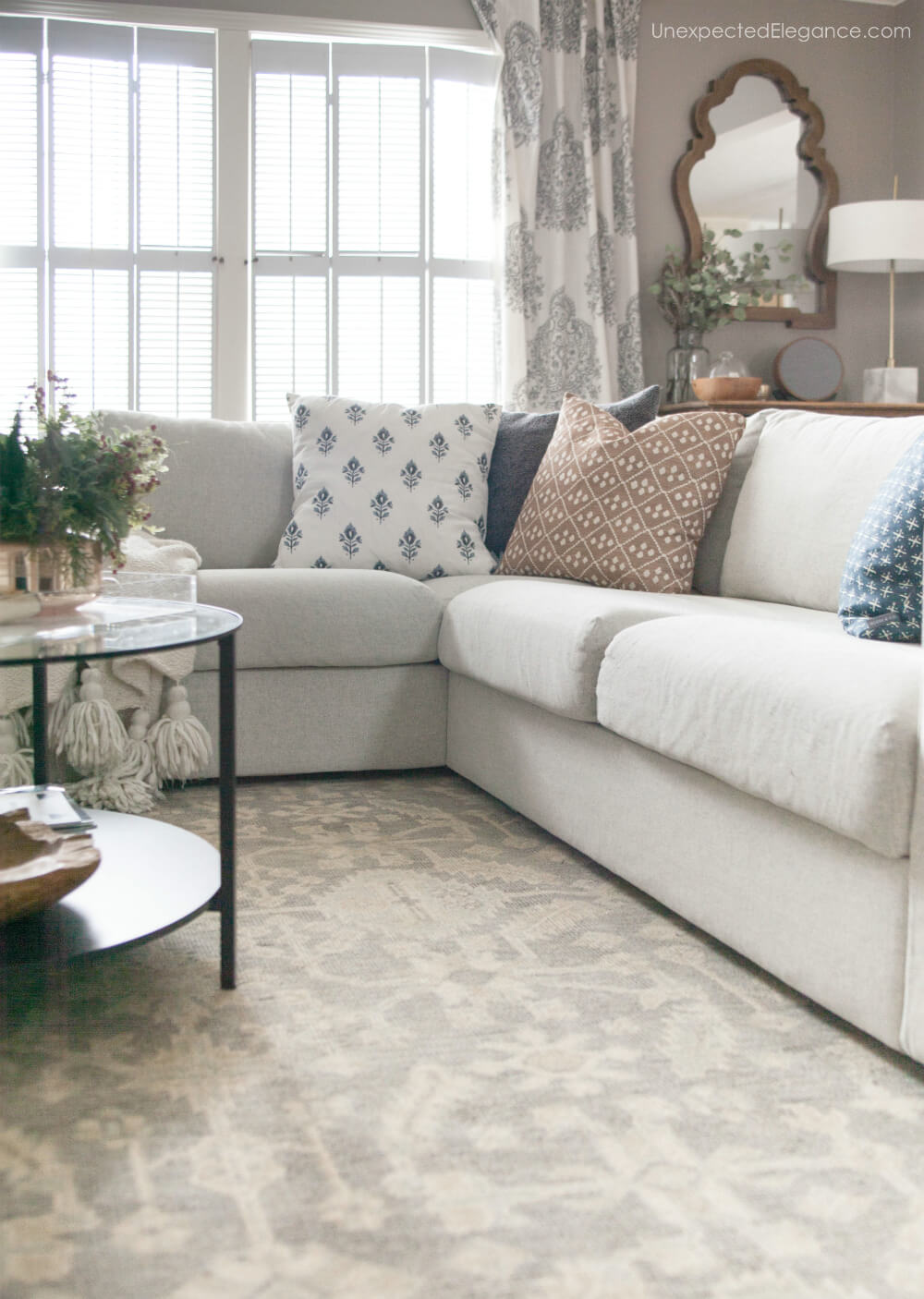 For years after we moved into our home, I struggled with the seating arrangement.  The dilemma was partly due to where the television was positioned in the room, but also that our furniture didn't really work.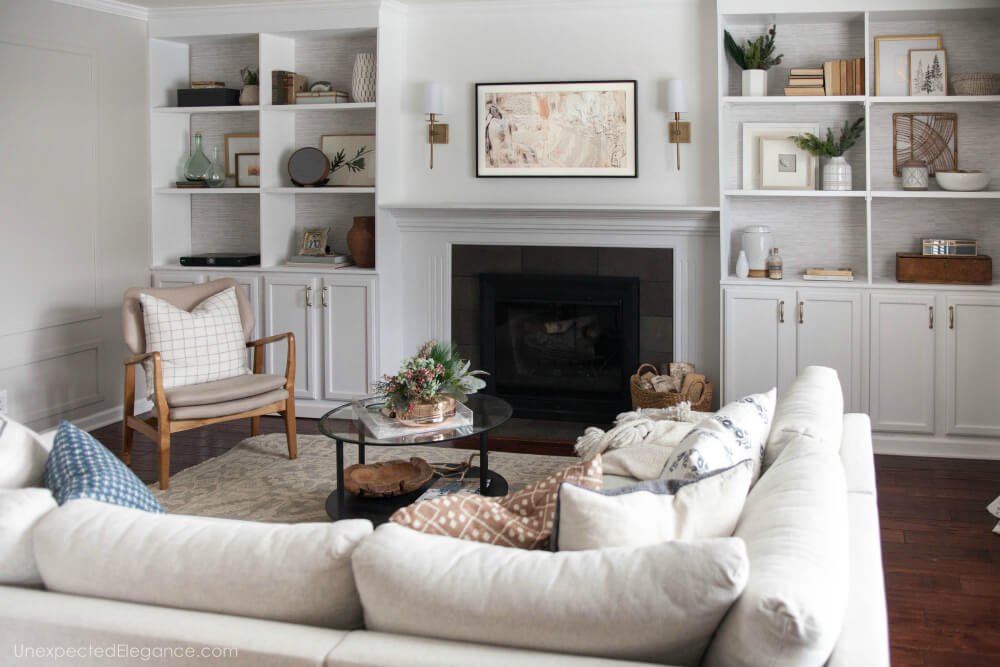 We finally decided on this sectional sofa from Ikea and works perfectly! (You can read about why we chose this specific sofa, HERE.)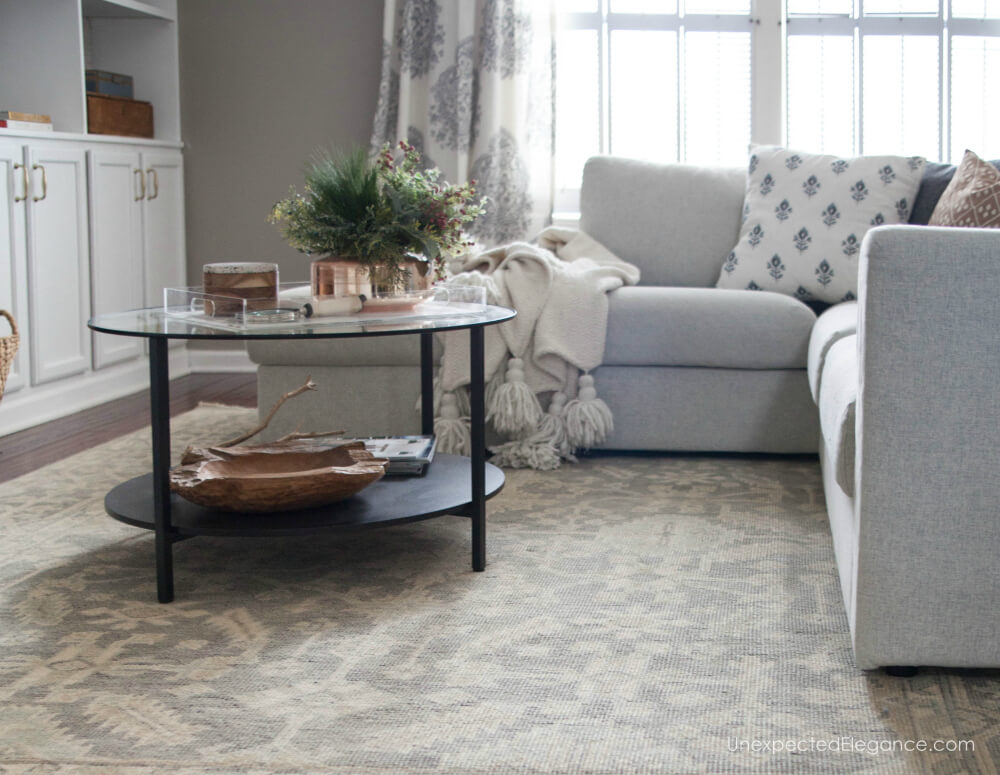 The color is a very pale gray and it's a great neutral backdrop for any color scheme.
For a little extra seating, I kept just one chair in the corner.  The room feels cozy but not too crowded.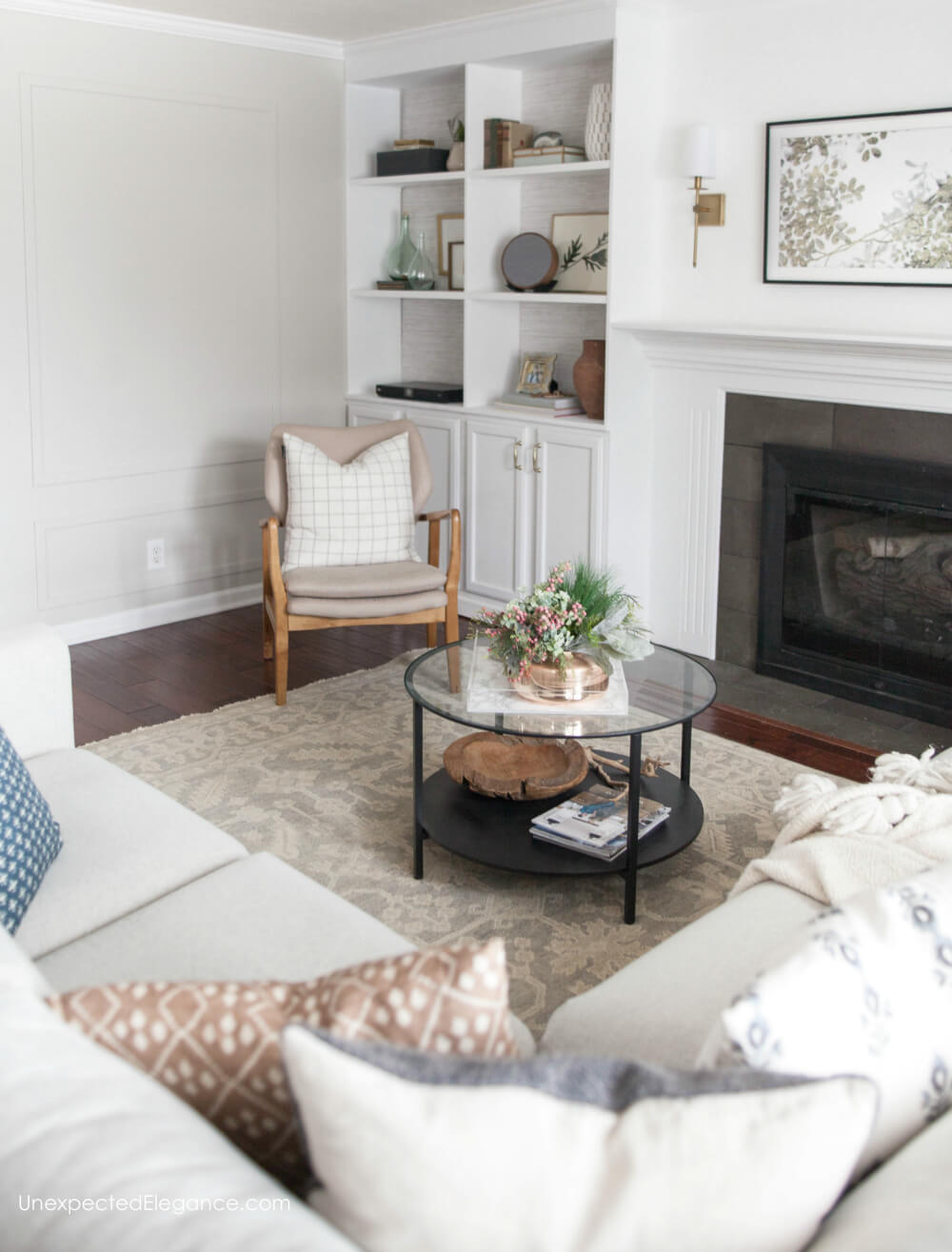 SHOP ↓
Lighting
Lighting is always important!  We had a dark, outdated fan that needed to be replaced and, as much as I would have liked, getting rid of the fan entirely wasn't an option.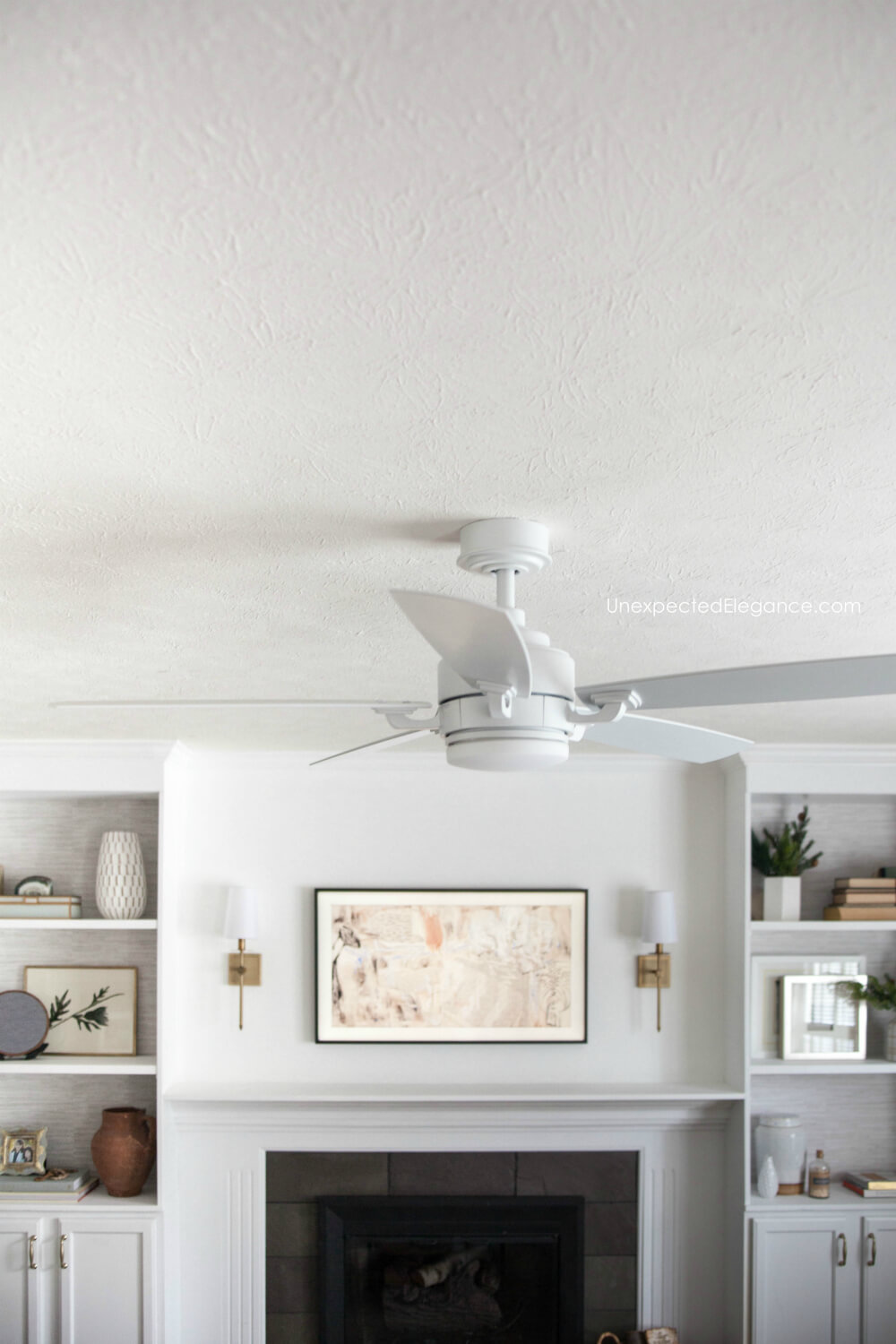 I wanted something a little more modern but that would blend into the ceiling.  Our ceiling is only 8 foot so it also had to be closer to the ceiling.
I went with the Benito V2 fan in Matte White from Fanimation.  It is simple, has integrated LED lighting
and is dimmable!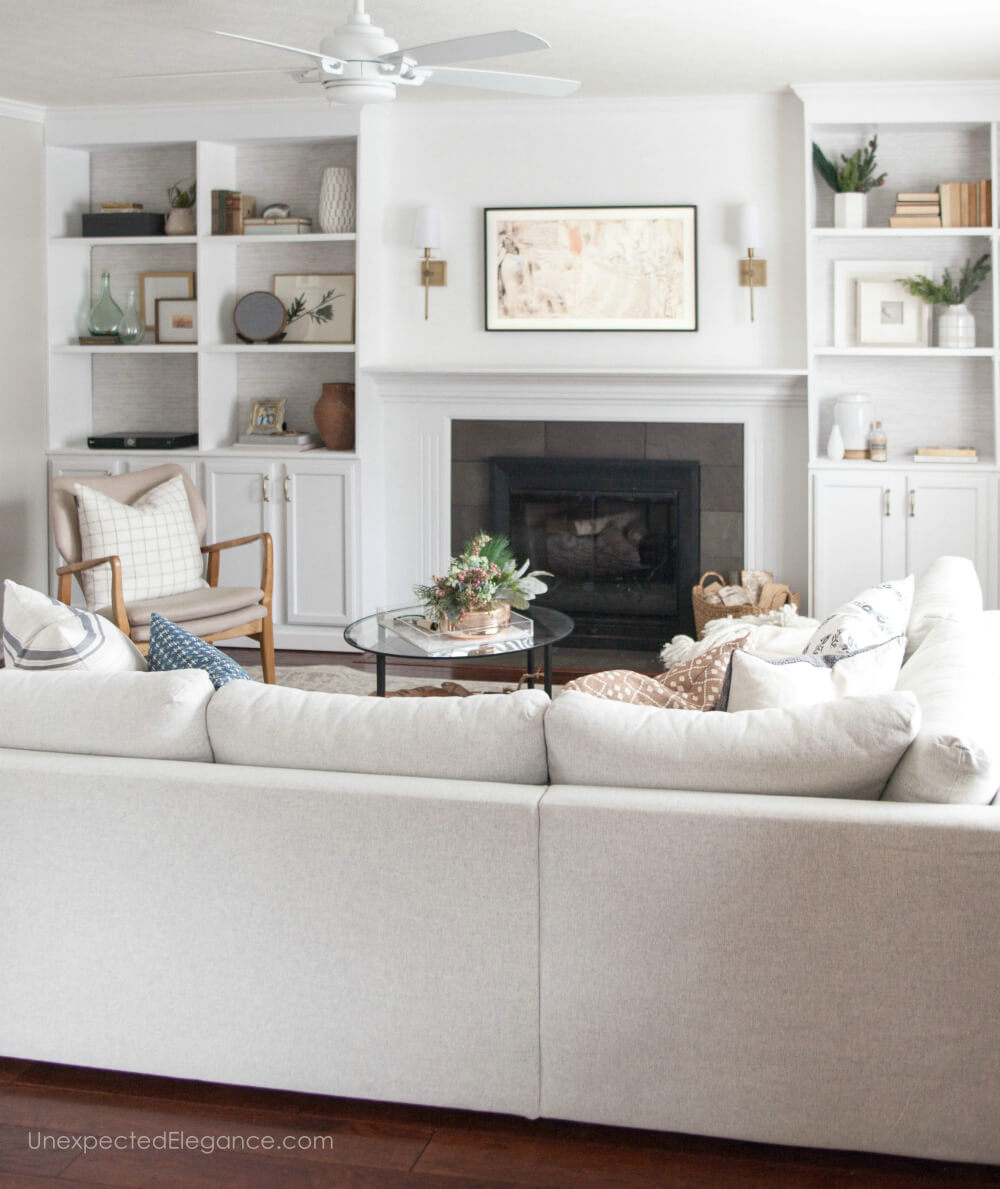 SHOP THIS POST ↓
I love how this living room overhaul came together and works for our entire family!
Do you have any tips for living room decor?