My kitchen is DONE…well, almost! It's ready for me to share with you and all the little things will get finished slowly over the next couple of weeks.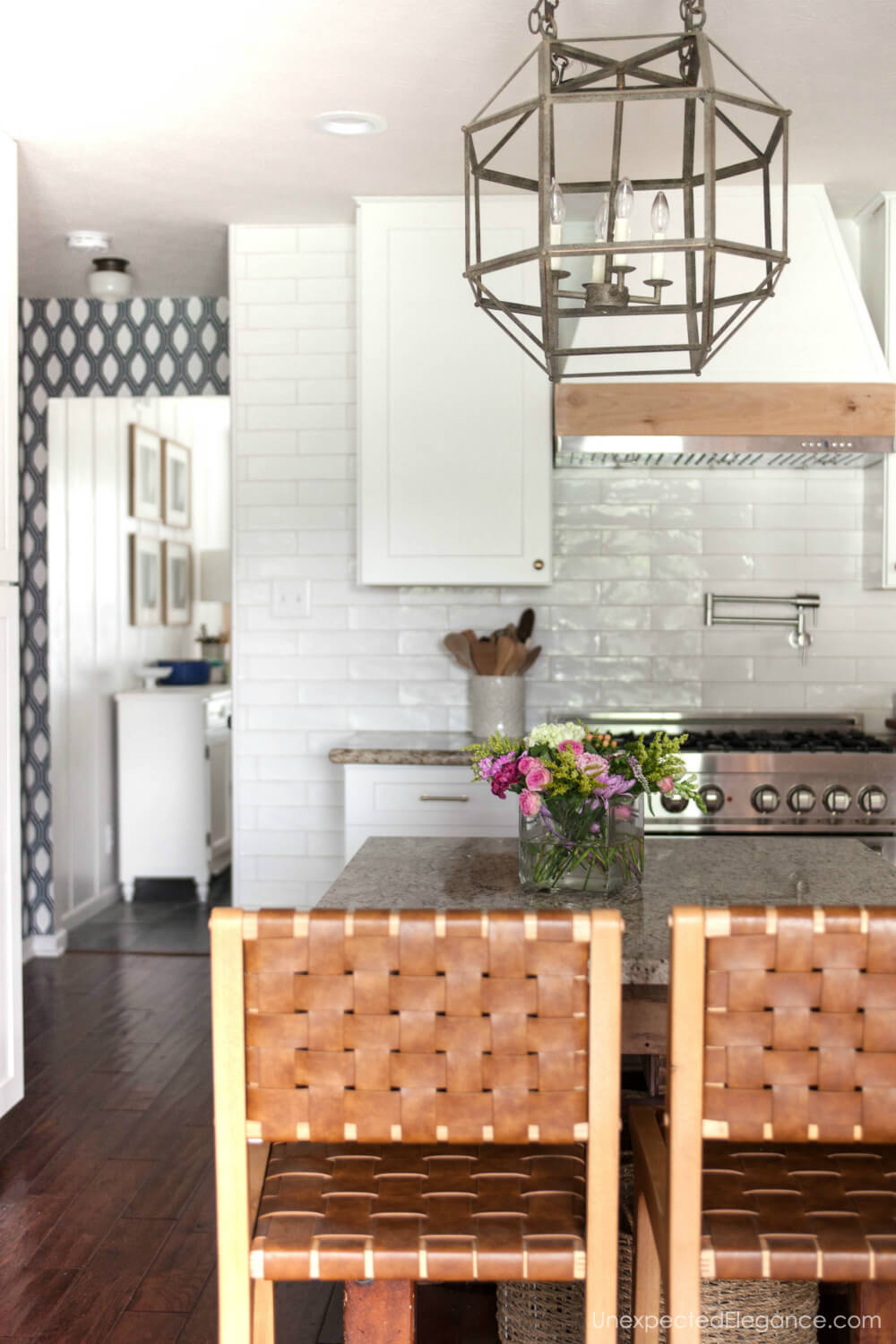 They call it a challenge for a reason. This has been the hardest DIY project I've ever tackled. It was a little ambitious of me to take this on by myself, but I did it!
To see the whole process: Week 1 | Week 2 | Week 3 | Week 4 | Week 5
I ended up hiring a plumber to hook-up the range, my husband was there when I needed a second set of hands, and Sara (sincerelysarad.com) helped me hang the wallpaper…other than that it was all ME. AND I'm exhausted.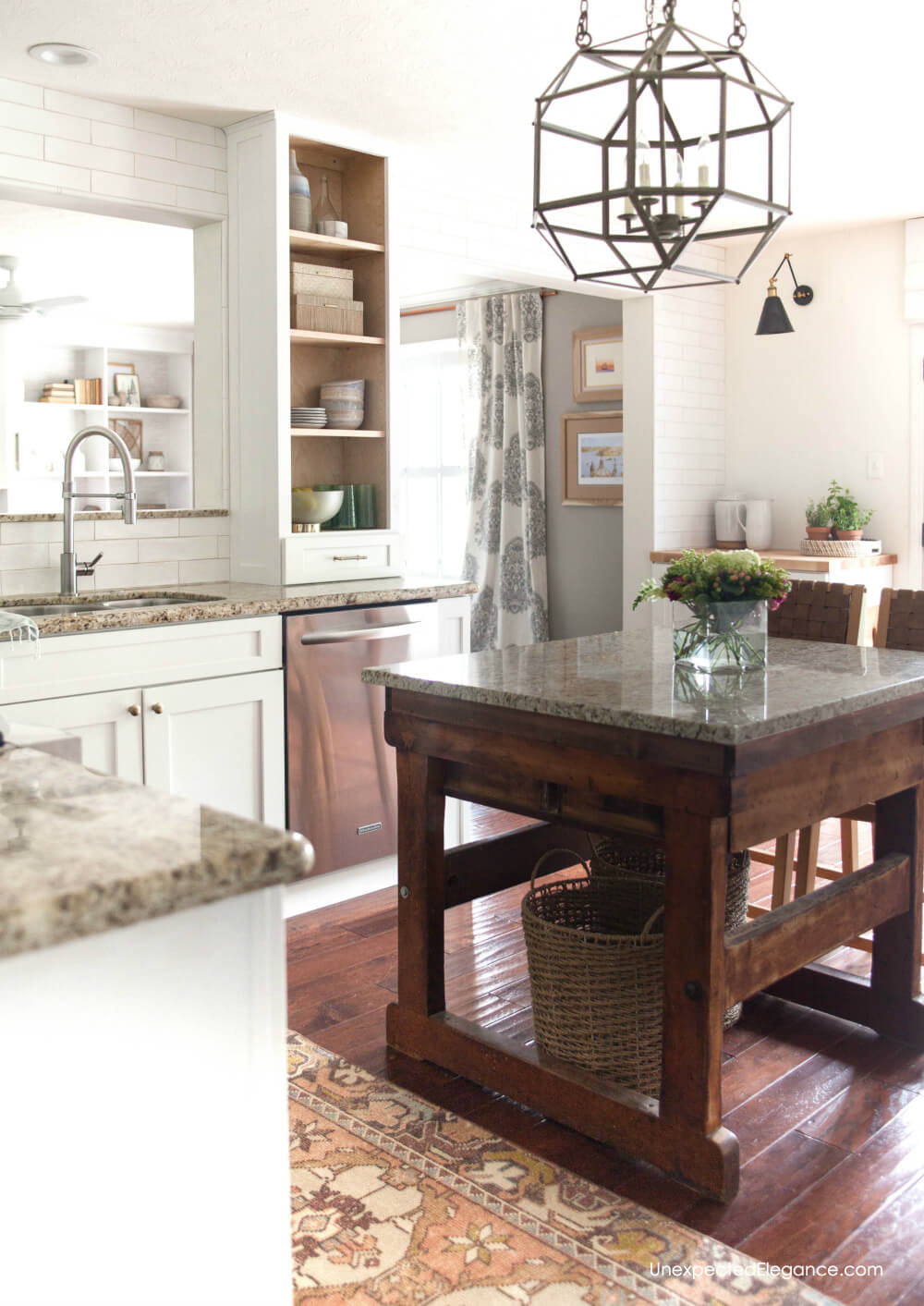 There were so many days that I worked from the time I got up until I went to bed. This week I stayed up after 2am just trying to get ahead, and I'm still posting this a day late.
There are so many small projects in this space and once I have a chance to catch my breath I'll be sharing some tutorials. Honestly, I was just trying to work as fast as possible and not really thinking ahead. Not the best move for a blogger! 😅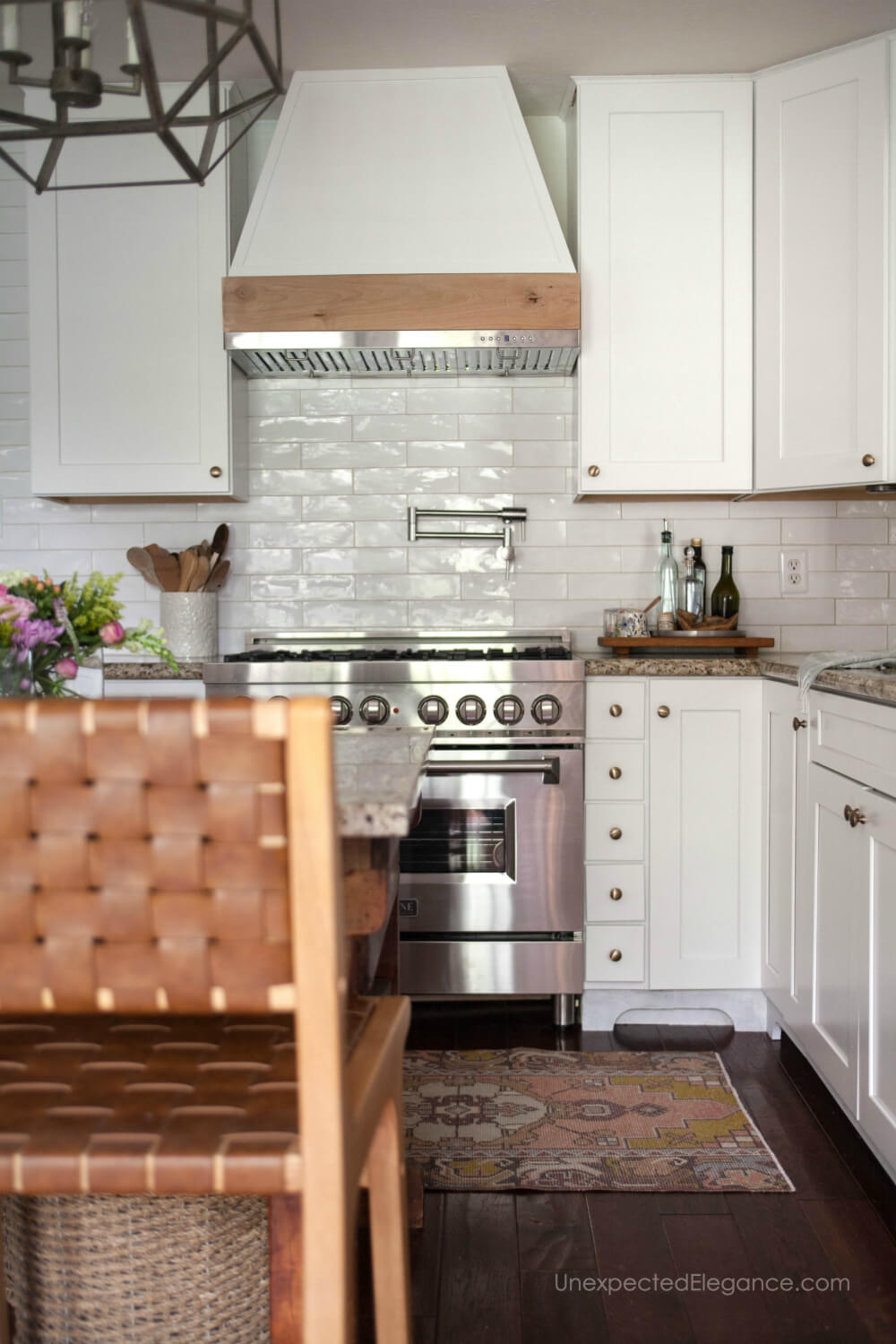 Along the way, I've shared some of the problems that have come up and this last week had its fair share. The rug was the first hurdle. I got it off of Etsy and it shipped from Turkey. I had purchased it to go between the sink and island, but the measurements online were incorrect…and it doesn't fit.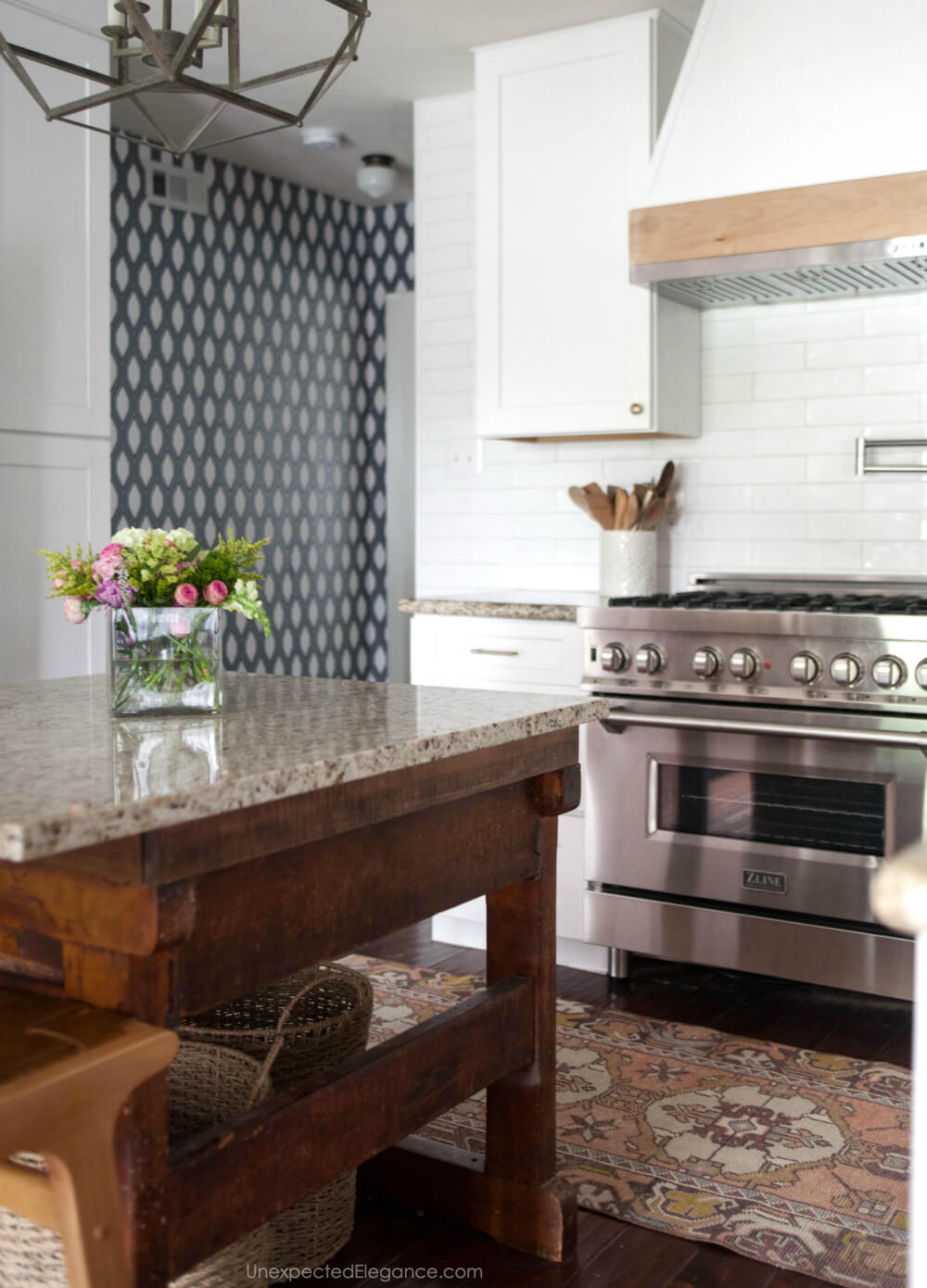 Thankfully I was able to use it in front of the range, but since it wasn't what I planned I was a little stressed at first.
The other big thing was the door for custom cabinet. I spent hours and a lot of money building/modifying a door, only to have it not work in the end.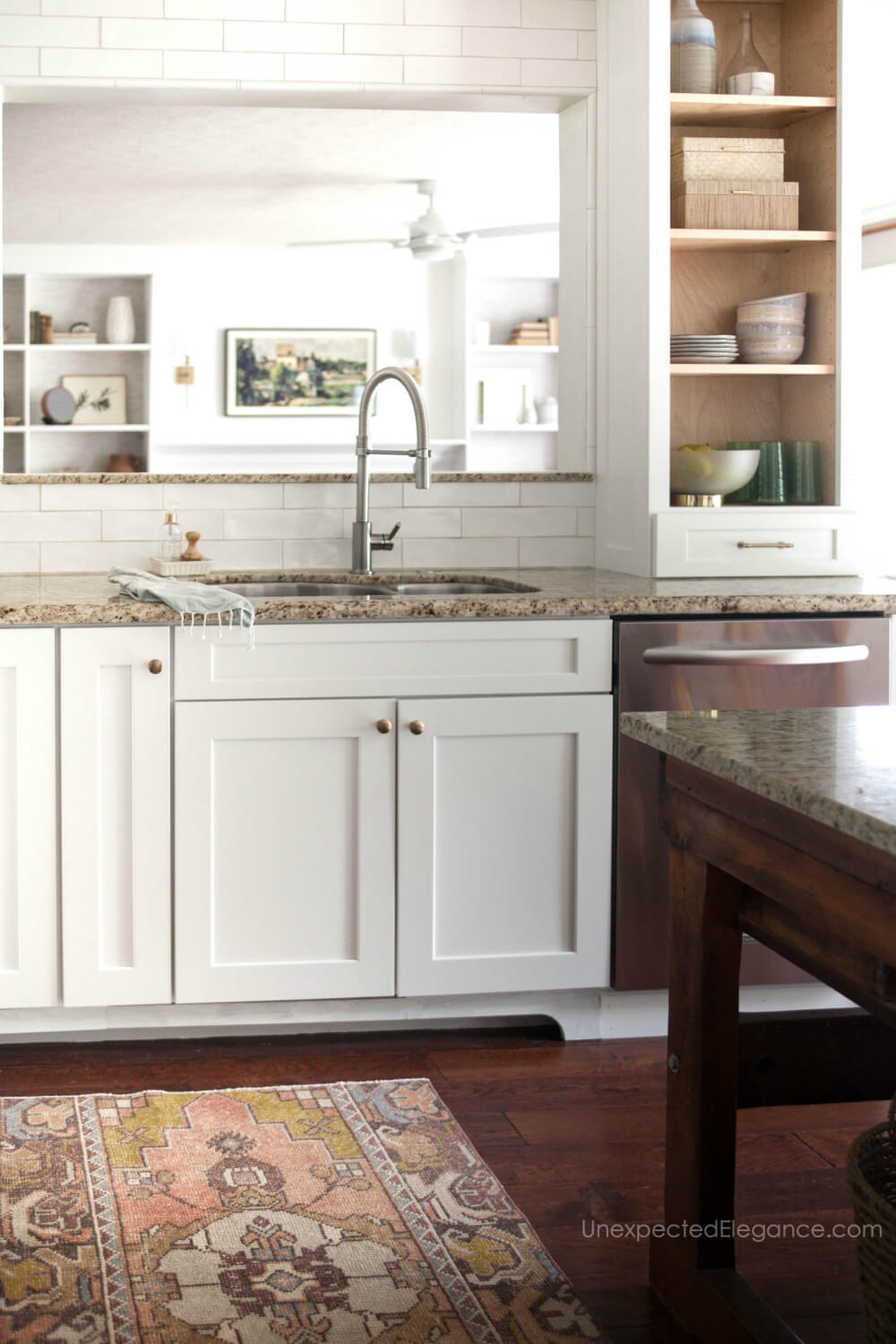 I'm thankful that it looks good as open shelving, because I was COMPLETELY out of time to make any other changes.
This kitchen has a mix of different wood tones and metals, but I love how they all work together. I'm not an "everything has to match" kinda girl!
The only appliance we bought was the range, so I needed to work with stainless steel. However, I our French door hardware is brass.
I decided to keep the faucets stainless, but use a Champagne bronze (brass color) for the hardware.
I partnered with Liberty Hardware for all the cabinet hardware and chose the Fulton knobs and Francisco handles. The finish is beautiful!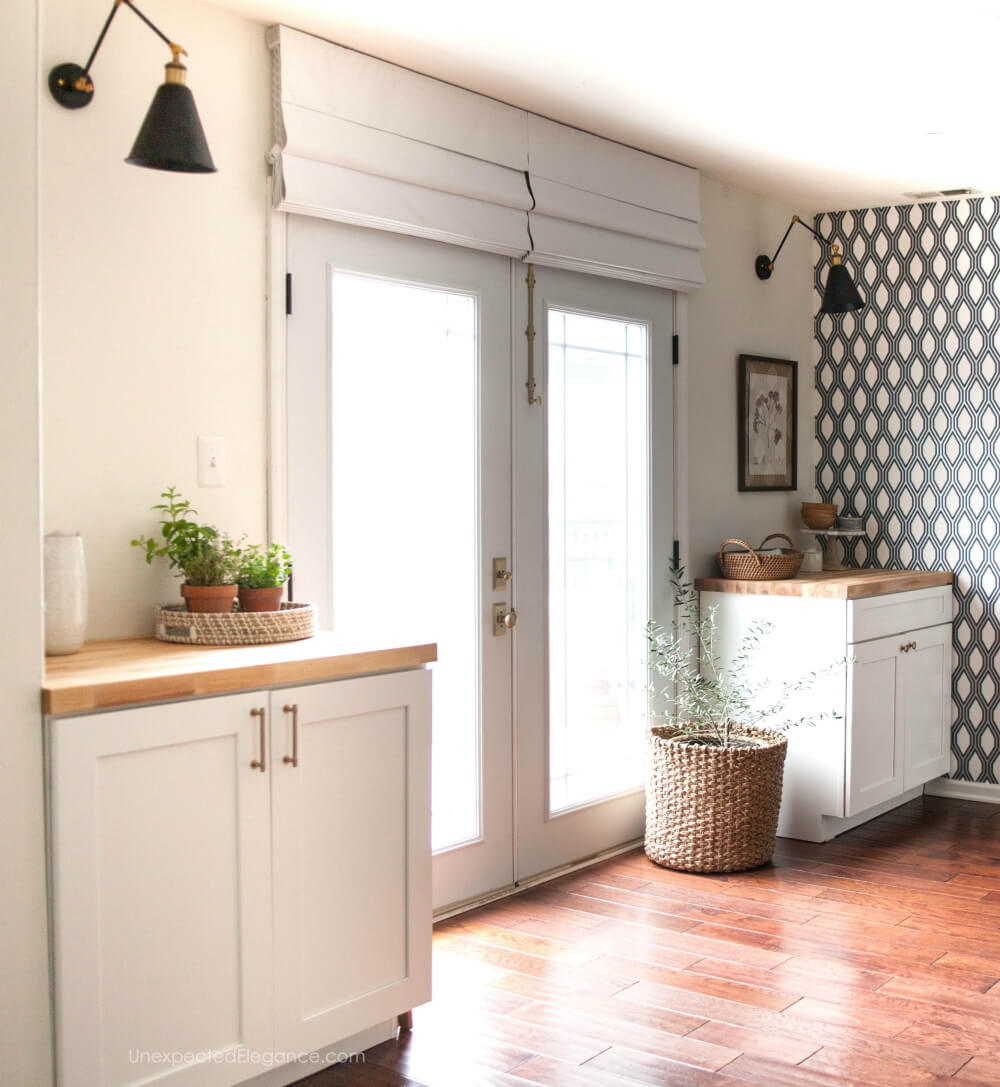 This side of the kitchen was a little harder to photograph because of the light coming in the doors. If you remember the BEFORE, this area had a kitchen table.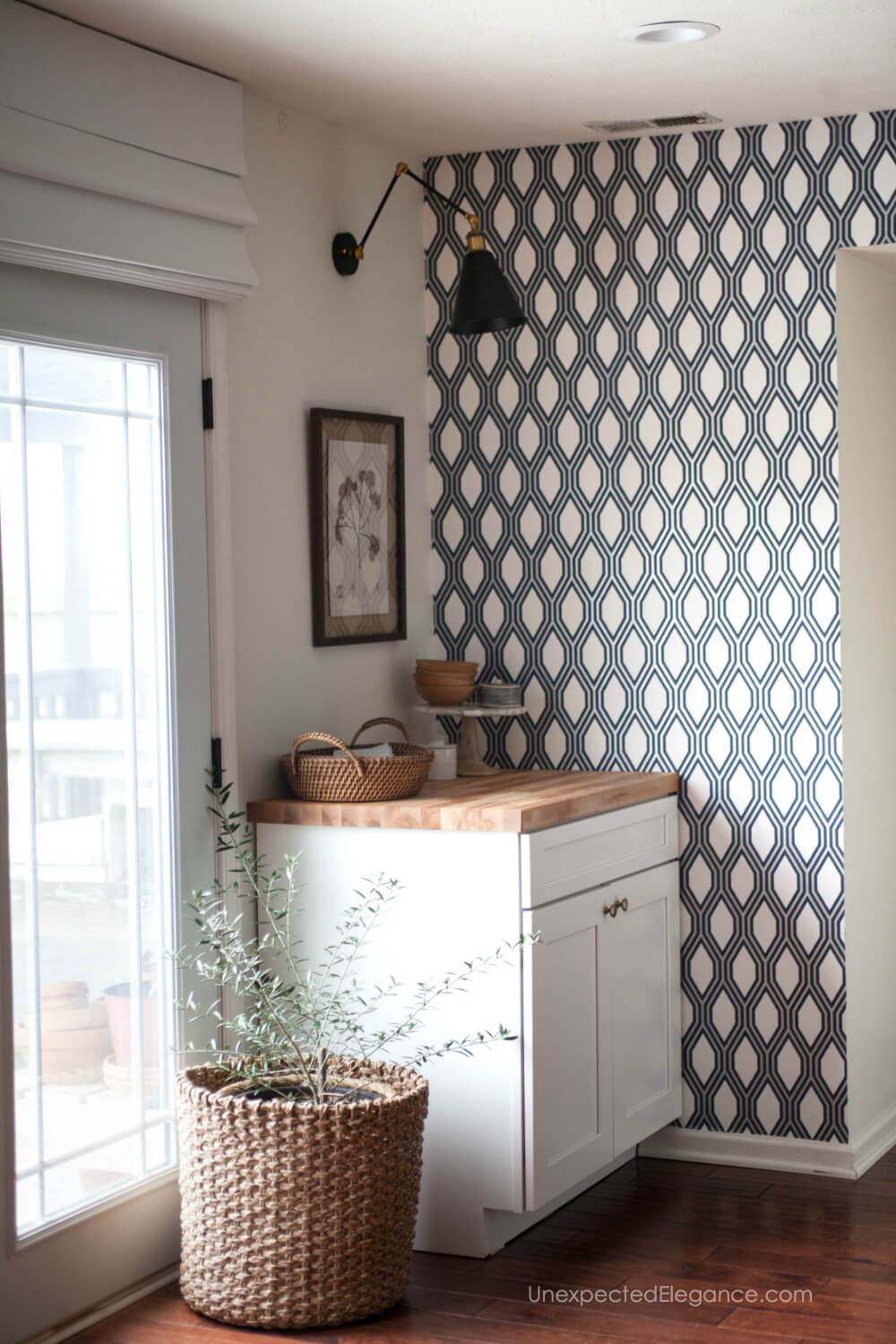 I LOVE all the extra storage that these two cabinets bring into the space. Our house doesn't have any linen closest, no easy attic access or basement, so I need to find other ways to add storage!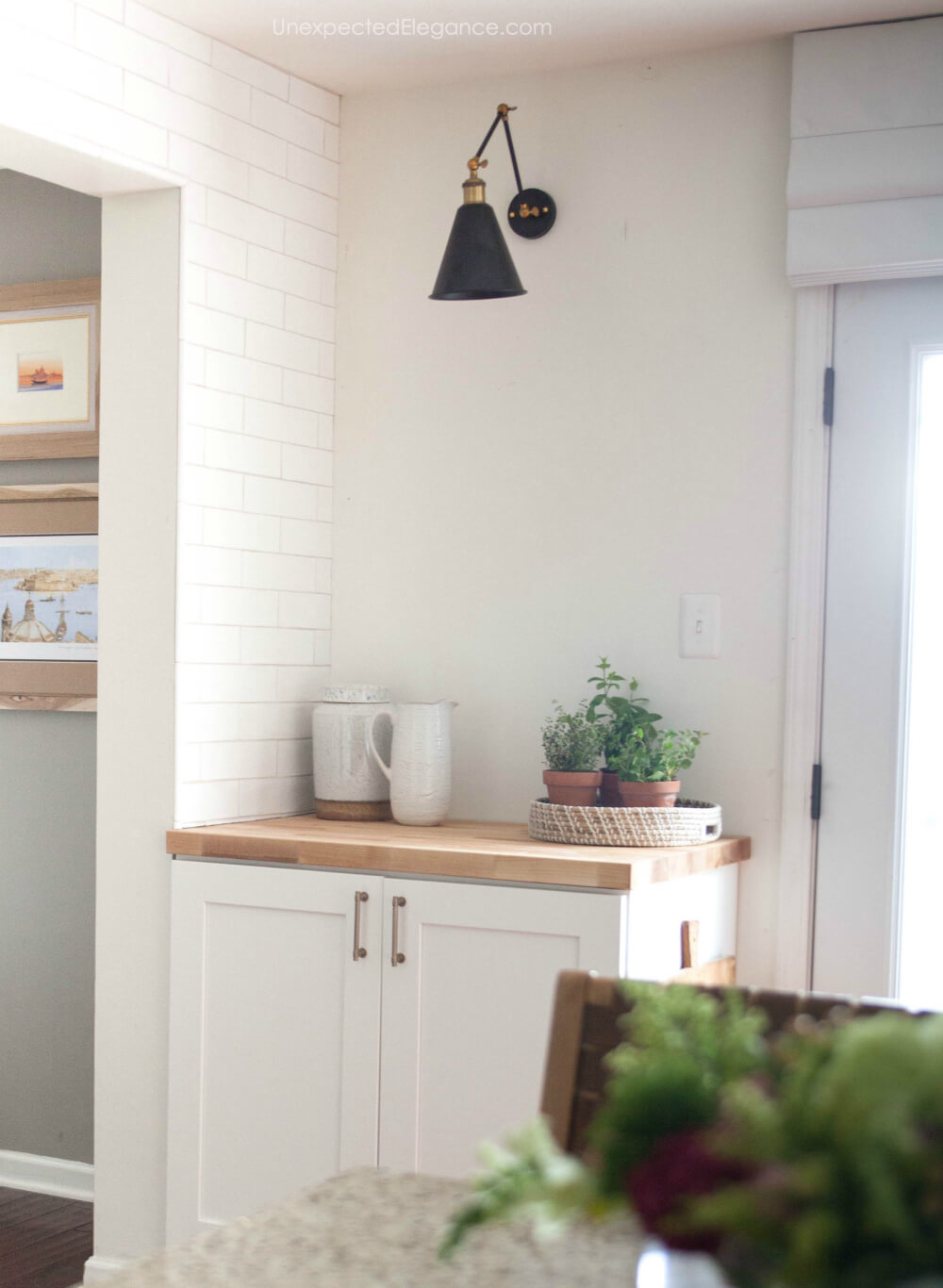 The kitchen is so much brighter, but I wanted to add in some color. I am SO happy I decided to add a fun graphic wallpaper. I partnered with A-Street Prints and used their Honeycomb Navy Geometric.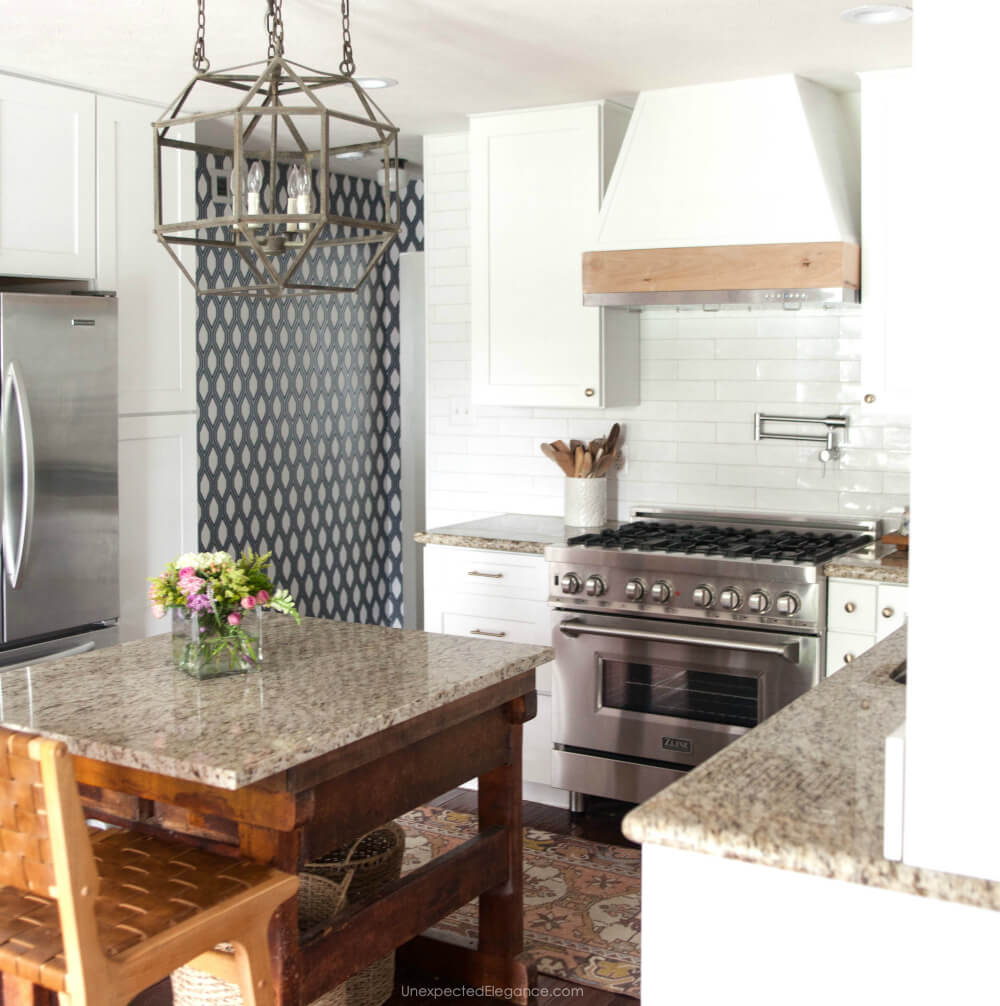 A-Street Prints has such a great selection of BEAUTIFUL papers, so make sure you check it out!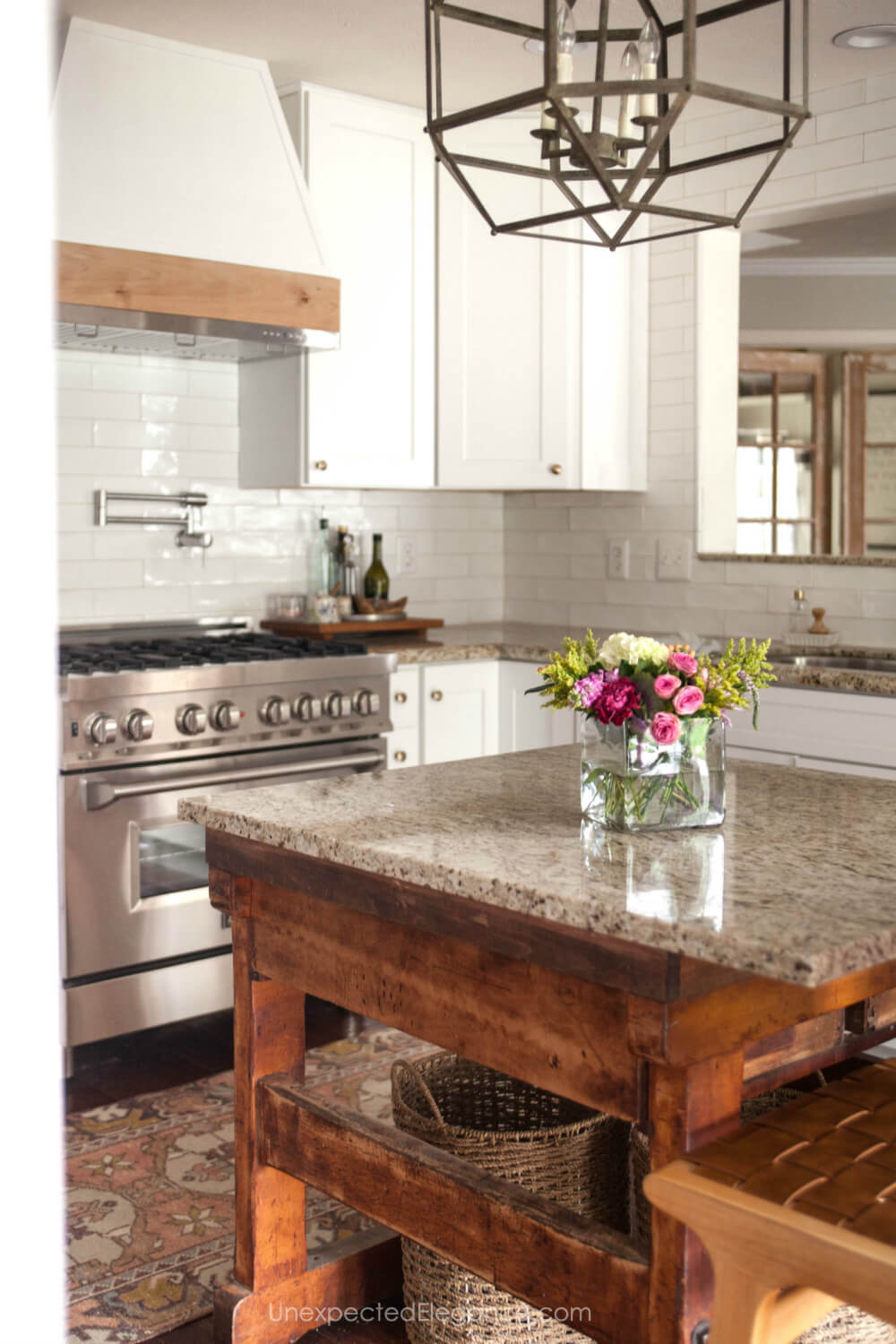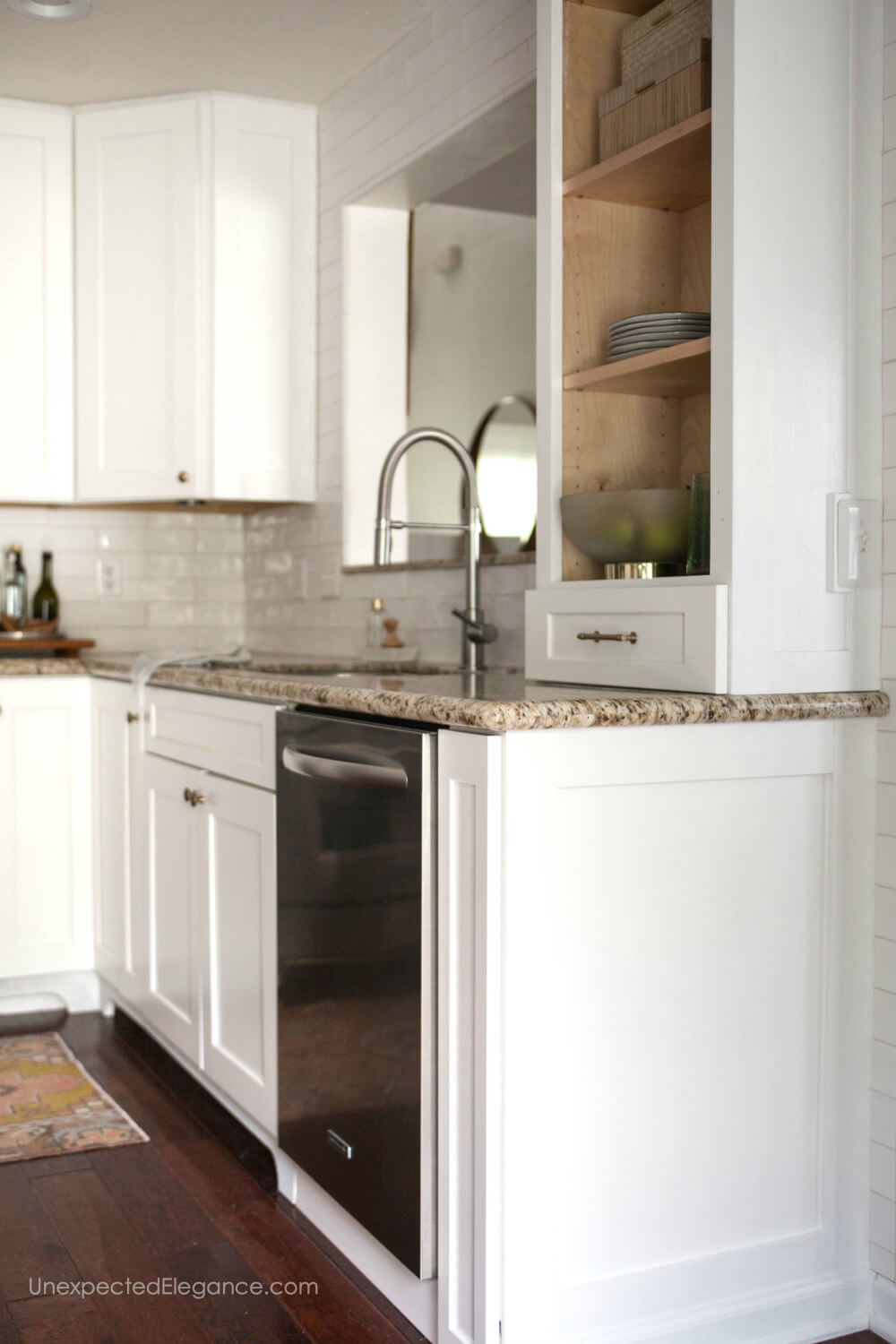 I am so happy with how everything came together. Although, I would have liked for it to have gone a little smoother (and quicker) I LOVE it.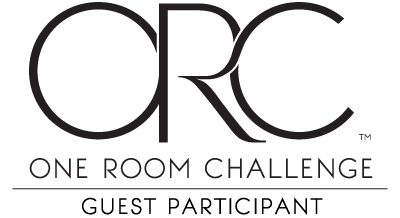 Be sure to check out all the other amazing room reveals for the One Room Challenge!