Replacing cabinet doors is an easy way to give your kitchen a whole new look. Find out how to order fully painted, factory-finished doors and save yourself some time!
Remodels are expensive…no matter how thrifty you are. When it came to our kitchen cabinets, I went back and forth about whether or not to just paint or change them out completely.
Ultimately, I wanted a simple style and I was over the "yellowish" color doors. The cabinets bases were still in good shape so I decided to price out a few different options.
You can find my full kitchen remodel reveal here.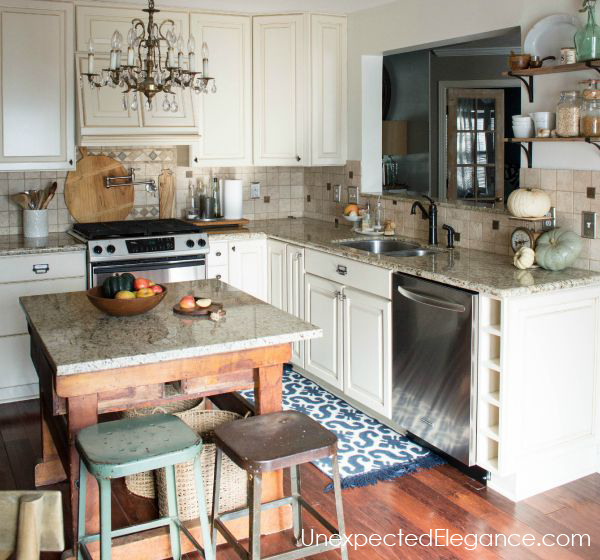 Option 1: Keep everything and hire someone to paint it all. My husband was adamant about hiring someone to spray the doors. The cost was going to be around $2K.
Option 2: Purchase new doors with a factory-finish and paint the bases myself.
I really wanted a Shaker door style, so I decided to go with option 2…however, I didn't realize how hard it was to find someone to give me just the doors.
After calling multiple manufacturers and visiting a few stores, I finally found someone to help me at Lowe's. The salesperson was very kind and knowledgeable.
The only problem was that I had to figure out what size door I needed by myself! So here's what you will need to know if you want to tackle your kitchen renovation the same way.
First…
Can I just buy new cabinet doors?
Are your current cabinets standard or custom? Our cabinets were considered semi-custom, but all of them were standard sizes. You need to have pretty standard cabinets for this to work.
Are your current doors full-overlay, partical, or none? Full-Overlay style works best. Mine was a full-overlay and I wanted a Shaker-style door, so it worked perfectly.
Are you changing the layout and need extra cabinets? If you need a few new cabinet bases, this might still work but you just want to make sure there isn't a huge difference in quality.
Figuring out the specific door sizes was a little tough. I talked to several cabinet guys and they wanted so many different numbers that my head was spinning…and I almost gave up.
Then, I realized that since my cabinets were standard there was a very simple solution. Measure the bases and order replacement doors! That made the whole process so much easier.
Here's what I did to figure out what size door I needed for each cabinet:
How to Order New Doors
1.Measure your existing cabinet boxes. The height and width of all the upper cabinets and width of the lower cabinets.
TIP: Make a master list with each cabinet's dimension, where it's located and the description (for example: lazy Susan or sink). A rough drawing is also helpful. This makes it so much easier when you are going through the manufacturer's spec pages!
2. Find the specific code for each cabinet in the manufacturer's specification guide
Most cabinet manufacturers have these online or you can ask for it in the store. This is what it looked like for the Allen and Roth Cabinetry that I purchased.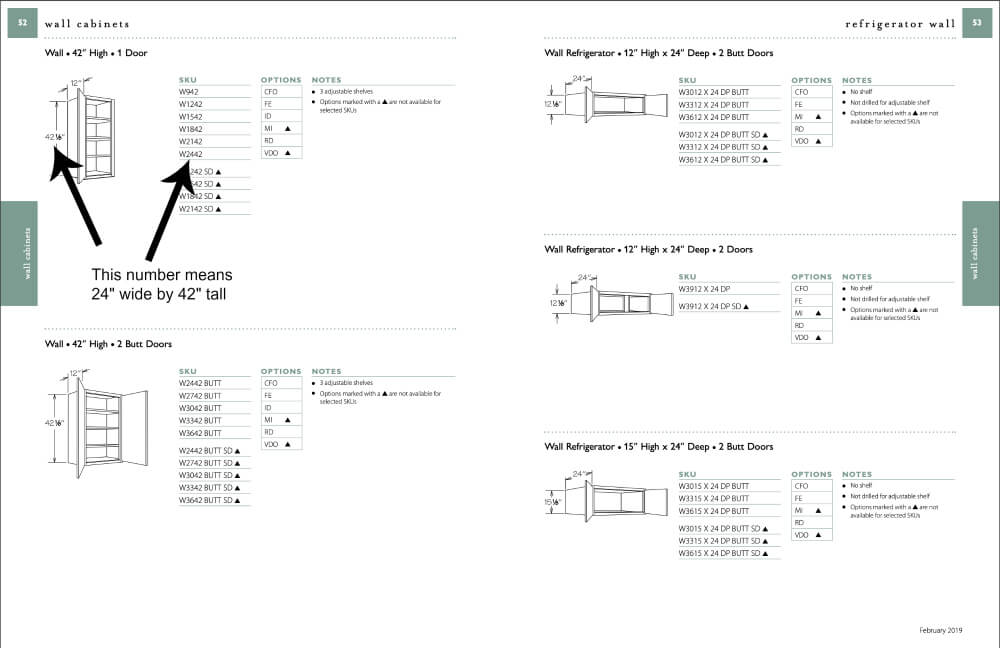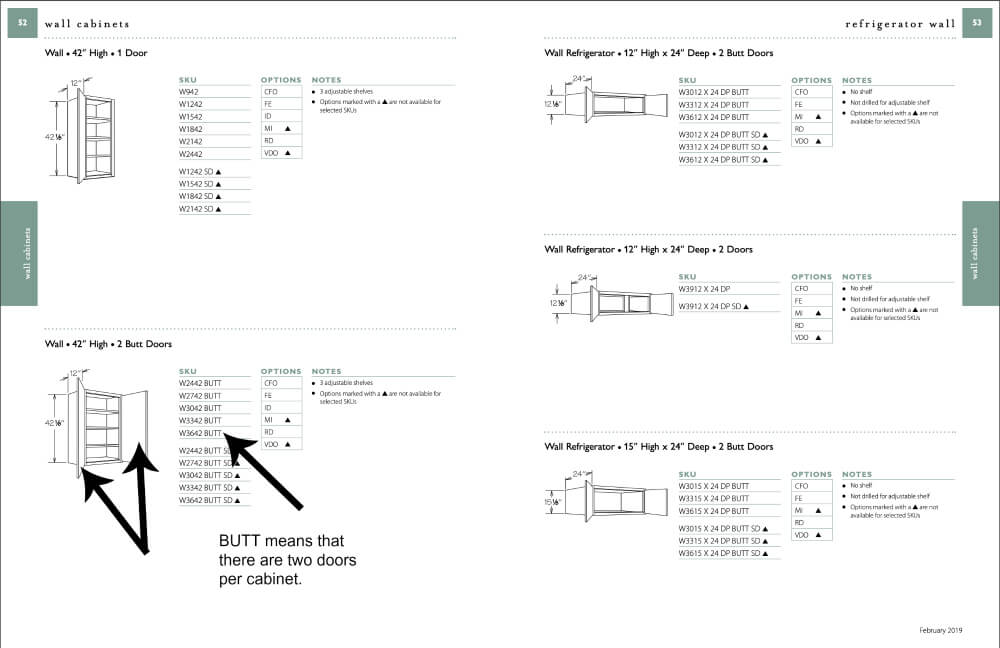 The lazy Susan cabinet was the trickiest, in my opinion. I found which cabinet I had by using the measurements provided in the guide.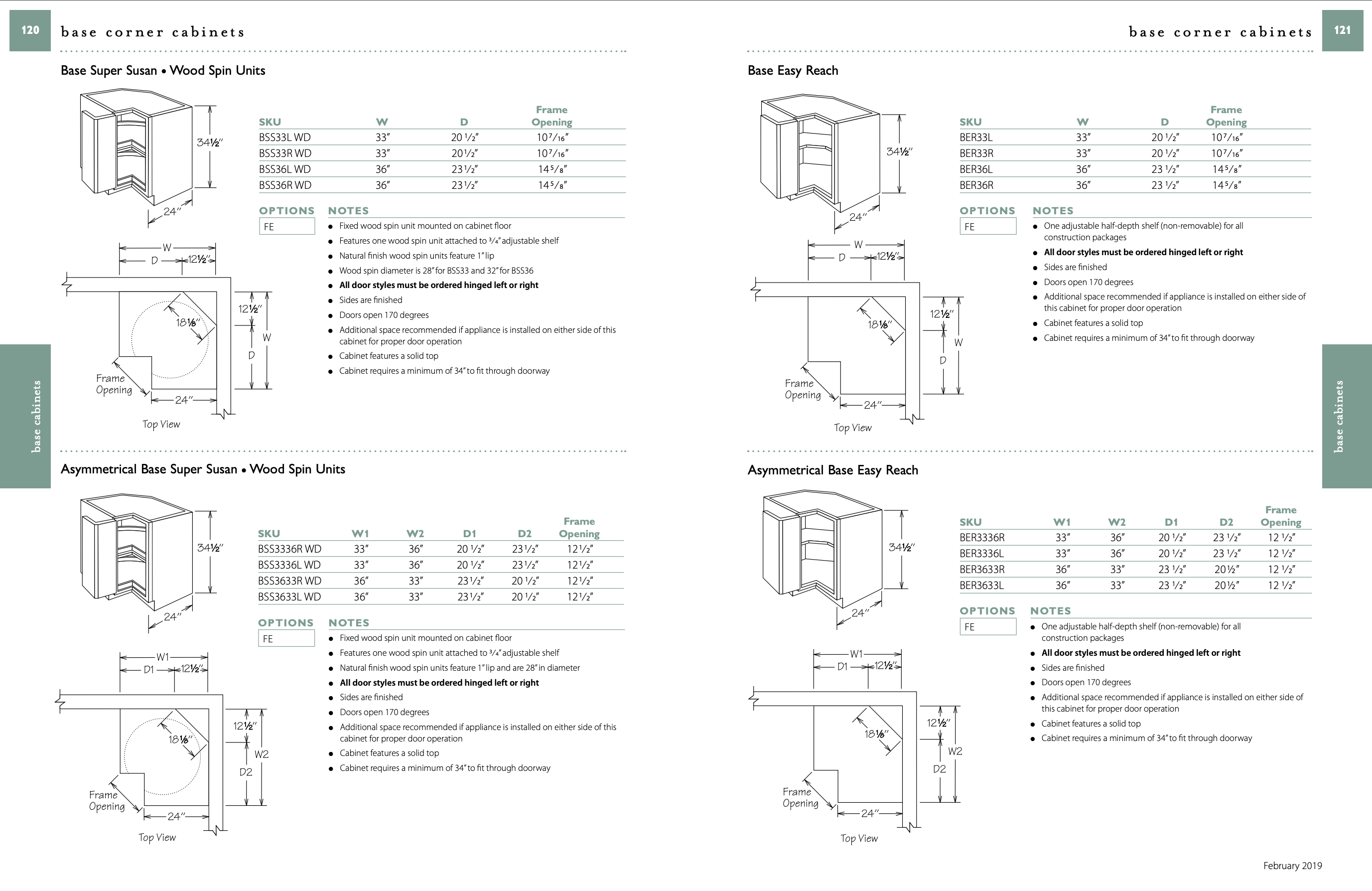 3. Once you have all the cabinet base numbers, go to the manufacturer's parts directory and find the specific numbers.
Example: W3642BUTT (This a wall cabinet 36″ wide x 42 tall with two doors.)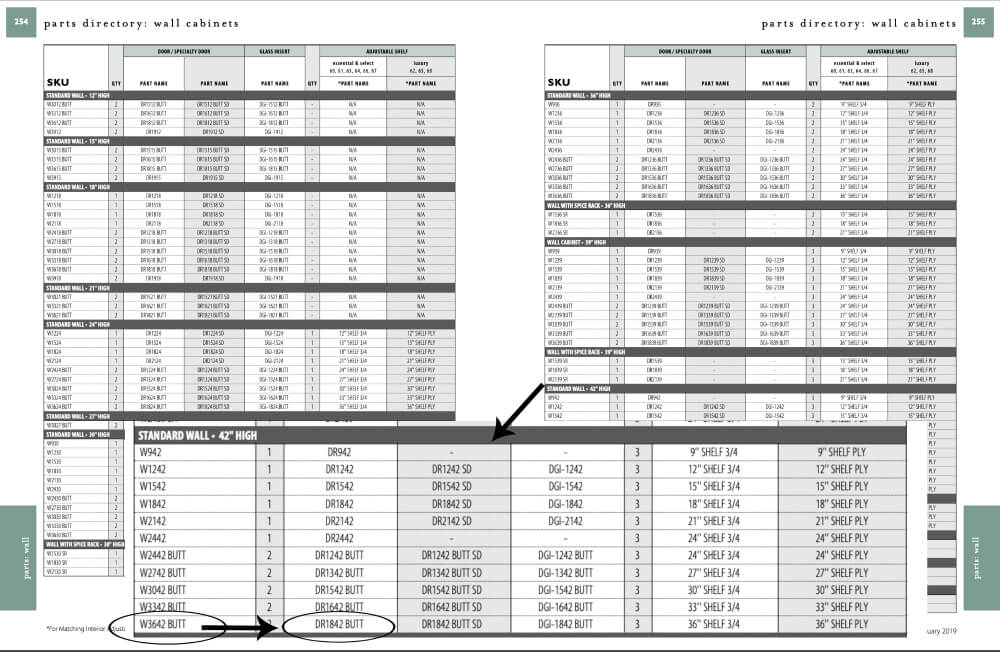 Listed next to the number should be all the parts that come with the cabinet, including the doors.
So for a wall cabinet W3642BUTT, you would order the doors DR1842BUTT.
This will take some time, but go through each cabinet slowly and make sure you have all the correct codes. Then take these back to the store. The salesperson should be able to order the correct style and color in each of the door sizes you need.
Some things to consider:
You may have to purchase all new hardware. This will depend on what shape your old hinges are in and if they are the same type of bore as the new doors. (Ask your salesperson about this when you are ordering.)
If you want any extra filler pieces or trim, you should order them with the doors.
Don't Forget:
You will still need to paint the base cabinets, so order the matching paint. It's going to be more expensive, but you want it to match (especially if it's not white!).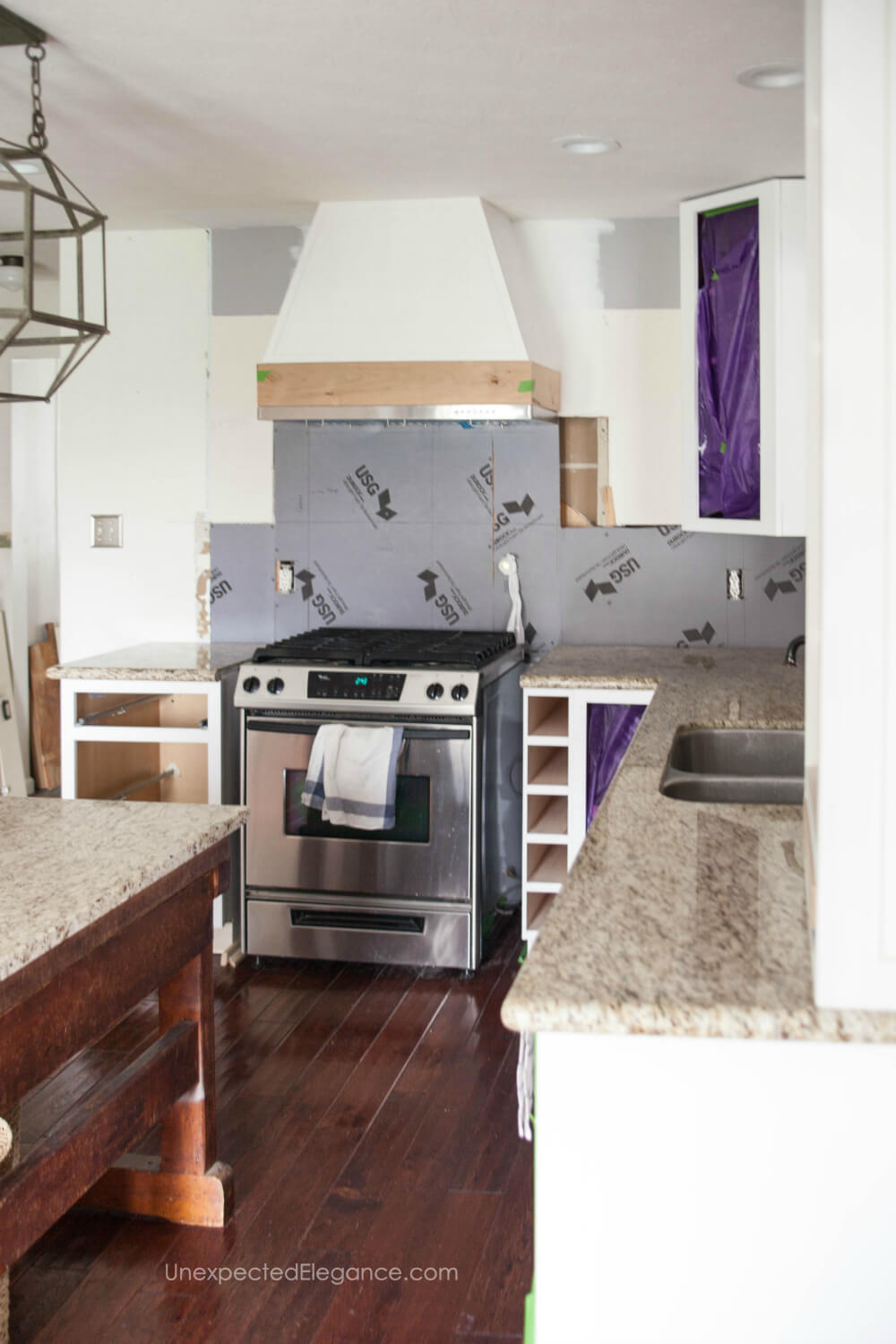 Here are so great tips for painting the bases. Always remember to lightly sand between coats!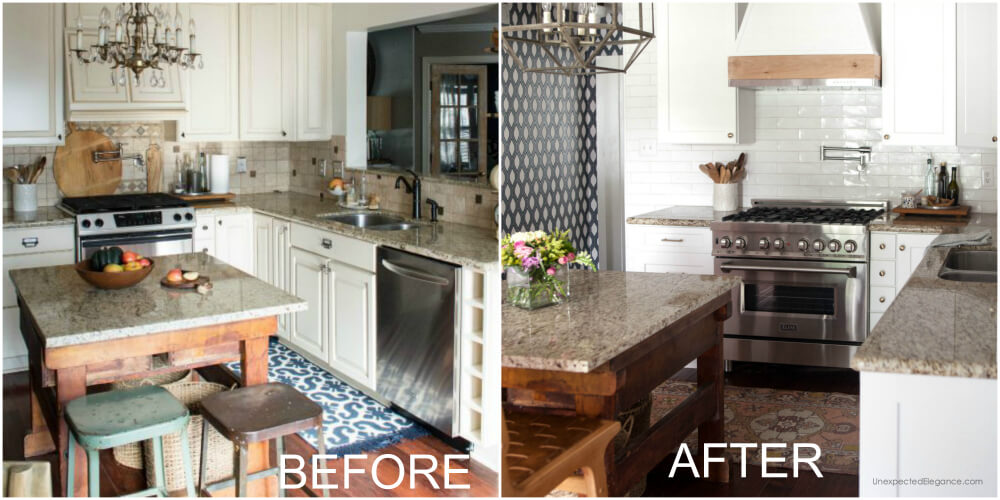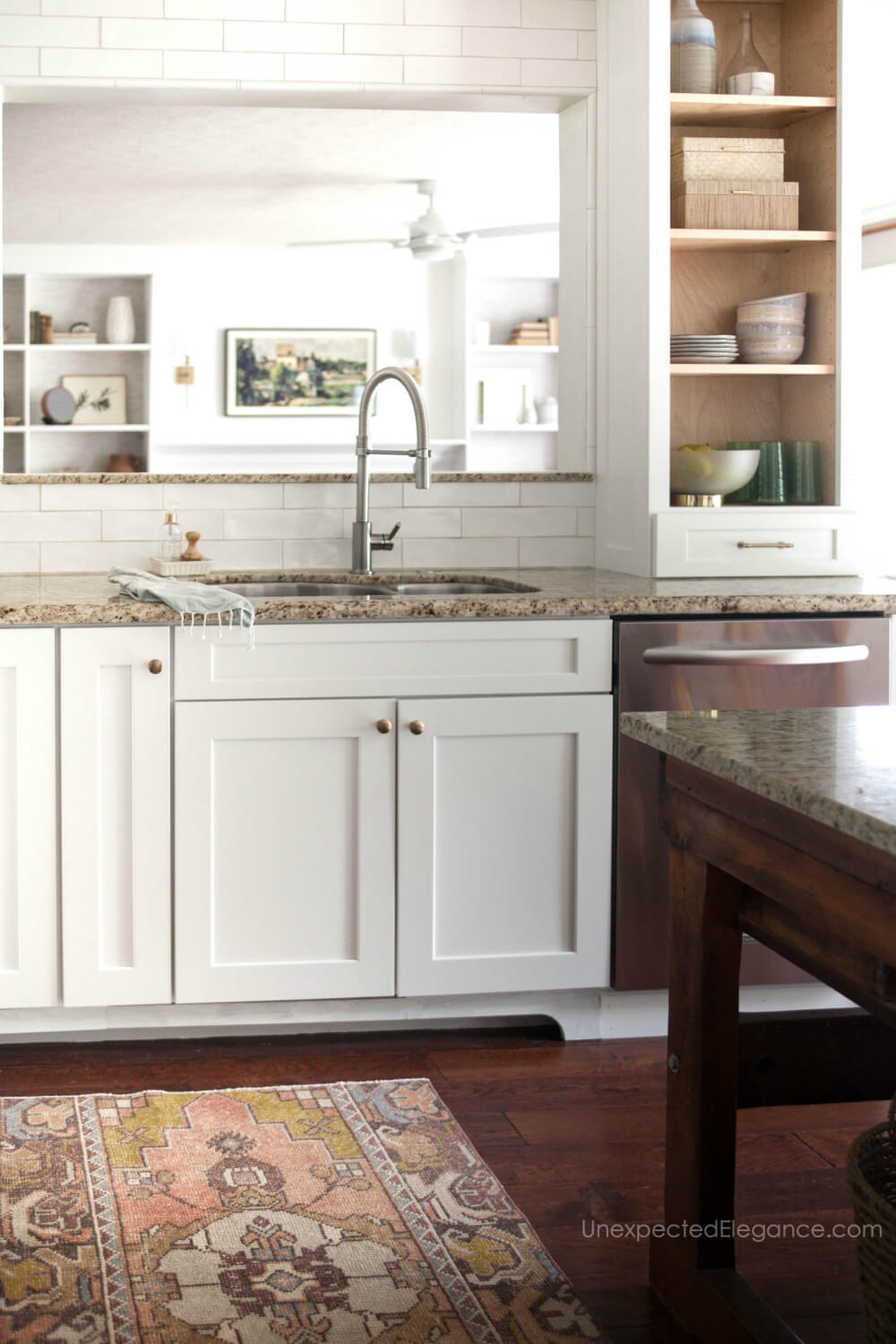 How much does it cost to replace cabinet doors?
This depends on the manufacturer, but I can tell you what it cost me for Allen and Roth doors from Lowe's. I paid right at $2200 for all the doors, paint and two extra base cabinets.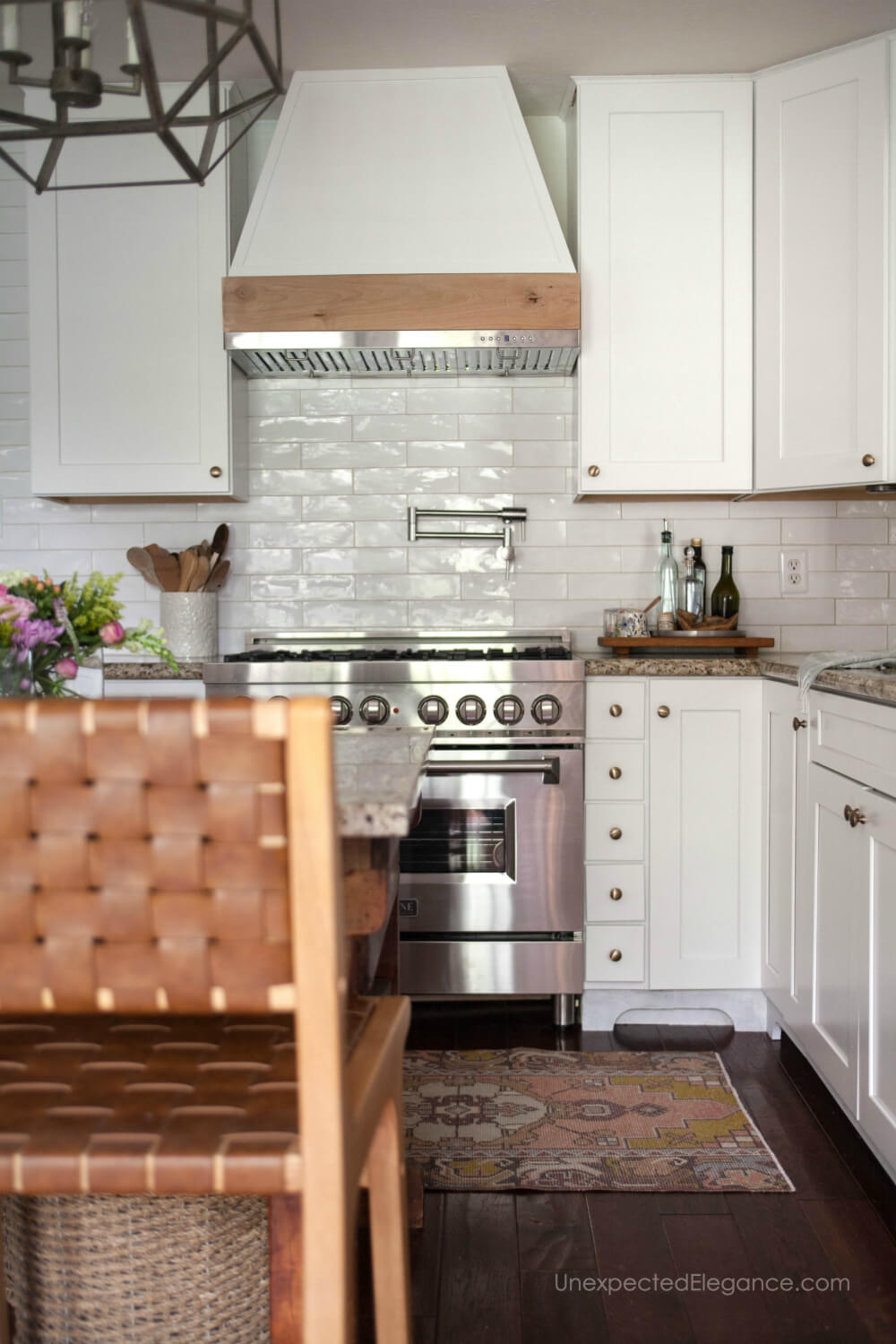 Changing out just the doors was much cheaper than replacing the entire kitchen cabinets. Not only would we have had to replace the cabinets, but the granite would have had to be removed and, most likely, would have cracked.
If you'd like to see other options for updating your existing doors, check out this post: 8 Ways to Update Kitchen Cabinets