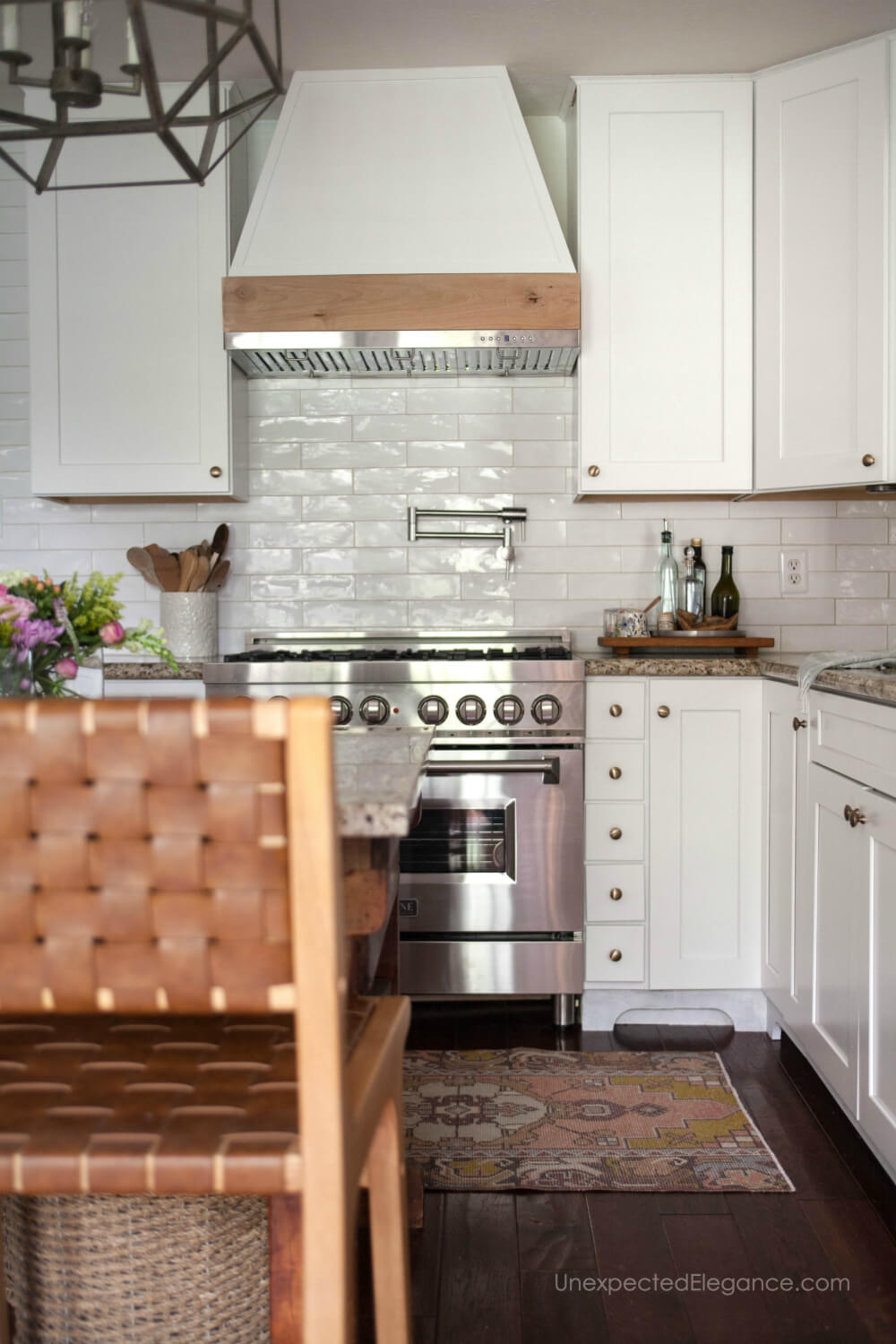 If you love to DIY, chances are…you love to save money. For the next several weeks, I will be sharing with you ways to update things without replacing or spending a fortune.
Today we are talking kitchen cabinets! Do you hate yours? Instead of ripping out the old and buying new ones, why not update the ones you have? Whether you add trim to the doors or paint your cabinets, you can get a great look without spending a lot of money.
8 Ways to Update Kitchen Cabinets
---
1. Add Height
If your cabinets don't go all the way to ceiling, a great way to update the look is to close off the area above the cabinets. This can be done using pieces of wood that are painted to match your cabinets. You can get as decorative as you want by adding trim. If you want space you can use, you can also buy thin cabinets that will fit in the area and paint all the cabinetry to match.
Check out some examples: HERE & HERE
2. Add Molding or Trim to the Doors
A very simple and quick update is to add molding or trim to the cabinet doors. You can attach using short nails, but for doors that are thin, you want to use a strong adhesive. Liquid Nail is a great product because it's strong and will last. If you won't be painting over the doors completely, remember to stain or paint the trim to match before attaching it to the cabinets.
Check out some samples: HERE & HERE
3. Paint the Cabinets with Chalk Paint
There are many benefits to using chalk paint over latex or another type of paint on your kitchen cabinets. First of all, in many instances you simply need to clean the surfaces and apply one coat. You will need to add a sealant over the paint and while wax is often used it is not a good fit for kitchens as it is hard to clean. Chalk paint is not only easier to use, but also gives your cabinets a great look.
Check out an example: HERE
4. Add Beadboard
Beadboard is another great way to update the doors of your cabinets. If you're applying trim, you can put beadboard inside the trimmed out area for a great look. Beadboard can be purchased rather inexpensively and is easy to cut. You can also put beadboard around your kitchen island to add visual appeal.
Check out some examples: HERE & HERE
5. Add Hardware
If your cabinets don't have any hardware this can be a great way to update them. You can find a variety of hardware styles at your local home improvement store. With that said, it's much more affordable to buy packs of hardware rather than individual pieces.
6. Add "Feet" to the Base
If you want your bottom cabinets to really pop, install "feet" to the base. You can do this buy adding chair legs or bun feet, that you find in the molding section of the home improvement store. All you need to do is cut them to fit and paint or stain to match your cabinets.
You can see how I added "feet" to my bathroom cabinet: HERE.
7. Add Corbels Under Cabinets
Another quick and easy trick is to add corbels under your cabinets. This adds character and is so inexpensive to do. Just paint or stain to match your cabinets and attach.
Check out an example: HERE
8. Under Cabinet Lighting
Last, but not least, under cabinet lighting not only updates your cabinets, but makes it so much easier to see what you're doing. To cover the most area, use strips of LED lights, like THESE. You can find kits in the lighting section of your home improvement store.
You don't have to live with ugly cabinets. These DIY updates are easy and affordable. What are you waiting for? Start making plans to update those outdated cabinets this weekend.
AND IF YOU WANT TO GIVE YOUR KITCHEN A COMPLETE NEW LOOK FOR WITHOUT RIPPING OUT THE BASE CABINETS, THEN CHECK OUT THIS POST: Replacing Cabinet Doors