Need a specific colored ornament for your tree this year, but having trouble finding the right ones? Find out how to make these DIY custom colored ornaments!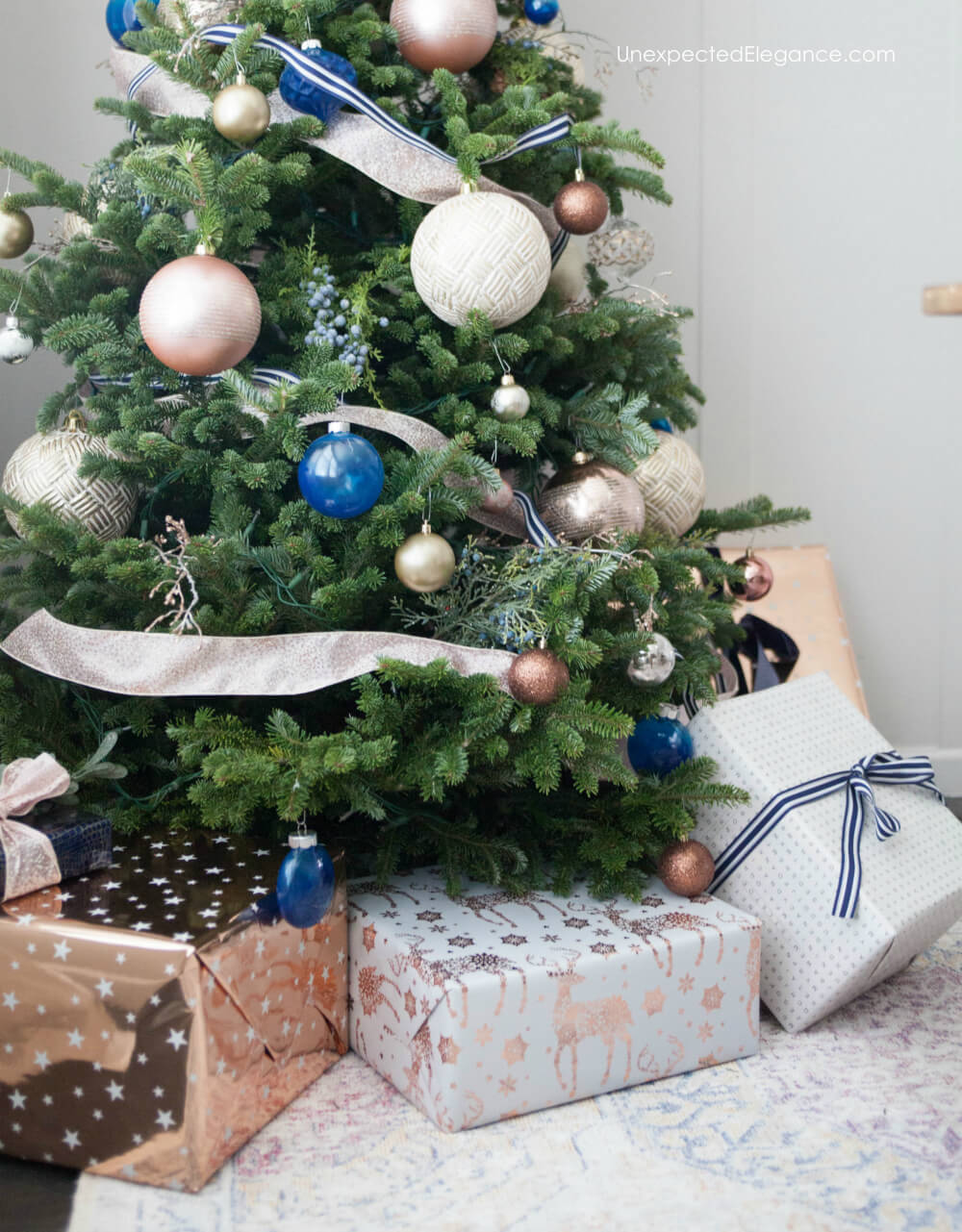 This year I decided to add a full tree in our dining room. I love decorating the dining room during the holidays.  It makes mealtime so much more special! (You can see my dining room table post here.)
We still have our traditional tree in the living room, but it isn't near a window…and I wanted it to be visible from the street.  There's something so pretty about seeing the silhouette of a lit up Christmas tree as you pass a house.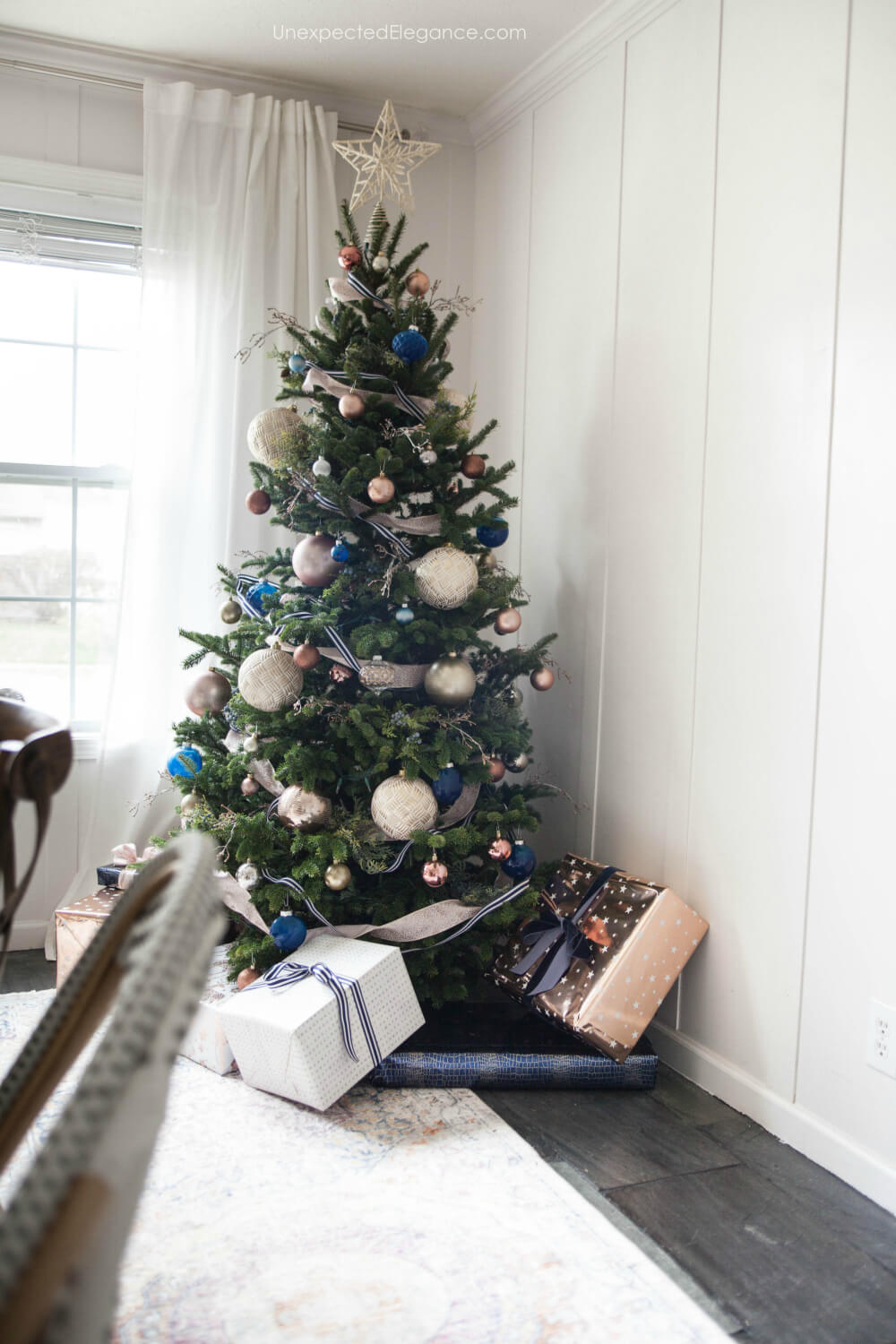 The tree is right behind our dining table, so I wanted to make sure all the ornaments were shatterproof.  There's always a chance of someone forgetting it's there and hitting it!
This year I  partnered with JOANN  for my dining room Christmas tree and I found a great selection of beautiful ornaments that won't shatter into a million pieces if knocked-off the tree.
They are perfect if you have small kids, pets, or just a not-so-careful adult in your house!
To decorate, I started by wrapping the tree in two kinds of ribbons.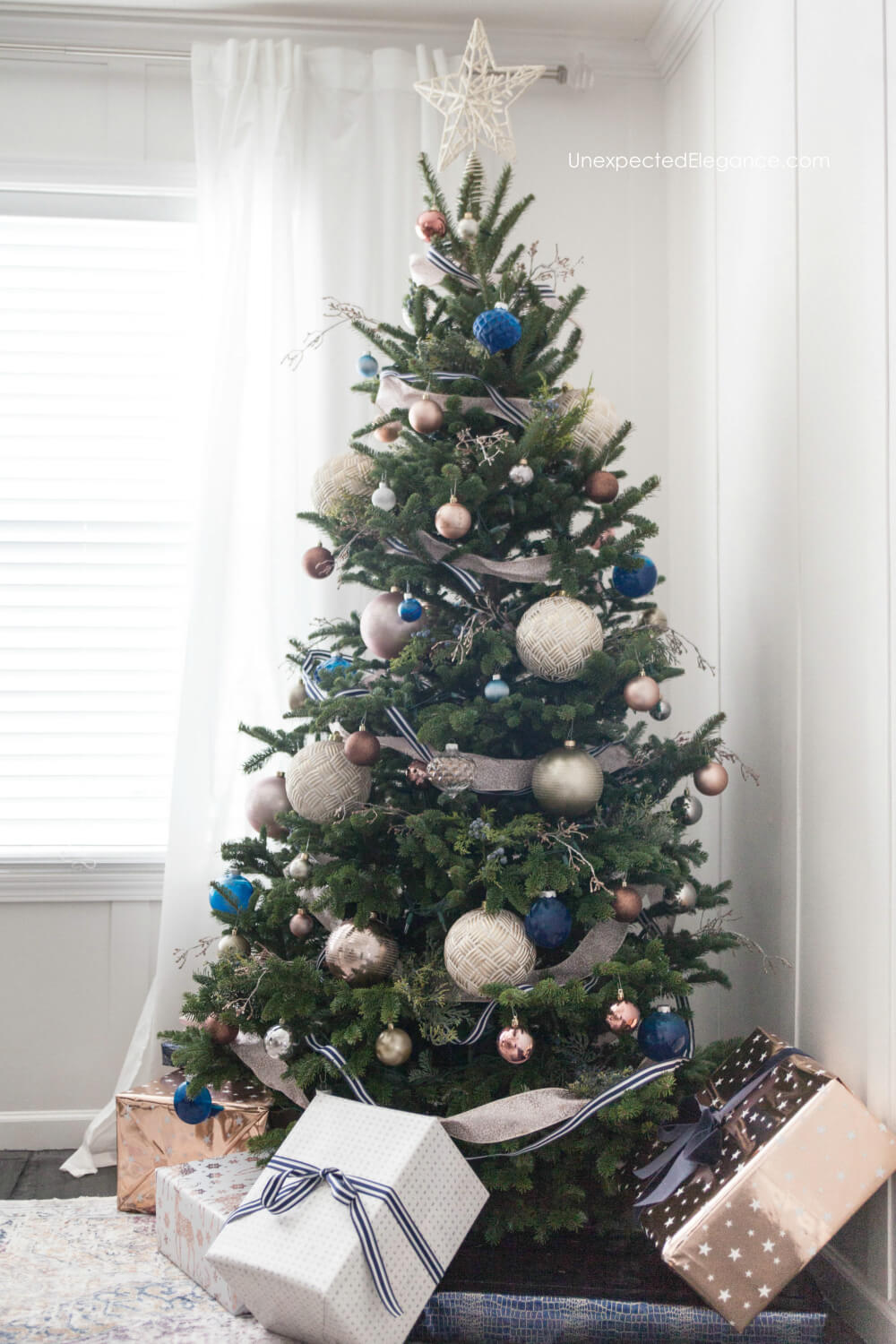 I started with the rose-colored ornaments and wanted to add in some pops of navy.   I had some trouble finding simple blue ones, so I decided to just create my own.
Here's how to make DIY custom colored ornaments:
Supplies:
Using a box and some styrofoam as a base, I poked old pencils into the styrofoam to hold the ornaments as I painted them.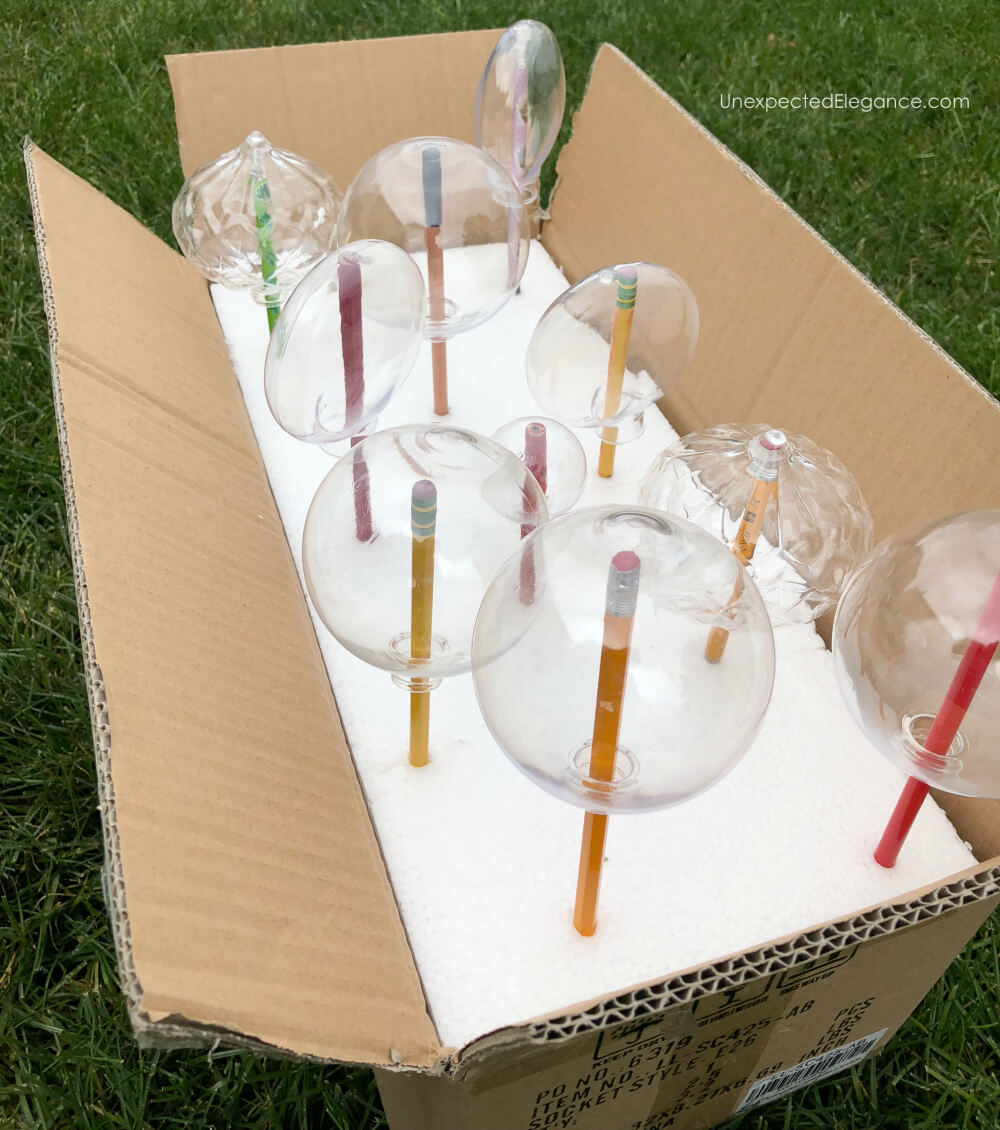 I removed the metal hooks from each ornament and put the bulbs upside down on the pencils.  This method made it super easy to spray paint them and keep them from rolling around.
On some of the ornaments, I purposely didn't spray the entire thing.  It gave them almost an ombre effect. (And pooling paint is good for this effect too!)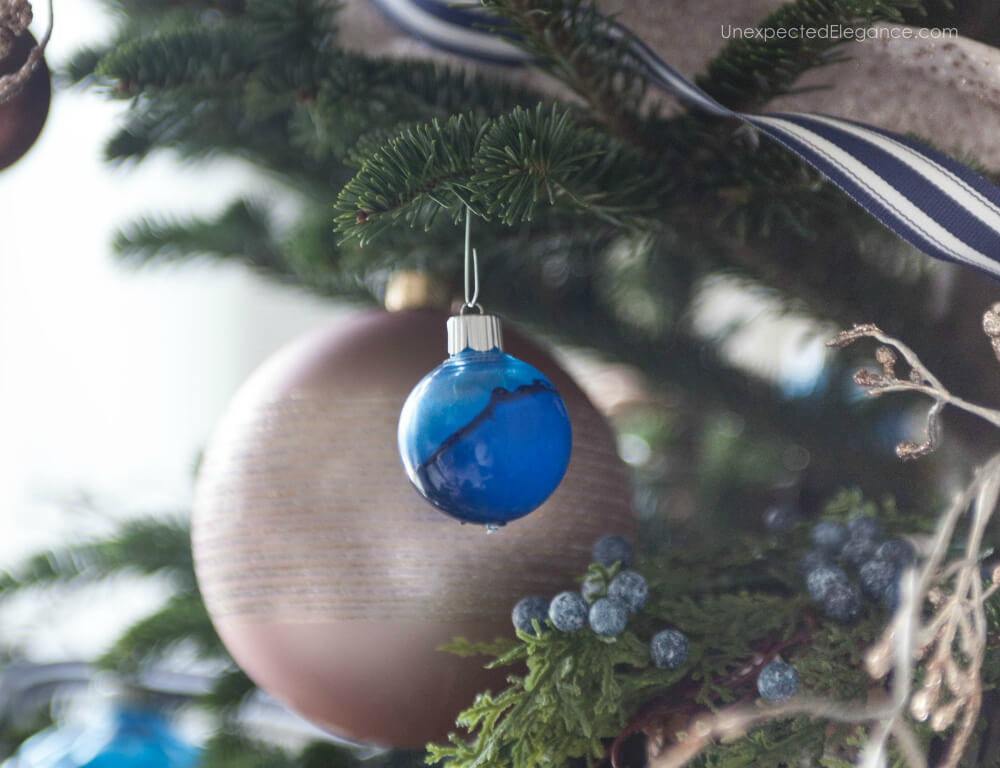 I left a few of them clear and embellished them and a few of the rose ones with a gold paint pen.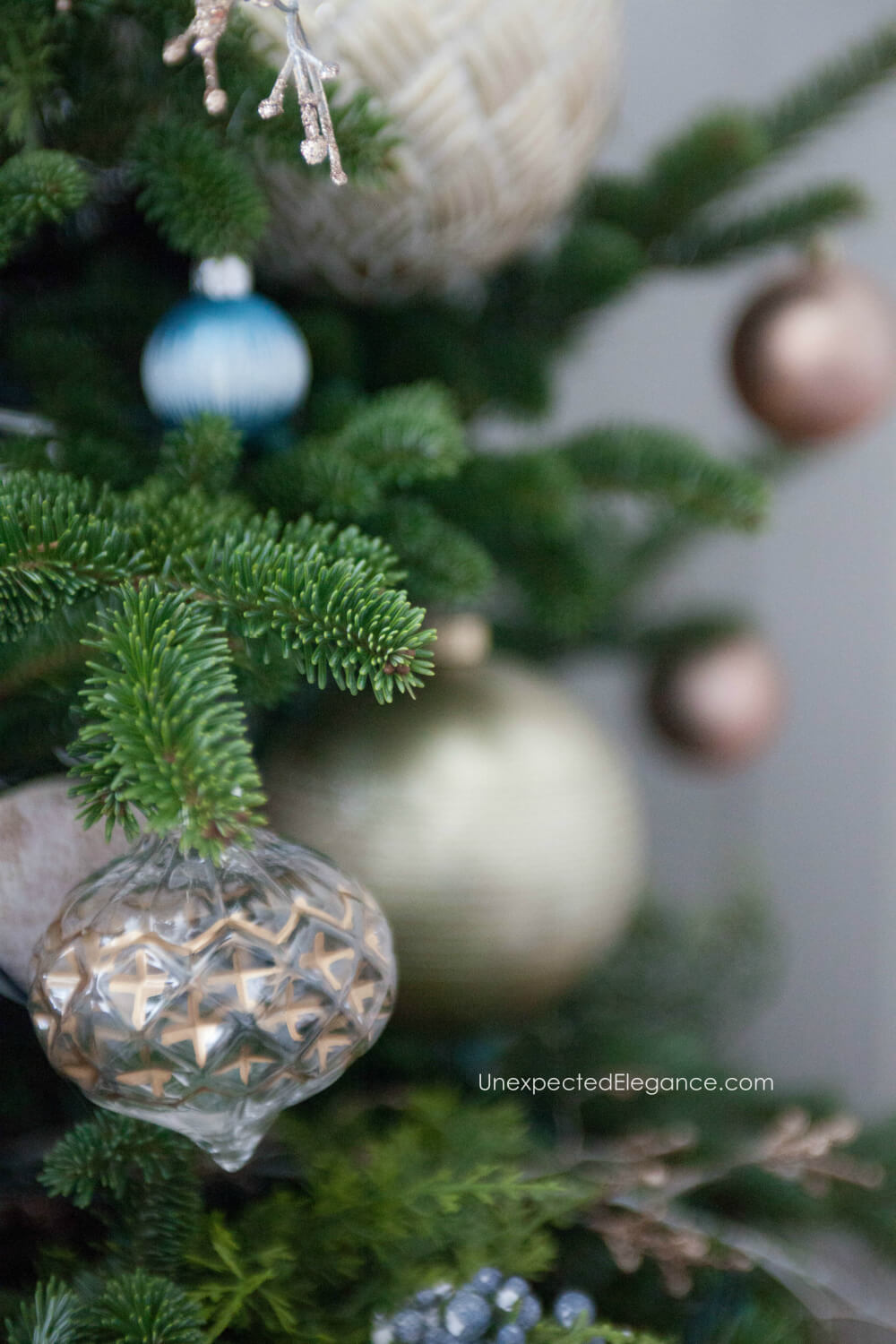 I drew super simple designs that only took a minute to create, but the extra details are so pretty!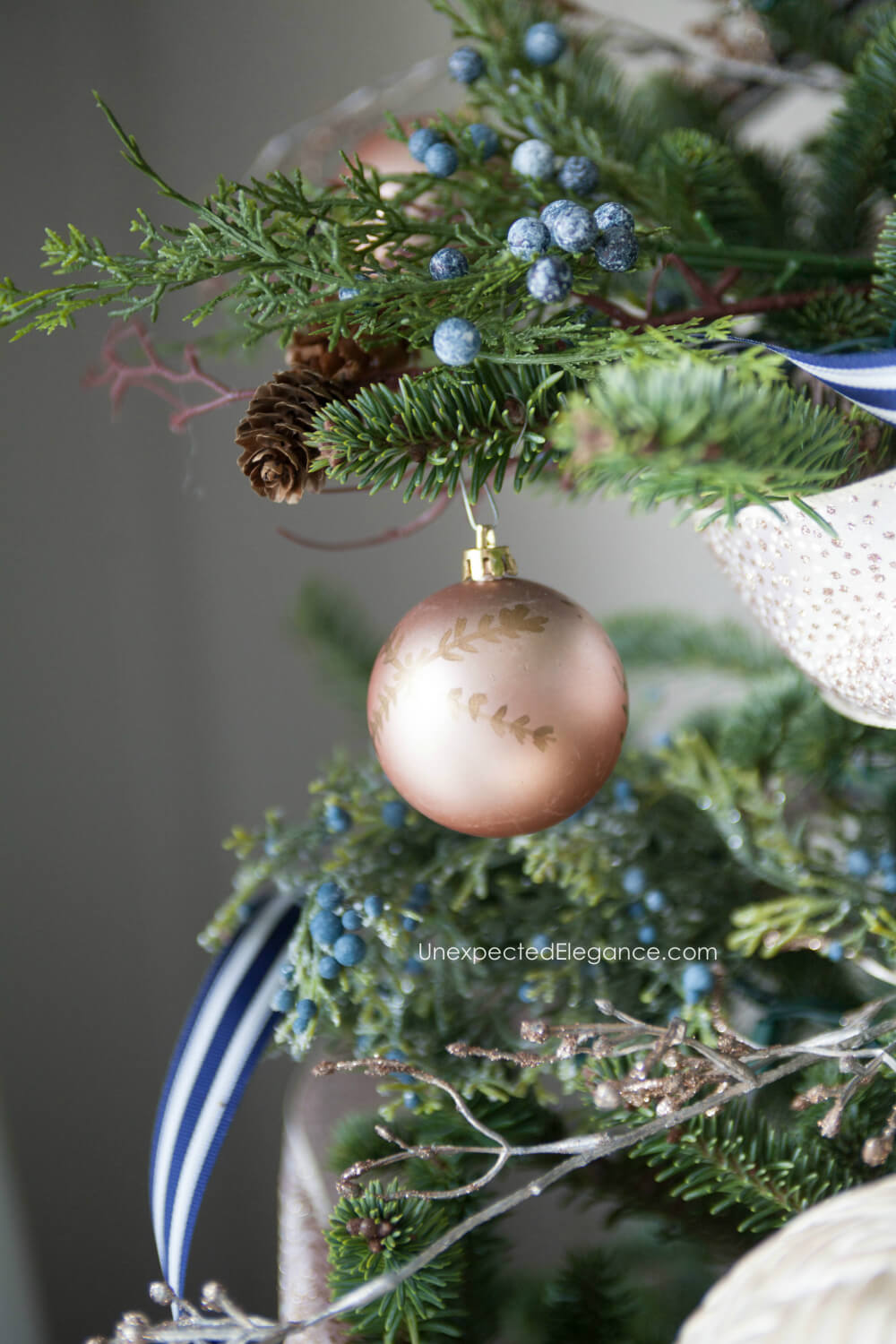 To fill in the tree a little more, I stuck some gold colored twigs and berry bushes throughout the tree.
I love the extra pops of blue that the berries add.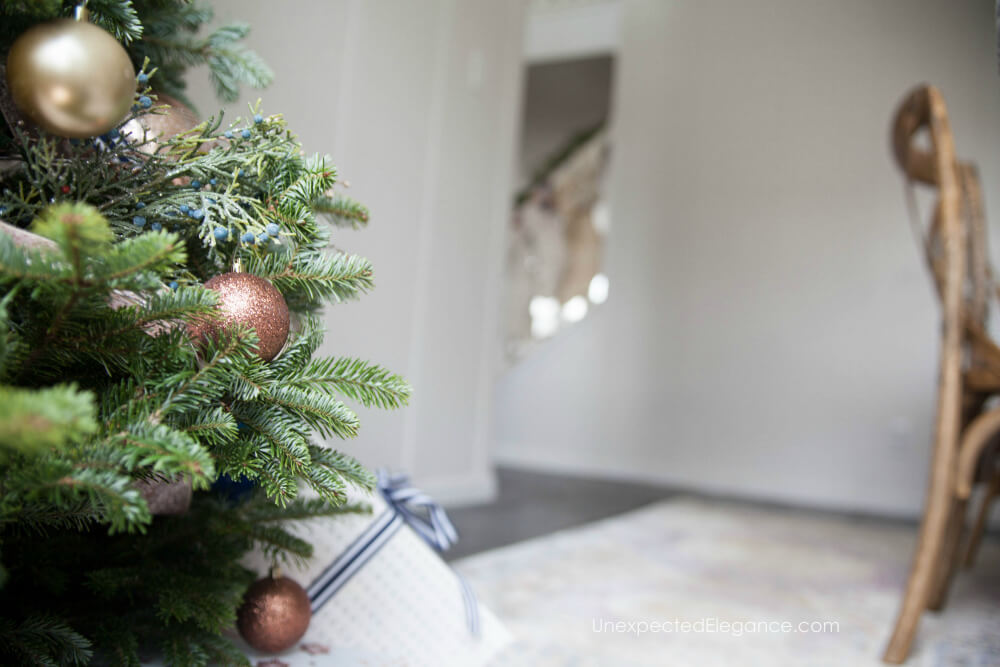 Finally, to finish it off, I found this beautiful tree topper, star from Joann.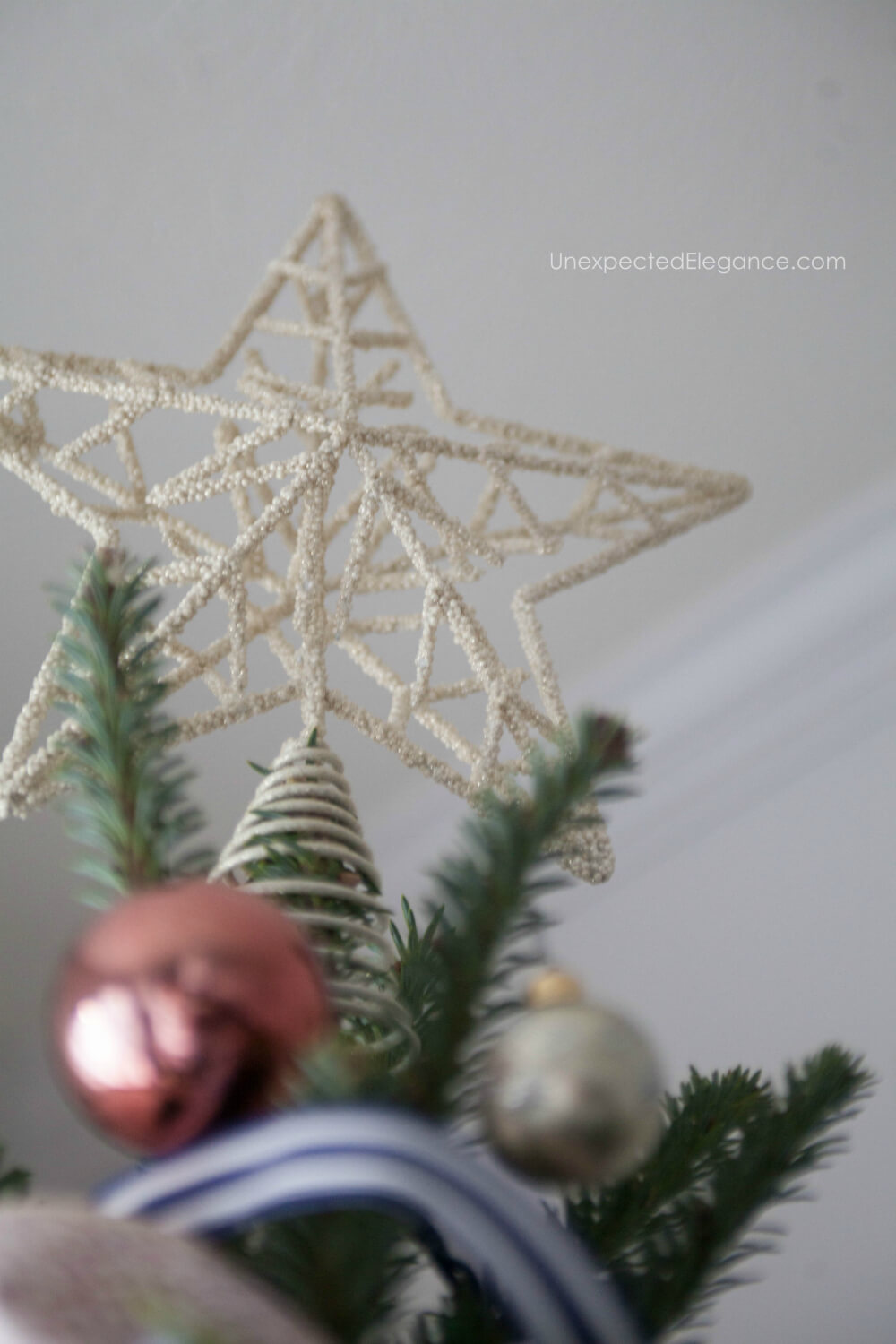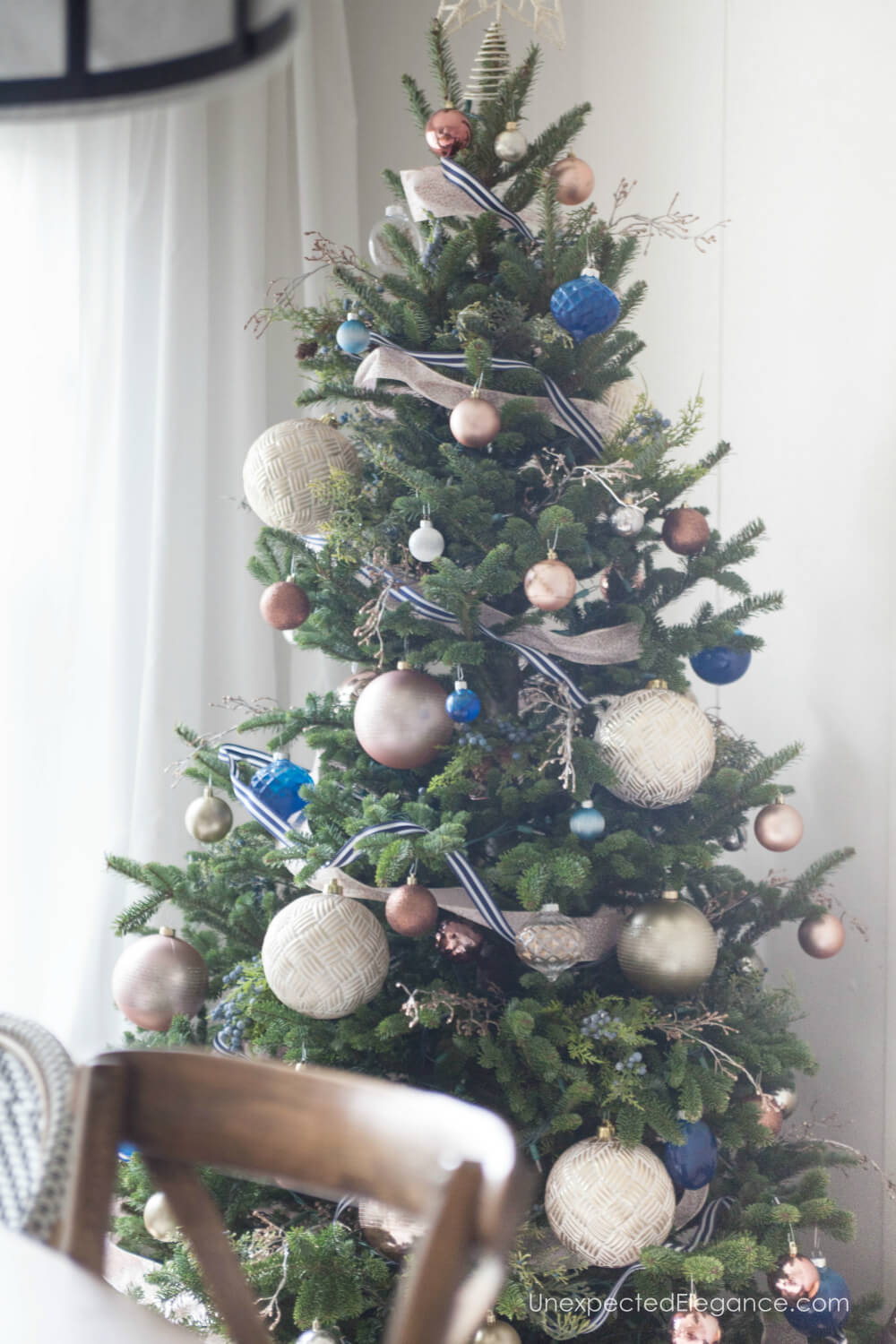 Here is the compiled list of tree decor, if you'd like any of the items from this post: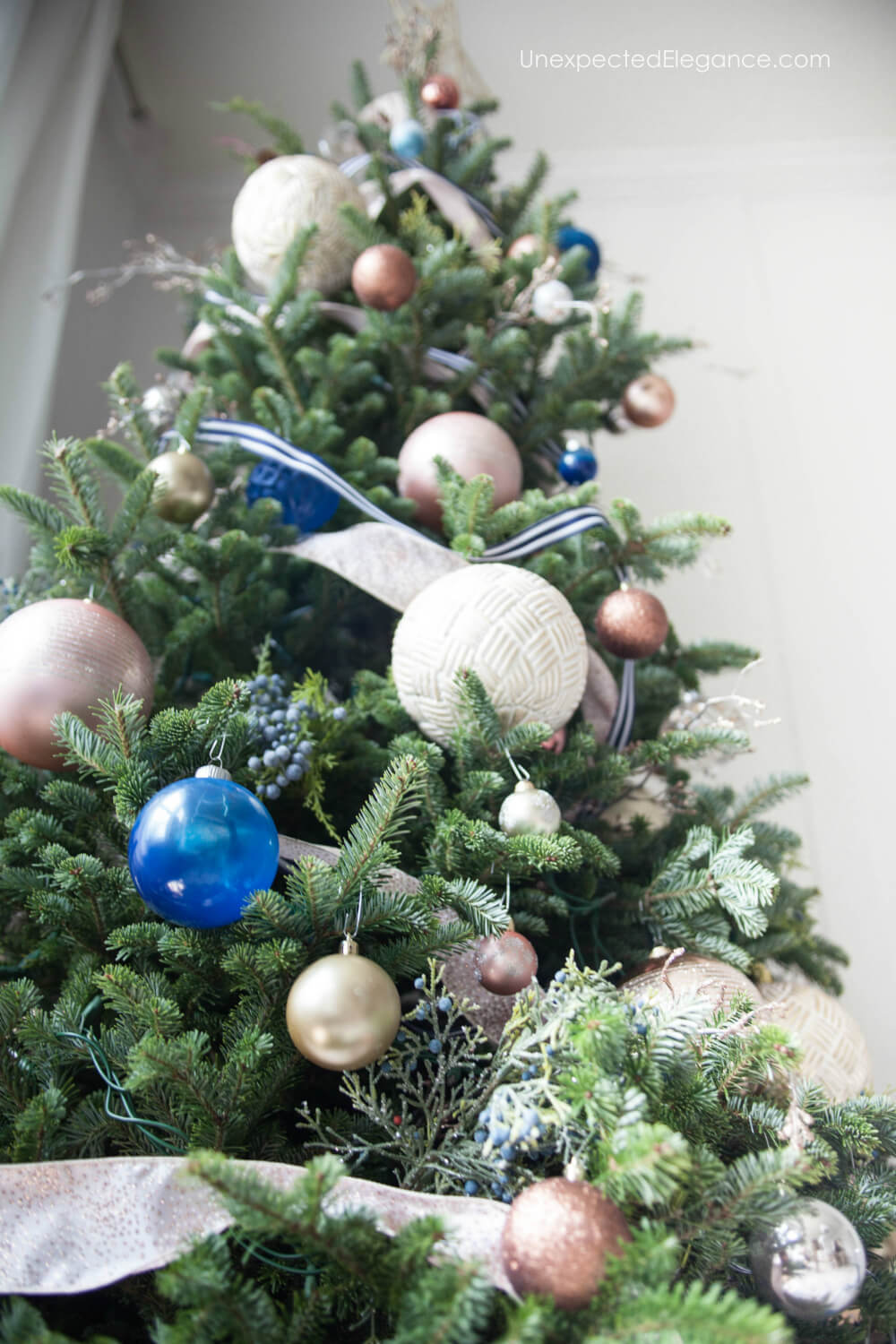 To see more of my home decorated for Christmas, check out this post HERE.