Welcome back! It's week two of the One Room Challenge and it's is all about installing the vanity! I( love the statement that the new black makes in our bathroom.)
If you didn't see last weeks post with my mood board, you can check it out here: Week 1
So the old vanity was there when we moved in and had water damage, but I have put off replacing it for TWELVE years! Shortly after we moved in I did update it slightly to hide the water damage. You can find the post about How To Transform A Builder Grade Vanity here.
Here's what it looked like after the "bandaid" job: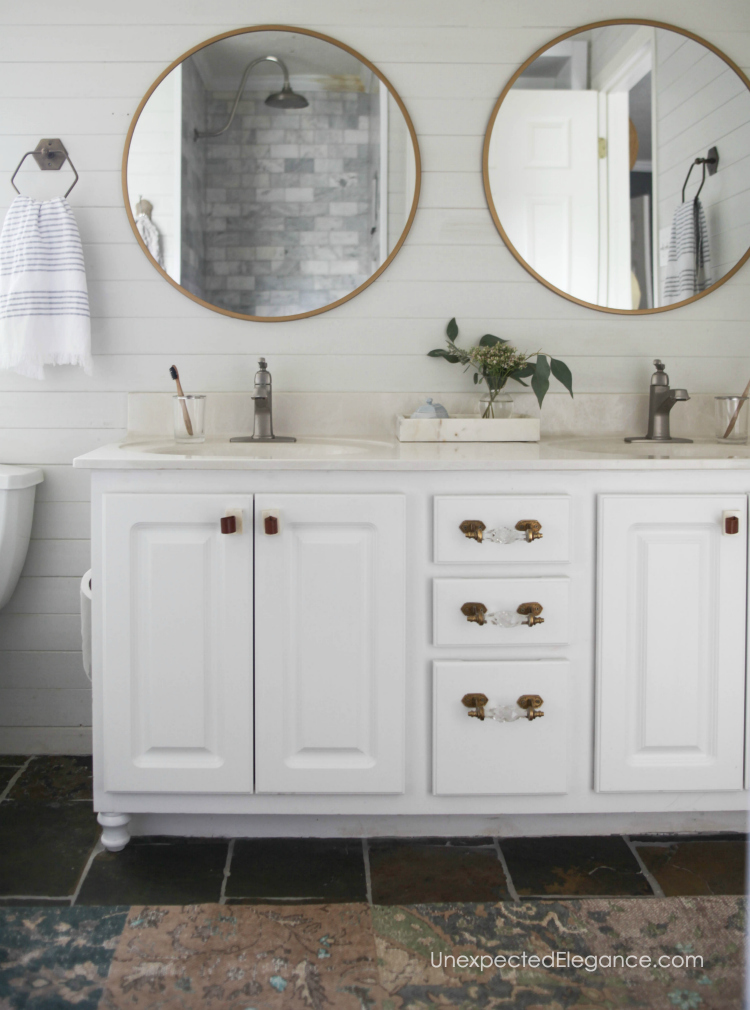 At first glance, it doesn't look too bad but in person, it was in pretty rough shape.
Another thing that you can't see in the photos is how short it is. We wanted a taller vanity…my husband is 6'2″.
So here's the NEW one: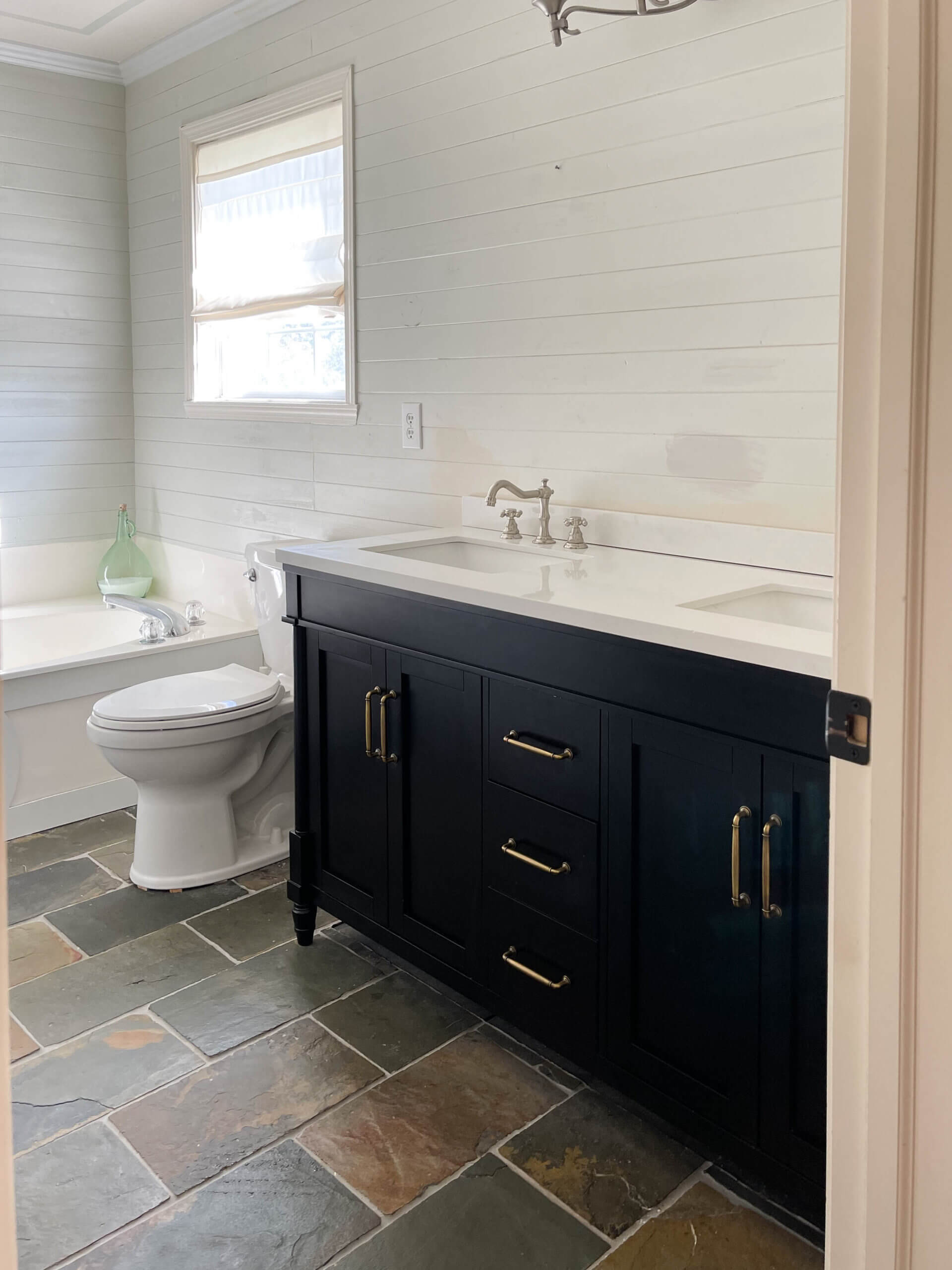 This was the vanity I had initially picked: here. BUT, remember I said I wanted to do this makeover on a budget??
Well, I found this one at Habitat Restore (brand new) for only $800. I saved over $700.
The hardware is even in an aged brass finish, so I don't need to swap them out!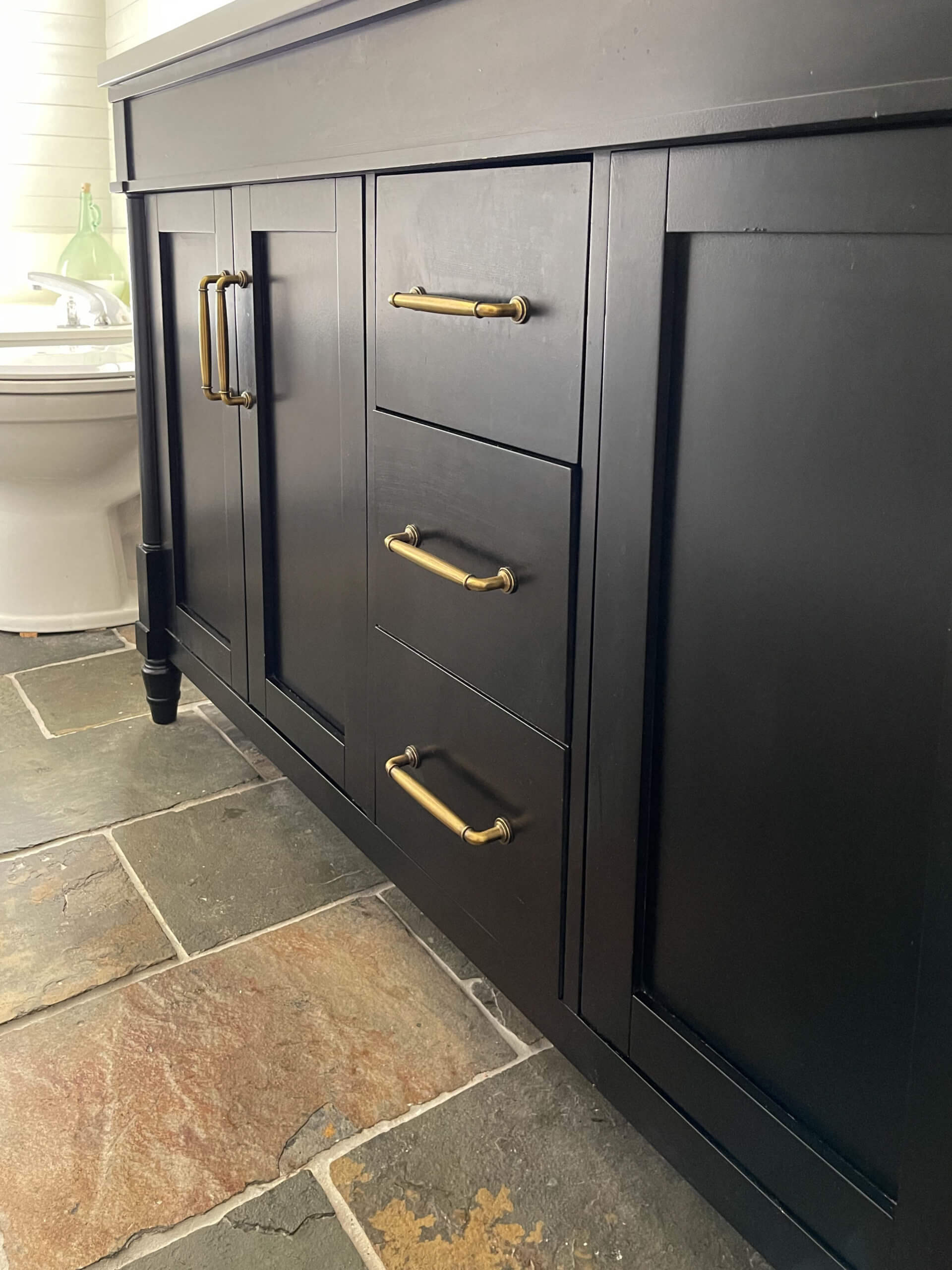 I also found these vintage-inspired faucets in brushed nickle for only $60 a piece!! They are great quality and I a steal for that price.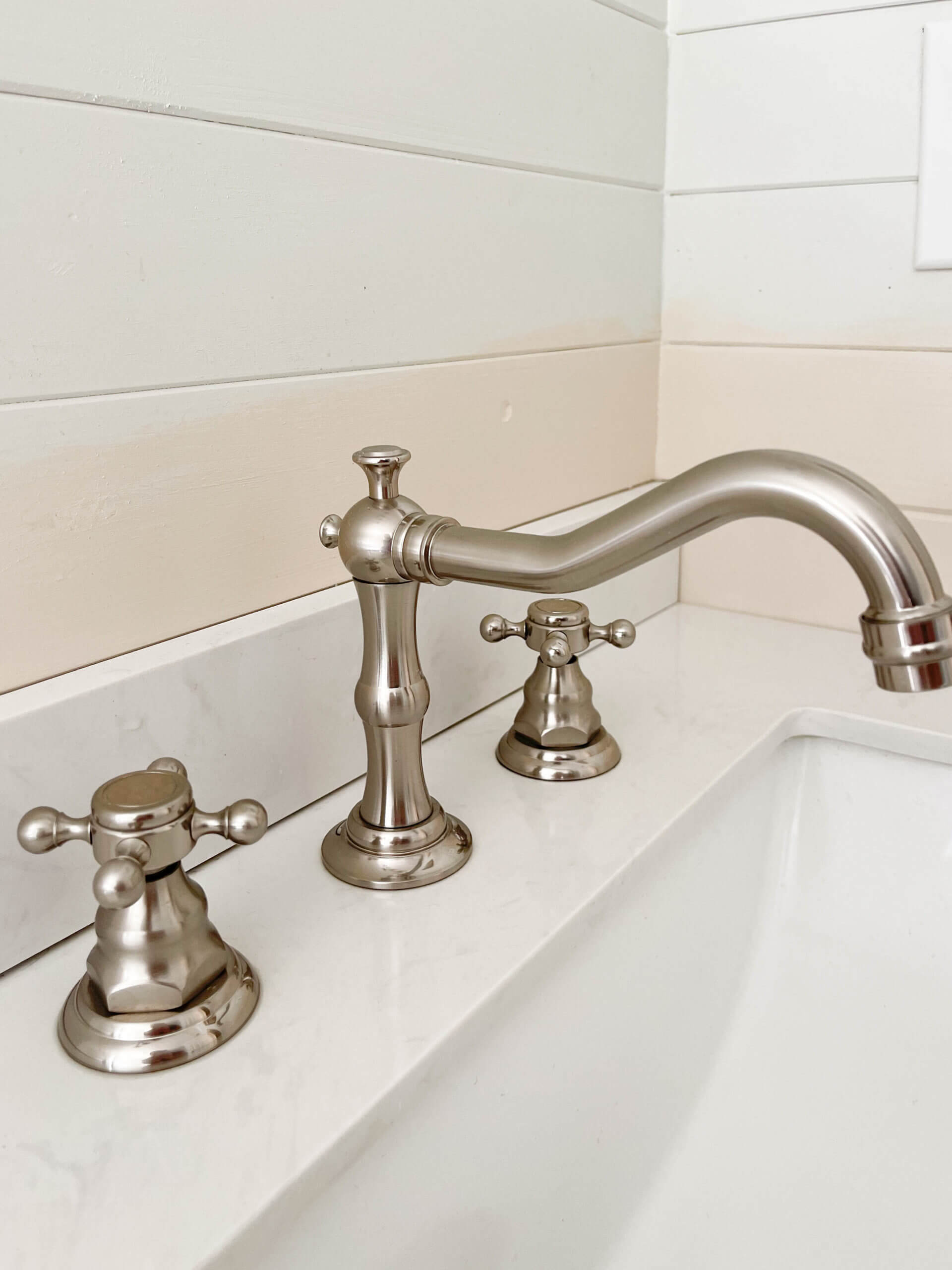 A few of the reviews were negative but I haven't seen any of the problems they complain about. I did have to tighten the handles, but that is easy. Also, I didn't get a painted-on finish so I'm not worried about it rubbing off.
So let's talk about mixing metals…I'm ALL about mixing it up!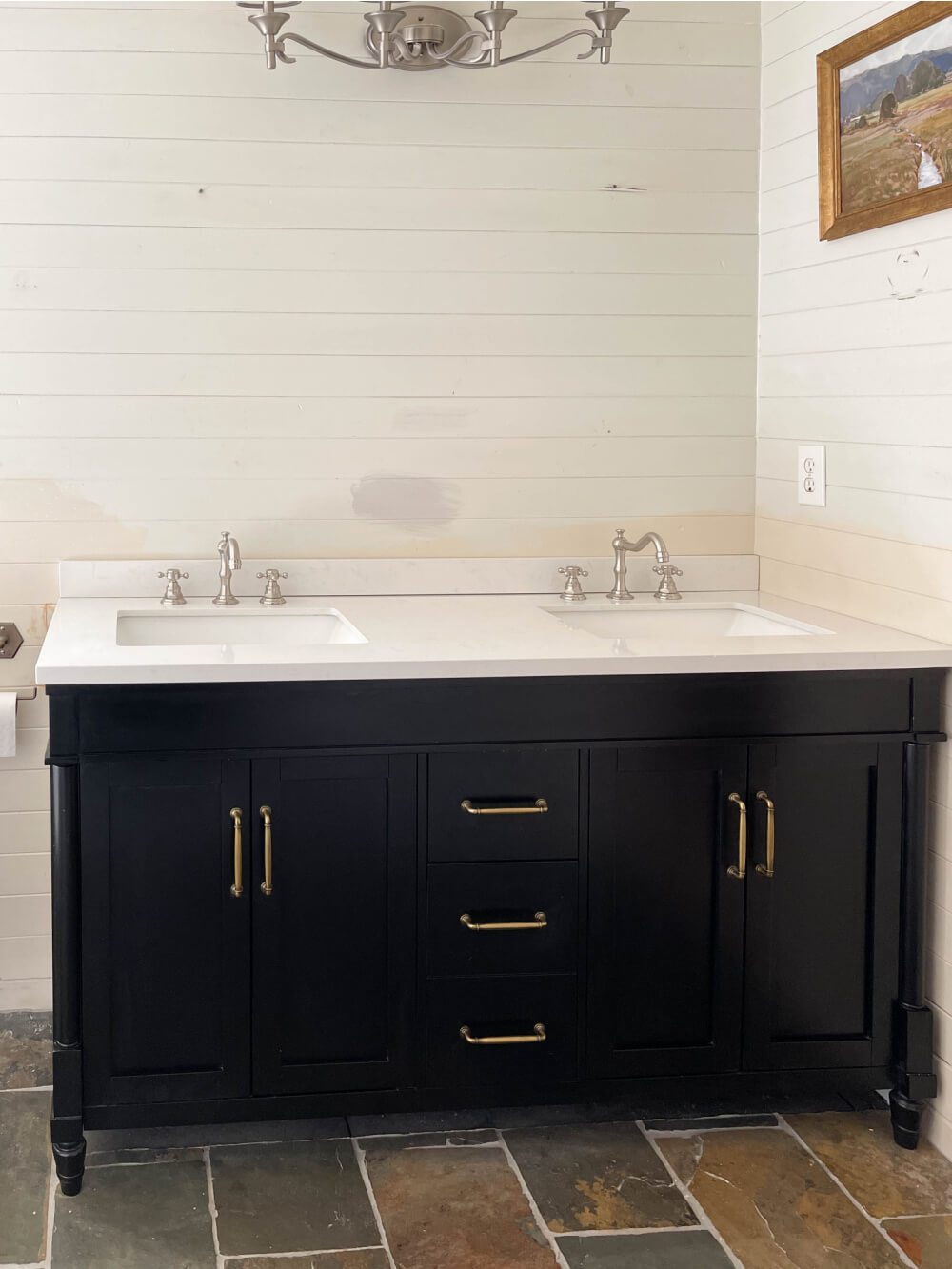 I think using different finishes creates a more established look. Like the room has been designed over time. It also brings more interest and just looks beautiful.
All the plumbing will all be brushed nickel and the hardware and lighting will have brass accents.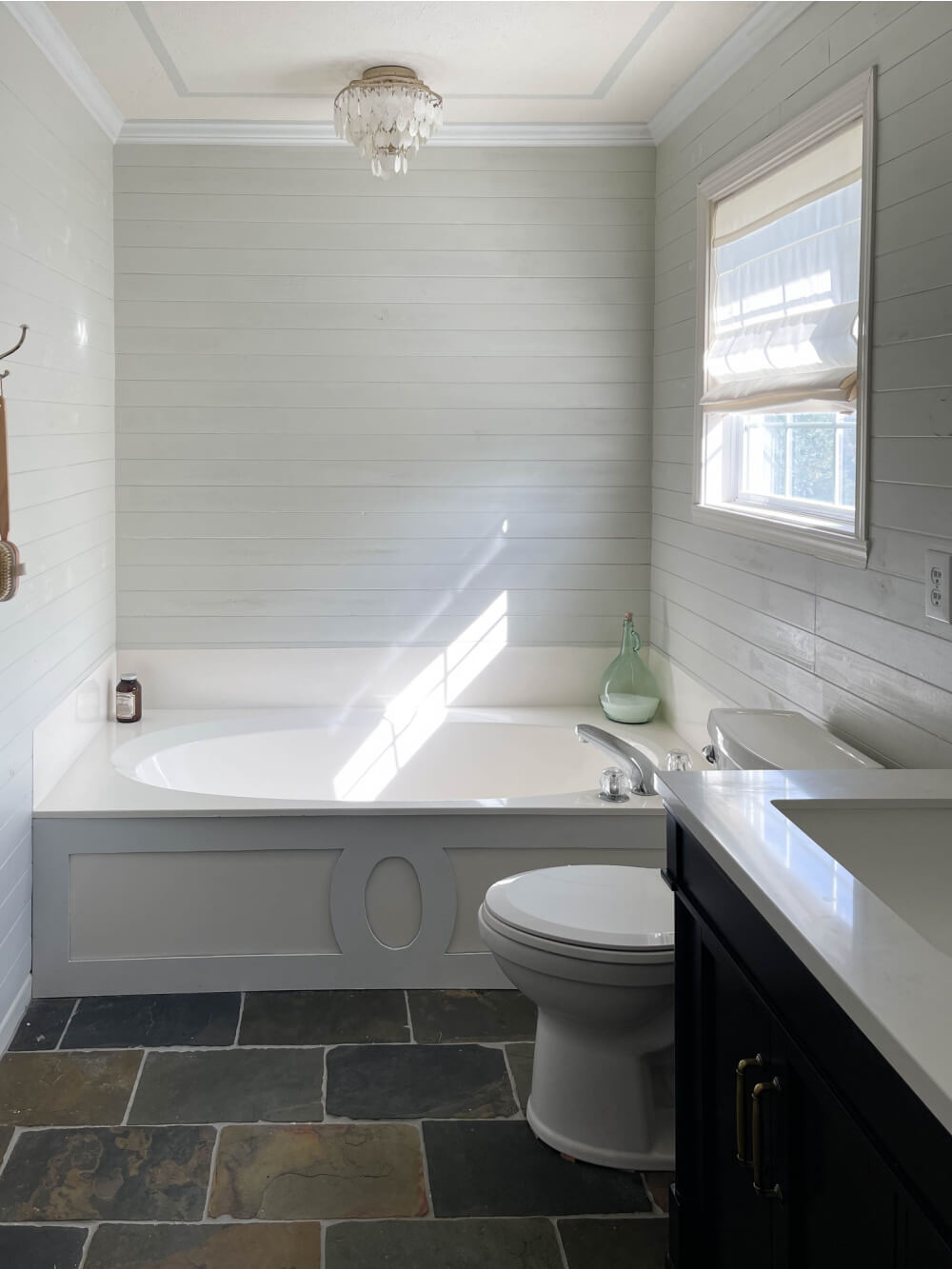 I'm trying to nail down a paint color. I have an idea of what I want but the samples I painted DID NOT work. The mood board has a darker color and that's what I'd like to try for this room…I'll keep you updated.
Also, I have a DIY project for our bathtub I'm going to attempt. I have my fingers crossed that it will work, but we shall see. I made the design for the front of the tub several years but it's time for something new. If you're interested, you can find that tutorial here.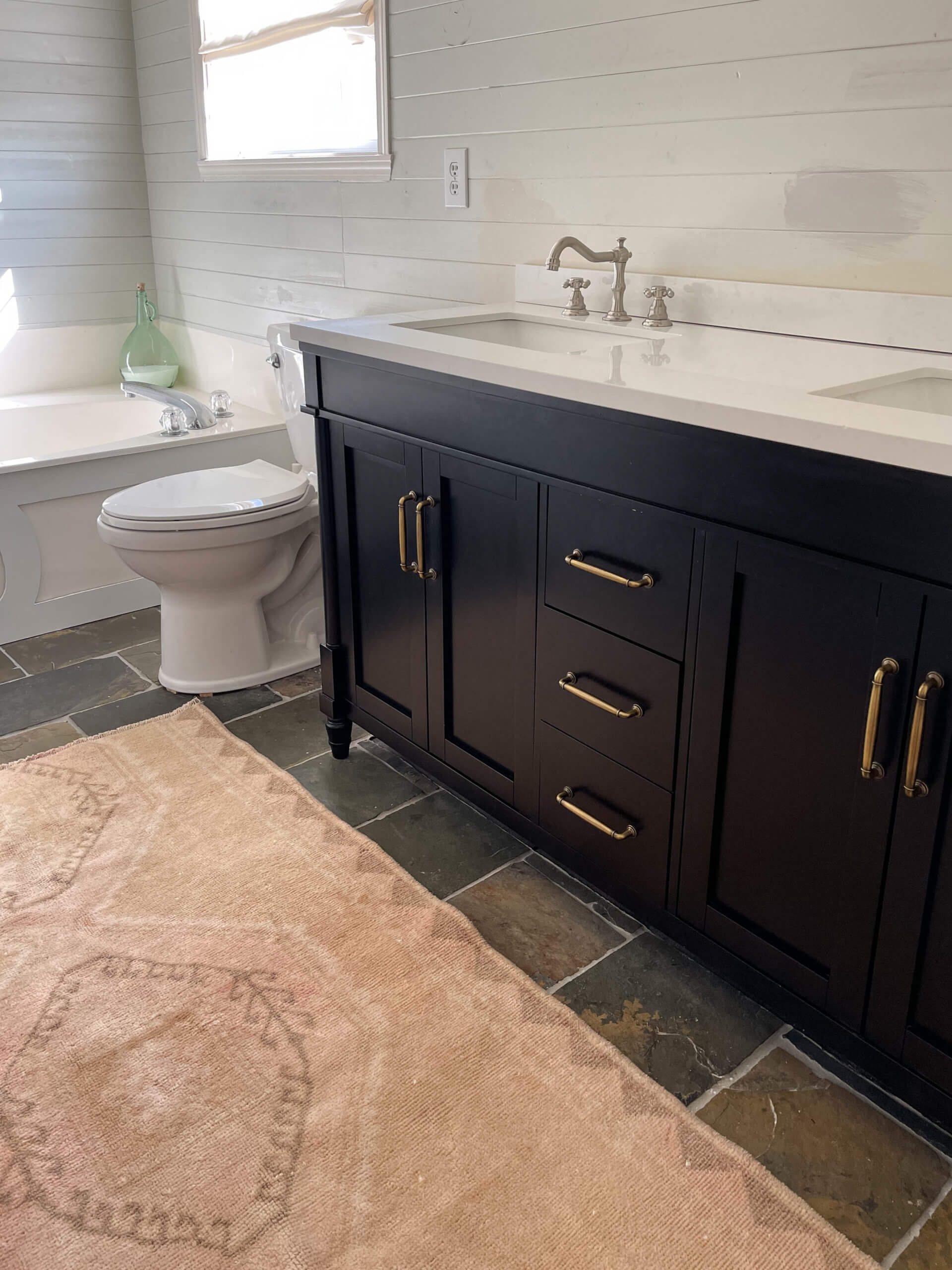 So that's all the progress for this week. My vintage rug got delivered a few days ago. It's a little pinker than I thought, but it's still beautiful. Any suggestions for desaturating the color?
Be sure to check out all the other rooms in the One Room Challenge: here.