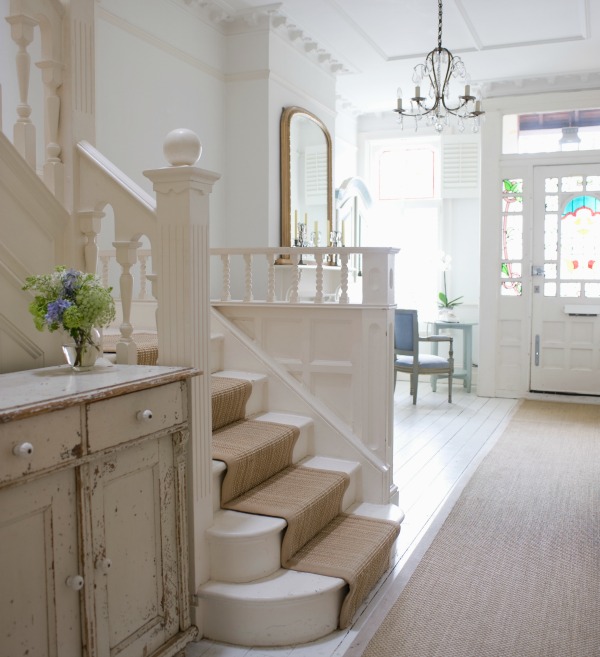 For anyone who owns their own house, they want to make it their own style – instill their personality and aesthetic. Once you have moved in, you'll find little things you want to change, like wall colors, flooring, fixtures, and more. As time goes by, little changes lead to bigger changes. It reminds me of the old adage about replacing your throw pillows makes the sofa look dated, so the sofa is replaced. Then the walls don't quite go, so repainting is necessary. Which leads to new flooring…. you get the drift.
Before beginning any home improvements, you need to ask yourself a few questions. The first, and most important question is this: Will you be able to finish the project? Sometimes the time and skills required are beyond our grasp, and we need to call in a professional to finish. (I've learned my lesson the hard way! 😉 ) In many cases this will be more expensive than if you called them in the beginning. BUT…if you have the time, skills, and desire, DIY home improvements are very rewarding! Here are a few even the beginner can accomplish:
Paint your walls – This is probably one of the easiest and most satisfying changes you can make to your home. Add instant personality by painting a single wall in a bold color, or painting a room something other than the blah off-white or 'greige' that has become so popular. (Honestly, I don't don't do bold color well…the most bold I have ever gone is in my master bathroom faucet.)  However, tools and cleanup are minimal, paint is inexpensive, and if you plan a little ahead by moving and covering furniture, you should be able to paint a bedroom or two in one day.
Wallpaper – We're not talking your granny's floral chintz patterns, but one of the new bold and modern designs. In a small bath or one wall of a room, this can make a huge impact and set the tone for your other furnishings. A little more difficult than paint – this one works best if you have a helper – you need to hang the paper straight and level, smoothing it over the prepared wall. But the results are awesome, and with a little planning, this should be an easy weekend project.
Front Door Revamp – Change the lock hardware to something sleek and modern with a glossy coat of paint for a bright pop of color or go for an old classic with a subdued color. There are so many styles of hardware available these day, these is no reason to have that builder-grade lock on your door. For paint, choose something bright and/or unexpected. If you are unsure about the color, most paint stores sell sample jars of any color so you can try it on a small area first. Replacing the door lock should take an hour or two; prep and paint might take a day.
Replace Shower Heads– If you want one of those lovely drench shower heads, or maybe a pulsating one, this is one of the easiest improvements ever! It is literally a five-minute job. Unscrew the old one, apply Teflon tape and screw on the new one. That is it.
Replace Faucets – Whether you are replacing a kitchen faucet or bathroom faucet, they aren't super difficult, but you do need to know a little bit about plumbing. The first and most important thing is you must be able to shut the water off to that faucet before replacing it! If your shut-off valves under the sink have corroded or don't close, you'll need to call a plumber.  I replaced our master bathroom faucet recently and the hardest part was getting the old faucet out!  They make the new ones really easy to install.
Make a Brick Patio – Although it's not difficult to lay bricks for a patio, it is VERY physical work. The area will need to be leveled, a layer of sand spread and gravel, bricks or pavers set out in the pattern of your choice, and sand spread to fill in cracks. This could be a quick or several week project depending on the area. The great thing about this is you can plan a rustic outdoor space that doesn't have to be perfect.  This was one of the hardest project I have ever done, but one of the most rewarding!  We use our paver patio (with fire pit) ALL.the.time.
A great tip before taking on any home improvement project: Take pictures with your phone and you'll have them while shopping. When replacing hardware, faucets, and door locks, you'll want to use something that is configured the same as what is installed…this will help when trying to choose. When you're shopping ask a lot of questions. Home improvement stores want your project to be successful, and many stores offer free classes and tool rentals.