This post is sponsored by The Dream Bed™ but all of the ideas and opinions are mine!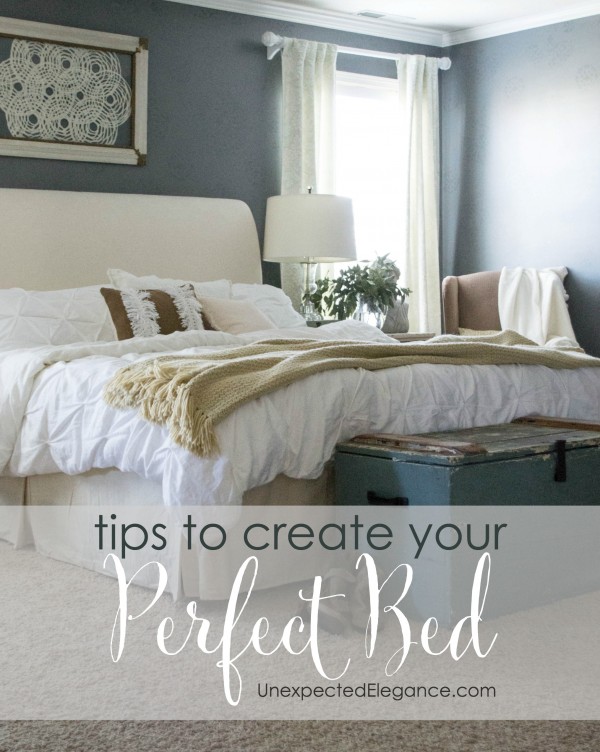 Have you ever stayed in a really nice hotel or seen pictures in a magazine of a bedroom and thought "I could live in that bed"?!  The bed is the foundation of any bedroom and although we want it look pretty, in this case, form should follow function.  In my opinion there are two tips to create your perfect bed…
A Comfortable Mattress
The mattress sets the stage for the rest of the bed.  Believe me, I struggled with an uncomfortable mattress for too many years!  Just like most things in life, you need a good foundation.  We got The Dream Bed recently and it's made such a difference.  I look forward to crawling into bed at night now, instead of dreading a sore back the next morning.
It was delivered in a box to our front door…yes I said a BOX!  We just had to take it out and set it up.  Within an hour it had expanded and we slept on it that night.
The absolute BEST part about this mattress is that with every purchase they give back!  They have a passion for improving sleeping conditions around the world with a buy one, give one model to help those in need by donating a mattress for every Original or Cool Dream Bed sold.
I don't know about you, but I like knowing that I'm making a difference in the world.  That's why I love what The Dream Bed is doing to help others. They believe that all people, everywhere deserve access to a good night's sleep…no matter their age, occupation, income, or address.  Sleep is a basic human right that has a greater impact on our health, happiness and success than anything else we do.  They've already donated over 105 beds  to those in need, in just two months!  Buy a Dream. Give a Dream.

White Bedding
Don't get me wrong, I love patterned sheets but I've learned over the years is that it's best to stick to a classic.  Not only is white easily cleaned, but it sets you up for easy changes whenever the mood strikes.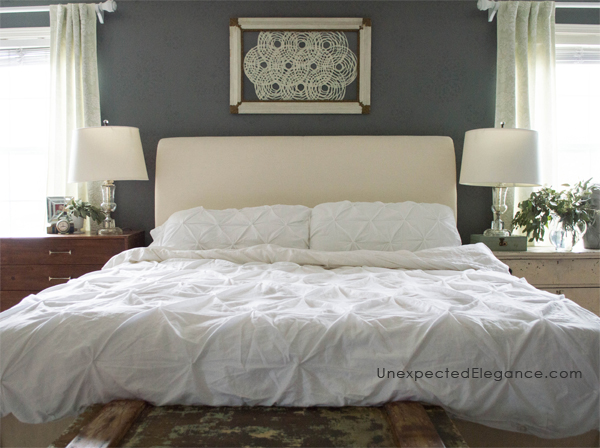 So, I did a little experiment to show you just how easy it is to change the feel of your room when you have white backdrop.  (All you need are a few pillows and throw for these quick changes.)
Monochromatic.  If you want a more clean and crisp feel to your bed, stick to a monochromatic color scheme.  Mix in tans, off whites and even light browns to give a more relaxed feel.
Here is my bed with a few neutral pillows and light colored throw …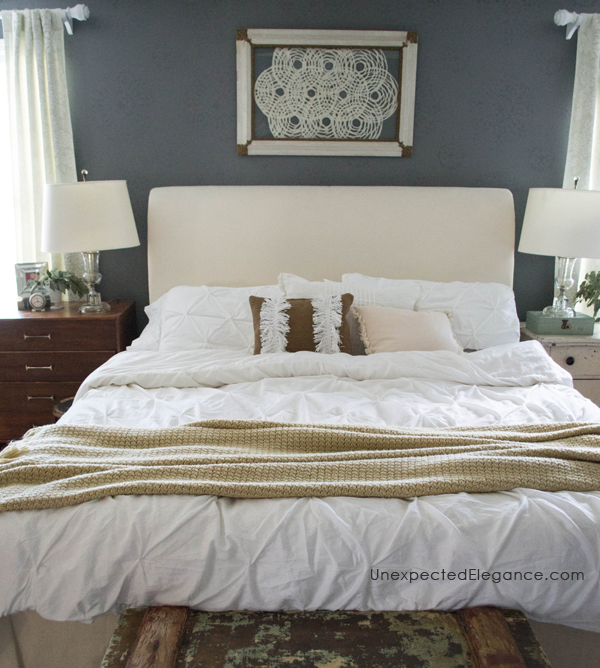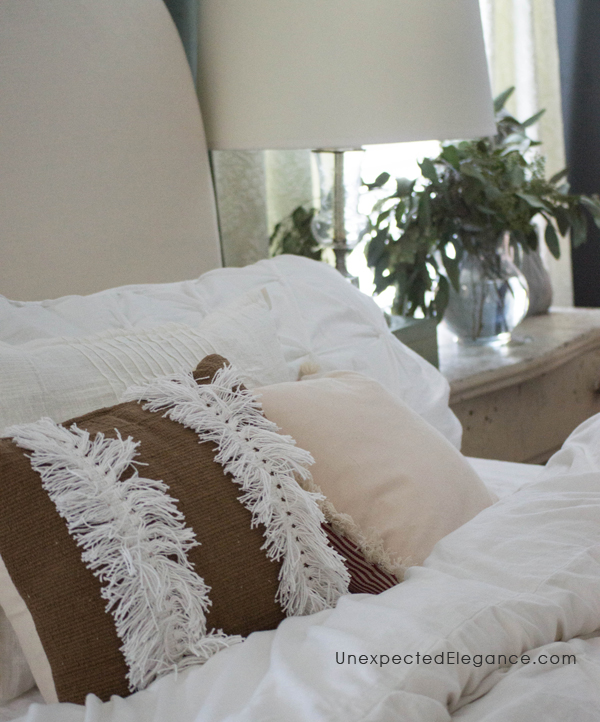 When the rest of my house is a little chaotic, I like my bedroom to have a calm feeling.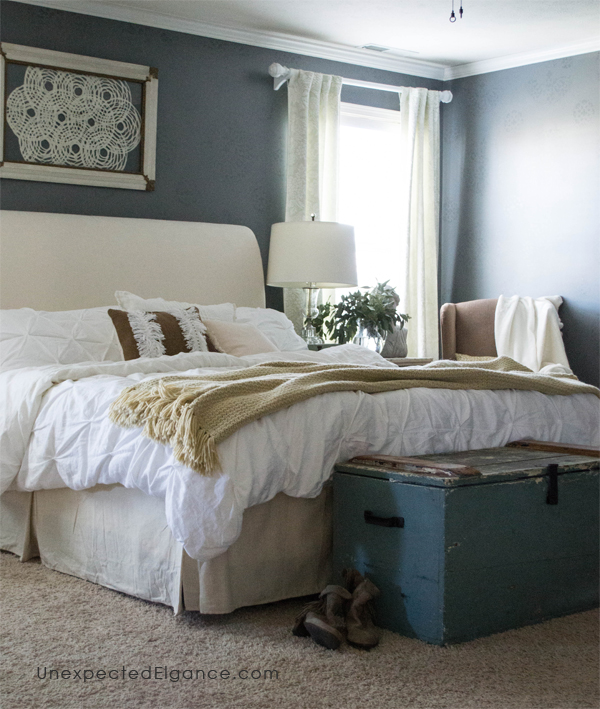 Add in color.  Sometimes you want your room to be more colorful.  Normally toward the end of winter, right before spring, I get the urge to add color all over my house.  Color can easily change the mood of any room…make it cheery by adding bright colors or moody by adding darker colors.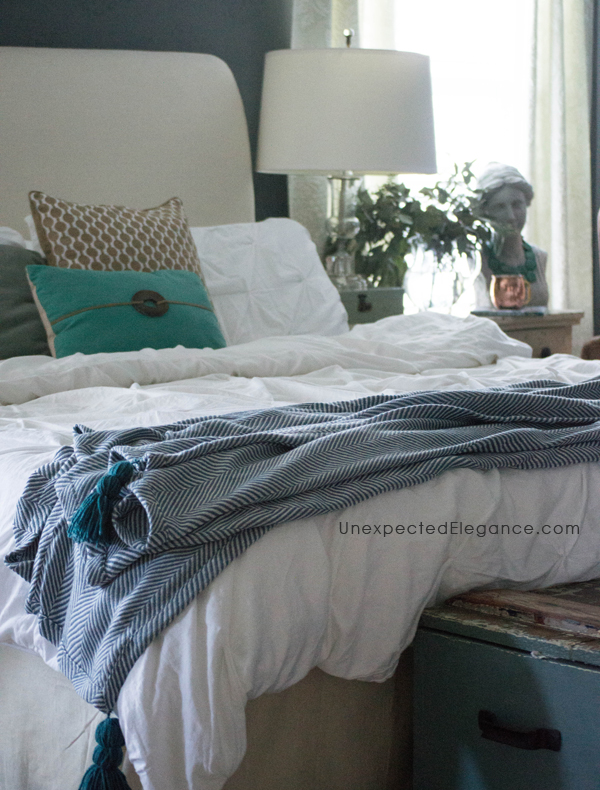 Just a few simple changes to the pillows and throw quickly change the mood.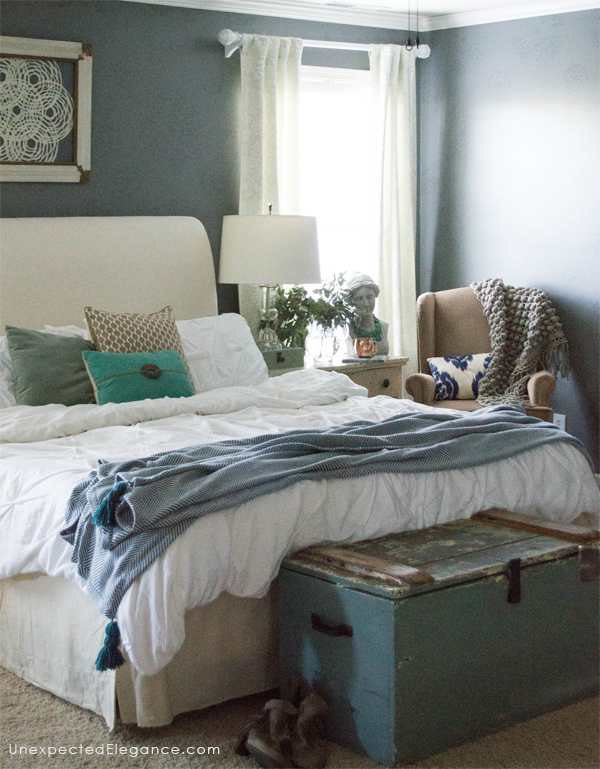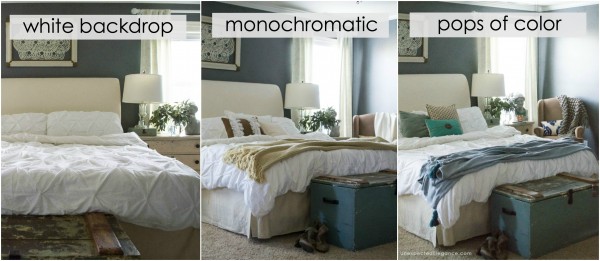 Your bedroom should be your sanctuary.  Make it a space you look forward to being in at the end of the day!