Last week I had entered a challenge on The CSI Project and saw that this week the challenge was Roadkill Rescue.  This means anything you got for FREE.  I had been thinking about what I could post and nothing stood out, until…my friend called to ask about where she could get rid of some old decking boards.  My mind started turning.
I went over to see the boards headed for the trash.  When I saw them, I immediately thought: TABLE.  She looked shocked, but was definitely interested in this idea and was a major factor in the motivation I needed to finish this project.  You will have to bear with me, this is going to be a long and detailed post!
I'm going to show you how I got from this…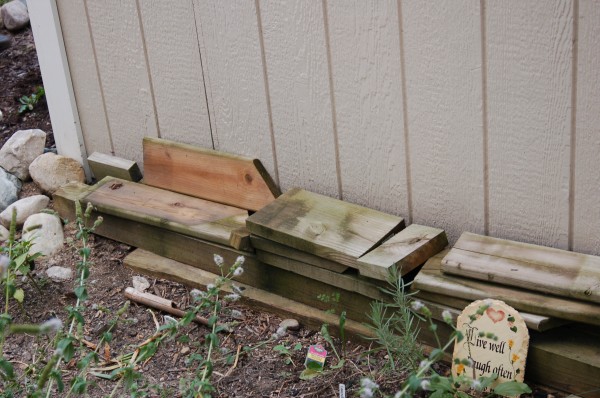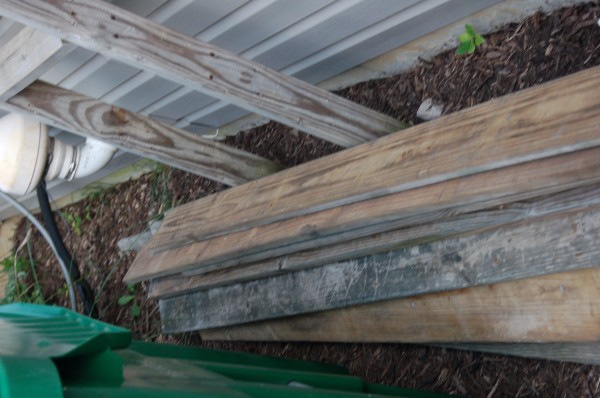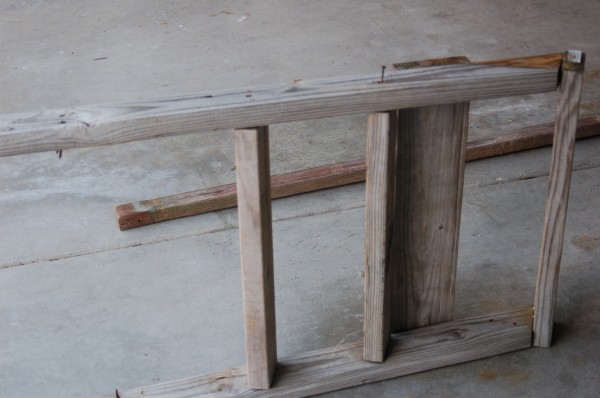 To This!
This endeavor took two neighbors contributing…A special THANKS goes out the Wynn's and Pope"s for the supplies!
Here goes:
Supplies I used:
Scraps (2×4's, decking, deck posts), deck screws, saw ( I used a compound miter saw, but any saw will work-I only made straight cuts), level, square, (4) 4 in" lag bolts, (2) hitching rings with lags,(2) 4 13/16″ ceiling hooks, (4) braces,  (2) thing-a-ma bobs?? (not sure what they are called, sorry!)
I started by making a box from the 2×4's. (They were originally stairs to a play structure.)Â  I cut three at 21″ and two at 54″.  I assembled them using 3″ deck screws, longer board on the outside and the shorter boards on the inside with one in the middle for support. Use a square on the corners to make sure they are "square."
This is the best picture I got.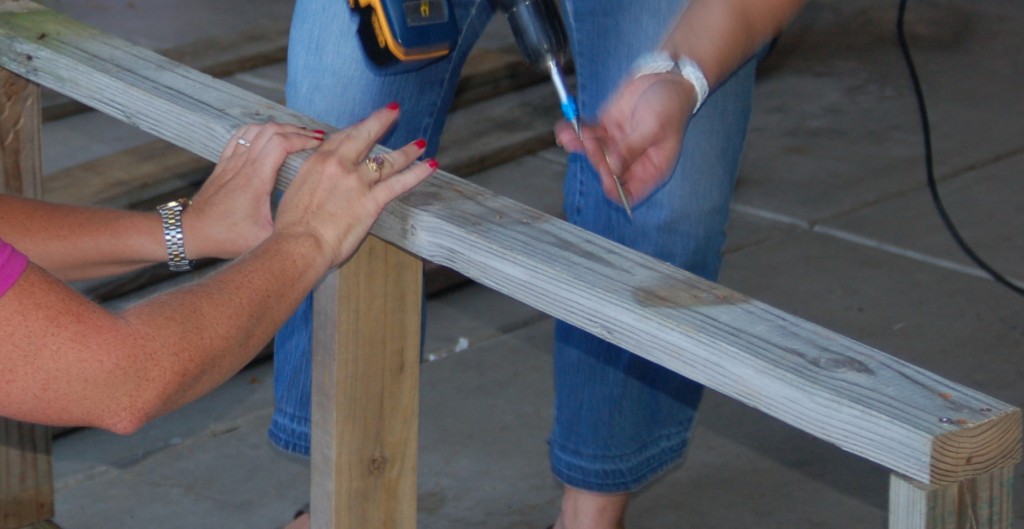 Next, I cut the decking to 66″ each.  I used 7 total.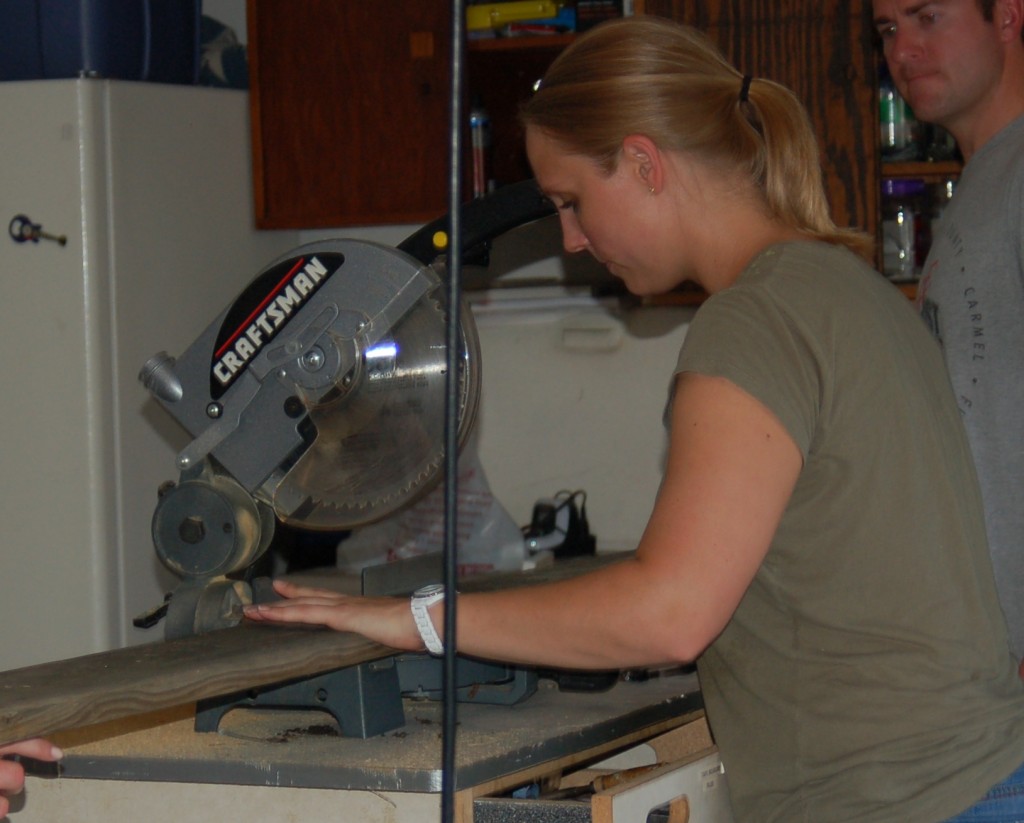 At this point I had all kinds of help!  There was a group of neighbors, interested in what this table, made of someone's trash, would look like!
So, I had the box.  Then I started attaching the top boards.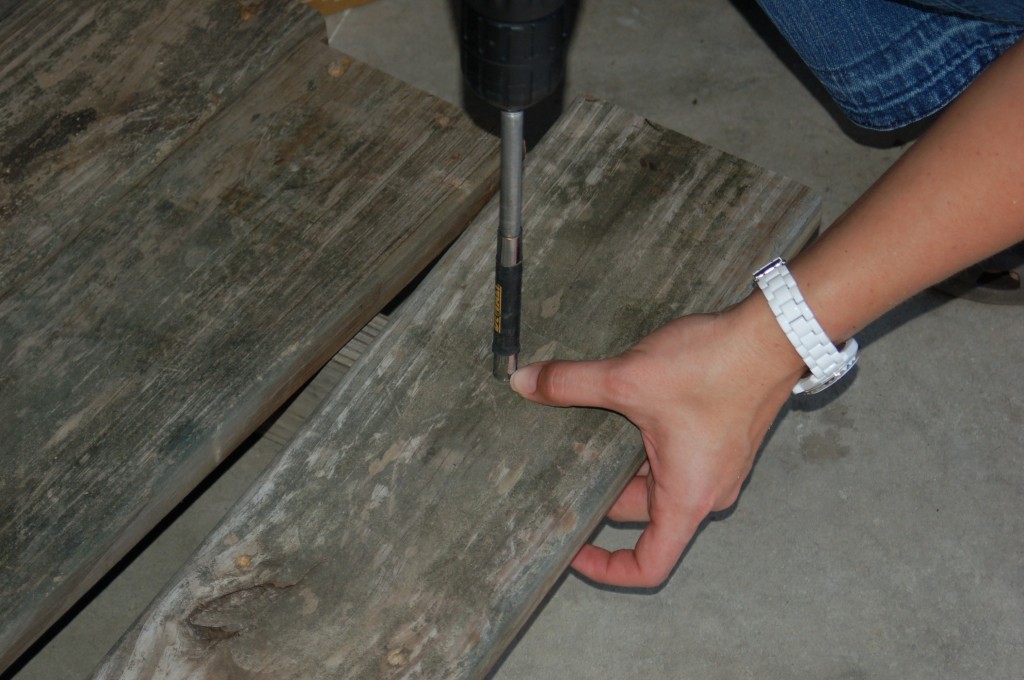 I flipped it over, then attached the legs.  I used deck posts (4×4's) for these.  I cut four at 28″.  I originally attached them to the inside but changed this later.  Use a level to make sure the legs are "plumb."  That means straight! 🙂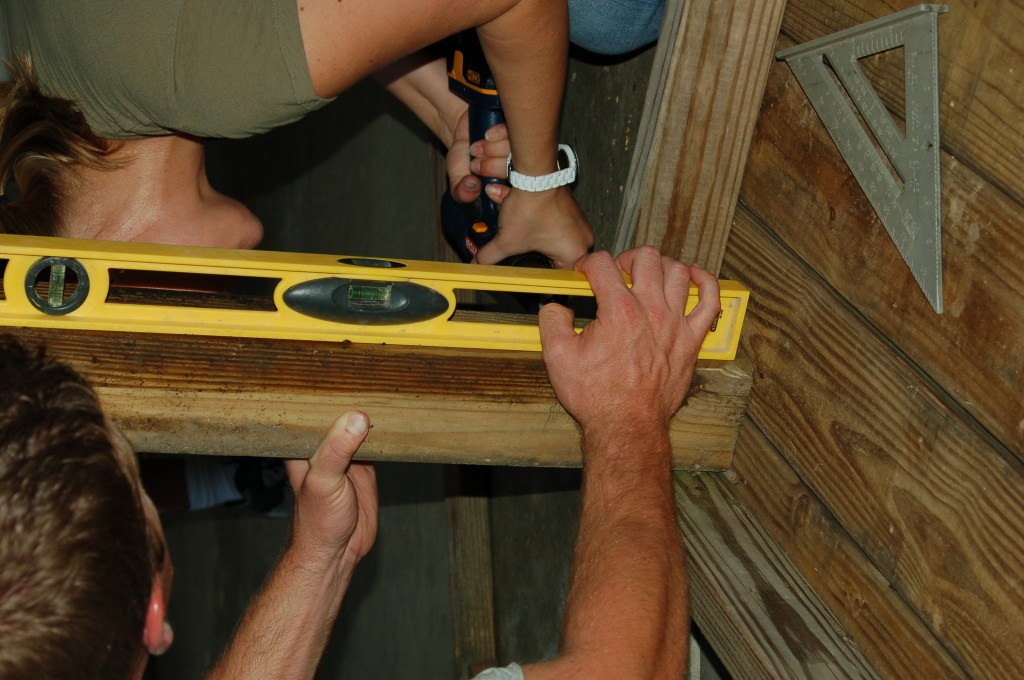 (Not sure why this picture is the wrong way, but you get the point.)  And tada!  First draft!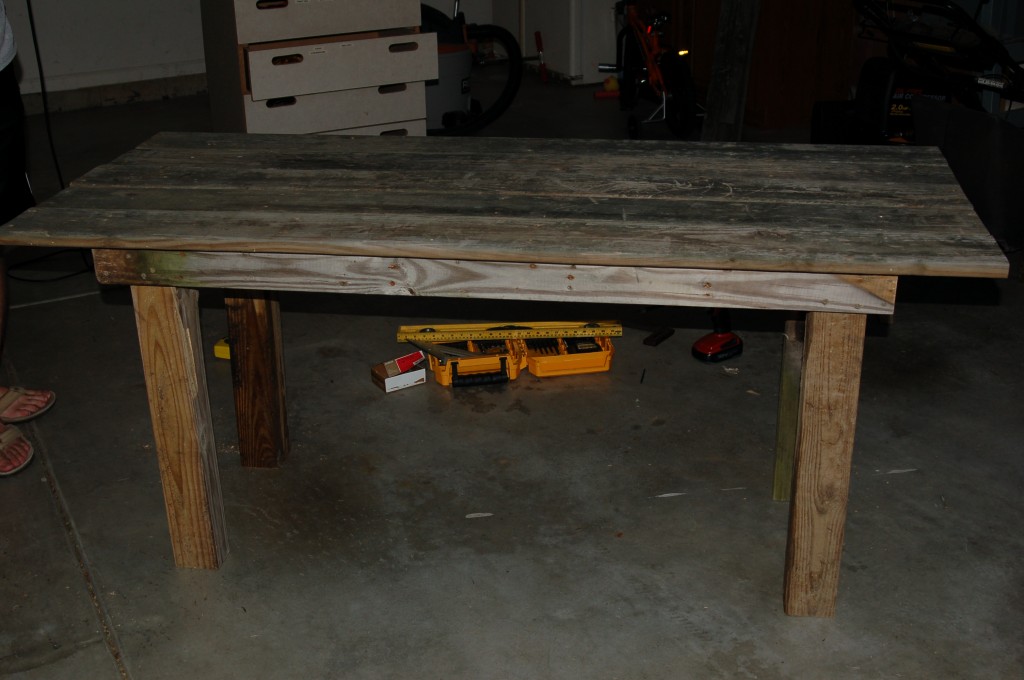 So that night, I went home and couldn't sleep.  I kept thinking…It looks like a picnic table!  Then I remembered a dining room table I saw in Pottery Barn.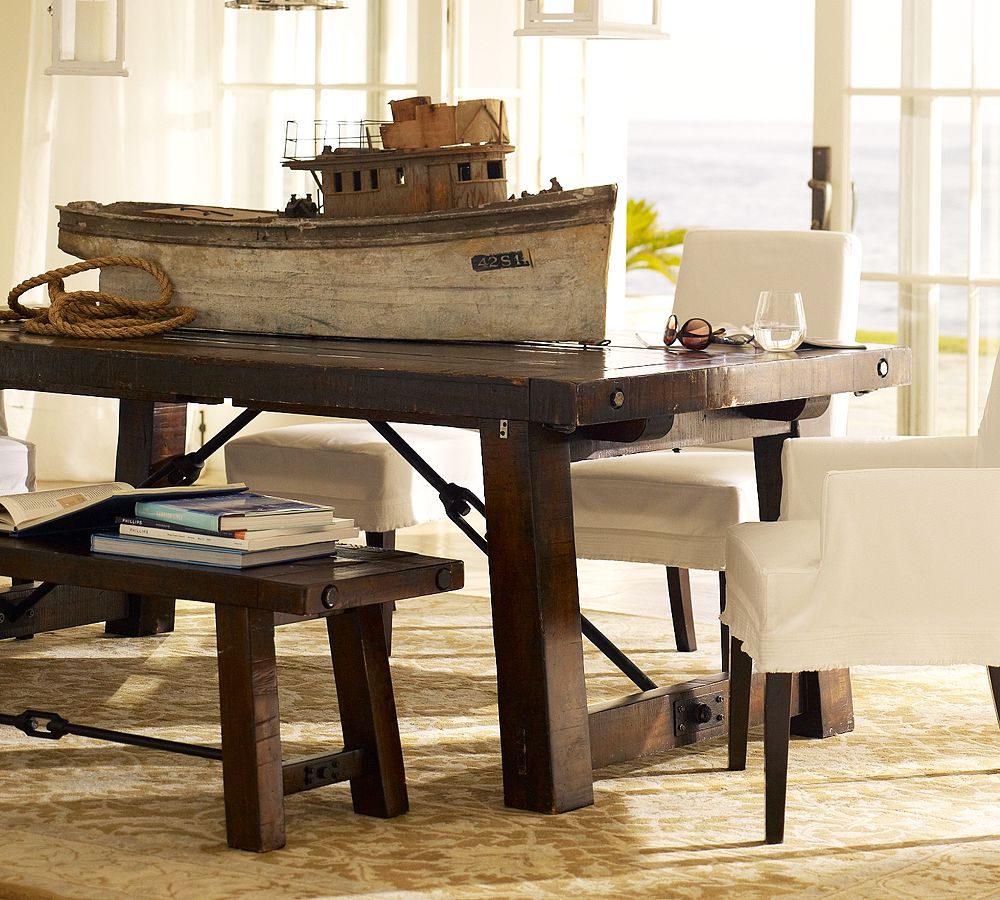 Pottery Barn
So the next morning I went to the hardware store.  The hardware that looked the most like the table were VERY small.  I found these, that I thought would work and mimic the inspiration table.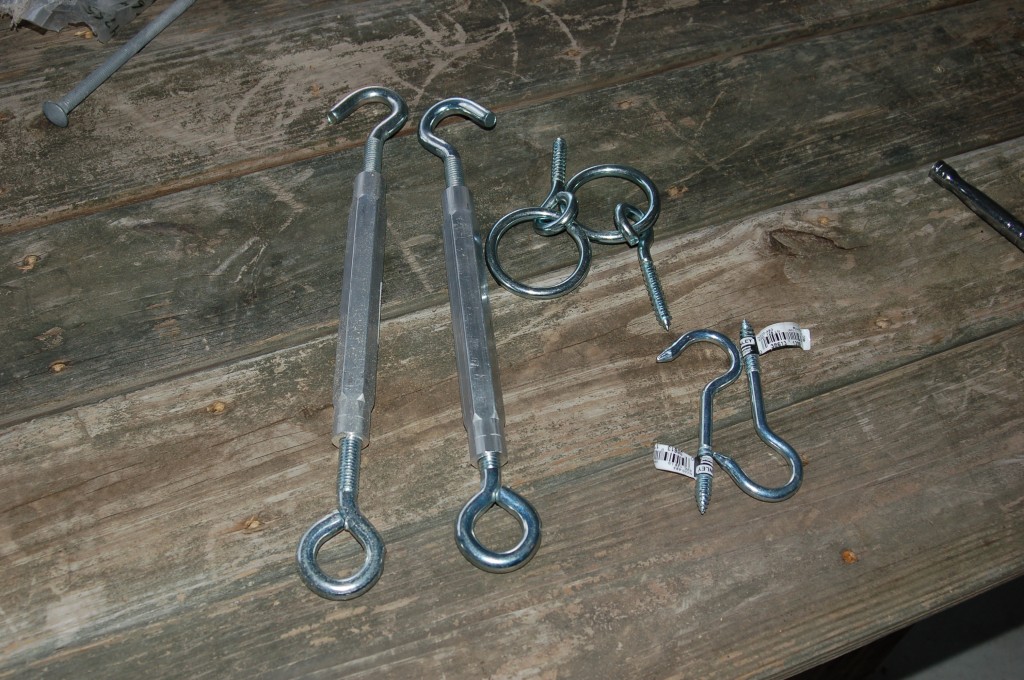 So I flipped the table back over and added support on the sides and moved the legs to outside the "box."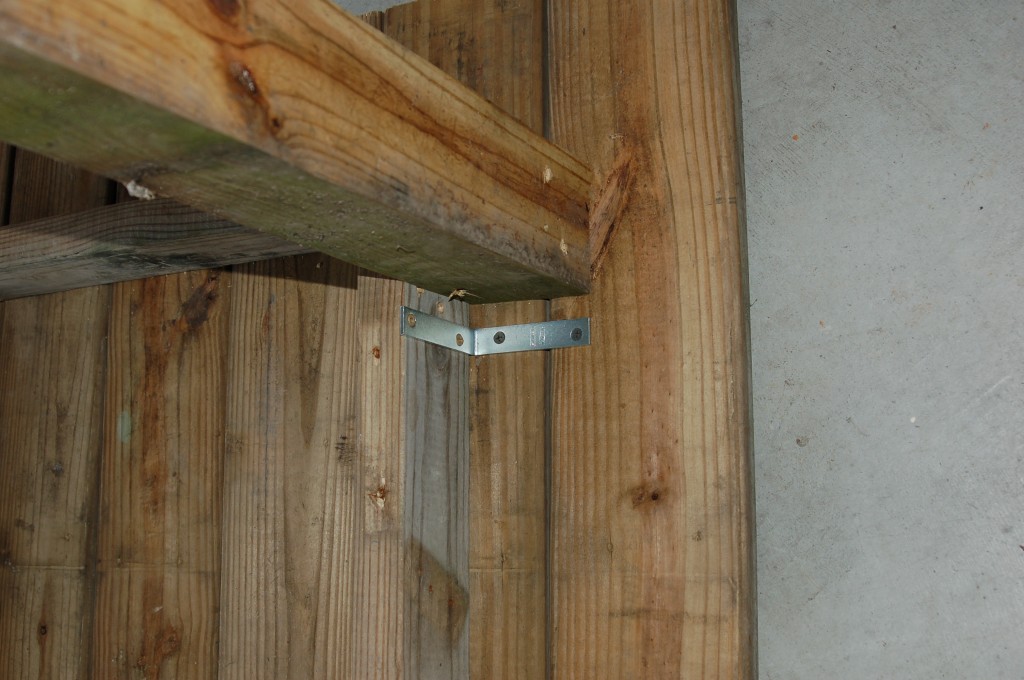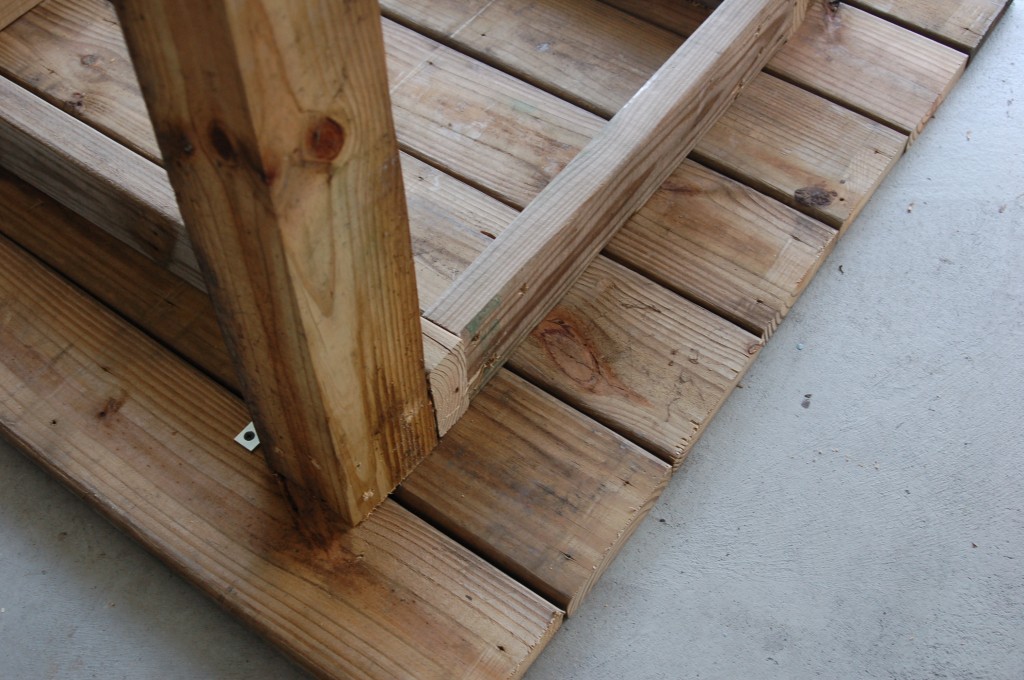 Then I attached the supports for the legs using lag bolts.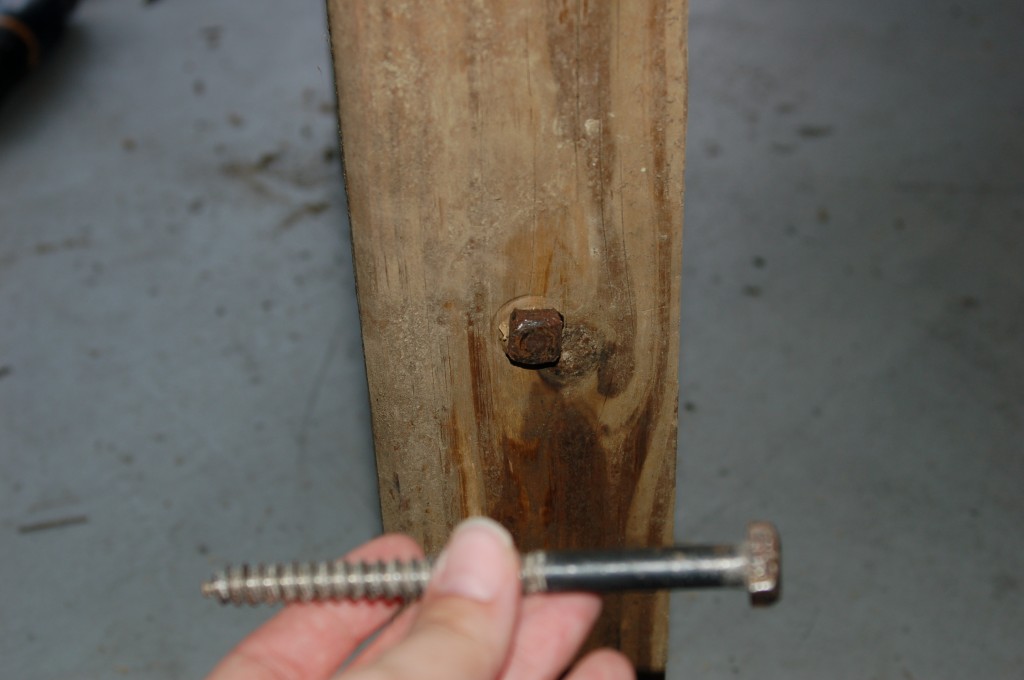 I measured up from the floor 12″ and pre-drilled holes.  You don't have to pre-drill, but I would suggest it!  It will look something like this.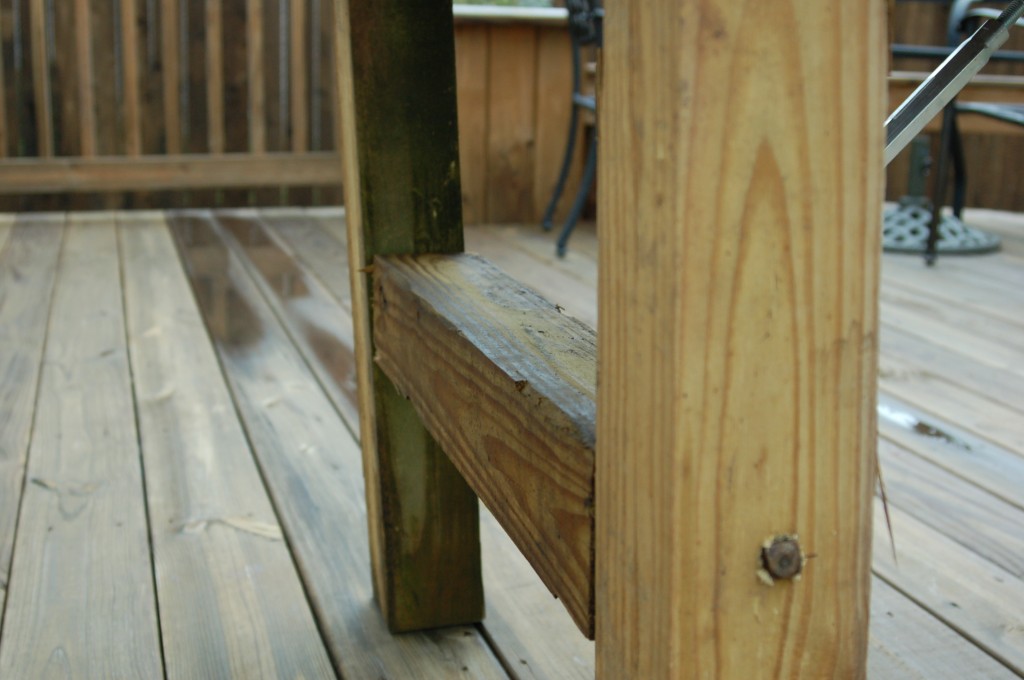 Then I attached the hardware.  I pre-drilled these holes also, then used a screwdriver to tighten them.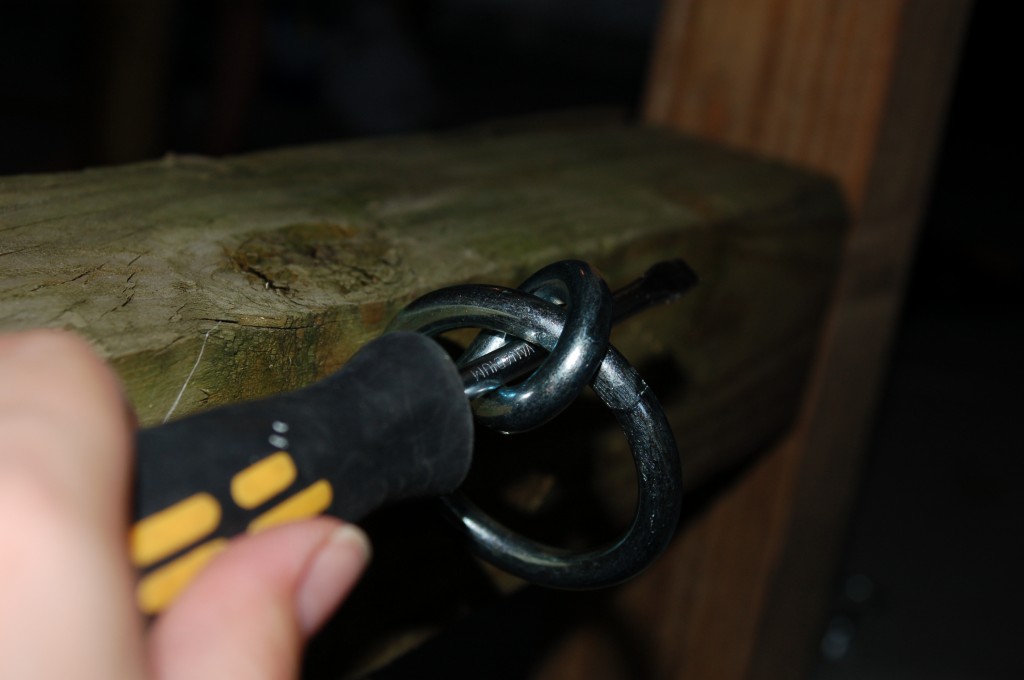 Here's the final table!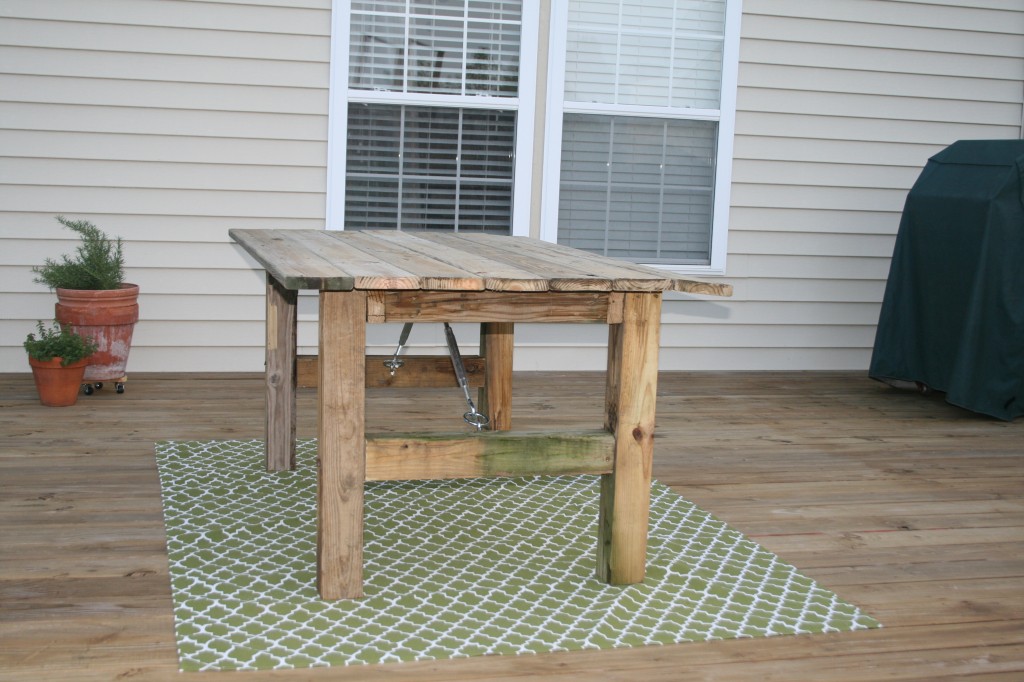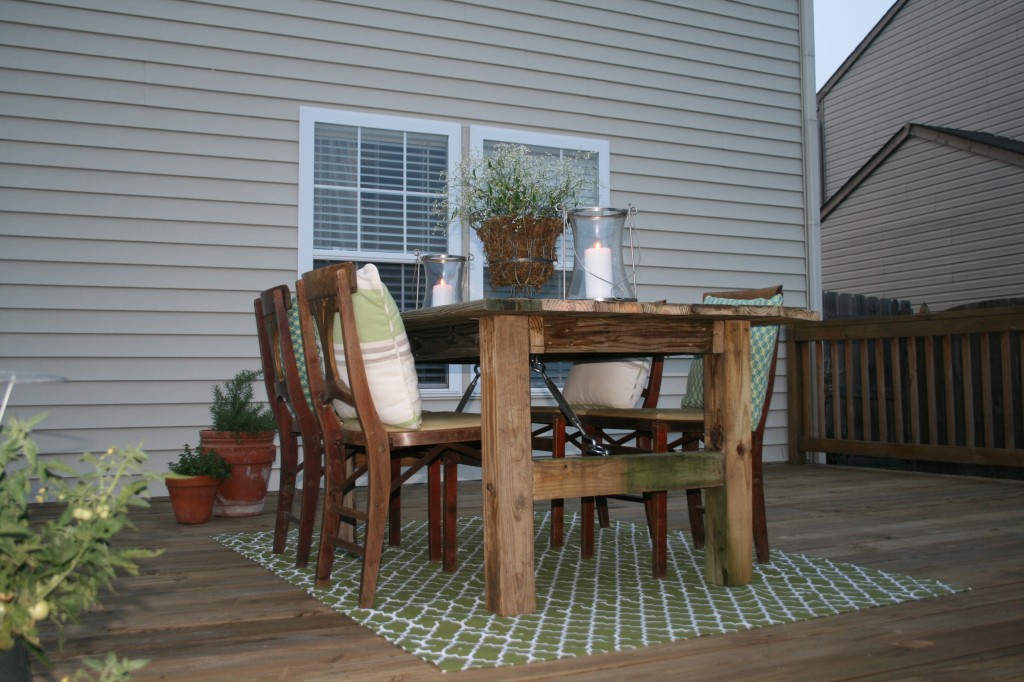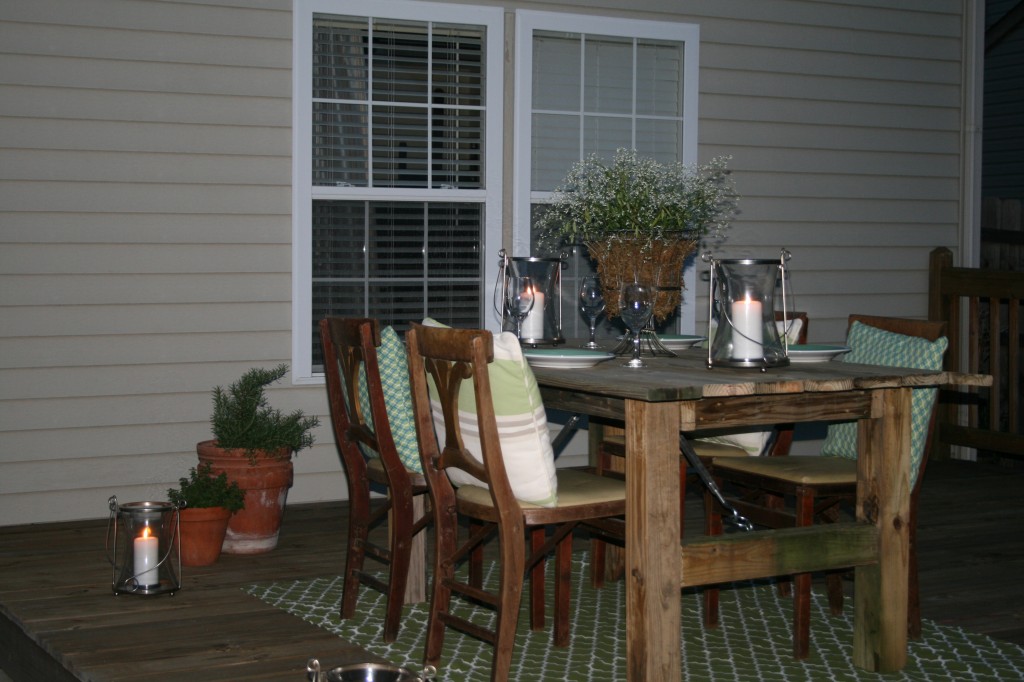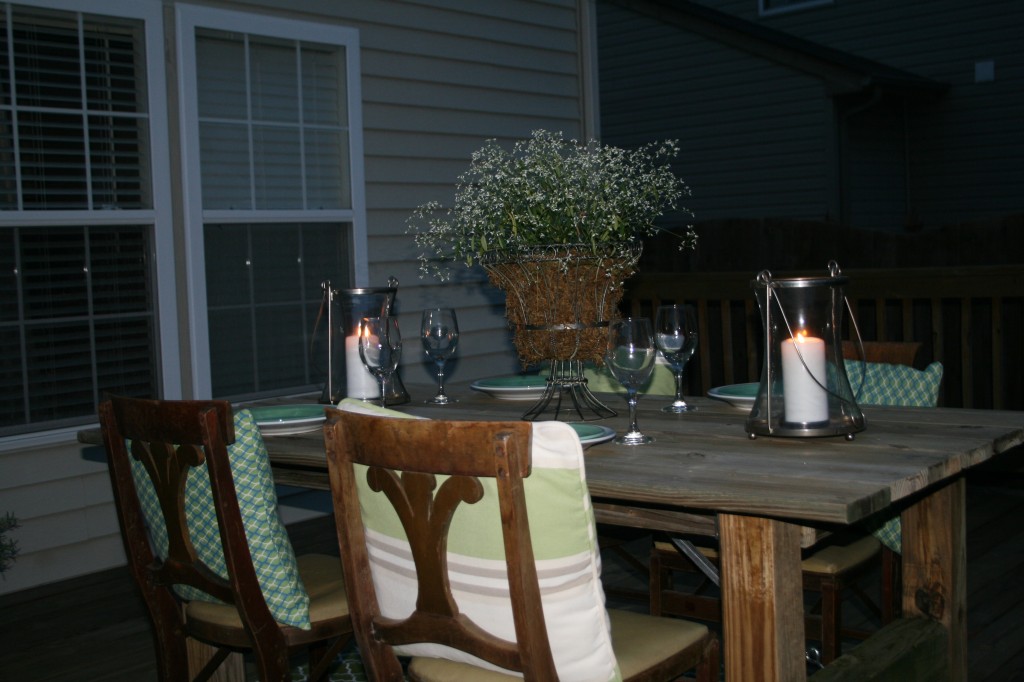 I am very happy at how it turned out!  I am thinking I will probably do some kind of finish, maybe whitewash, but it is a functioning table for now.  All together it took about 4 hours, but that was starting it and then changing it later! 😉
I hope I have inspired you to think outside the box and use what you (or your neighbors, in my case) have.
*****UPDATE:  Click on the photo below to see the updated version!*****