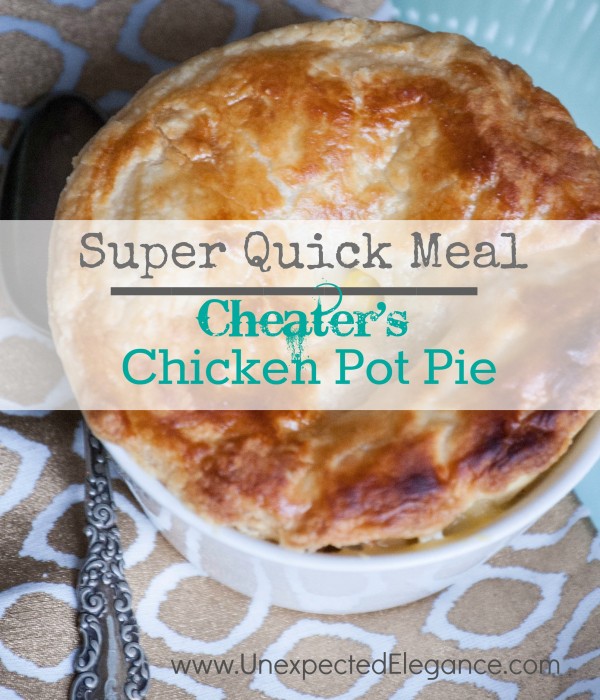 We all have those days when we have been out of the house all day and the last thing we've thought of is dinner!  (To be honest, it happens to me a few times a week…and by a few, I mean several.)  So a couple of weeks ago, I had this idea that I wanted to make Chicken Pot Pie, but it was already getting late and I had never made this before in.my.life.  I knew the general ingredients, so I thought "hey, I can wing this."  I have very picky eaters (hubs, being the worst)  so I was determined to make it work and him think I'd slaved over it all day.  😉 (Like he would believe that, but you know how you get these ideas?!??!)   So, I flew by the seat of my pants and guess what?  We all loved it!!! (I'm patting myself on the back.)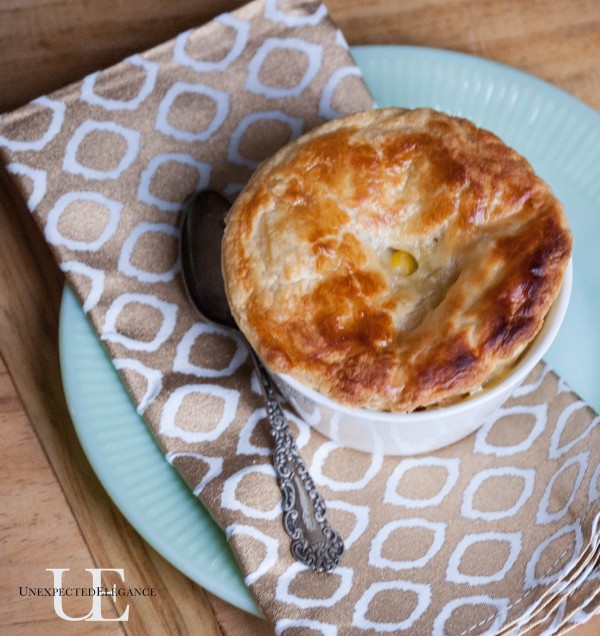 Ingredients:
1 can of cream of chicken soup
1 can of cream of celery soup
rotisserie chicken
steam bag of mixed veggies
puff pastry (found in the freezer section with desserts)
salt and pepper to taste
1 egg
You will also need small oven-safe bowls.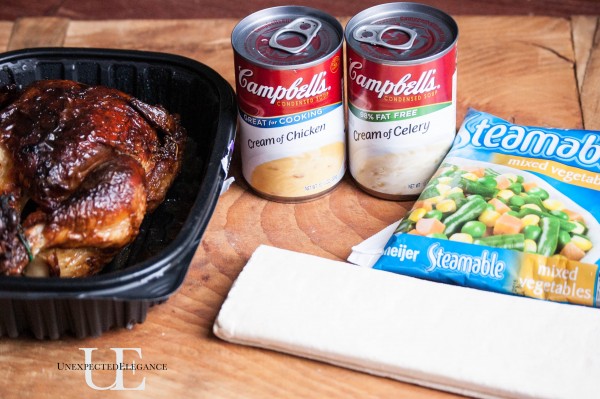 Preheat the oven to 350 degrees and heat the bag of steam veggies in the microwave for half the time on the package.  You don't want them to be completely cooked.
Then add both cans of soup and veggies into a small pot and heat.  Add salt and pepper to taste.  (I like to use kosher salt and freshly ground pepper.)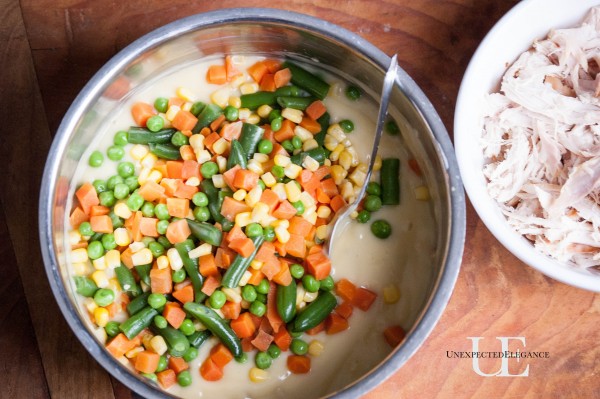 3.  Shred the chicken and set aside to use in a few minutes.
4. Open up the puff pastry and use the top of the bowl to cut out circles.  You might need to add a little flour if it's too sticky.  (Hopefully the puff pastry isn't still frozen!  Make sure to either leave in the fridge that morning or set it out on the counter the minute you get home.)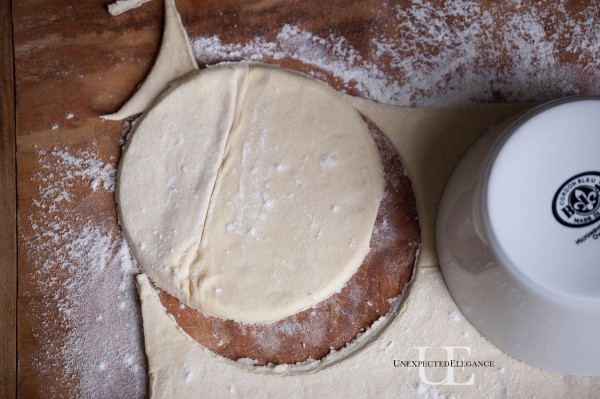 Now just layer!  One layer of chicken, then one layer of the veggie mixture.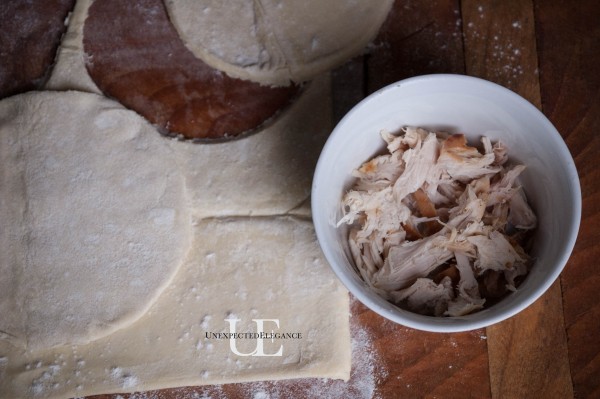 Repeat until the bowl is full.  I only did two full layers on mine.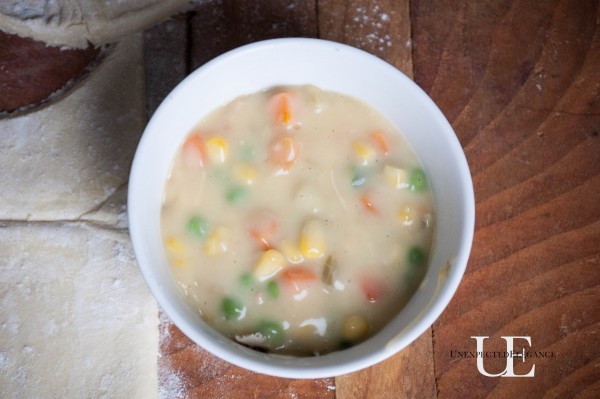 Finally, top with the puff pastry and press down the edges.  Cut a small slit in the pastry to let it vent and then brush an egg wash over the top.
Egg wash is just a beaten egg with a little bit of water.
Bake in a 350-degree oven for 15-20 minutes or until golden brown.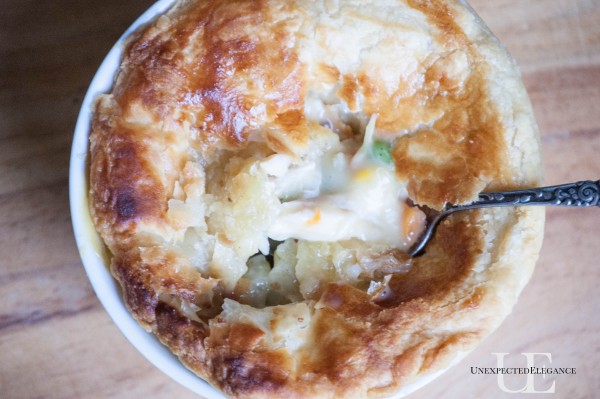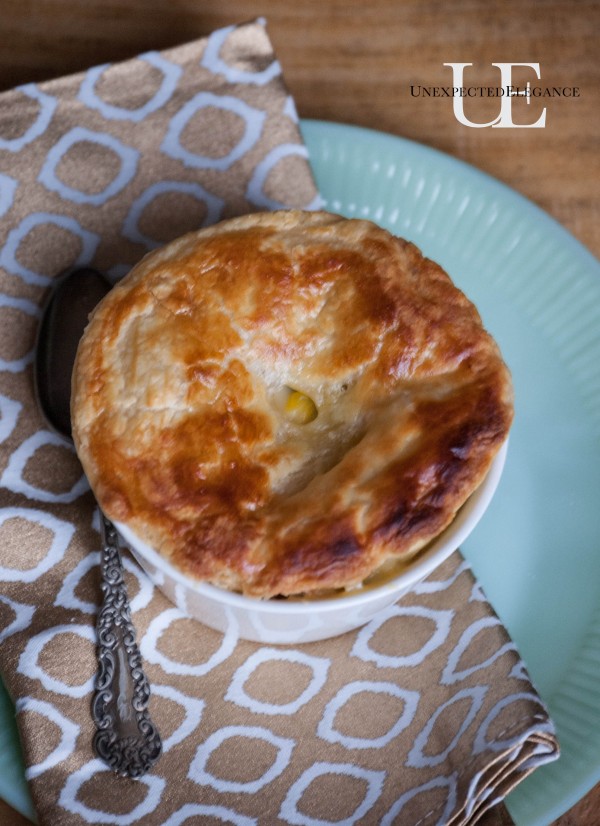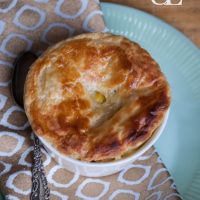 Quick Chick Pot Pie: Cheater's Version
Ingredients
1

Store bought rotissorie chicken

1

can

cream of chicken soup

1

can

cream of celery soup

1

box

puff pastry

1

steam bag of mixed vegetable

1

egg

salt and pepper to taste
Instructions
Combine the cream of chicken and cream of celery soup in a small pan and heat on low. Heat the bag of steam vegetables for approximately half of the suggested time on the bag. (You don't want them completely heated through.)

Add vegetables to soup mixture then add salt and pepper to taste. (I prefer kosher salt and fresh ground pepper)

Shred the chicken to have on hand for assembly.

Using small oven safe dishes, cut out the pastry for individual toppers.

Assemble each personalized dish by layering chicken and then a few spoonfuls of soup/vegetable mixture. Repeat until you get to the top of the dish. (approx. 2 layers)

Top with puff pastry and press the sides around the edges. Cut a small slit in the top to let it vent, then lightly brush on an egg wash (beaten egg with a few dashes of water).

Put in over on 350 degrees for 15-20, until lightly brown.
This meal is super simple and very quick!  It's a classic comfort dish, but only requires a fraction of the work!  (My kind of food!)
Stay warm, my friends!
~Angela