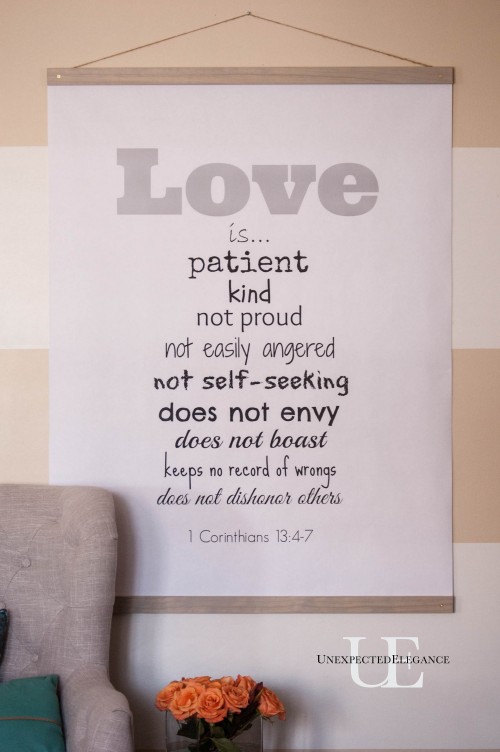 Valentine's Day is coming!  I don't know about you, but I never get too excited.  To me it's just another day and possibly a night out without the kids, if we can find a sitter.  (In all reality we NEVER celebrate it on the day or even that weekend anymore.)  Either way, it's a great time of year to think about LOVE and how it plays out in our lives.  (Because you don't have to have a "significant other" for that!)
Love is probably one of the greatest and hardest things we give and receive.  So, I thought I would make something to remind me of all the things that love SHOULD be. (And a quick tutorial, in case you want one too! 😉 )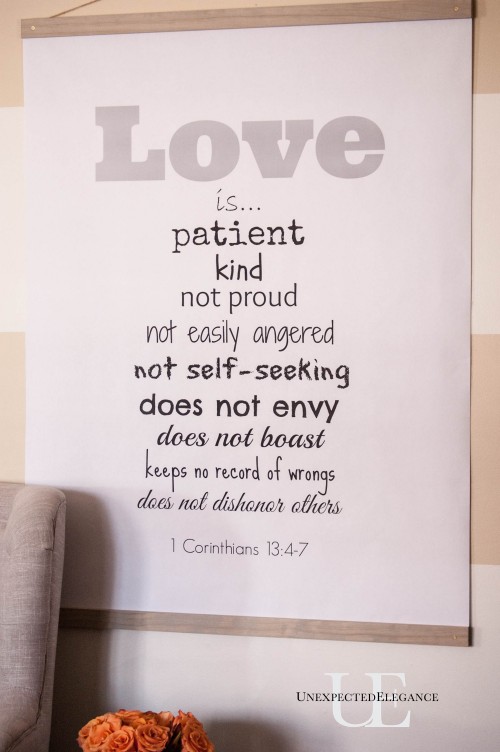 Supplies:  Print (36″x48″), (4) pre-cut 3/8″ x 2″ x 36″ pieces of wood, (4) 3/4″ long screws, stain, twine, drill (optional: tape)
Cost:  ~ $16
Time:  ~30 min. (plus time to get supplies)
Download free printable by clicking on the picture below or HERE.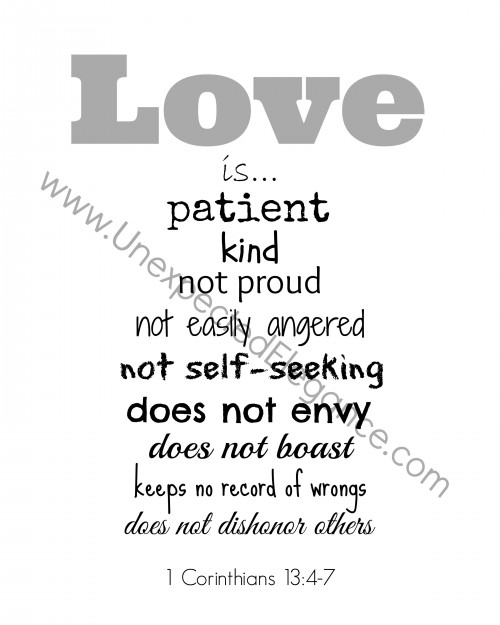 1.  Download the printable to a portable drive and take it to an office supply store (Office Depot, Staples type place).  Call ahead and make sure they have the ability to print "Engineering Prints."  The size for this project is 36″x48″.  When you are at the store, before they print the image, ask them to add 1 inch to the top and bottom for a little extra space to attach the wood pieces.
2.  Using an old rag, wipe the stain on wood and allow it dry until it's no longer tacky.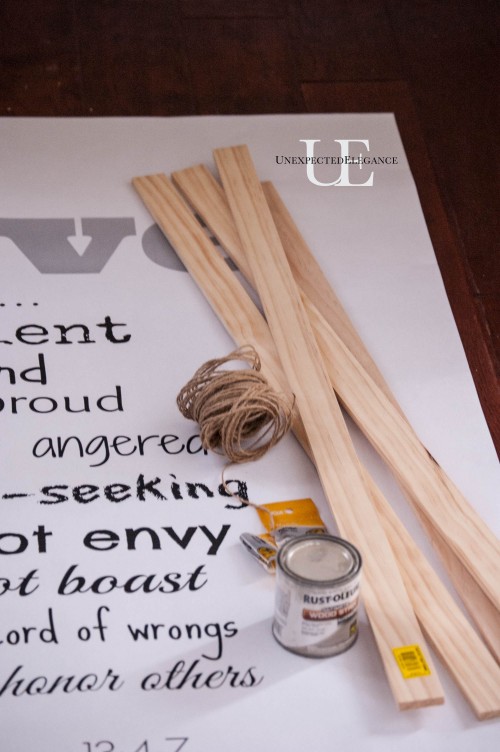 3.  Sandwich one end of the print in between two pieces of wood and pre-drill a hole approx. 1″ from the outside on each end. (If the wood is moving too much, either get someone to help hold it or use a clamp.) Repeat this step for the opposite end.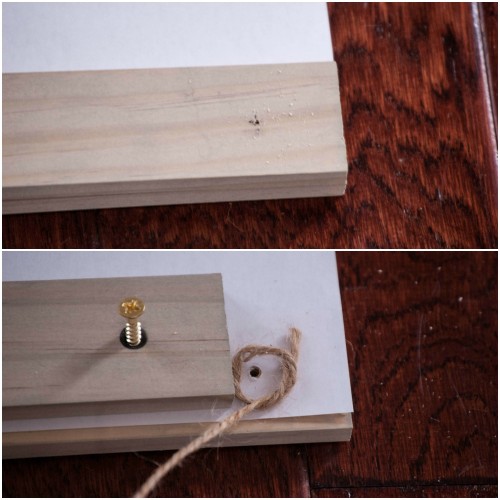 4.  On the bottom end, add the screws to the pre-drilled holes.  On the top piece (top of the print), make a very loose knot and place it around the pre-drilled hole.  I found that taping helped keep it in place.  Then screw the two pieces of wood together.
4.  Hang  it on the wall from the twine! 😉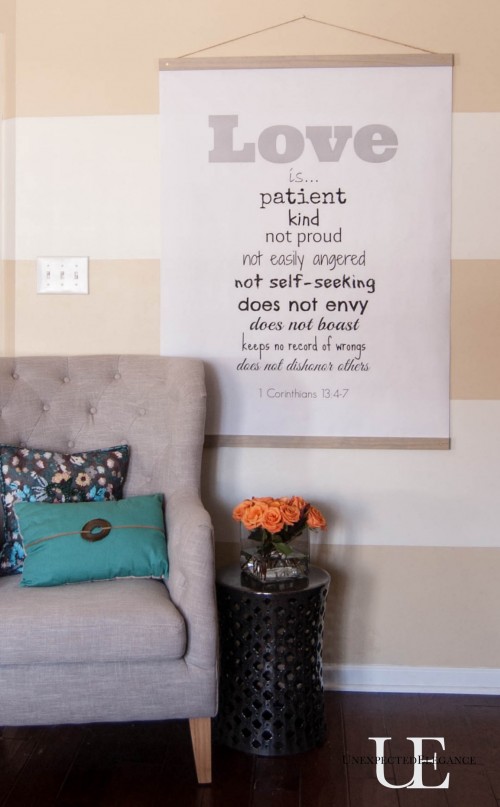 I love how big and inexpensive it was to complete.  (I had twine and stain, so I didn't account for that in the cost.)
(I thought since I had two girls, I would escape the Lego mess…I was WRONG!  You can see it peeking out behind the door in the office. :/  I now understand the whole "stepping on a Lego" pain!)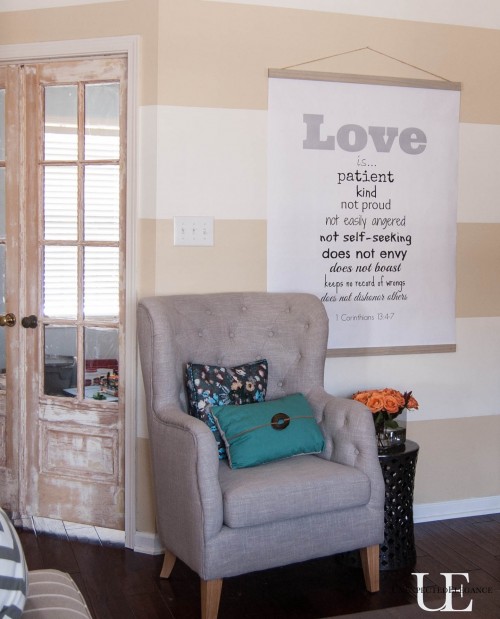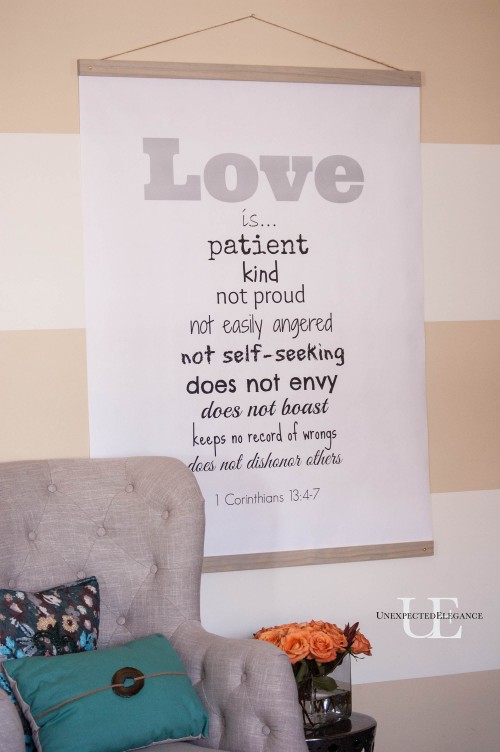 I hope you all had a great weekend and have a wonderful week!
~Angela
Pin this image to save for later: