This post brought to you by BMO Harris Bank N.A. Member FDIC. All opinions are 100% mine.
My first REAL job was actually in college.  I went to Texas A&M University in  College Station, TX and the prime jobs, at the time, were working for the school.  I was a bus driver.  This job wasn't anything special.  I had routes on and off of campus that changed with each semester, but the best part was that the pay started at $9 an hour.  That is still pretty good these days for a starting hourly wage, not to mention "back in the day" when I was a college student!  I "worked my way up" to being a trainer (the person who trains the new drivers) and in the end I was making the phat jack…over two figures per hour! 😉
When it was time to get my first job out of college, I was engaged to Scott and we had decided we were moving back to the Dallas Area where he grew up.  Thinking that the metro area would be saturated with jobs, I didn't think I would have a difficult time finding something that paid really well.  After all, I am a college grad!  My expectations were soon crushed after a few months of looking for the perfect any job.
Then the "too good to be true" job happened.  (Do you know why that's a saying?  Because if it SOUNDS too good to be true it probably is!!)  Honestly I can't even remember the name of the company.  I worked there for 2 months…too long!  It was company that sold cleaning chemicals.  They had told me grandiose stories of all the  money I could make and put me with a part-time model to shadow for a week.  The gig was trying to sneak your way into buildings and find whoever was in charge of buying the cleaning supplies for the company.  I remember them comparing the job to pharmaceutical sales, but honestly I never saw the connection.  What I do remember was going home every night and crying because I hated the job SO MUCH!!
From there I went into retail management and then back to school to be a teacher.  Unfortunately, I still haven't used my teaching degree because we ended up having kids and then moved to another state.
I have had an interesting working experience, with jobs all over all the map.  Scott and I have moved from Texas to Pennsylvania and from Pennsylvania to Indiana for his jobs and if there's one thing I've learned…changing jobs can be expensive!  There can be expenses to physically move and then you run into waiting periods for benefits.  You might even have to buy a whole new wardrobe (that might not be such a horrible thing!).
 So since we know it can be a expensive to change jobs…what if there was a way to soften the blow!?  I've teamed up with BMO Harris to share with you their BMO Harris Bank Scavenger Hunt Sweepstakes!  It super simple to enter.  Just like them on Facebook and play through their scavenger hunt.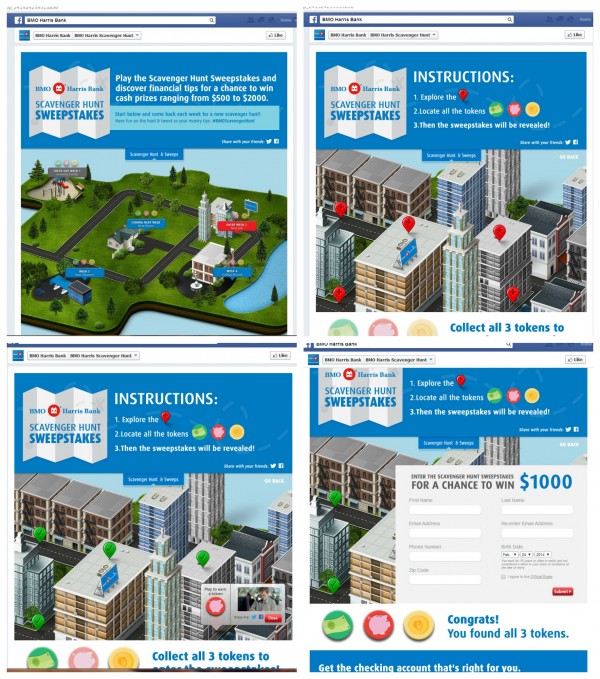 This week you will going through a city, collecting tokens.  You just have to click on each coin and either answer a True/False question or read a quick tip.  Simple!  Once you have all your tokens you can enter for a chance to win this week's prize of $1000.  You might even learn something new!
The drawing will run from: Start Date/Time: 12:00:00 pm CT on 2/24/14 End Date/Time: 11:59:59 am CT on 3/3/14 Drawing Date: 3/6/14
For the next 3 weeks I will be sharing some more personal experiences with you and letting you know how you can enter for more chances to win some cash! 
What was your first job or the most bizarre job you have ever had?