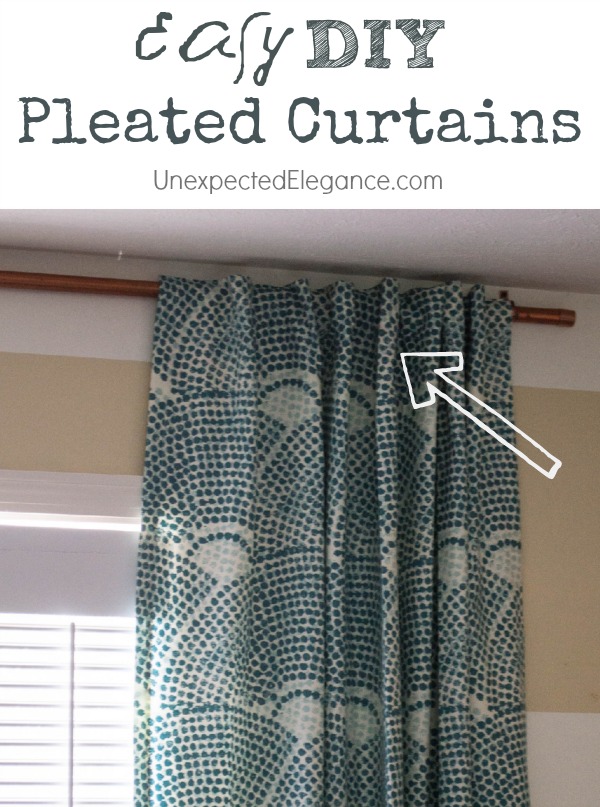 I have gotten a few emails over the last year about my curtains.  To be honest, I was surprised that some of you were paying that close attention to my photos (but THANK YOU, it means a lot to me!).    Ok, so the rest of you are still wondering what they were asking about right?  The question was:  How do you get the nice pleats at the top?  The answer is VERY simple.  (I even "fake" it sometimes.!)
Here are my 4 secrets for getting easy pleated curtains :
1.   I put little tabs on the back, instead of using a pocket.  You can make them nice and neat or just sew a piece of scrap without worrying about the finish.  After all, no one is going to see the back!!  Below is a picture of the back of the curtains in my kitchen.  The thing that you can't see (sorry I realized after the fact) is that rest of the tabs are just ragged and frayed.  I had started out making them nice and neat then decided to skip the hassle and just tack them down.  (I'm pretty lazy when it comes to sewing!)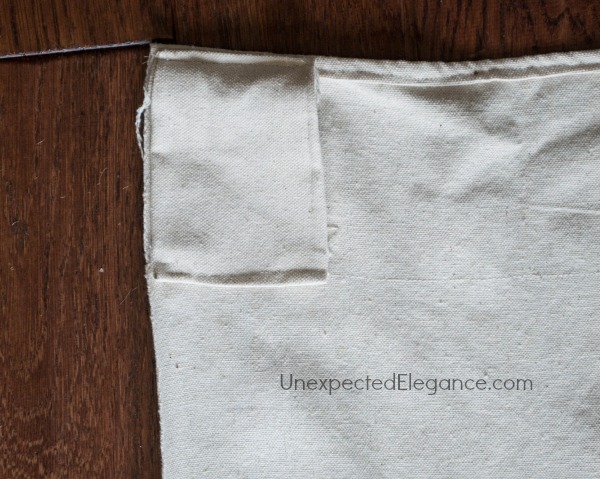 Leave a little space between each tab.  The distance between each one will depend on your preference.  If you look closely at this set of curtains, they are probably a little too far apart. (Like I said, I'm a lazy sewer.)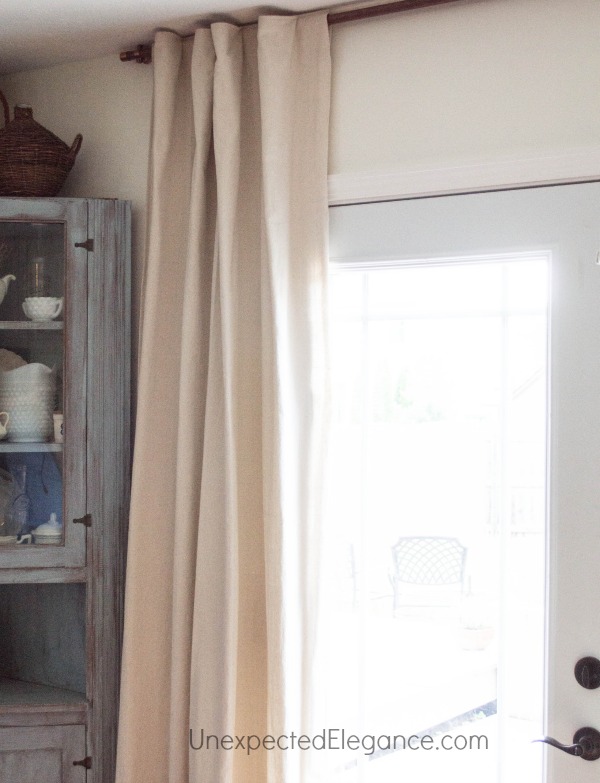 Just to reiterate, the tabs should be on the BACK.  You don't want to see them! 😉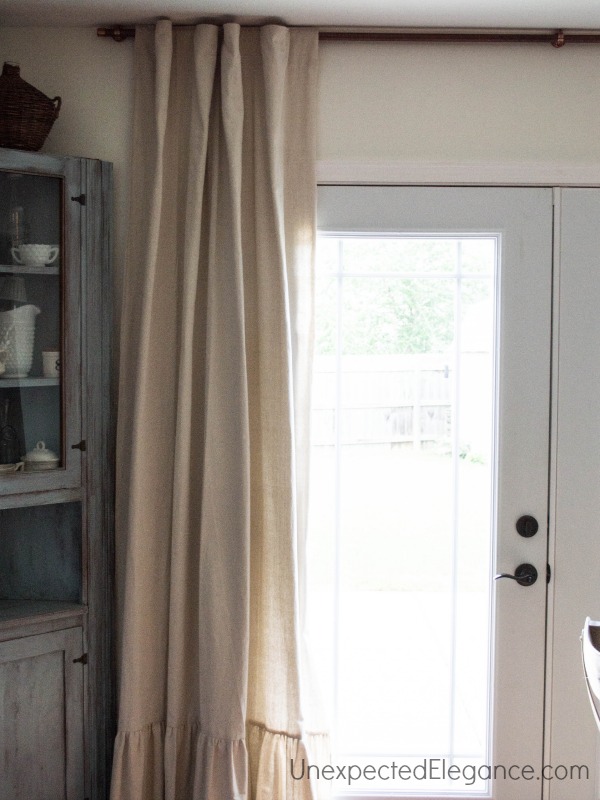 2. You can buy them pre-made like this.  Years ago I couldn't find them with the tabs on the back but they are more popular now.   I got the set in my living room at Target for less than $20 a panel.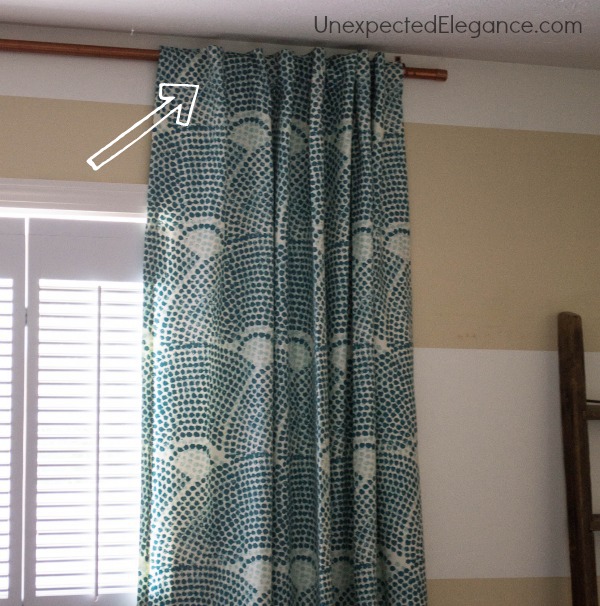 3.  Now here is my other little secret to getting this look if you purchase a pre-made curtain that has just one large pocket:  Cut little slits in the pocket!  You won't see the cuts and it will give you the same look.  Be sure not to cut too far up.  It's easiest if your curtain is laying on a flat surface when you do this.  Think about where you want the tabs to be, then start on one end (where it is already open) and make faux tabs.  To hang these curtains, weave the rod only through the "tabs".  See the photo below for a diagram.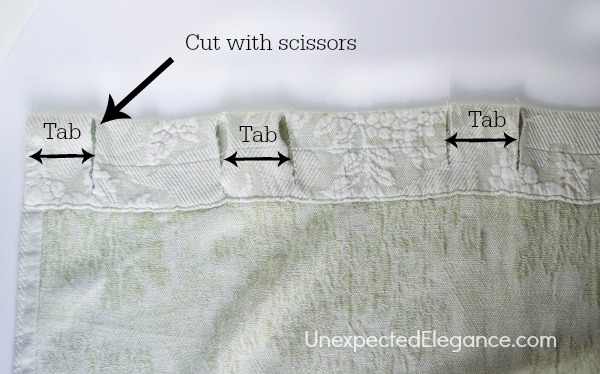 The picture below is the cut version hanging in our master bedroom.  Honestly, you can't tell I just cut them.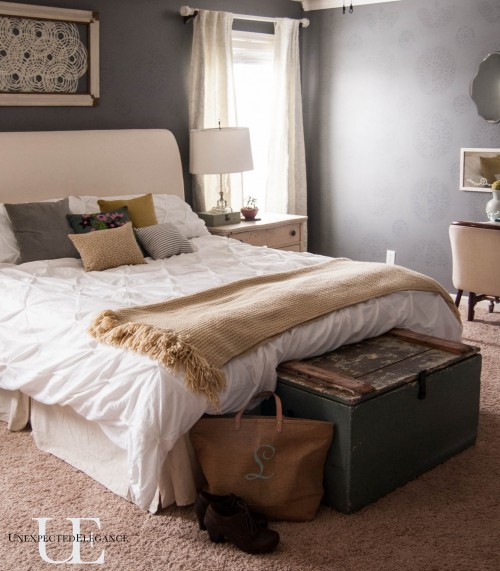 4.  My last little trick is for using the curtains with the long tabs.  For this type, I simply fold the tab over on the back of the curtain then either sew it or use a safety pin to hold it down.  You have to think about the length of the curtains if you decide to use this technique, because it will shorten them a little.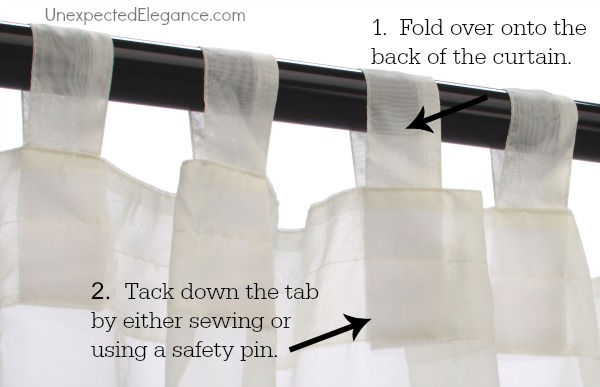 All of these options are EASY and even an inexperienced or non-sewer can do them!!!
What awesome project have you created lately?  I'd love to hear about it.
AND if you aren't part of my community on Facebook, I'd love to meet you. 🙂