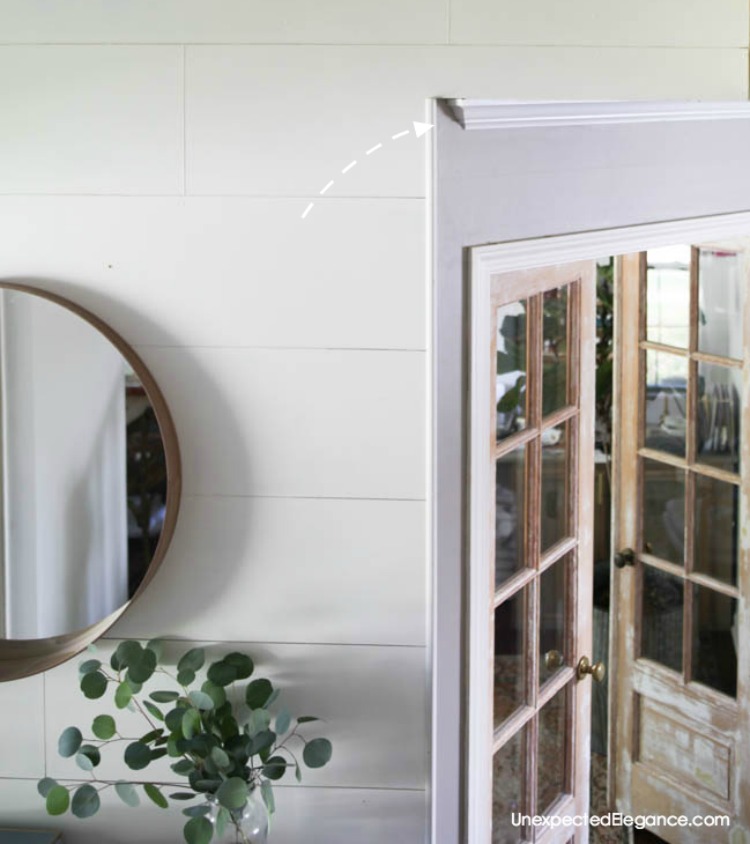 Crown molding used to scare me.  I didn't even want to attempt it, but one day I helped my dad hang it in our master bedroom.  He showed me some tricks and it's taken the fear out of the process.  Honestly, it's so much easier with two sets of hands, but not impossible to do by yourself!  (Check out my post on How to Read a Tape Measure if you struggle with the "measure twice, cut one rule"! 😉 )
So, here's the deal…When I got to the living room I was feeling more confident in my ability to hang crown molding, but I was worried about some of the angles.  We have two areas that are "dead ends" and don't butt up to another wall.  I'm not a fan of decorative moldings, so my dad showed me how to make the molding end "pretty" and I thought it might help some of you too!
If this is your first time, be sure to check out my post about how to hang crown molding, coping and other beginners tips.
This is a picture of what I mean when I say it was a dead end.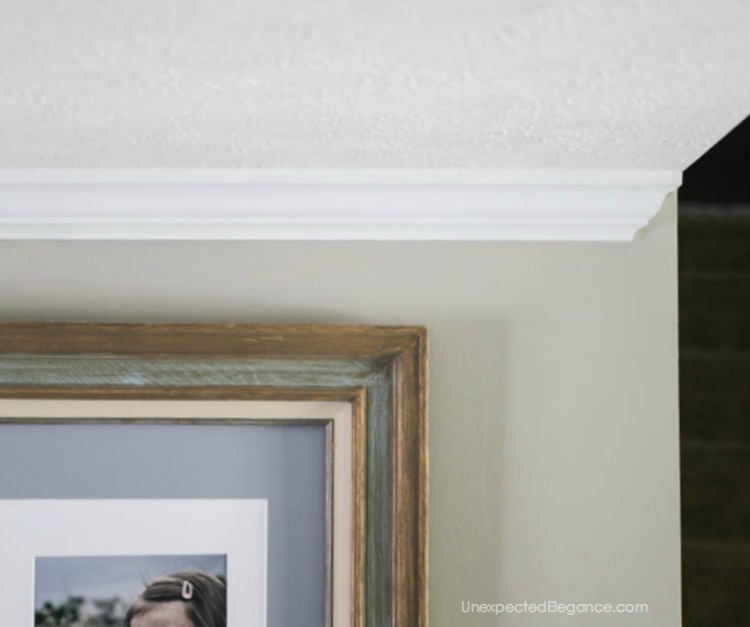 How to Dead End Crown Molding
It's actually VERY easy to make the molding look like the above picture, but you just need to know what you are doing.  If you read my earlier post, you know that you determine what angle you need to cut by looking at the corner.
For the dead end you want an imaginary outside corner.  Let's use the above picture as an example.  If we are looking at where the molding ends, it would be a RIGHT OUTSIDE corner. (Refer to the guide if you need to.)
This is how it will look up on the wall, with a big gap: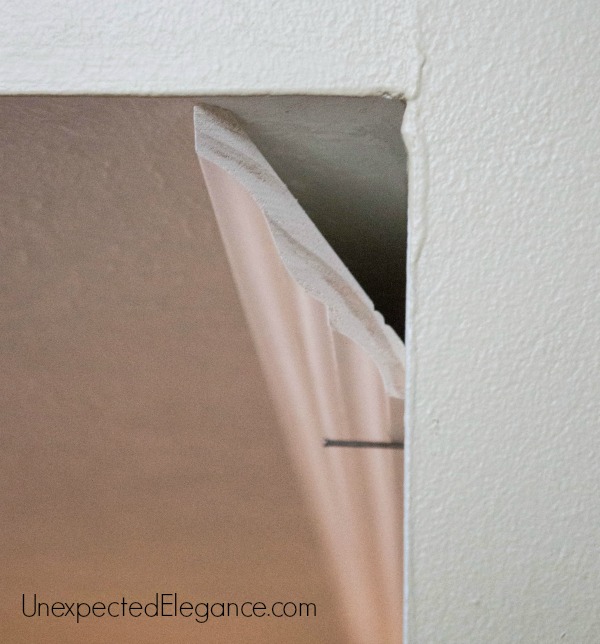 To create the piece that covers the hole, use a piece of scrap molding and make the opposite cut to form an outside corner.  For the example that we were talking about, it would be a LEFT OUTSIDE cut because you have a right outside cut already hung.
When making this piece remember to use your fence.  (Again, if you don't know what I'm talking about refer to my original crown molding post.)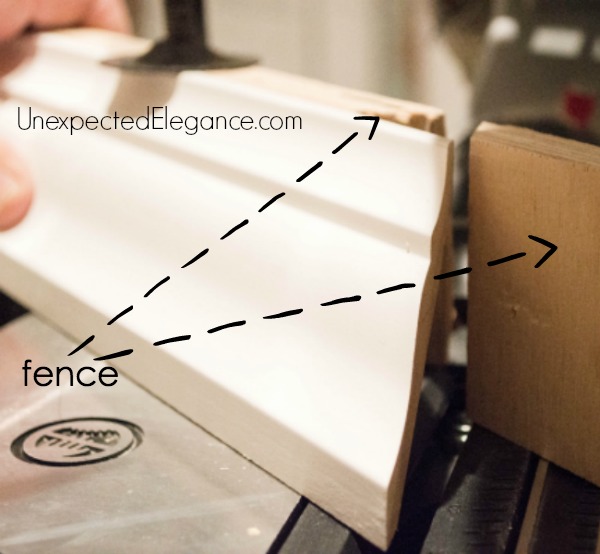 Once you have the proper cut, use the bottom of the cut as a guide.  The below picture will help you understand what we are trying to achieve.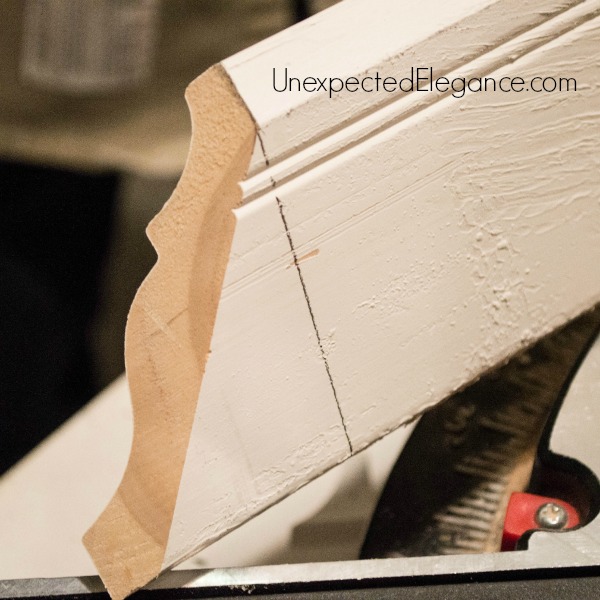 Use a straight edge to continue the line onto the front of the molding, like the picture below.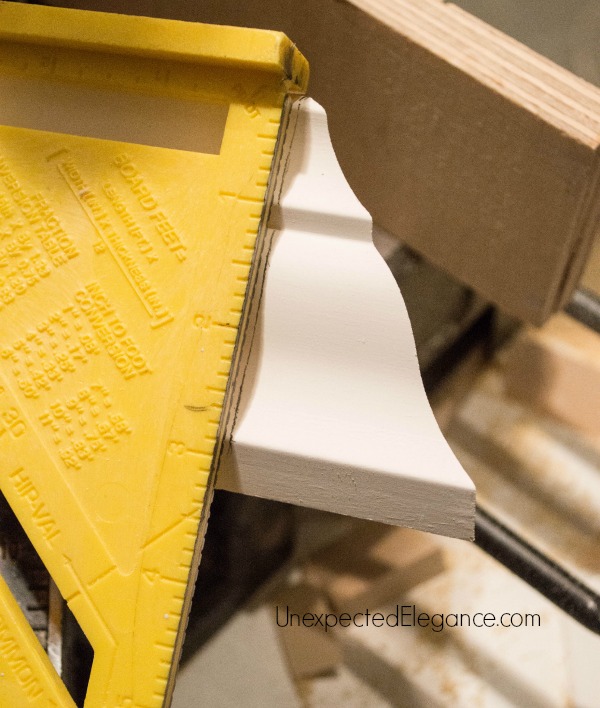 Then lay the molding flat and make a straight cut on the line.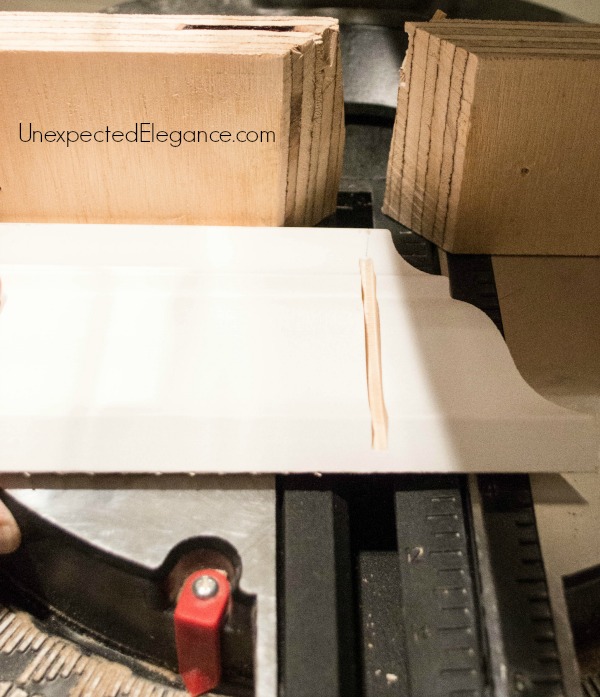 The piece should fit together with the molding on the wall like the picture below.  (Of course, this picture was taken before we hung the molding because it's from the inside! 😉 )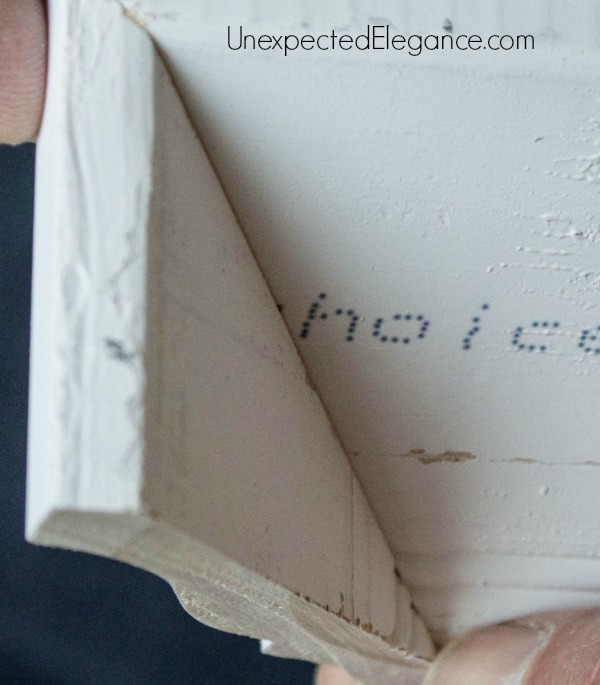 We used wood glue on the small piece instead of a nail, because we were afraid of splitting the wood, but use your own judgement.  (I've done it both ways and it's worked fine.) The piece fit in snuggly and the glue was able to hold it.
That's it!  It really isn't as hard as it might initially seem once you understand how the pieces work together.