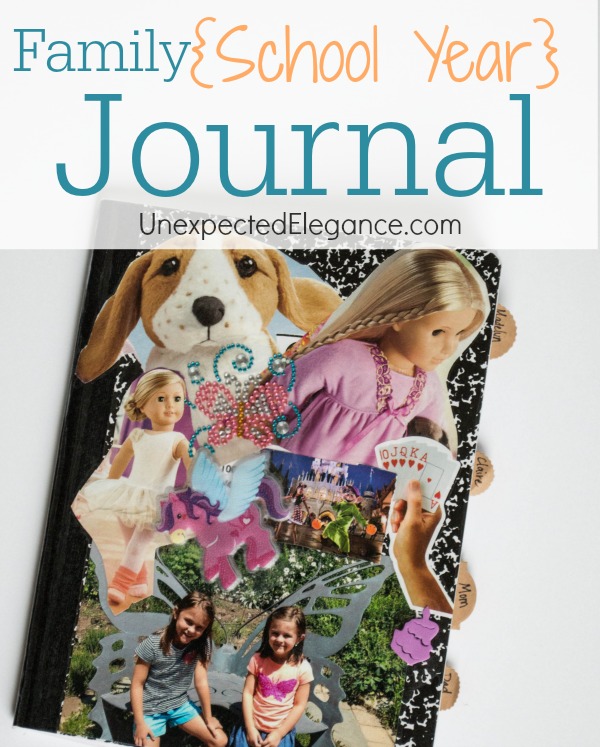 When school starts we seem to go into overdrive mode. You know what I mean…the evenings are filled with activities and practices. Time goes by so fast and at the end of the year all my well intentioned list of "want to dos" is still just something I SHOULD have done. My girls are growing up so fast and even though I normally document things with a quick picture on my phone, sometimes that just isn't enough. I've never been a scrapbooker (my kids still have blank baby books…Worst Mom Award goes to me!). So my mother-in-law helped me come up with something that I HOPE (fingers crossed) will help me keep better track of events as they happen throughout the school year.
We are calling it our family school year journal. I tried to make it fun for the girls by letting them decorate the outside with things they like. This will be fun to look back on over the years and see what they liked at that stage of their lives…right now it's dolls and puppy dogs! 😉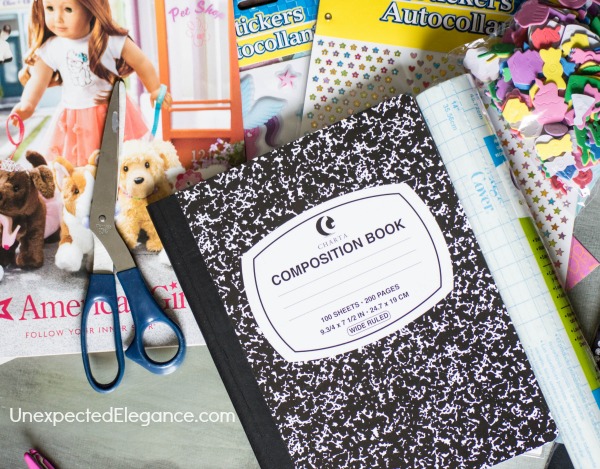 They took the task very serious.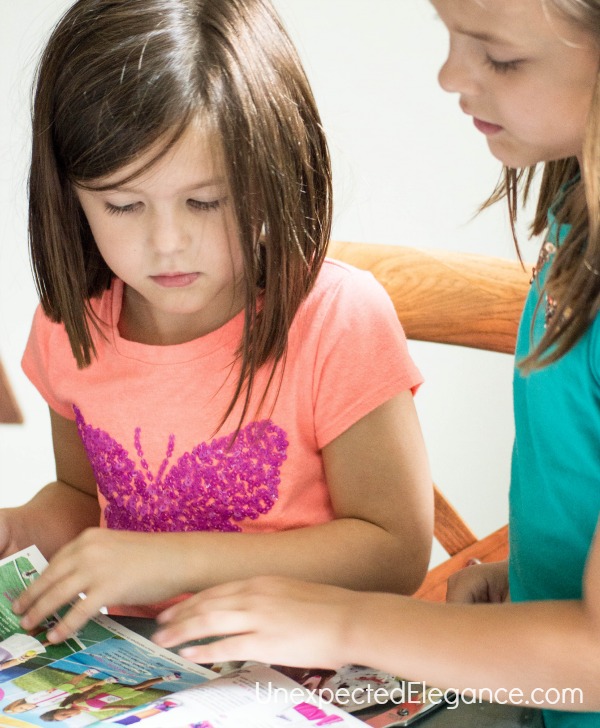 Once they had about 3 times the amount of pictures and "stuff" that would fit on the cover, I helped them narrow it down and then glue everything on.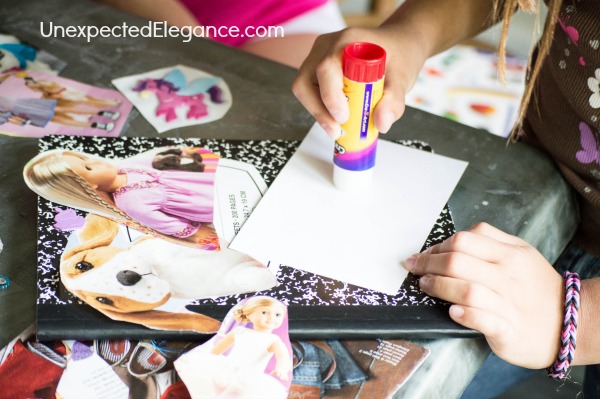 To protect the outside, we covered it in contact paper.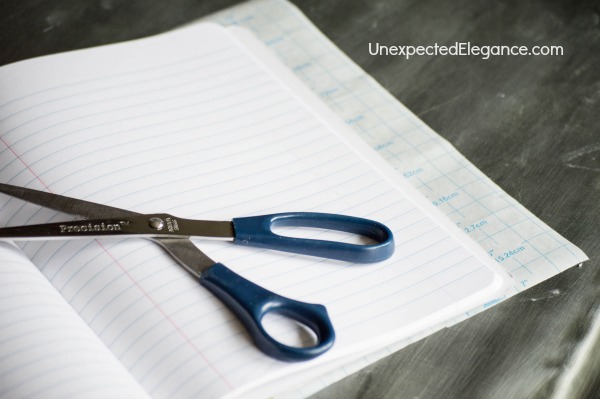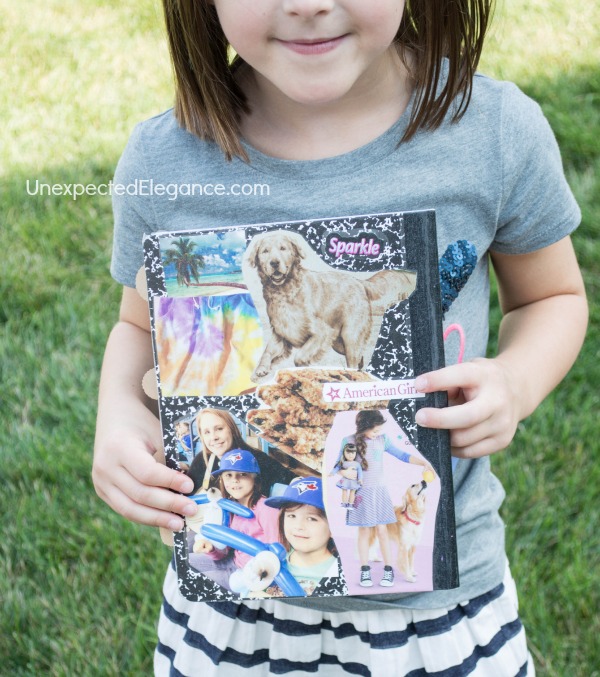 I made a tab for each member of our family. This will help the girls easily find their section. The mom and dad sections will be for us to write down things we want to remember about the girls (like funny stories and how we felt during a specific event).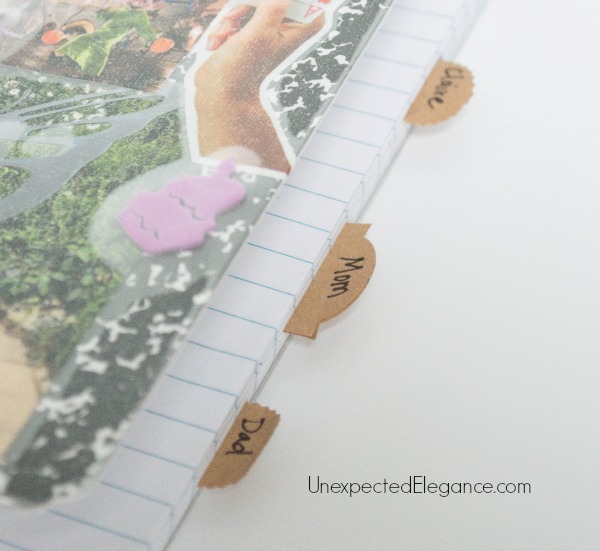 I also had them customize their cover page by drawing and using a foldable questionnaire. They LOVE making foldable art. The other pages will be filled with short writing prompts and "Top 10 Lists". (We had a brainstorming session where they helped me come up with things they thought would be funny or helpful to look back on. We wrote our list down in the very front of the journal.)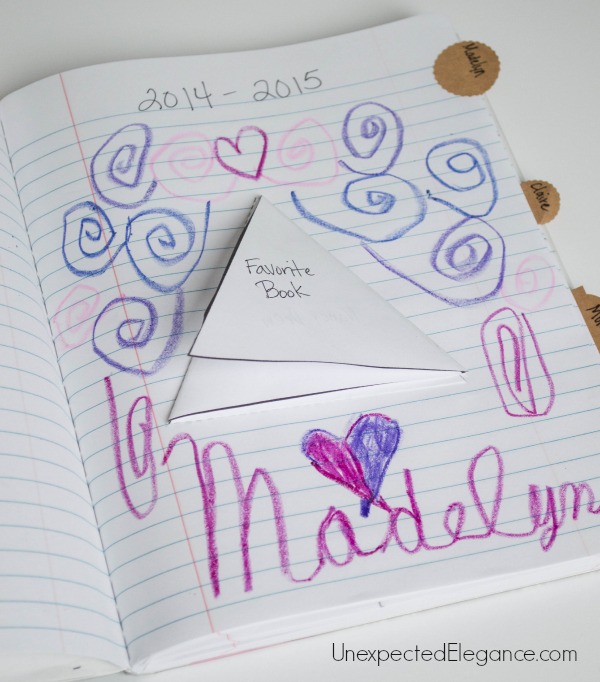 Their very first journal entry was a few days before school started. I had them write about they wanted to learn this year in school and what they wanted to accomplish.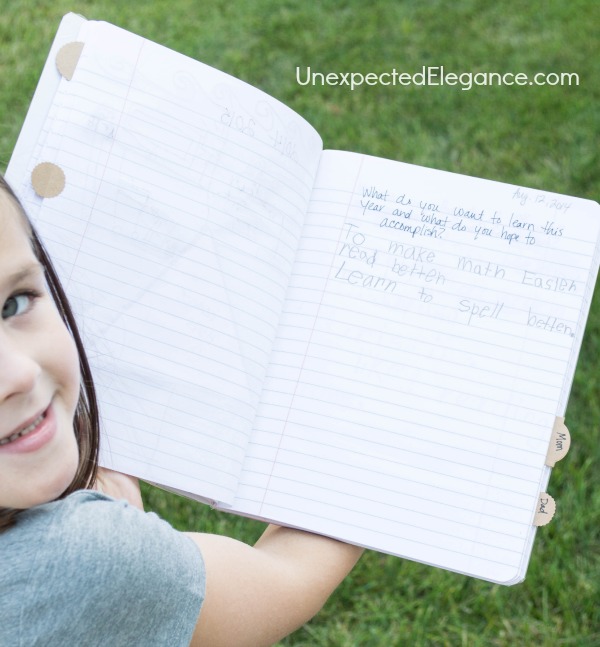 Then on the first day of school, they wrote about their day. It was only a few sentences but they wrote about what they thought was most important about their day. (I wrote about how I felt watching them get on the bus as 1st and 3rd graders. 🙁 )
My kids enjoy writing and drawing, so this isn't something that they dread. I also have to sit down with my 6-year-old and help her, so it takes some time and patience on my part.
TIP: If you decide to make your own family journal and realize it's a constant struggle to have them write, then maybe you could take over the actual writing part. After dinner or before bedtime you could just talk to your child and have them tell you what they want to say.
---