Mrs. Meyer's Clean Day® has sponsored this tutorial today but as always ALL the opinions are mine!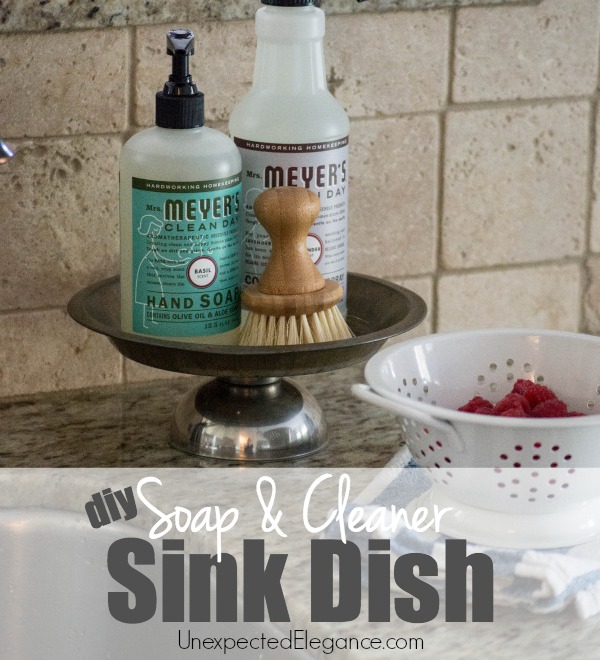 I'll be honest, I don't enjoy cleaning…I mean who does??!  (I know some of you get a thrill from it, but I don't understand you people. 😉 )  Now I'm not saying I don't enjoy the benefits of cleaning, because there is nothing better than a clean house.
Unfortunately one of the side effects of some of the cleaning products are strong unpleasant smells.  However, have you ever tried Mrs. Meyer's Clean Day®?  I'm a visual person, so I was originally drawn to these products a few years ago because of the packaging BUT they all have great scents, like Lavender, Lemon Verbena and Basil.   I love that when I clean the kitchen it smells crisp and fresh.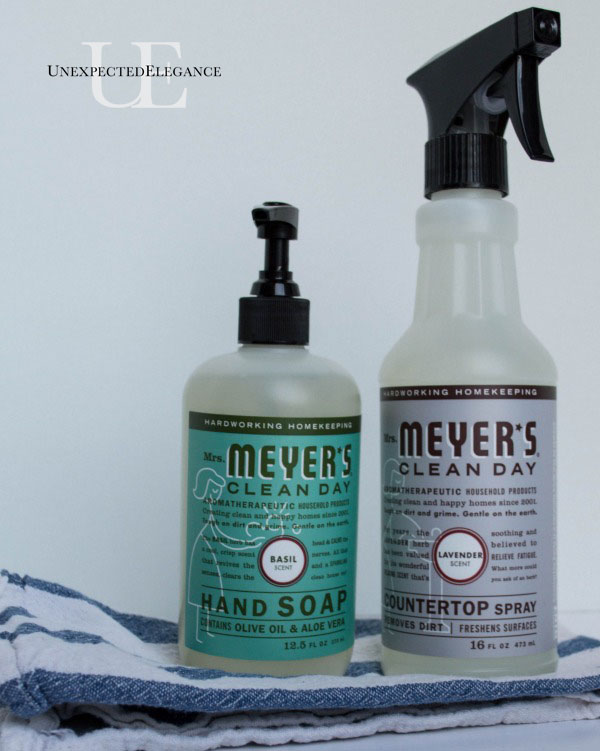 Well, as I've said I'm a visual person.  I will go out of my way to make things more visually appealing and that doesn't stop at my kitchen sink! 😉
I created a fun dish to hold my daily cleaning supplies.  This little project only takes a few minutes to make and you can use things you have around the house or purchase them.
Supplies needed for DIY sink dish:  shallow pie pan, pedestal base (you can use anything for this:  old candle stick, ice cream dish…), epoxy or super glue, marker
I used an old pie pan because I liked the patina but you can get a new one at the dollar store.  You can also use a salad plate but I like having a little lip to keep things from falling off.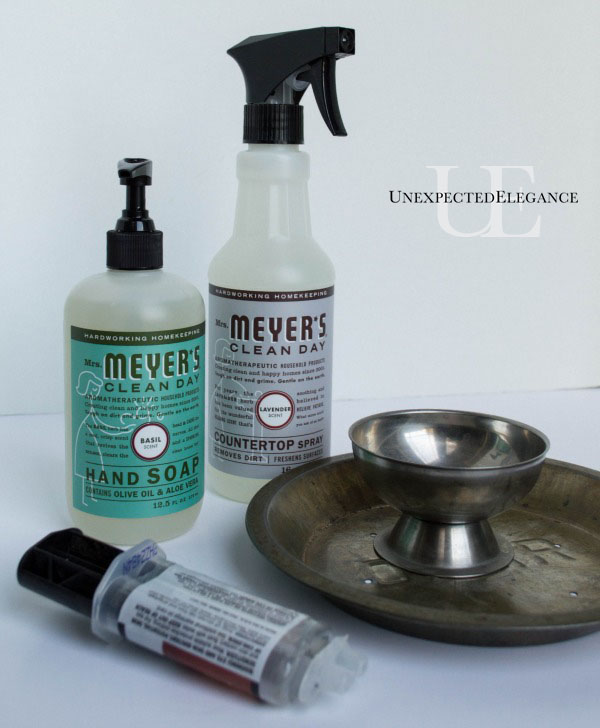 Start by flipping the pie pan over and marking the center with pedestal.  This will help when you are glueing the two together.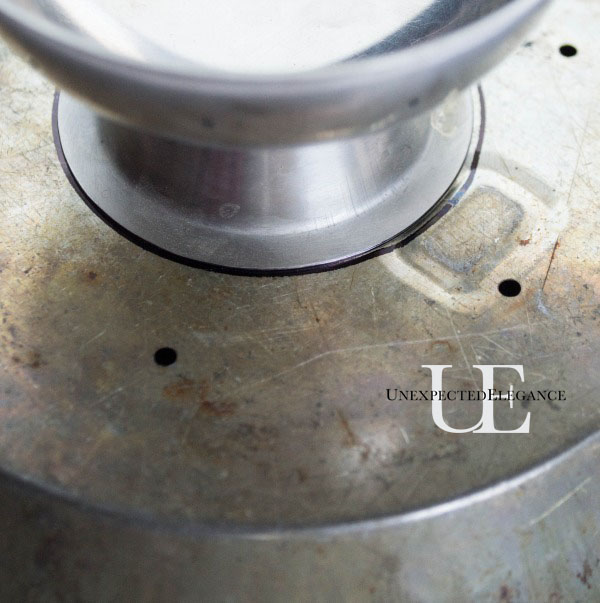 Add the super glue or epoxy around the edge of the pedestal.  (If you are using epoxy, you will need to mix it first.)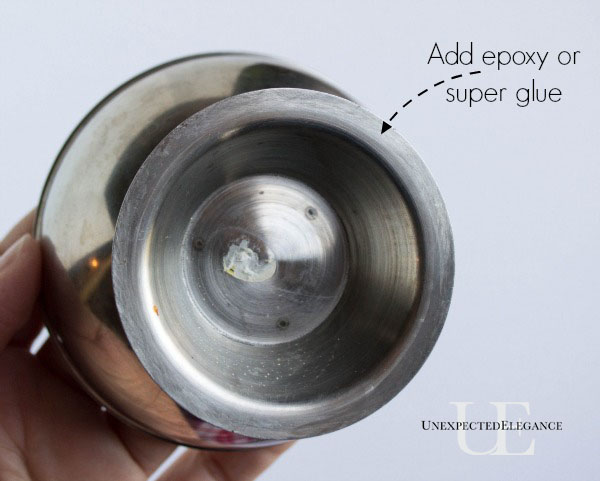 Then place the glued side on the pan within the marked area.  Leave it upside down for the  wait time specified on the adhesive packaging before using.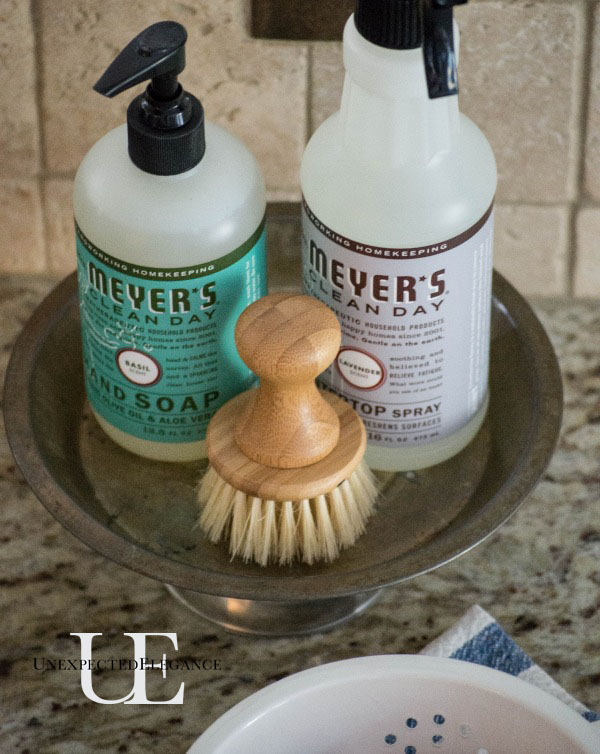 It's a great way to add a little character to one of the hardest, most utilitarian areas of your home.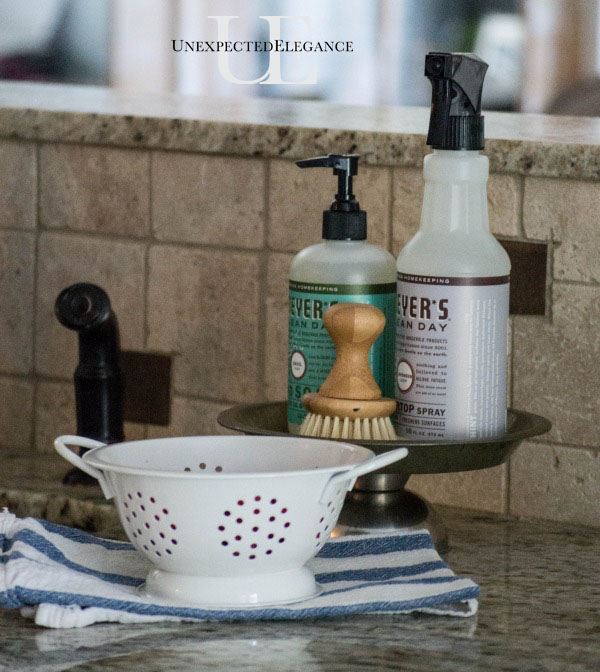 Remember your home is what you make it and should be a source of joy and inspiration. Mrs. Meyer's Clean Day® is made for all the beautiful things you create in your home.
***This is a sponsored post written by me on behalf of the Mrs. Meyer's Clean Day®.***