Hi guys!  I'm Sara from sincerely, sara d.  Today I'm sharing FREE Thanksgiving printables and ideas for inexpensive (but really elegant!) fall table decor.
 I loved this idea of having a placemat where people could write down what they're thankful for.  I originally found the idea on Pinterest with this image:
Unfortunately the link sent me on a while goose chase, so I'm not able to credit whoever originally created this placemat.
However, I am sharing my own version of a free printable "Give Thanks" placemat for you.
Just click on the link below to print out your PDF file:
 I also created these matching name cards you can stick in your napkin rings.
Click on the link below for the free "Thankful For" name card printable:
I printed my placemat and name cards on cream card stock.  (I have set up both to print on regular, 8.5 x 11 paper.)   I used a metallic bronze sharpie for my names.
The Fall centerpiece only cost me around $20!  I bought the candles and candlestick holders from the dollar store and painted the gourds and leaves using spray paint in three different shades.  If you want to see more about how I did this, click HERE.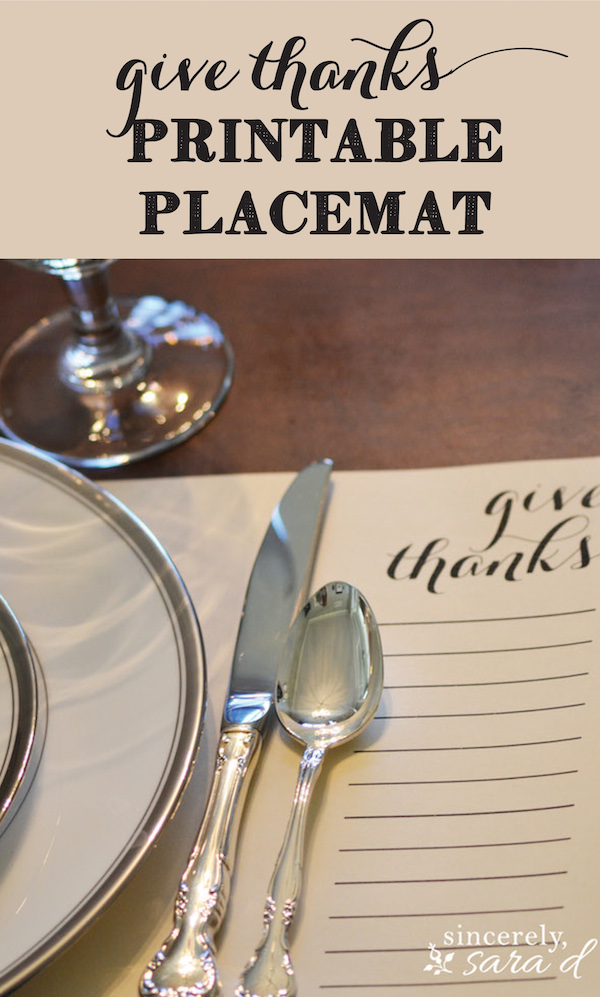 Thanks so much to Angela for allowing me to spend time with you today.  Hopefully I took some pressure off you.  Rather than having to create the perfect meal, you can distract them with a pretty Thanksgiving table setting.  That's my strategy at least. 😉
Happy Fall!