Today I have a fun guest post for you!  Tali from Zillow.com is sharing 3 Tips for creating a rustic-style patio!
**************
By Tali Wee of Zillow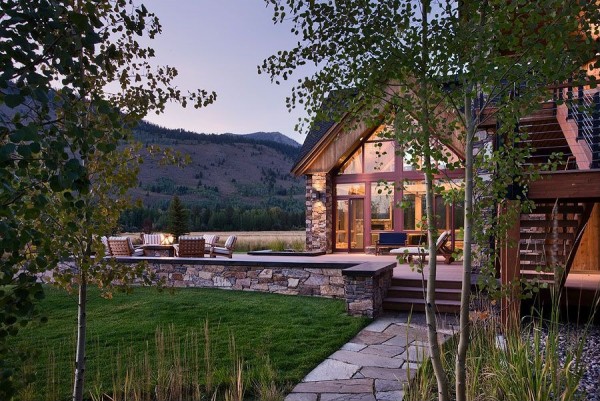 Source: Teton Heritage Builder
Barn tables, exposed beams and other hallmarks of rustic design have been gaining popularity among environmentally conscious homeowners looking to create sustainable living spaces. Whether focusing on entertaining or simply relaxation, pairing organic natural elements with stylish, functional design is a natural fit for patios, decks and porches.
Achieving the look can be as simple as adding a few well-placed movable pieces or as elaborate as building permanent, eye-catching features. Here are three ways to incorporate rustic style into a patio design.
1. Use Natural Materials
From evenly laid concrete pavers to asymmetric stones, patios built of rocks or stone slabs create an earthy feel perfectly suited for the outdoors. Using a mix of stones and textures can clearly define spaces such as walkways, fireplaces or grilling areas.
For a more elaborate patio, a wooden-beam pergola brings rustic beauty and function, providing overhead protection. Add potted plants, garden beds, trees or shrubs to complete the look. Whether the space is simple or extravagant, it's not rustic unless it's paired with nature.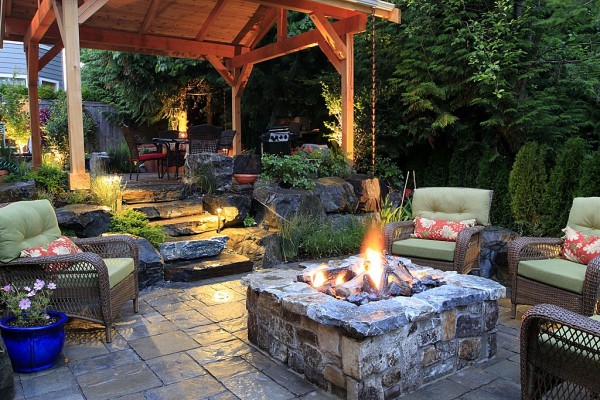 Source: Alderwood Landscape
2. Choose Comfortable Seating
The best patios combine the refreshing characteristics of the great outdoors with the creature comforts of home. Oversized chairs, wooden benches or other seating options made from natural resources can add rustic flair to any outdoor space. Because the seating is exposed to harsh conditions, it's important to invest in slip covers or opt for weather-resistant furniture and fabrics. It's also best to stick to earth-tone colors such as brown, tan and green. Although white and cream hues are refreshing and inviting, they're more difficult to keep clean. The more comfortable the seating, the more time residents and guests will spend on the patio.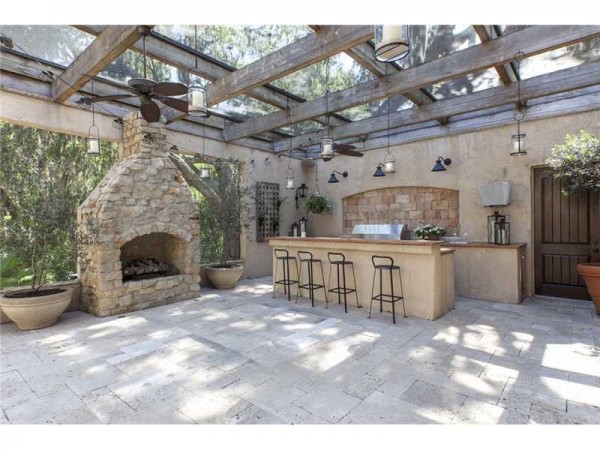 Source: Zillow Digs™
3. Build a Stone Fire Pit
Perhaps the most alluring feature of any rustic patio is a stone fire pit. It's the perfect gathering spot for families and friends — ideal for roasting marshmallows and sharing ghost stories. Options include a traditional fire ring, an in-ground pit or a fireplace with a chimney. Some homeowners opt for wrought iron pits or chimineas, which are less-permanent but still fundamentally rustic.
Ultimately, a patio's design should reflect the home's overall architectural style and feel. When shopping for the perfect home, don't be deterred by a seeming lack of outdoor space. Even small areas can be transformed into rustic sanctuaries with the addition of stone accents, comfortable seating and a fire pit.
When shopping for the perfect home, don't be deterred by a seeming lack of outdoor space