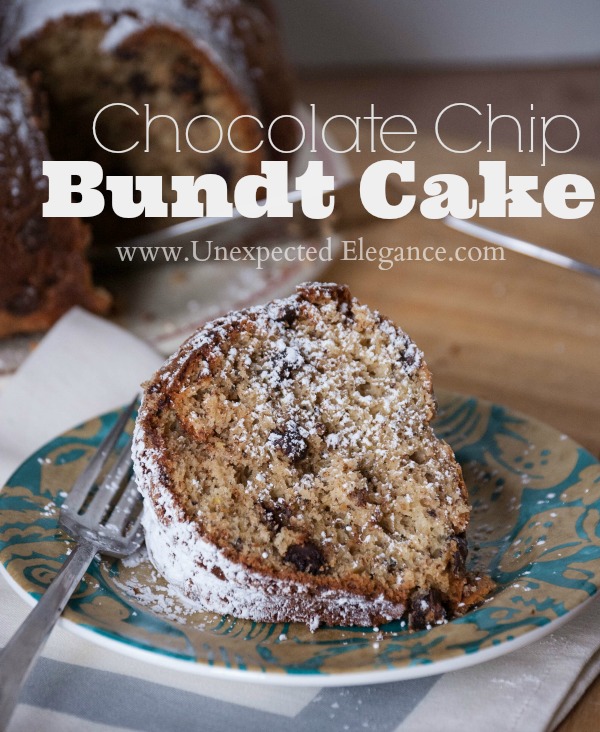 When I got home from the hospital, after having Claire, my new neighbor dropped by with this cake.  It was SO delicious that I asked her for the recipe.  Scott still periodically asks me to make this cake after  almost 6 years, so I thought it would be a good one to share with you!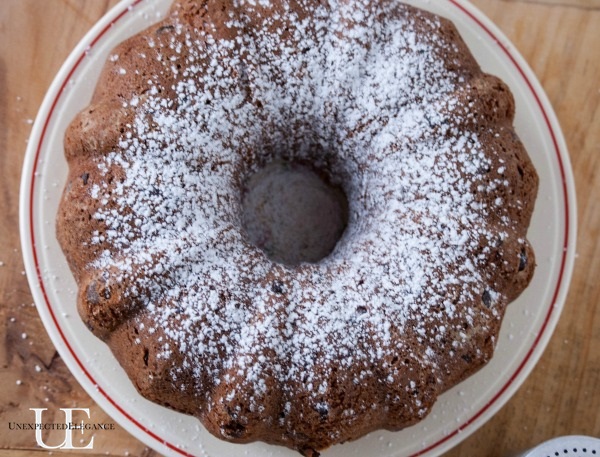 Ingredients:  1 yellow cake mix,  1 small package of vanilla instant pudding, 1 cup of sour cream, 4 eggs, 1/2 cup of oil, 6 oz. of semi-sweet chocolate chips, 1 oz. unsweetened chocolate (grated)
I start by grated the unsweetened chocolate.  I found that it's easiest to use a regular grater, then just coarsely chopped the last little bit.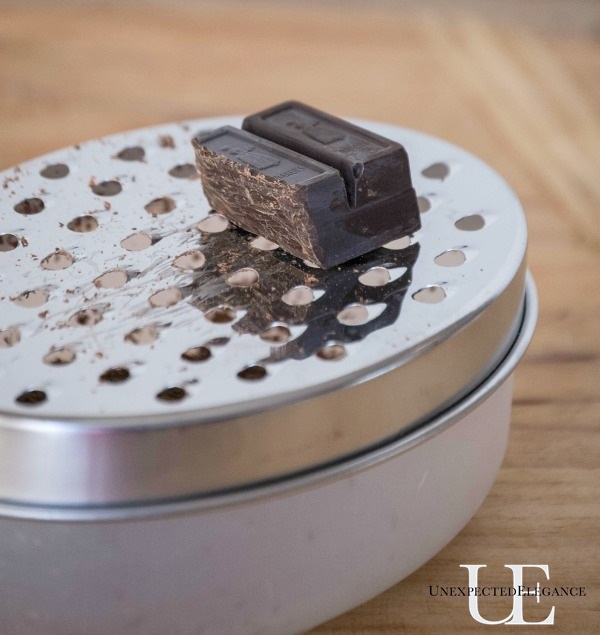 Combine the dry ingredients first, then add in the eggs, oil, and sour cream.  Once the batter is fully mixed, fold in the semi-sweet and unsweetened chocolate.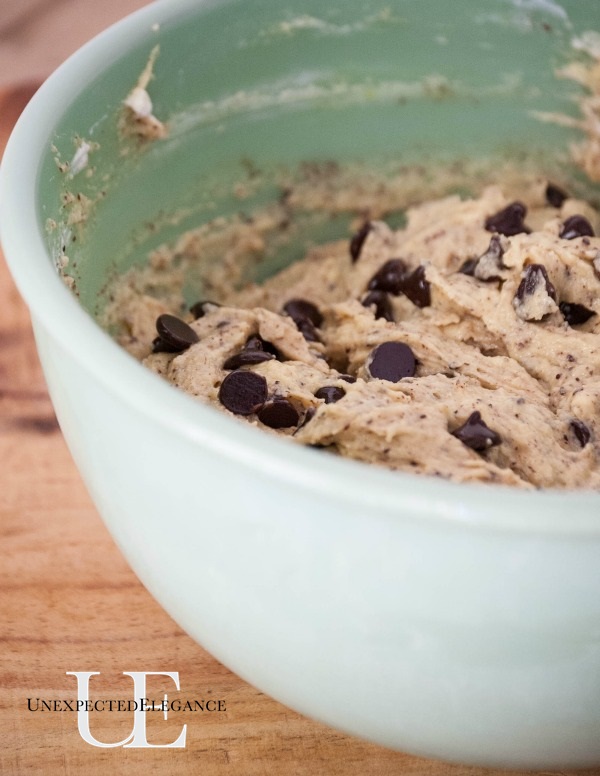 Your pan needs to be greased and floured so the cake comes out easily.  There is a spray you can buy that has both or you can use the regular cooking spray and just sprinkle a little bit of flour in the pan.  Just make sure to shake out the excess before you pour in the batter.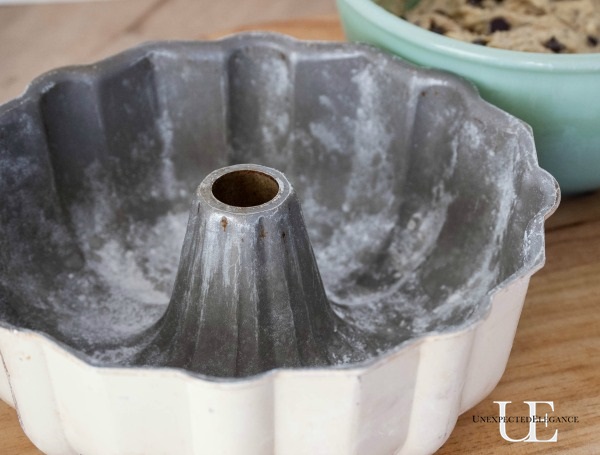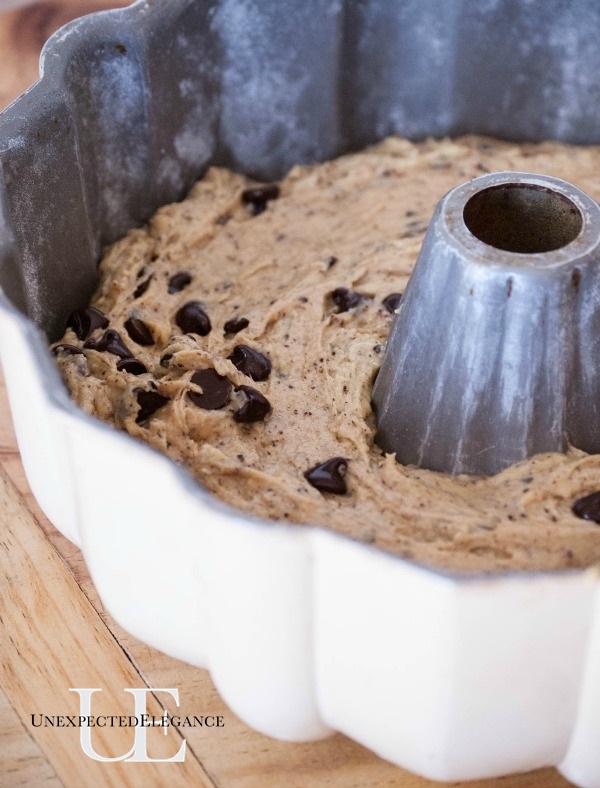 Bake for about 50 minutes on 350 degrees until fully cooked.  Once the cake has cooled off, sprinkle with powder sugar and EAT!!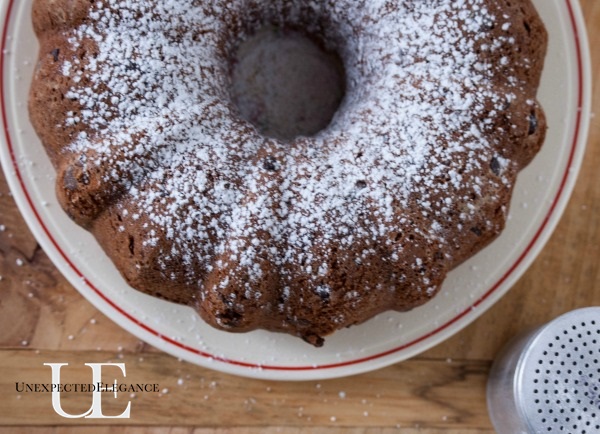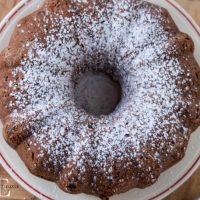 Chocolate Chip Bundt Cake
Ingredients
1

box

yellow cake mix

1

package

instant vanilla pudding

1

cup

sour cream

4

eggs

½

cup

vegetable oil

6

oz.

semi-sweet chocolate chips

1

oz.

unsweetened chocolate

grated

powder sugar

enough to top the cake
Instructions
Combine the cake mix and instant pudding

Add the eggs, sour cream, and vegetable oil until everything is fully combined.

Stir in the chocolate chips and grated chocolate.

Transfer the cake mixture into a greased and floured bundt pan.

Cook for 50-60 minutes on 350 degrees.

After the cake has cooled, sprinkle with powder sugar
Feel free to share or PIN IT to bake later! 🙂