This post brought to you by BMO Harris Bank N.A. Member FDIC. All opinions are 100% mine.
College seems like a distant dream now, but I remember those days vividly!!  Mostly I remember how much I hated Chemistry and Calculus but I also remember how great that time was!  There is just something special about those 4 5 years of my life.  😉 It was a time of discovering who I really was/am.
I thought I wanted to be an optometrist. (I'm not really sure of my thought process on that one, but it sounded like a good profession.)  I went to Texas A&M in College Station, TX.  It's a large university and the BioMed Department was a competitive program.   About half way through my freshman year, I realized that I hated the sciences and wanted OUT!
College was also a time when I finally had my very own space and could decorate it any way I wanted.  I begin to learn my decorating style and loved the process.  So I decided I wanted to be interior designer.  Unfortunately that wasn't an option unless I transferred to different school.  I started taking Construction Science classes and was going to have to get a Masters in Interior Design.  The middle of my junior year, I scrapped the idea of being in school for 8 years and chose to graduate with my degree in History and a minor in Business.
I have to say it was a GREAT decision.  The summer before my senior year I was able to study World War II in Poland.  It was an amazing experience and I spent the whole summer soaking up all the architecture and design of Europe.
It's funny how things work out.  I would have NEVER in a million years thought that I would have a blog about my passion for interior design and DIY!  (It's pretty much a dream come true!)
I can still remember those college days of having EVERYTHING in a small space.
Here 8 things that help a dorm feel bigger and cozier: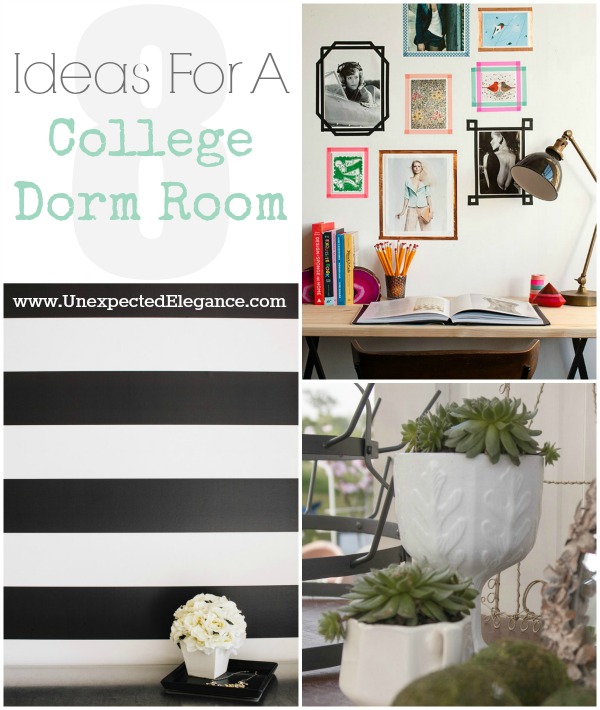 Photo credit:  design sponge |  chasing paper
Bed risers:  These will get the bed off the floor and give you more space underneath.
Under the bed storage:  the plastic storage drawers work great and let you have easy access to your "stuff."
Command strips and hooks:  These are great for adding just about anything to the walls without damaging them.  The hooks are great for hanging purses, jewelry, backpacks and damp towels.
ORGANIZATION:  This is so important in a tight space.  It's better to get a system up front, then to try and "fly by the seat of your pants!  Hanging shoe organizers are great for adding more storage space in the closet.
Washi Tape:  This is an easy way to add color and interest to your space.  Try adding around posters on a wall to look like frames or on the edges of your bookshelves.
Removable Wallpaper sheets:  These are great for adding texture to the walls or you can get creative and add it to any solid surface. (A fun option would be to make faux headboard!)
Sturdy TV tray:  These make great surface areas.  You can use them as a study area, dining area or even a side table.  When you want them out of the way, they fold up and can be hidden behind a door or under a bed.
Small Potted Plant:  A small plant will help purify the air in your small space and also bring in a little bit of nature.
Let's be honest, college is EXPENSIVE.  No matter how much you plan and save, it will probably cost more.  I've teamed up with BMO Harris to share with you their BMO Harris Bank Scavenger Hunt Sweepstakes!  It super simple to enter.  Just like them on Facebook and play through their scavenger hunt.

This week you will be collecting tokens around an college campus.  You just have to click on each coin and either answer a True/False question or read a quick tip.  Simple!  Once you have all your tokens you can enter for a chance to win this week's prize of $500.
The drawing will run from:
Start Date/Time: 12:00:00 pm CT on 3/10/14 End Date/Time: 11:59:59 am CT on 3/17/14 Drawing Date: 3/20/14
Next week I will continue sharing some more personal experiences with you and letting you know how you can enter for a chance to win some more cash! 🙂
Are you heading to college (maybe for a second time) or have kid either in college or about to go?!?  We could all use a little extra help!