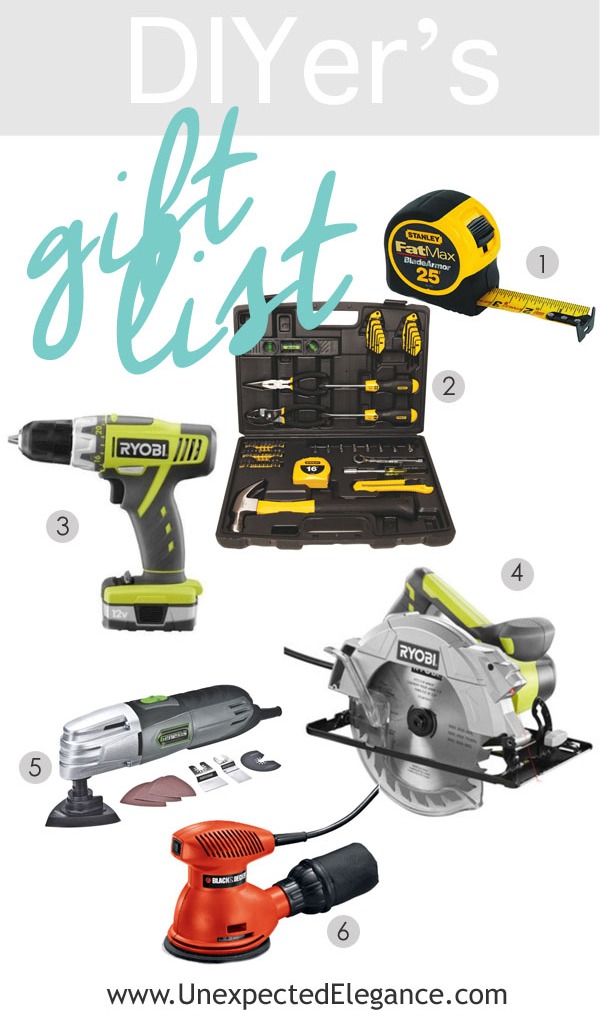 Do you have a DIY lover you are buying gifts for this year?  Over the years I have learned some great tips from my dad and everything else though trial and error.  I had absolutely no skills and had never used a power tool until about 7 years ago.  Now I absolutely LOVE "my tools" and get a little giddy when I get a new one!  So, I thought I would share with you my top picks for the newby DIYer.
Here are some great tools for a multitude of projects:
This is an absolute MUST.  You need a tape measure for just about every project under the sun.  My suggestion would be to purchase a nice one that is only metric and locks.
This has a variety of tools that most people need on a regular basis.  Even a non-DIYer should own a basic set like this!
This is another tool that you need for most projects.  I would also throw in a set of drill bits.
Circular saws are great to have because they can be used for a variety of different things.  You make simple cuts and even "rip" a larger piece of wood down.
This is one of my favorite tools.  I use it way more than I ever thought I would.  You can buy different blades and it cuts anything from drywall to baseboards.  Great for the precise and small cuts.
This is the most versatile sander and fairly inexpensive.
If you are looking for a great set to get them started, I would highly suggest Ryobi ONE tool set.  This was my very first set of power tools and I still use them!  It's a good mix and helpful for almost any project. 🙂
***This post contains affiliate links.  To see my full disclosure, please click HERE.***