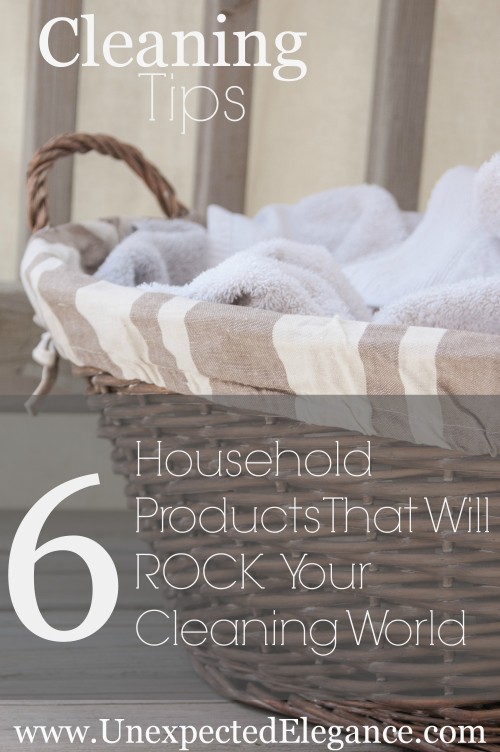 There are 6 things that I always have on hand and use regularly for cleaning.  Some are no brainers for most people, but you might not think to use some of them!
Olive Oil
Most people have this on hand for cooking, but I use mine for cleaning just as much.
1.  Cleaning paint and stain from my hands.  (NUMBER ONE use for me!)  I keep a bottle by the sink and it works WONDERS for getting my hands clean.  Bonus:  your hands feel soft afterwards. 😉
2.  Polishing furniture
3.  Shine stainless steel
Vinegar
1.  Hides scratches on wood/furniture!!  I don't know how it does it, but just wipe down your piece of furniture with a little vinegar and the scratch practically disappear.  IT works, just try it!!
2.  Clean your microwave.  Put some vinegar in a small dish in the microwave and turn it on for about 1 minute.  Then wipe the inside of the microwave out immediately.  It breaks up gunk and makes cleaning easy.  WE all love need EASY! 😉
3.  Cleaning window.  Use vinegar and newspaper to get windows and mirrors streak free.
Dryer Sheets
1.  Great for dusting.  It picks up the dust, instead of just moving it around.
2.  Used dryer sheets make great cleaning rags.  Use them in the bathroom to clean the sink, tub, and even the toilet seat.
Hydrogen Peroxide
1.  Cleans cutting boards.  It helps kill salmonella.
2.  Cleans moldy surfaces.
3.  I also use it as a mouthwash when I have a sore in my mouth ("cheek bites" are the WORST!!).  It is amazing at how fast it heals! (My Memaw taught me that trick.) Disclosure:  I am not a doctor, so please check with your health care provider before using.
WD-40
1.  Polishing my stainless steel appliances.  I keep a small can under my sink and use it to polish my fridge on a weekly basis.  It is AMAZING…promise!!  Just  spray a small amount on a rag and buff the stainless steel.
2.  Removes permanent ink from most surfaces.
3. Removes marks from ceramic tile and wood floors. (Be sure to wipe clean after use.)
Baking Soda
1.  Odor in the kitchen.  I use it in my fridge and trashcan to ward off food odor!
2.  Carpet cleaner.  Just sprinkle on your carpet or rug, then vacuum.  It helps deodorize.
My Favorite Combo:  Baking Soda & Vinegar
1. Unclogging drains:
use a funnel to pour in 1/2 cup baking soda followed by 1 cup vinegar. When it stops foaming, flush with boiling water. Wait about five minutes, and then flush again with cold water.  (My mother-in law taught me this one and it works GREAT!)
2.  Refreshing Stinky Towels
Check out my post here, to find out how to get the "funky" smell out of old towels or a load you forgot in the washer a little too long. 😉
*******
I use all of these tricks and tips regularly, but these are only a few suggestions for these 6 products.  There are literally hundreds of uses for them…just Google! 🙂
Happy Cleaning!
~Angela