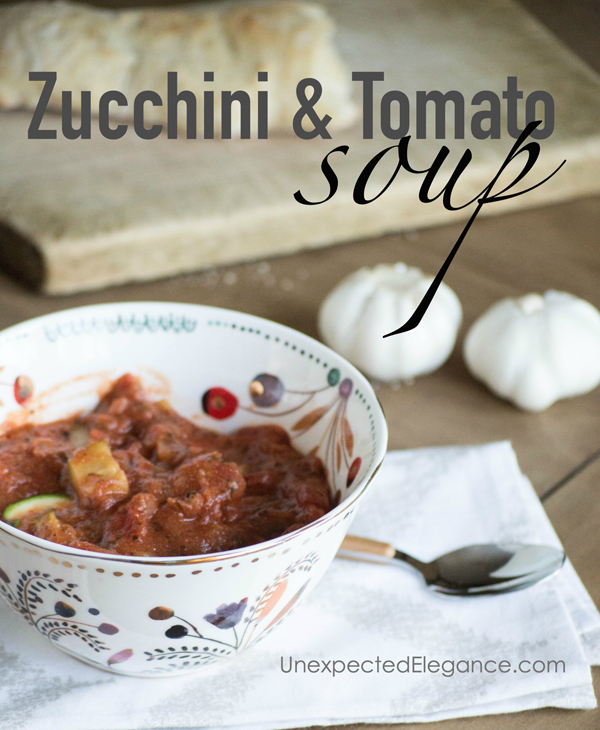 After the holidays I always feel like I need to eat healthier.  I have eaten so many desserts that I my body needs a little detoxing at the beginning of the new year!  
A friend of mine made this zucchini and tomato soup for a get-together a few months ago and it was so delicious that I had to have the recipe.  It's easy to make and the perfect HEALTHY soup for a cold day.
Ingredients:  4-6 cloves of garlic, 1 Vidalia onion, 1/3 cup of olive oil, 2-3 larger zucchini, 6 cups of crushed tomatoes (approx. (2) 28 oz. cans), 2 cups of diced tomatoes, 6-8 oz half and half, 2-3 tablespoons of basil, salt and pepper.
Sauté  the garlic (more the merrier) and onion in 1/3 cup of olive oil in a pot over medium heat… Stir often to prevent burning.
Peel and chop zucchini into small cubes 4-5 cups (add more if you want).
Once garlic and onions are brown, add zucchini and let it cook for about 10 more minutes until zucchini softens ( stir often to prevent burning).
Add 6 cups of CRUSHED tomatoes to the pot and 2 cups of DICED tomatoes.
Simmer for 30 minutes
Add 6 to 8oz of half and half, salt to taste and a teaspoon of black pepper, then simmer for 5 more minutes.
Stir in 2-3 tablespoons of basil and serve.  Optional:  top with shredded or grated Parmesan cheese.