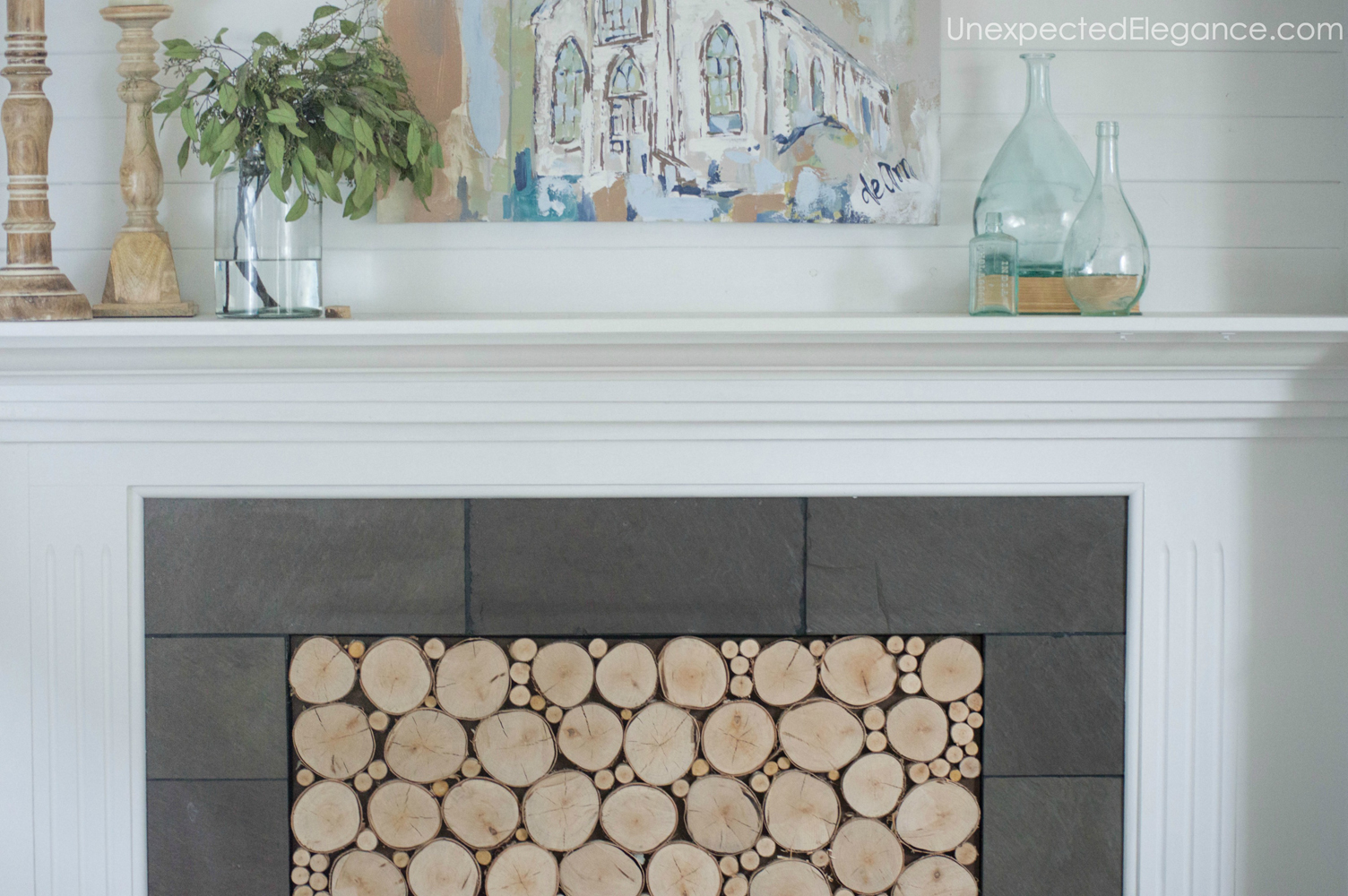 I grew up in Texas, where we didn't get snow EVER.  I dreamed of one day being able to sit around my fireplace in the dead of winter with a hot chocolate, just watching the snow fall.  Unfortunately, I don't think that scenario is in my near future.   Since I've been married, we've bought two homes and BOTH have had gas fireplaces that didn't work.  GEEEZ…can't a girl catch a break?  Both houses had inspections and both inspectors didn't catch it…you would think after the first one, I would have checked it myself?!? Our current home has a fireplace that not only doesn't work, but is drafty.  So I think I've finally come up with a temporary solution to stop the drafts.  (My fingers are crossed!)  Either way, it looks cool.  I'm sure you've seen the fireplaces stacked to the brim with wood?  That wasn't an option for me since we have gas logs, so I decided to make an insert with faux logs.  (I'm not really sure how you would have a fire if your fireplace was full of logs, anyway.)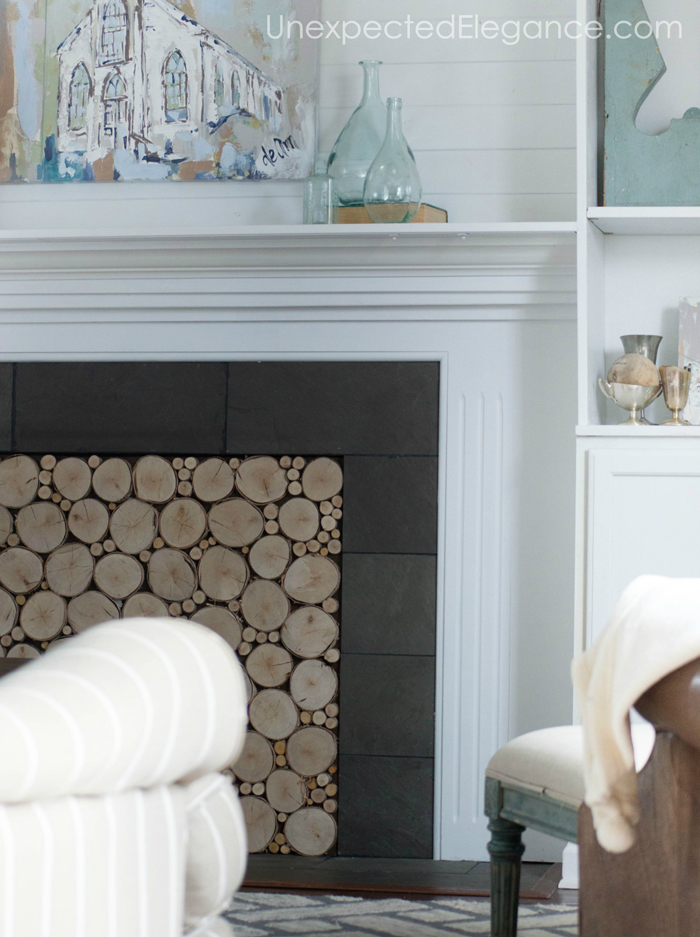 This post brought to you by The Gorilla Glue Company . The content and opinions expressed below are that of Unexpected Elegance.
Woodstack Fireplace Insert Tutorial
Supplies:
dark brown masonite (large enough for your fireplace opening) or large piece of scrap wood
tape measure
different size logs and branches
glue gun
miter saw
safety equipment:  glasses and ear plugs
optional:  black paint or dark stain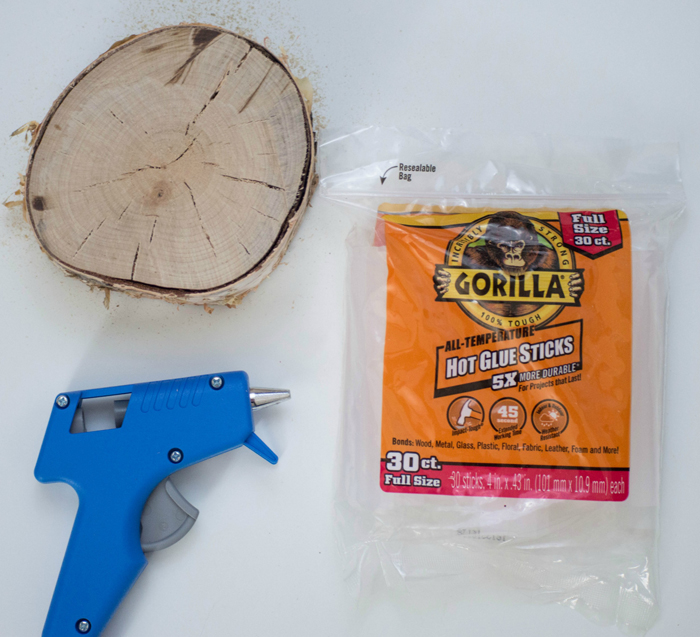 1.Start by measuring the opening of your fireplace.  Then cut a piece of masonite or wood to fit snuggly in the opening.  (You can also take this measurement to the hardware store with you and have them cut the piece for you.)  If you are using a light colored wood, you will need to paint or stain it a dark color.  You want the background dark, so it just looks like a shadow around the wood.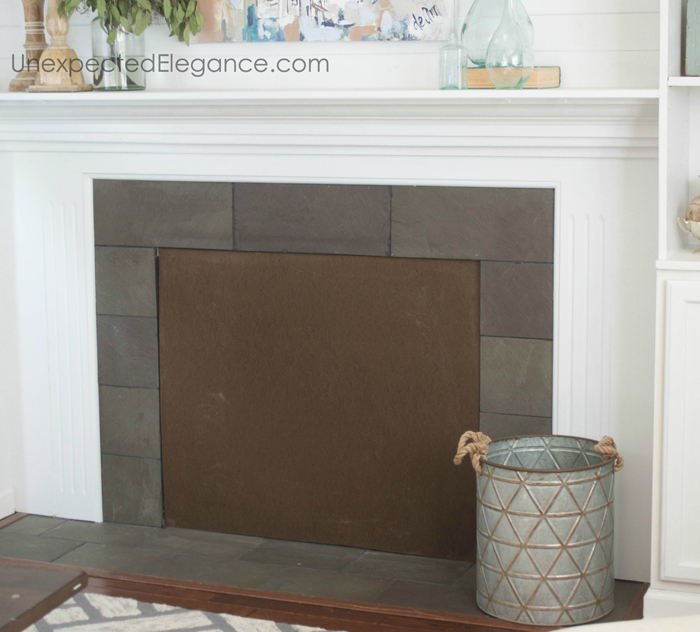 2. Then start cutting your wood into small disks, approximately 1.5 inches deep.  I made a "stop" for my saw using a piece of scrap wood and a clamp, to make this step go much quicker.  The stop just lets you know where to cut every time.  I'm not gonna lie-this step took a while because my opening was so large.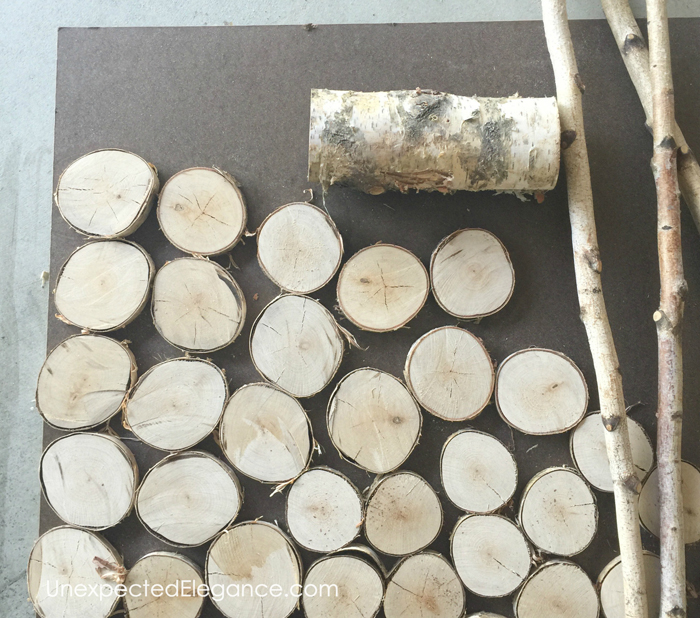 3. Next, lay out all your wooden disks on the piece of masonite.  This is kind-of like putting a puzzle together.  You will need to play with it until it looks right, but make sure to fill around the larger pieces (logs) with the smaller twigs.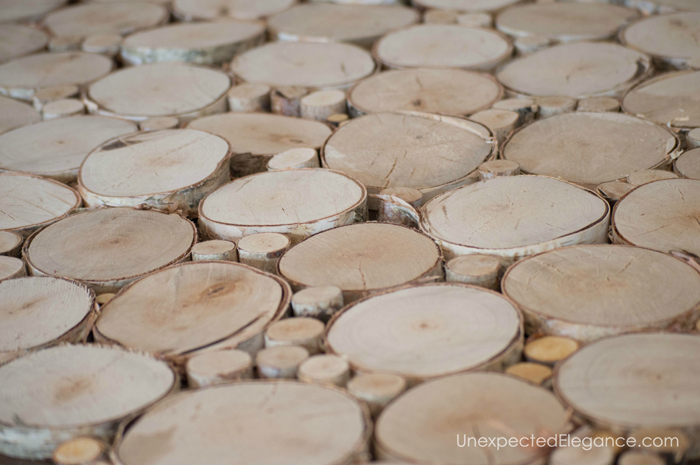 4. Once you have it set the way you want, heat up your glue gun.  Use the Gorilla Hot Glue sticks to attach each piece to the masonite board, starting at the bottom and working your way up.  I think it's easier to just take one piece off at a time and glue them down individually.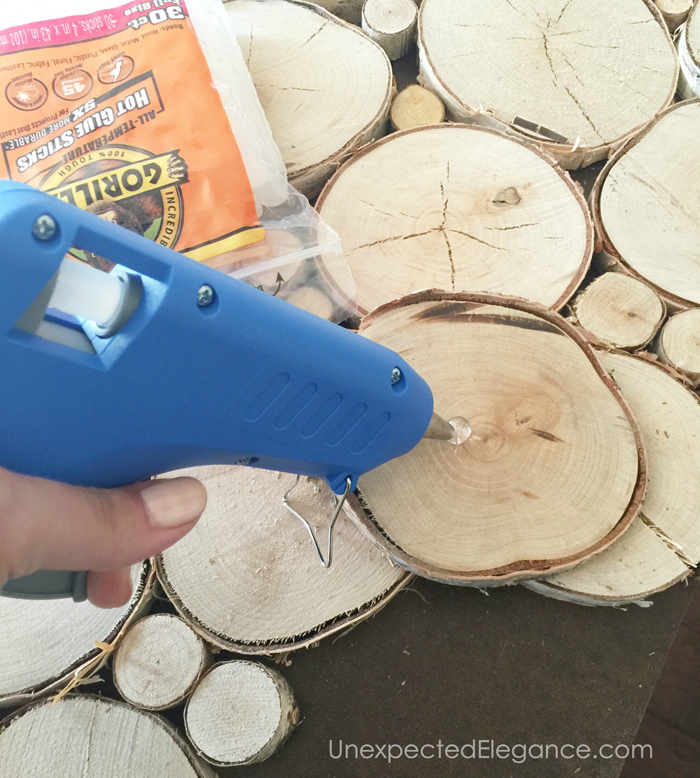 Side note:  I first started used Gorilla Glue about 10 years ago and honestly it was a game changer.  Every time they come out with a new product I can't wait to try it, and their hot glue just hit the market recently!  You can only get it at Walmart and if you are a DIYer or crafter you need to check it out. Here are some of the highlights for the Gorilla Hot Glue:
5X MORE DURABLE*
WEATHER RESISTANT – You can even use it on your outdoor projects…think of the possibilities!
ALL TEMPERATURE- It's safe for both high and low temperature glue guns, so no more buying special glue.
HIGH TEMPERATURE FOR STRONG BONDING- Great for wood, plastic, metal, and glass.
LOW TEMPERATURE- Works well for even delicate materials like floral, fabric, foam, jewelry and MORE!
45 SECOND EXTENDED WORKING TIME- Can I get a high-five?!?  YES, it really does give you time to play around, and still give you an awesome bond.
VERSATILE – Works on hard to bond surfaces like metal and glass.
IMPACT TOUGH®
5. After you have everything glued down just pop the insert into your fireplace and you're done.  Tip: If you have a draft problem (like me) you can add some insulation behind the insert.   When you need to remove it, drill a few screws through the wooden disks, and create handles to pull out the insert.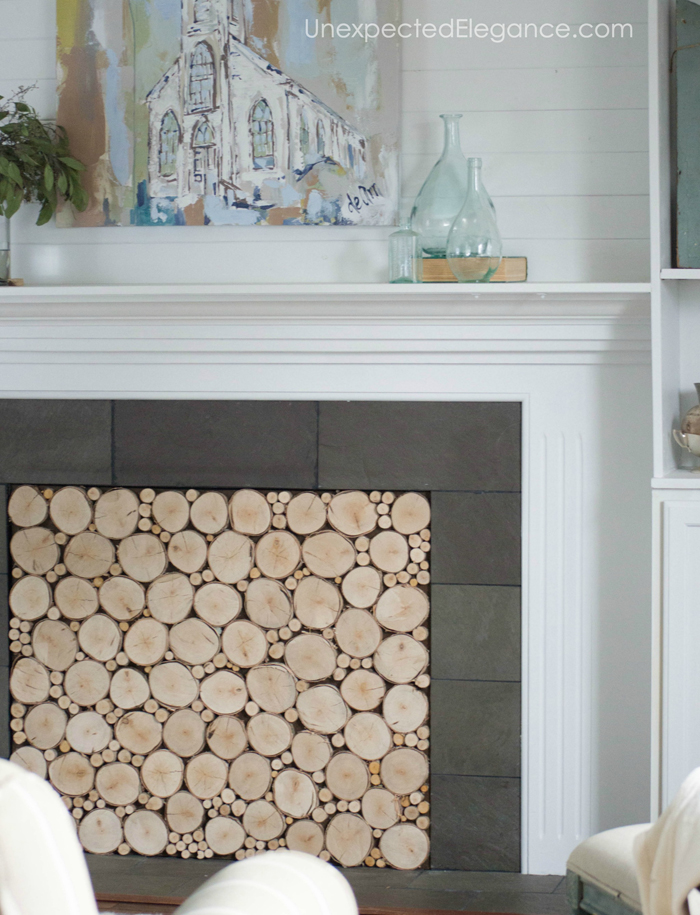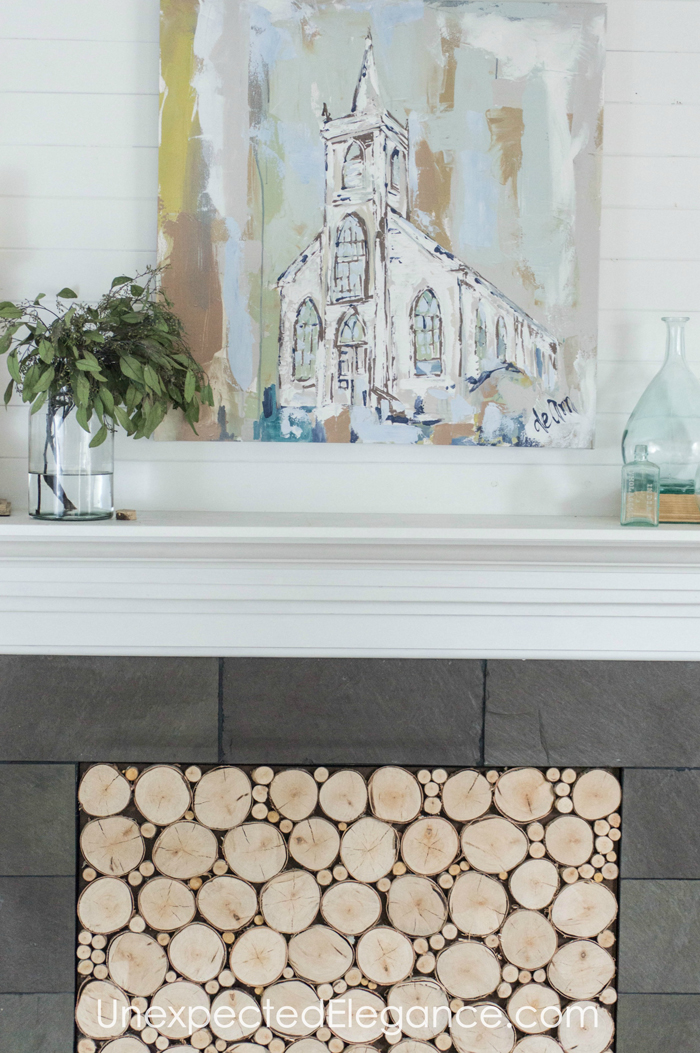 So I'm taking bets…do you think this will solve my draft issue??  I'll be sure to let you know this winter!