Do you love color, or you more a neutrals kind of gal/guy?  Well, today I'd love for you to meet Anne!  She knows exactly what she likes and has been there, done that.  Her home is soft and neutral!  I hope you will stick around and a take a peek around home!
***************************
Hi I am Anne from White Lace Cottage.I want to thank sweet Angela for inviting me to share my home with you all.
Angela has amazing style and taste I am so honored to be sharing my home on her beautiful blog!
We built our home 7 years ago.When we first moved in I thought about changing my style a bit.
My past home was very pastel and had a shabby chic vibe to it.
I decided to go a bit darker and more neutral with my colors.
And I also decided to do less vintage style and bring in newer pieces.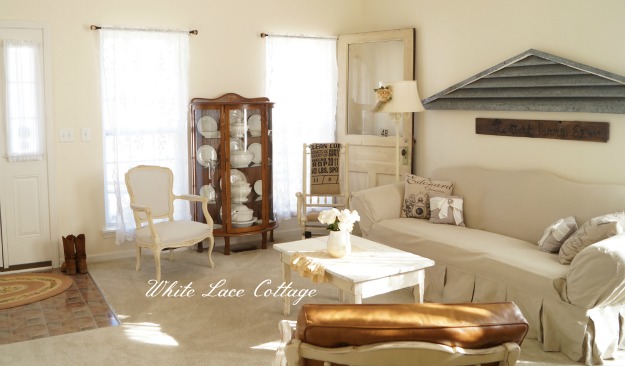 What was I thinking??
Ever since I was a little girl I have always been drawn to older things.
Chippy furniture…pieces with detail and charm.
What I thought I wanted was not working.
I went out and bought a can of paint that ended up being many cans of paint and painted my dark walls white.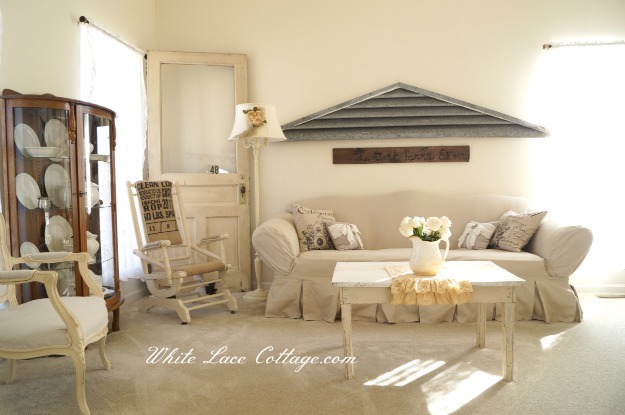 Once I started painting there was no stopping me.I proceeded to paint our whole house!
I loved how nice and bright my home was looking.
My furniture was now not working.I added a few slip covers and reupholstered a few chairs.
And of course painted some pieces too!
Now it was starting to come together just as I had envisioned it.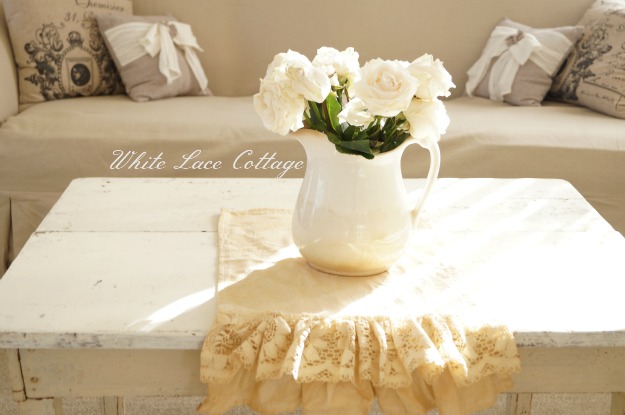 Room by room I made changes to what I already had.
And when I needed something I went shopping as I always do at thrift stores,garage sales and antique stores.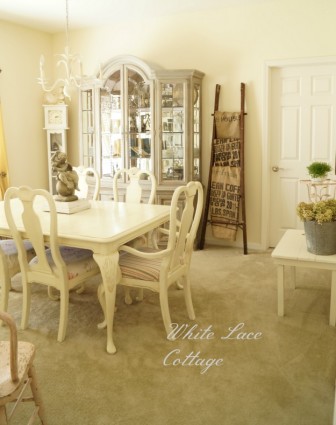 I even painted my 1995 dining room set.That light stain was no longer working in my home.
And then I decided my dark cabinets were not working for me, so one day I asked my very sweet husband if I could paint our kitchen cabinets.
At first he thought I was crazy. But he told me I could go for it!
I know white cabinets are not for everyone.But I have not regretted it at all and neither has my husband!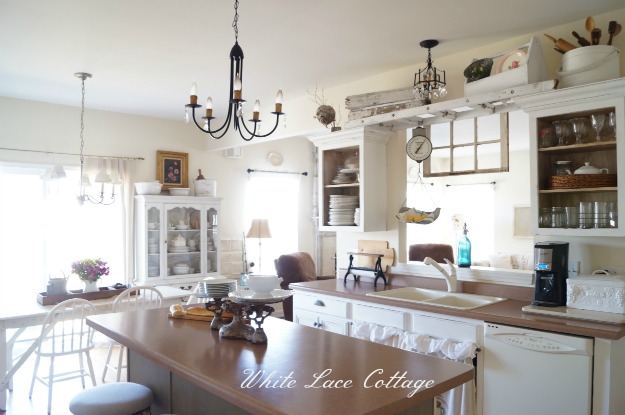 I took two cabinet doors off to have open shelves which I love!
And I also took two doors by the sink off and added a sink skirt to give it a farmhouse look.
These have held up very well being that this room is used the most in our home.
I cook and entertain in this kitchen and the cabinets are still nice and clean.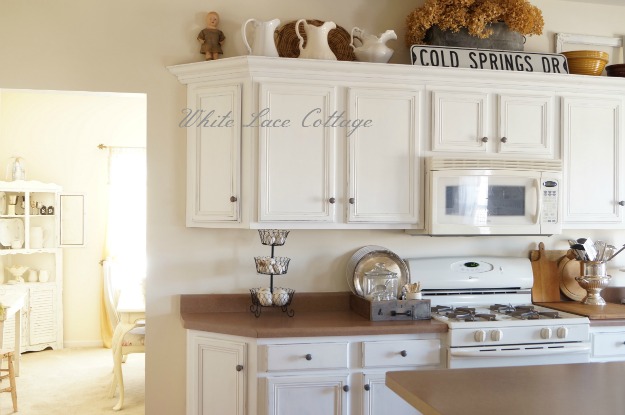 I found hardware for the cabinets at a thrift store and just painted them with the finish that I wanted.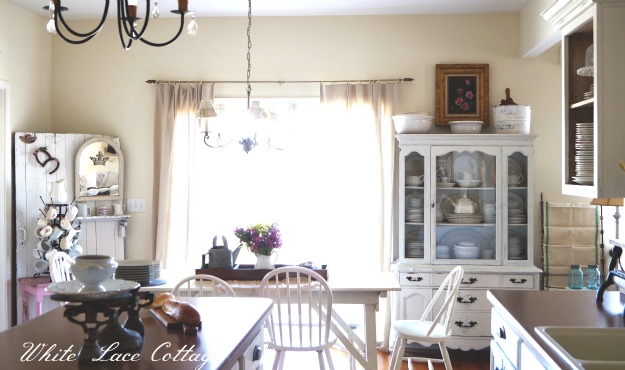 I love adding unique finds and architectural pieces to my home.
That painted white barn door in my kitchen is one of my favorites.
It is always fun to change it!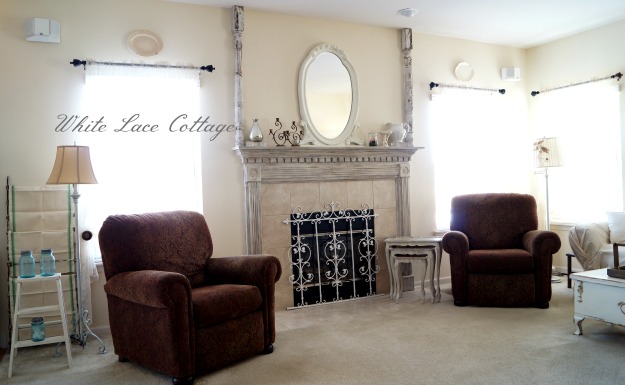 I added those posts on my mantle for a bit of charm.I just cut them with a hand saw….yes a hand saw I need to invest in and electric saw but it was really easy to do.
They are both fit up there snug to the ceiling.
That metal piece in front of the mantle is new, I just painted it white.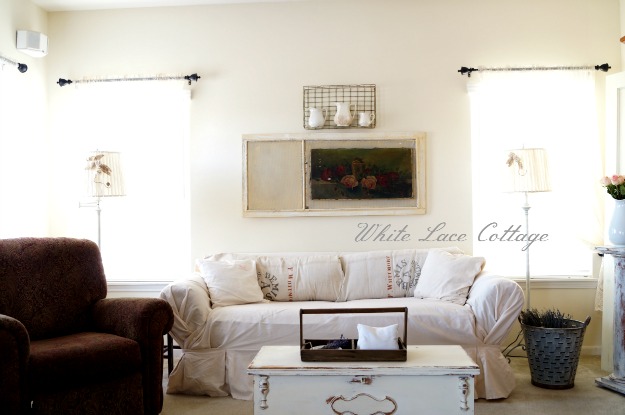 My laundry room is a work in progress.
Recently I found some vintage lockers to use as storage for our coats and shoes.
Our laundry room is also a mud room and entrance from our garage.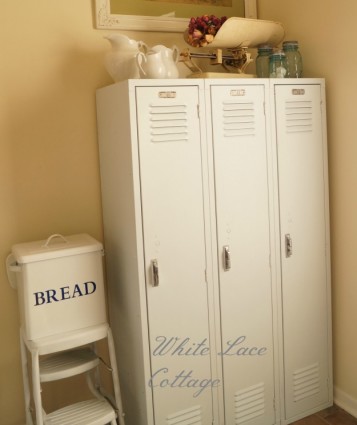 These work perfectly and I love that they are vintage and they were super cheap!
I just painted these the color I wanted.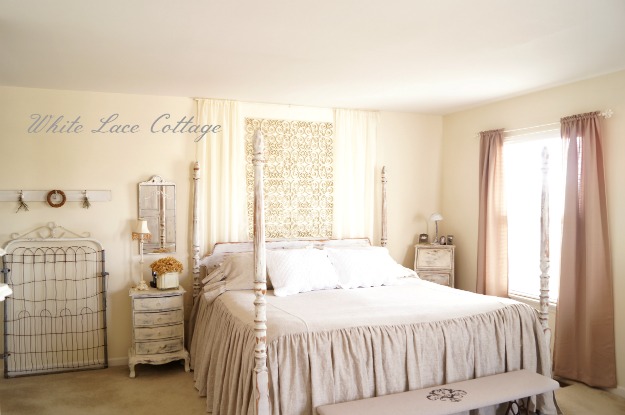 I used the same wall color throughout our home.
It flows so well from one room to the next.
All but one piece of furniture in my bedroom was painted using Miss Mustard seed milk paint or Annie Sloan chalk paint.
I decided to leave one piece unpainted for now.It adds a bit of warmth in my room.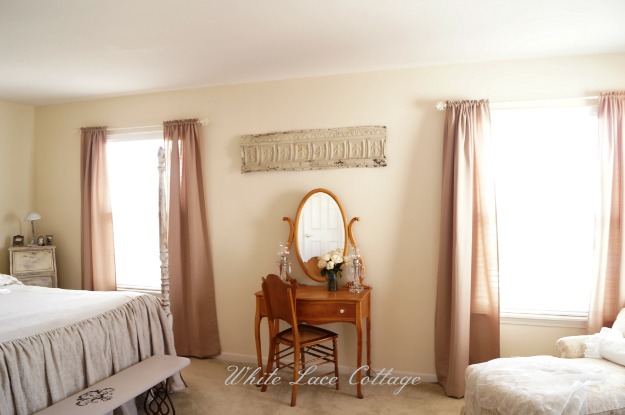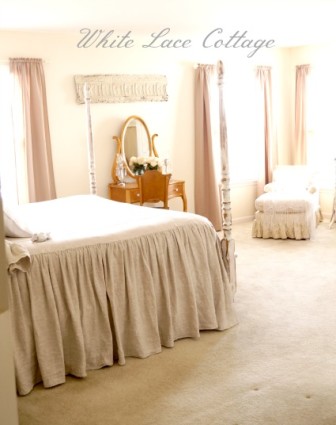 We recently changed my daughters room.
Keeping it white but adding some pink for a bit of a French shabby chic look.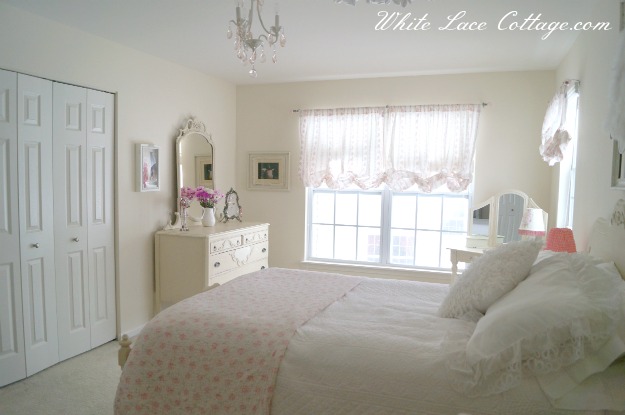 Well I hope you enjoyed this tour of my home.
You can come and visit me any time at www.whitelacecottage.com