Is your bathroom in need of a facelift? There are some things you can do if your budget is small! Check out these small bathroom updates with a big impact.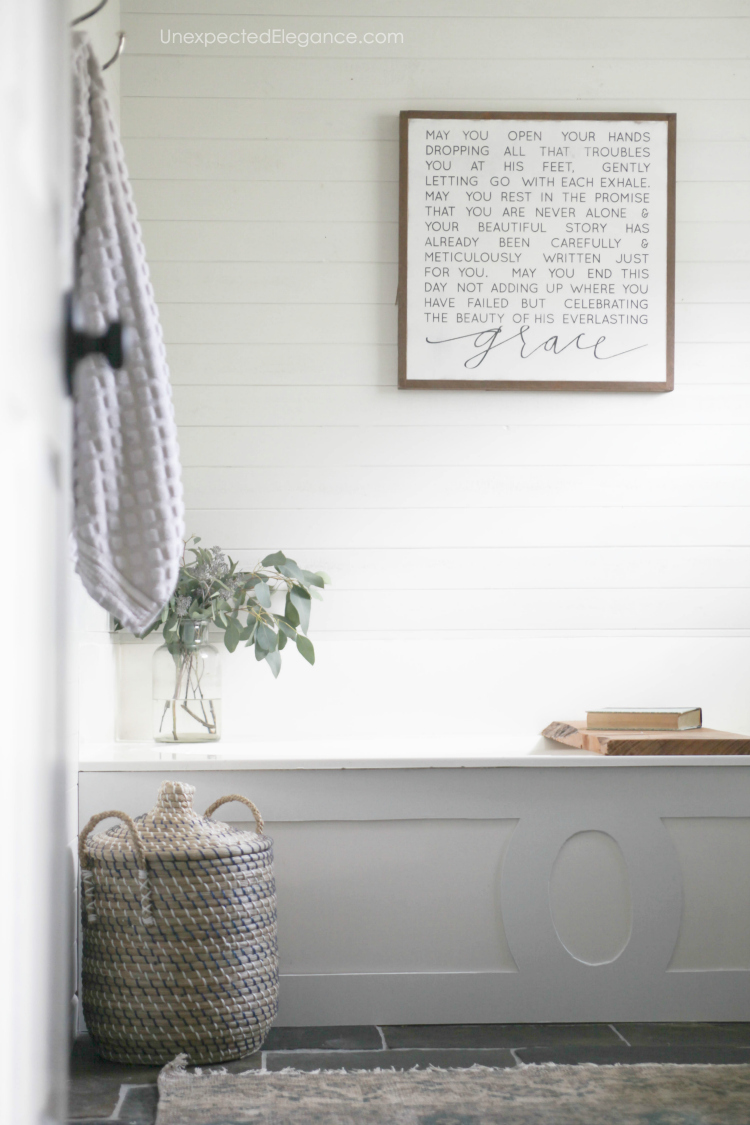 Our master bathroom is the one room in the house that keeps getting updated on the smallest budget possible.  I would LOVE to replace the vanity, but it's that room of the house that only my husband and I use…therefore it gets neglected the most.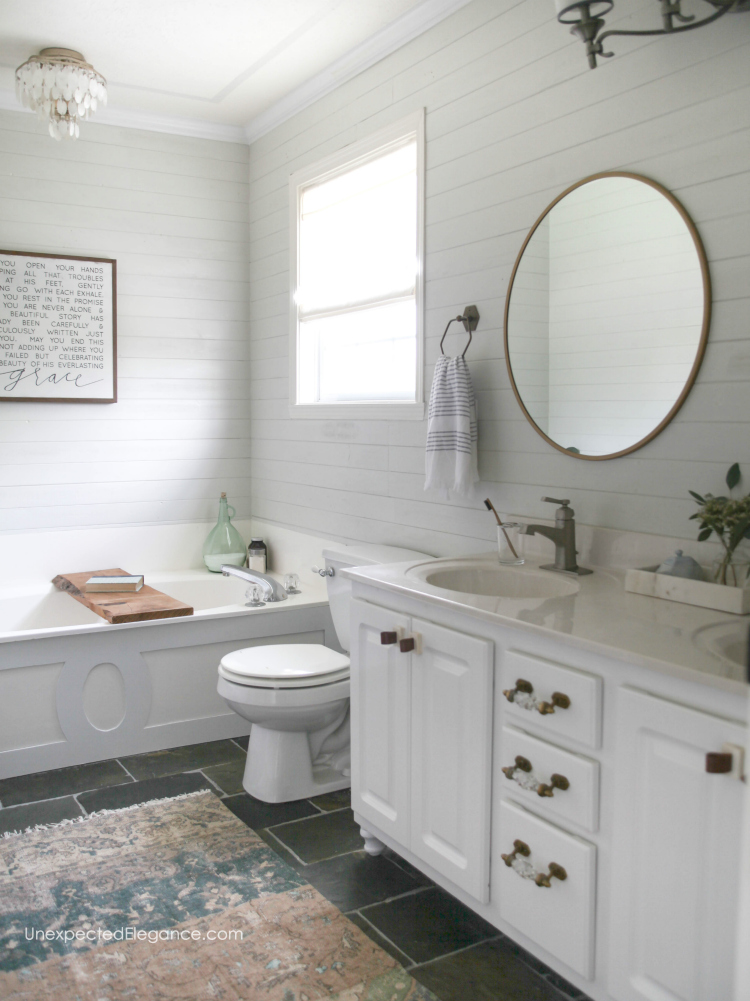 If you remember, we remodeled the shower area out of necessity a few years ago but we did all the work ourselves.  Our plan is still to add a glass door, but it keeps getting moved to the bottom of our home improvement list.   There are so many other things I would rather have first-like a new front door!
So I just slowly make simple improvements, until we are ready to do a more extensive remodel.  Like I said, I'm not ready to shell out the big bucks just yet!
Here's are the before and after bathroom updates:
This was the BEFORE (about a month ago).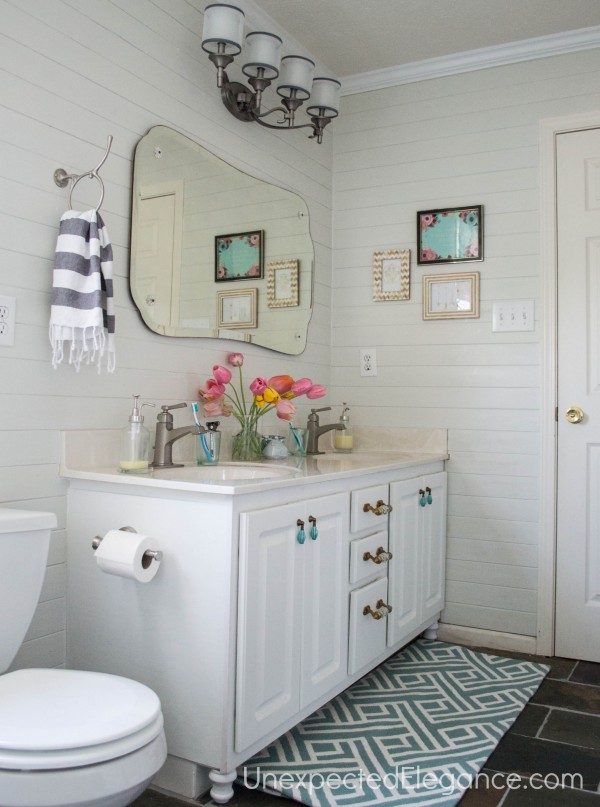 I still love this antique mirror, but I was ready for something new.  I also wanted to make it a little more sophisticated.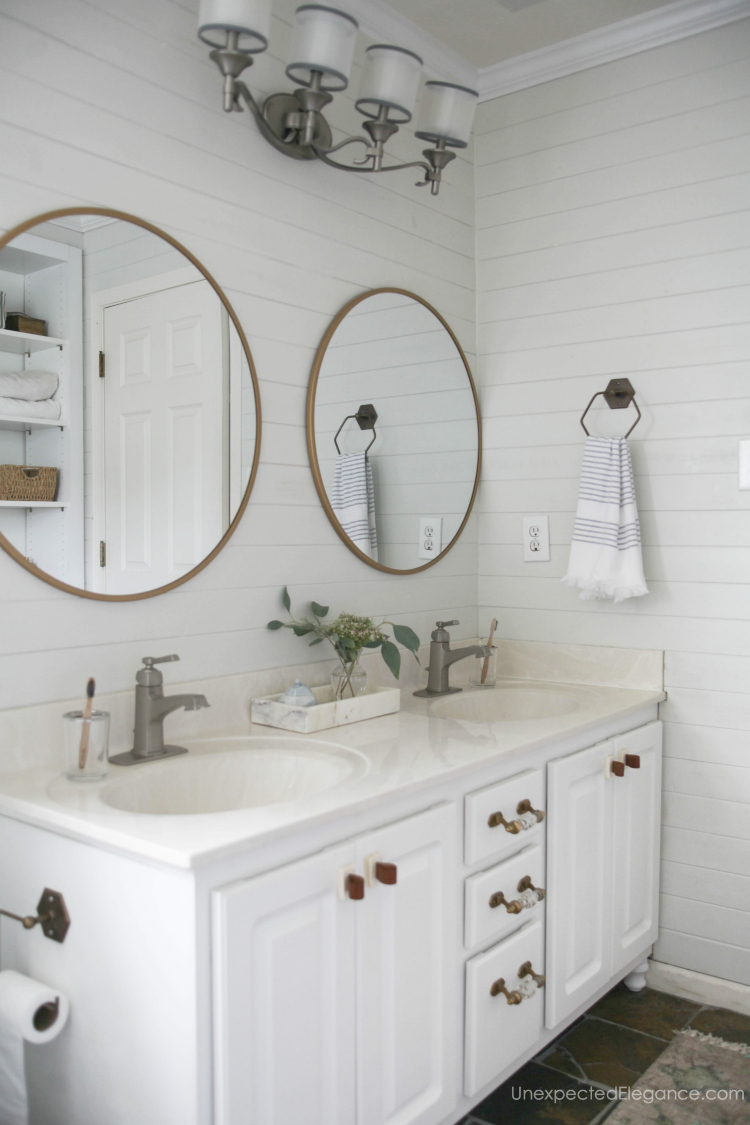 The rug was the first thing I changed out and it caused a snowball effect.  Isn't that always the case?!? (Unfortunately, I got it at HomeGoods, so I can't link it for you. )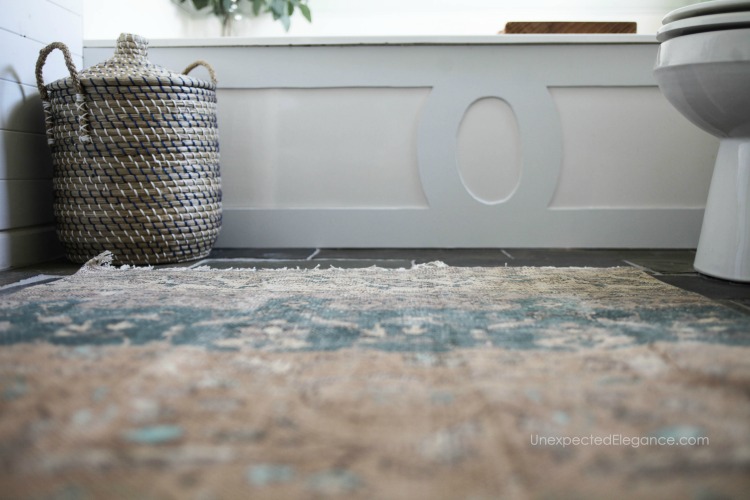 I started hunting for some round mirrors and came across THESE at Target.  They were brand new at the time, and on sale for $35!  The best part is that they are the perfect size. 🎉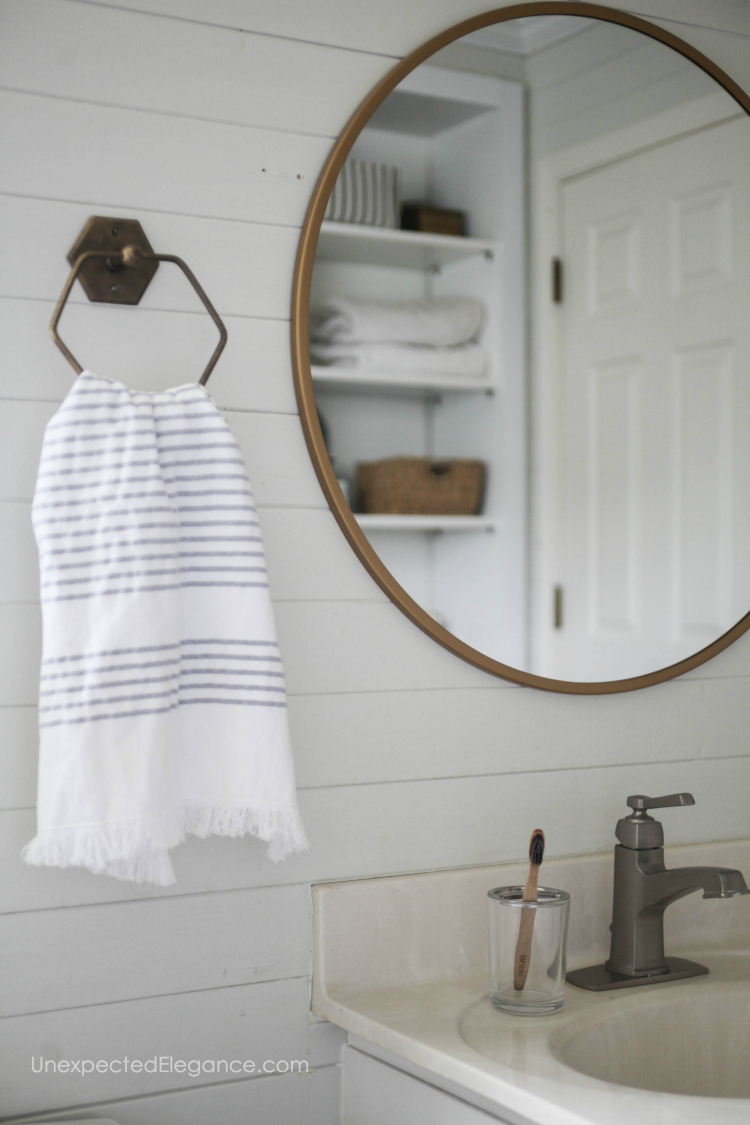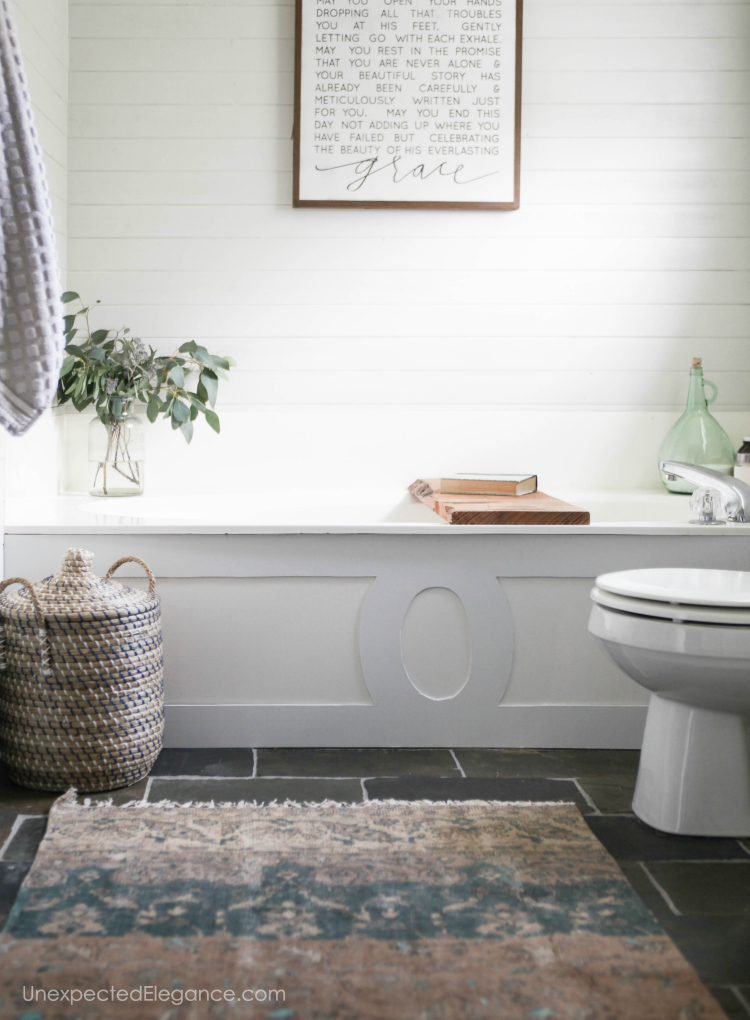 I got the leather pulls a while back from Anthropologie when they were having a clearance sale.  he holders (toilet and towel) came from Hobby Lobby, also on sale for 50% off.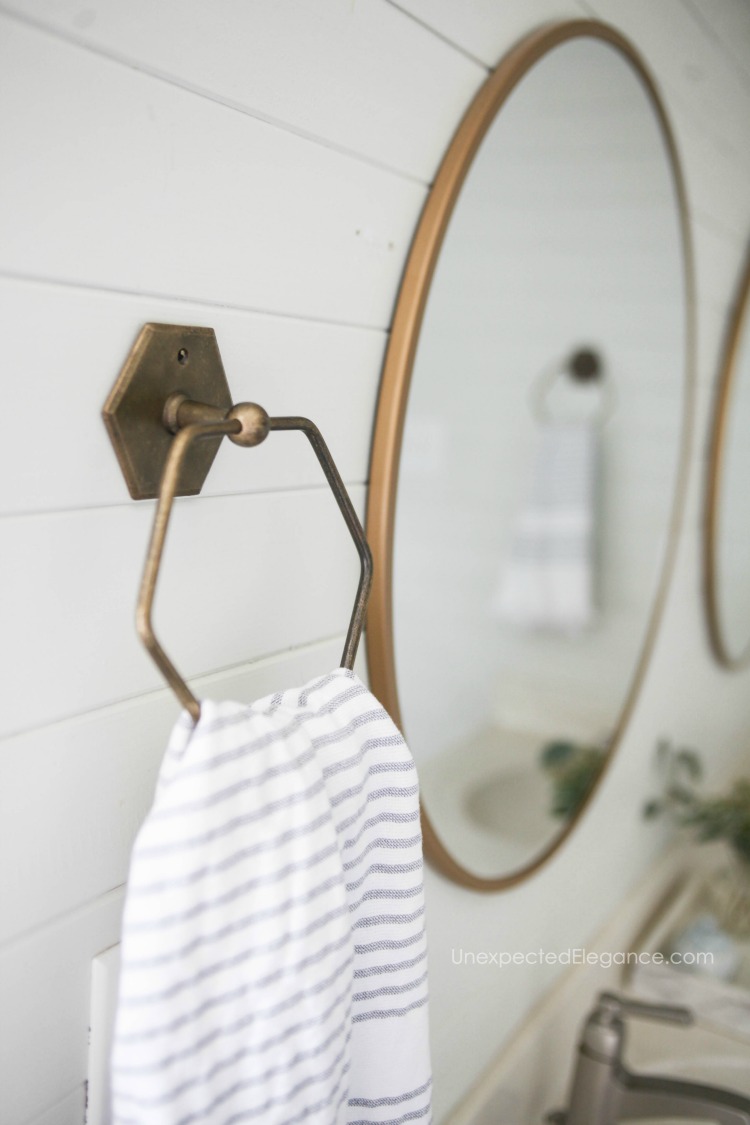 Bathroom Updates Cost Breakdown:
Rug- $40
Mirrors– $70
Towel Rings-$10
Leather Pulls- $25 (I got mine on major clearance from Anthropologie, but HERE is another option.)
Bathtub Tray- free
These small bathroom updates have helped satisfy my WANT to do a full remodel…at least for a little while longer!!  😉
Check back in the next few days or some of the DIY projects we completed in this space.