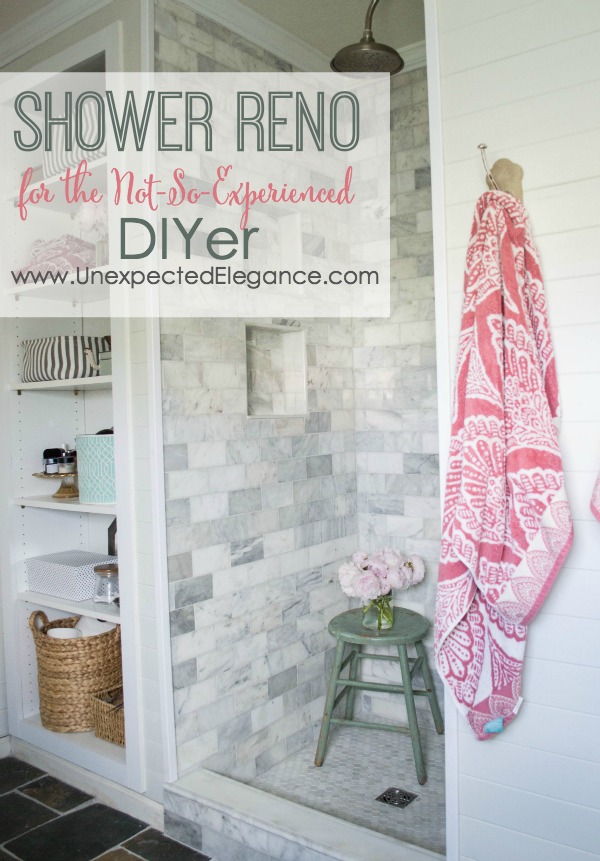 Back in January, we had a leak in our kitchen ceiling.  After cutting a portion out we discovered that the culprit was our master bath shower.  We had wanted to replace the shower since we moved into our house about 6 years ago, but the expense of upgrading it was never in our budget.  I wanted to wait until we had the money to get exactly what I wanted but that didn't seem to be the case.  Nothing like a leak to force your hand! 😉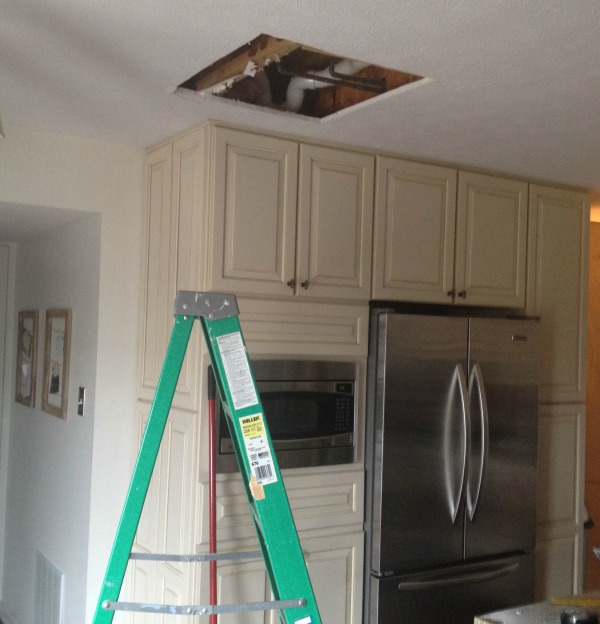 We could have just bought another shower insert for a few hundred dollars but we felt like it would have been money wasted since we planned on tiling one day anyway.  I got a bid from a contractor and the estimate was over $6000…really out of our budget!!
You know I'm a DIYer but this project seemed even bigger than I was capable of doing…since it was on the second floor and leaking had originally been the problem.  I started doing some research and found a company called Schluter.  They sell a complete shower system, with a waterproofing membrane and a customizable floor.  Needless to say, it is very affordable and gave me the peace of mind about a COMPLETELY waterproof, non-leaking shower!
Also, be sure to check out my post: 4 INEXPENSIVE Tricks to Give Your Tiled Shower A Custom Look, if you're starting your own shower renvovation!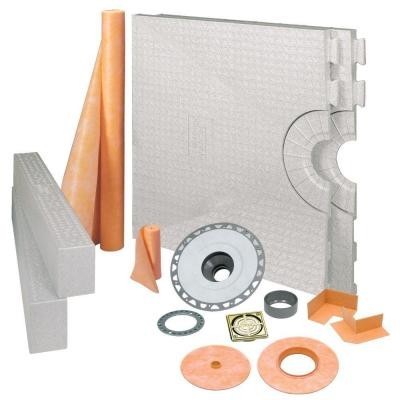 I found it at Home Depot but I think Lowe's has started carrying it as well.  The complete Schluter Kerdi Shower system is around $500-$550 which included the waterproofing for the walls.  I had priced out fabricated molds that I could tile for the floor and nothing was even close to that price!
We started by removing the old shower insert and all of the drywall, taking it down to the studs.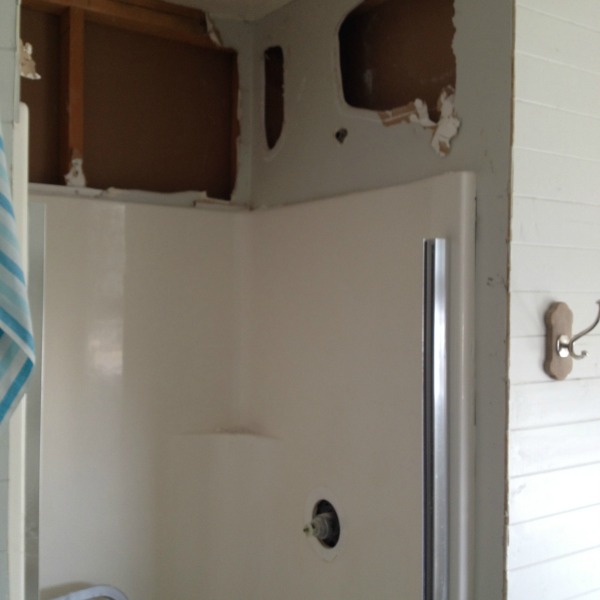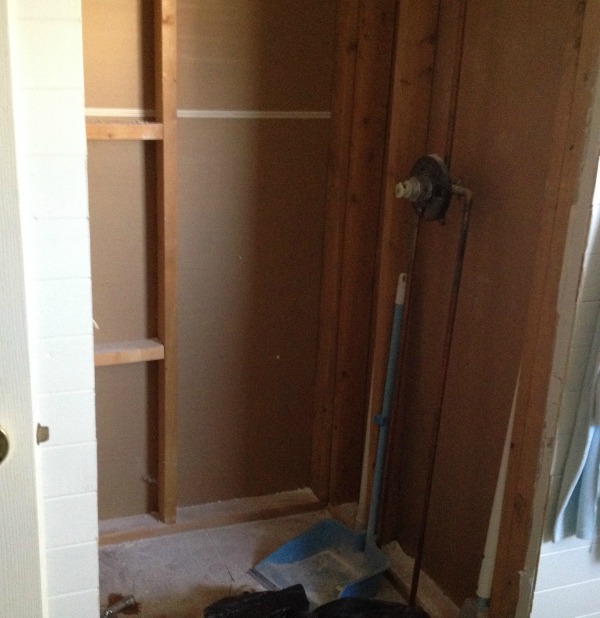 We hired a plumber to remove the old faucet and install a new one…plumbing is way out of my comfort zone!
Then we put up a concrete backer board and installed two 12×12″ Kerdi niches.  They also sell a Kerdi board that would have probably been so much easier to install, but I found out about it after we had already started with the cement board.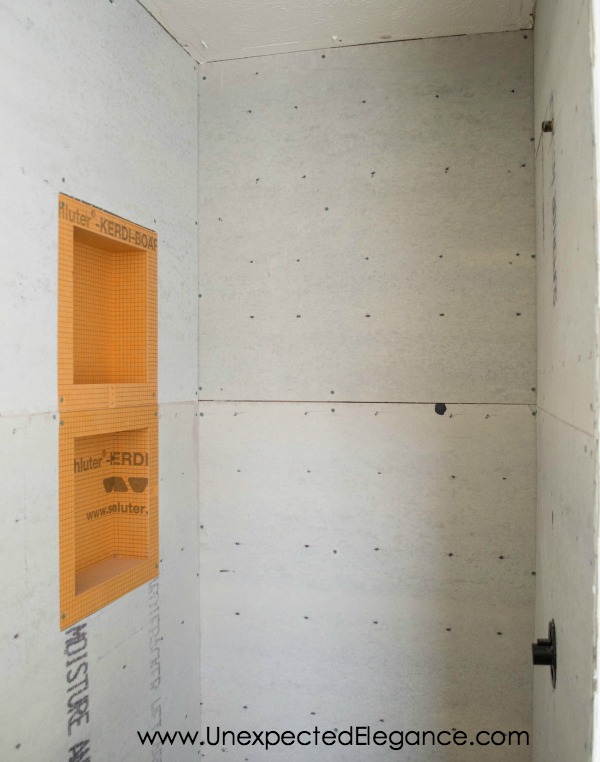 The next step is adding the membrane to the walls.  The important part of this step is to use NON-MODIFIED thin-set mortar. (Be sure to watch the video at the end of the post for full details about how to properly install the entire system.)
The membrane is easily cut using scissors.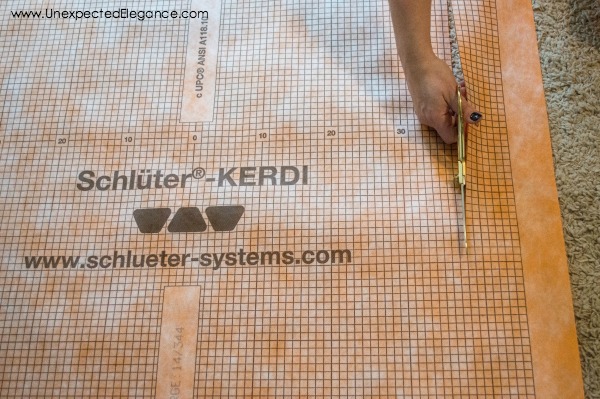 Measure the floor to find the center for the drain, so you can make your cuts for the shower tray.
If your walls are not square (like mine) use a large square to figure out the difference.  You can see from the next picture that my wall gradually gets bigger, so my shower tray was not a perfect square when we trimmed it.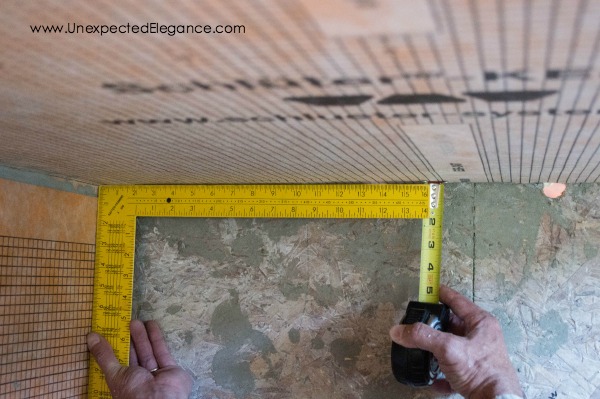 To make sure we cut the tray correctly, we made a template out of cardboard first and used it to cut the tray and membrane for the floor.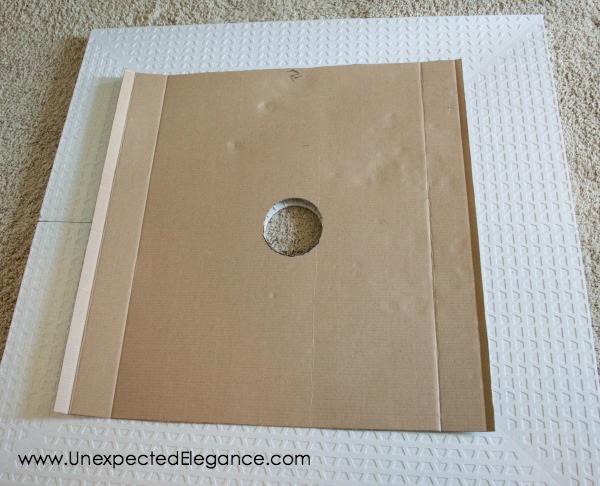 The tray and step are made of expanded polystyrene foam so it's easily cut with a hand saw.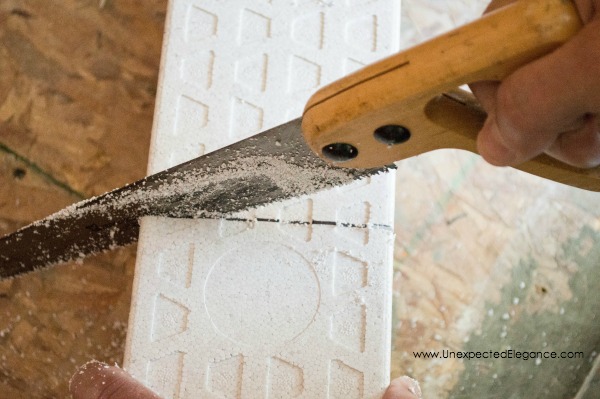 The sloped shower tray locks together and makes the installation a snap! 😉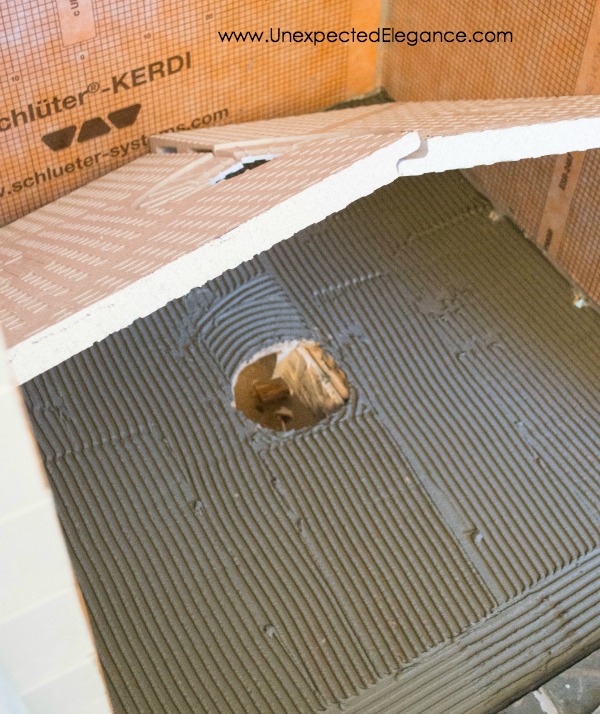 I won't lie, it was a challenge at first figuring out the mortar.  If it's your first time working with a trowel it takes some getting used to.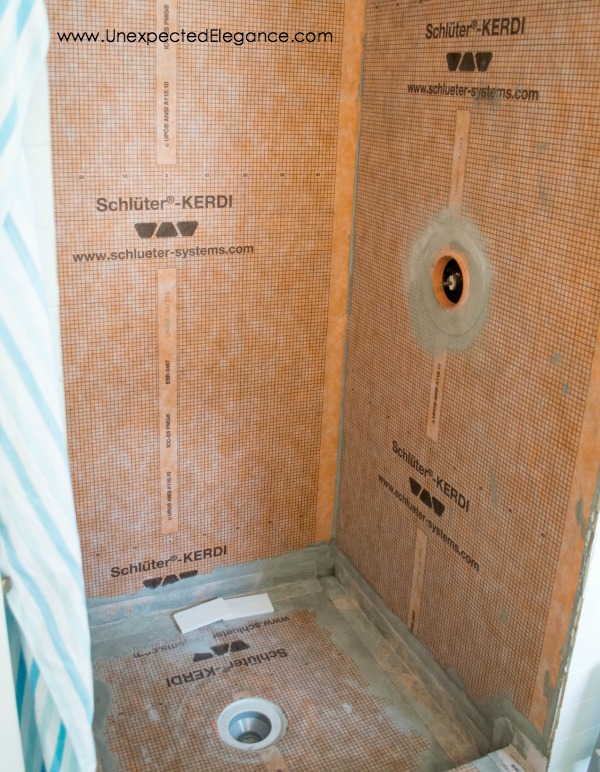 After everything was waterproofed and set, we did a water test before we installed the tile.  You can get a 2″ stopper from the plumbing section at most hardware stores.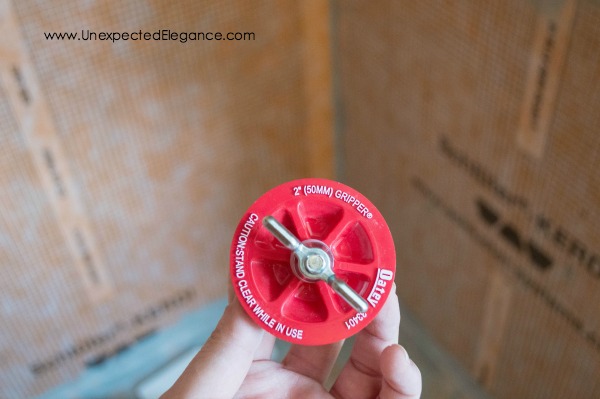 After many hours of tiling (because I choose such a small tile…it took 80 boxes), I absolutely love how it turned out!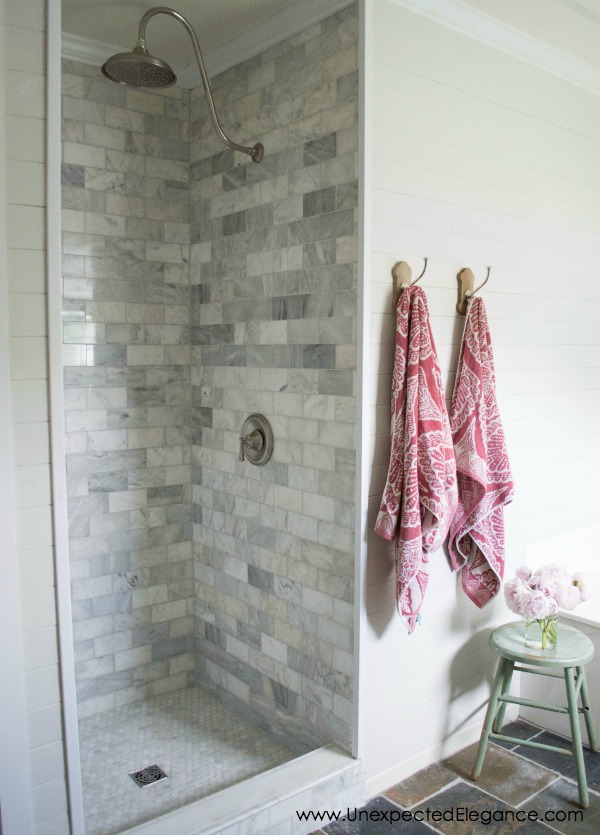 I'd love to help you on your next room design!  Click on the button below to take my FREE 5 day challenge where I walk you through all the steps for creating your dream room.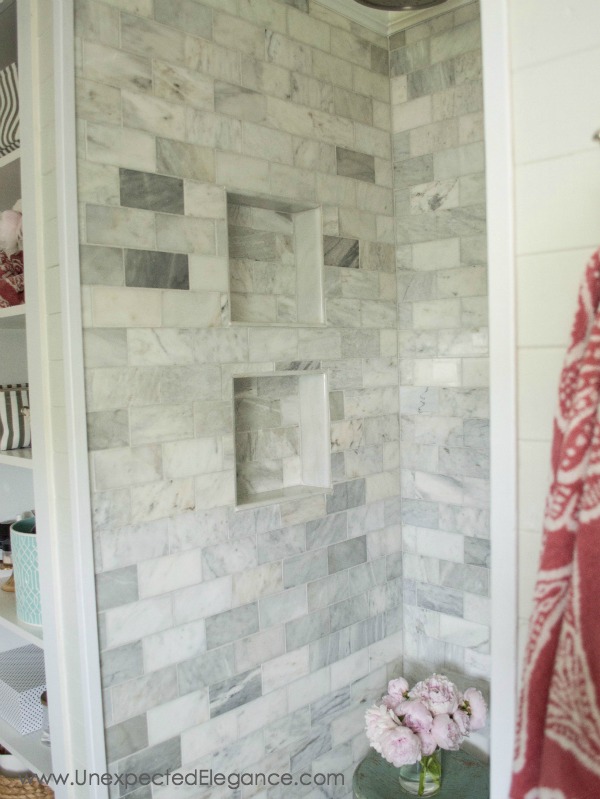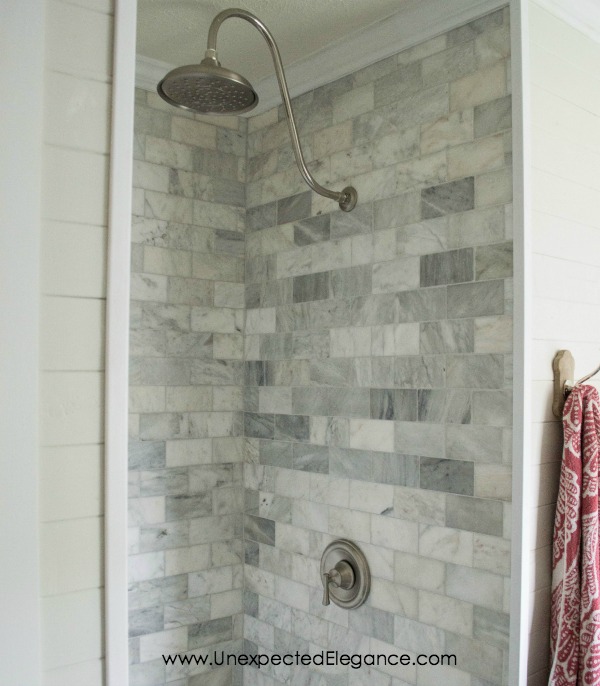 Yes, I know flowers don't go in a shower!! I needed something to break up all the grey for the pictures…AND they are pretty.  😉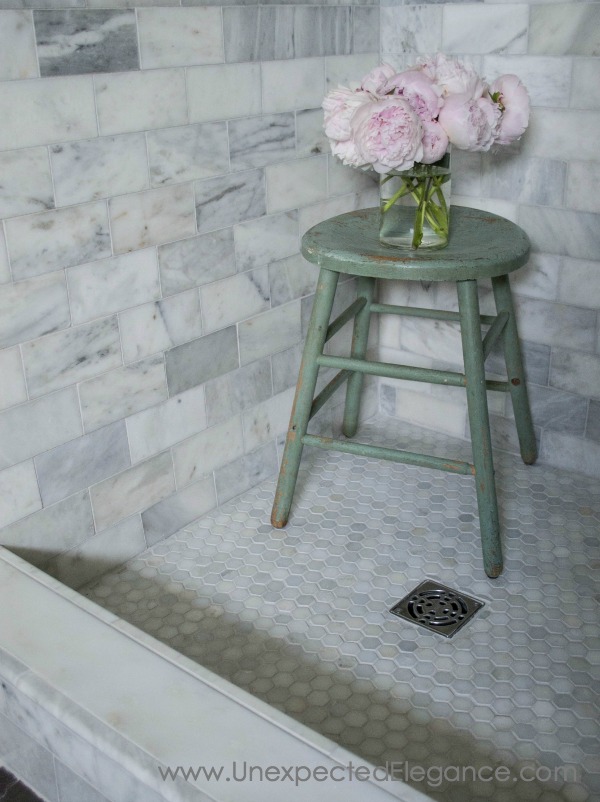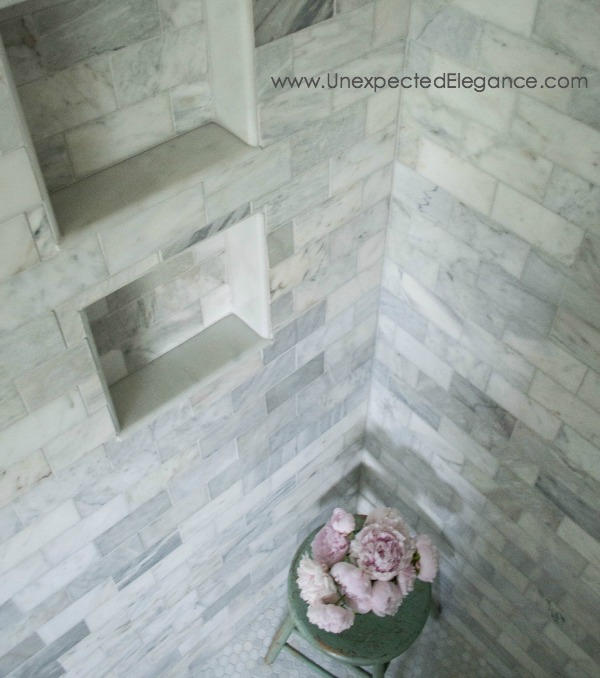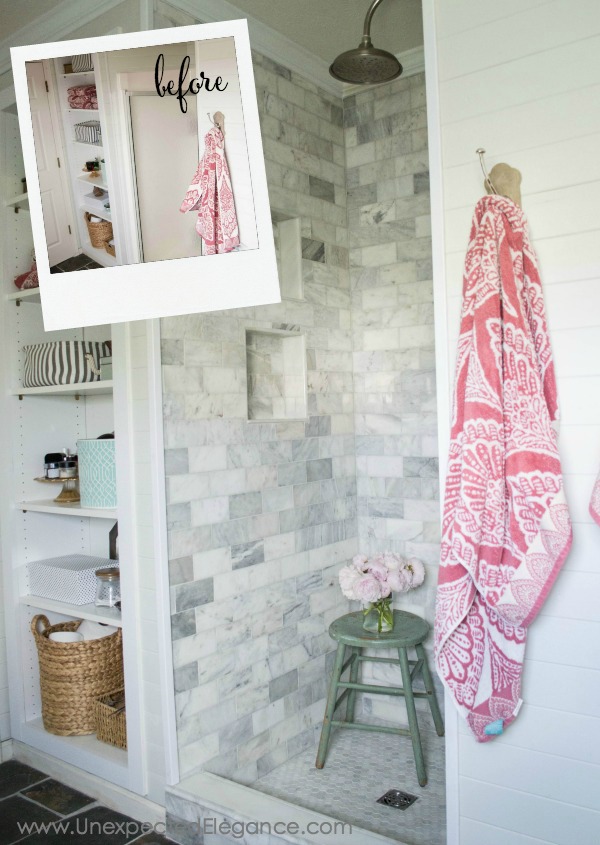 BE SURE TO WATCH THIS VIDEO BEFORE INSTALLING!!
This post is so long but I still have more to share about the finishes, so go check out my 4 INEXPENSIVE Tricks to Give Your Tiled Shower A Custom Look!