We just got back from Texas, where we spent spring break with my family.  When we left it still felt like winter in Indiana, but when we got the grass was GREEN and flowers were blooming!  Spring has finally sprung and it's time to freshen up the house.
How about your home?  Does it still look like a cozy winter retreat? That doesn't mean you have to spend a lot of time redecorating. There are so many simple things you can do to take your home from winter to spring. Whether you add flowers or incorporate bright colors, you will love these simple spring décor updates.
Add Flowers
You can add fresh or fake flowers. It really doesn't matter. The obvious advantage to fake flowers is that you don't have to worry about replacing them every few days, but grocery stores flowers are inexpensive.   You can make so many simple, yet beautiful flower arrangements using flowers and this is a simple way to quickly transform your home from winter to spring.
Change Out Throw Pillows, Curtains, and Bedding
Chances are you love to incorporate warm throw blankets, down comforters, darkly colored throw pillows, and heavy curtains to make your home cozy in the winter…and to stay warm. During the spring, take the time to change everything out so that your home feels open and fresh. Opt for thin throw blankets, brightly colored throw pillows, a colorful quilt, and lighter curtains. You won't believe how much of a difference this will make in your home.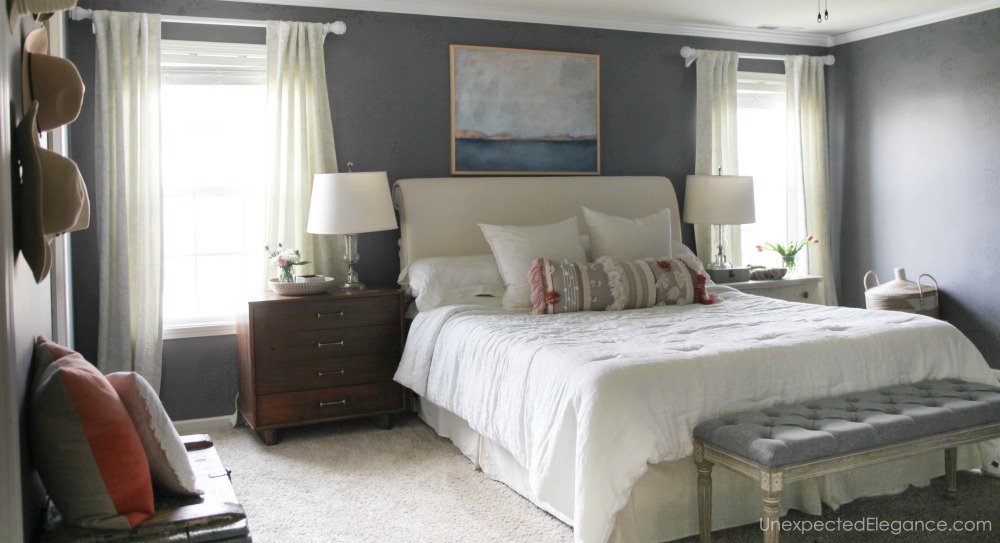 To check out my recent updates—> Master Bedroom Refresh
Clear the Clutter
It may sound strange, but having accessories in your home during the winter can make it feel cozier. During the spring, try clearing the clutter and see what a difference it makes. Your home will feel airier and more inviting for spring. Not to mention that it will be much easier to dust and clean your home when there is less clutter.
Incorporate Pops of Color
Last, but not least, look for ways to incorporate pops of bright color. This can be done through throw pillows, curtains, and bedding…that you are changing out. 😉 However, it can also be done with accessories. With that said, you want to make sure that your accessories don't clutter your home. Keep it simple. Add a brightly colored vase to your entryway table or switch out your artwork with something more colorful.
You don't have to spend a lot of time transforming your home decor from winter to spring. The biggest thing is changing out your linens and pillows for something lighter and clearing the clutter. When you make your home feel airy, it just feels more spring-like. Take the time this weekend to bring a bit of spring into your home.
For more tips, check out these posts: