I'm not gonna lie, I don't like cold weather. I'm a Texas girl living in the Midwest, so I've had to adapt! One way I get through winter is creating cozy spaces…full of thick cozy blankets.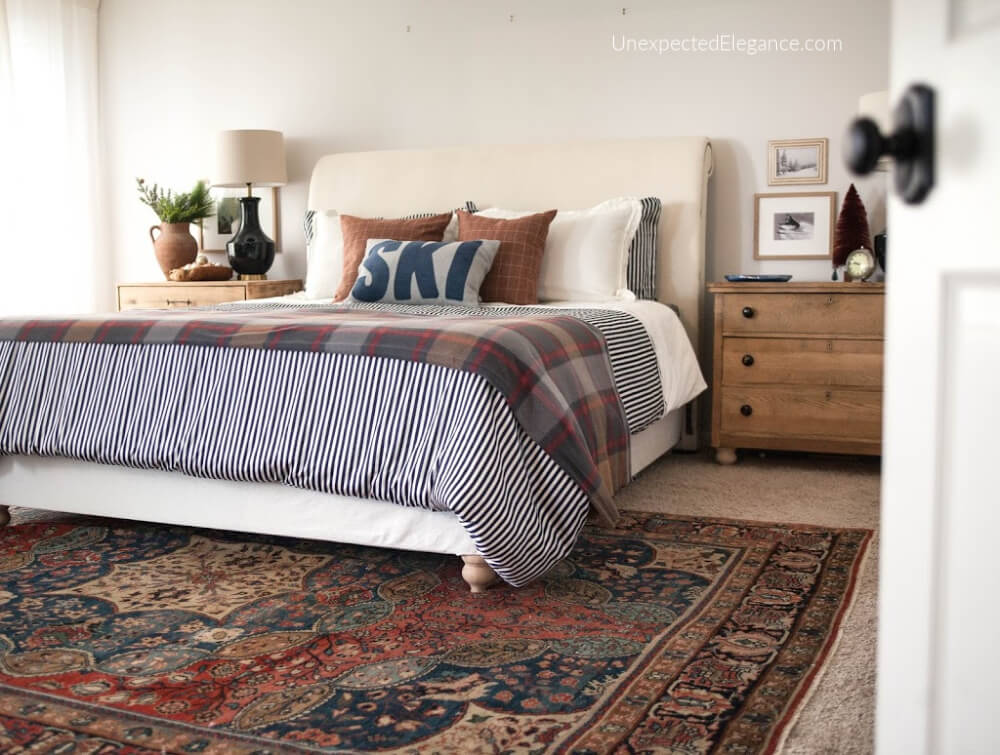 I feel like during the holidays my house is full of extra decor, so I like to keep my bedroom a little simpler. (It's the place I retreat to relax and recharge!)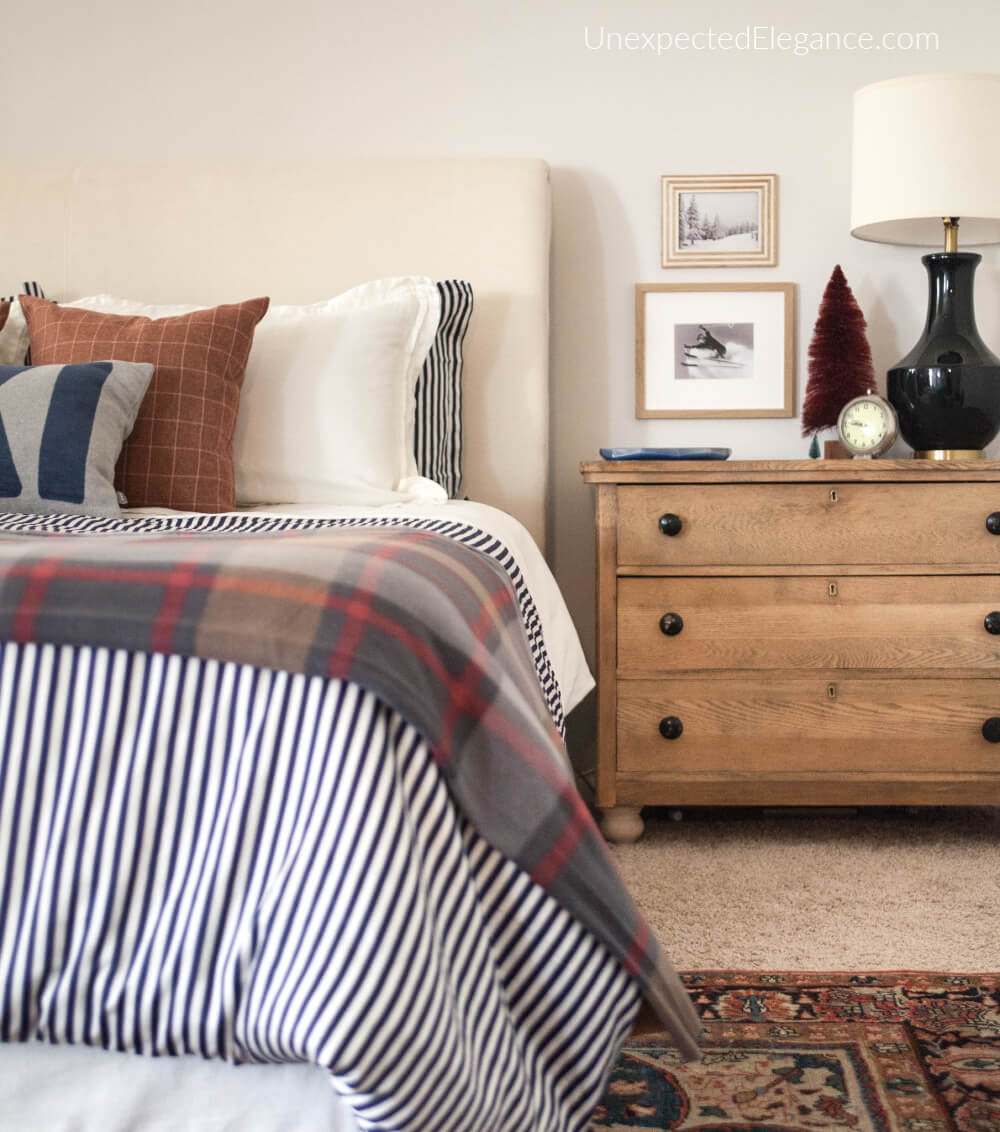 My family loves to ski, but we have never lived near mountains. (South Texas and Indiana are about as flat as they come!) But growing up we took regular trips during spring break to Colorado and New Mexico to go skiing.
If it's going to be cold, I want to at least be able to ski! 😉
So, this year I decided to create a ski lodge feel in my master bedroom. Simply changing up the bedding, adding a few accessories to the nightstands, and a tree with lights was all I did!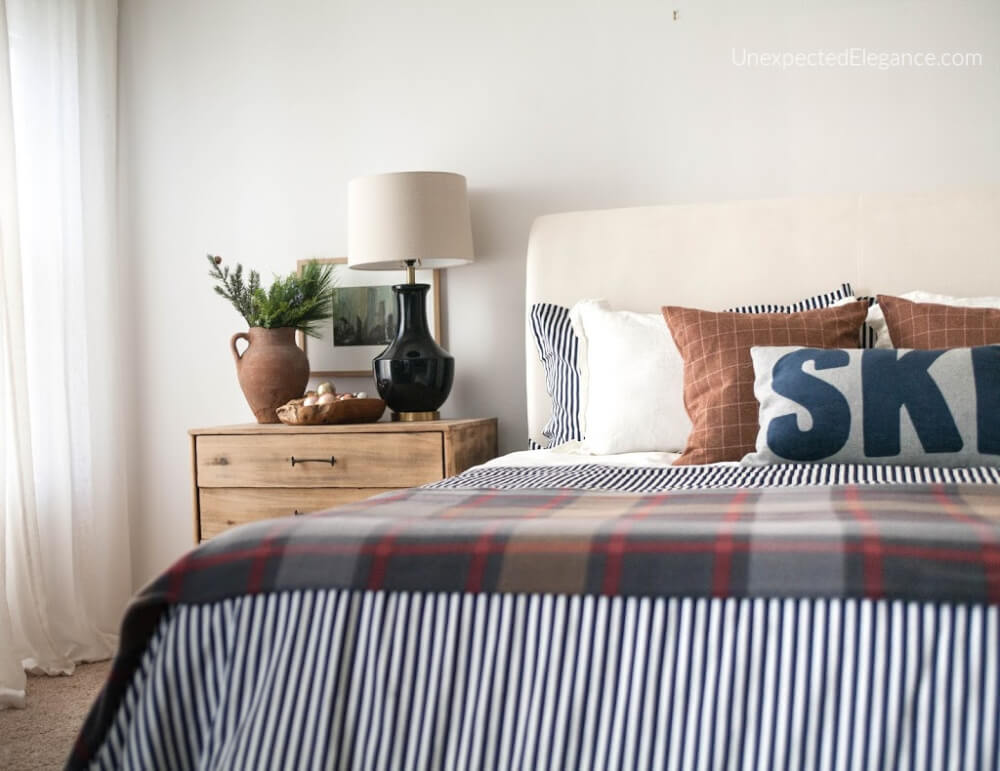 So let's talk about the bed…It's obviously the most important feature in the room and should be comfortable.
I added this fun striped duvet and pillow shams from Crane & Canopy called THE LARKIN NAVY BLUE in NOVA. The thing I LOVE about this duvet is the white band at the top. It looks like a folded down sheet and helps to make the bed in a snap!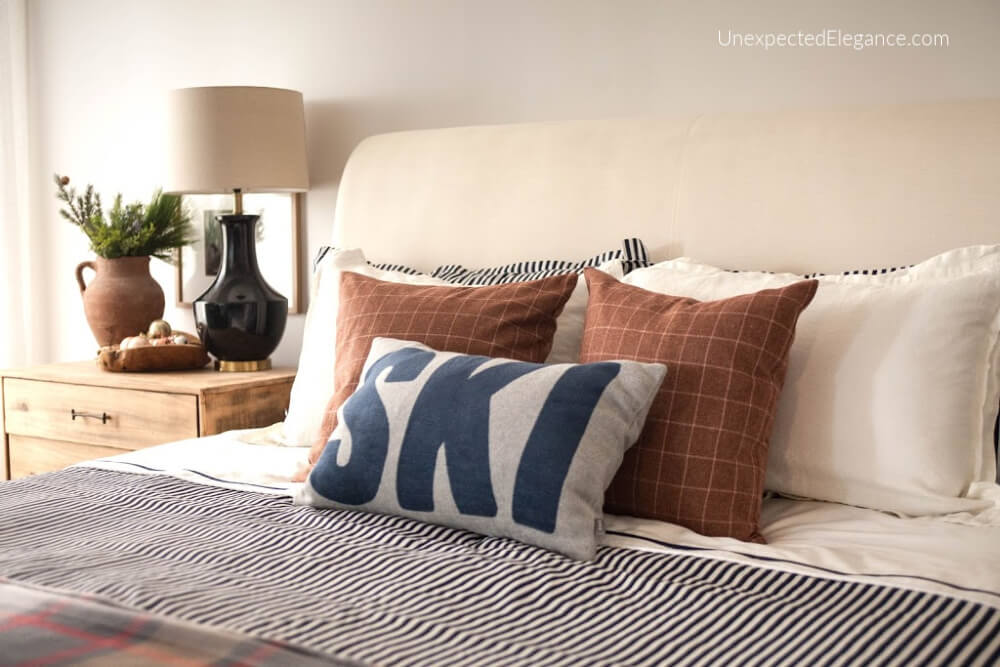 I also got a piece of fleece from a craft store to add to the end of the bed. Fleece is a great fabric to create a throw blanket because you can just cut it without hemming.
I also like to use flannel to create throws that coordinate with my decor. You can get a quick tutorial for how I make them HERE.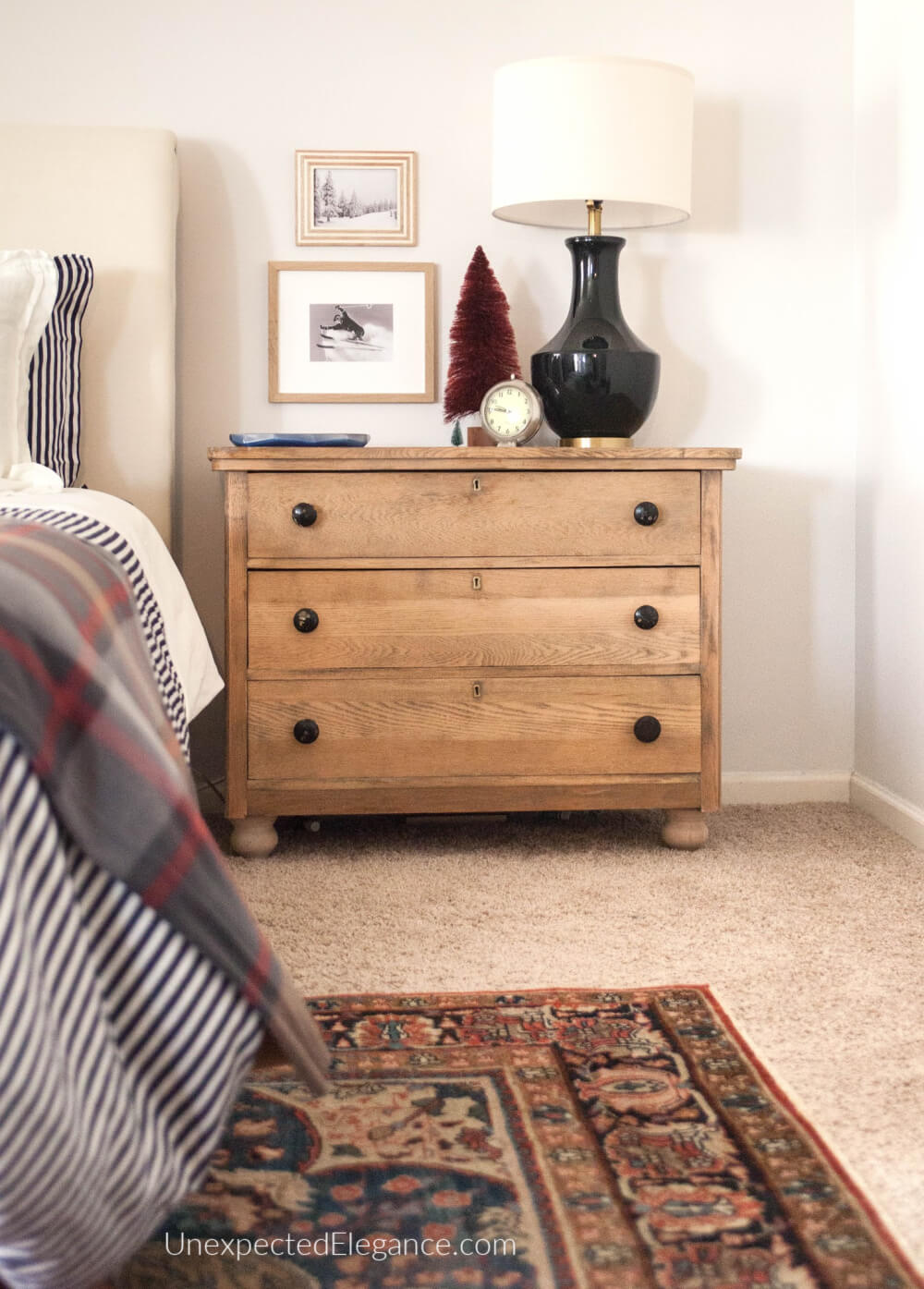 I downloaded a couple of prints from Etsy to add the theme. ↓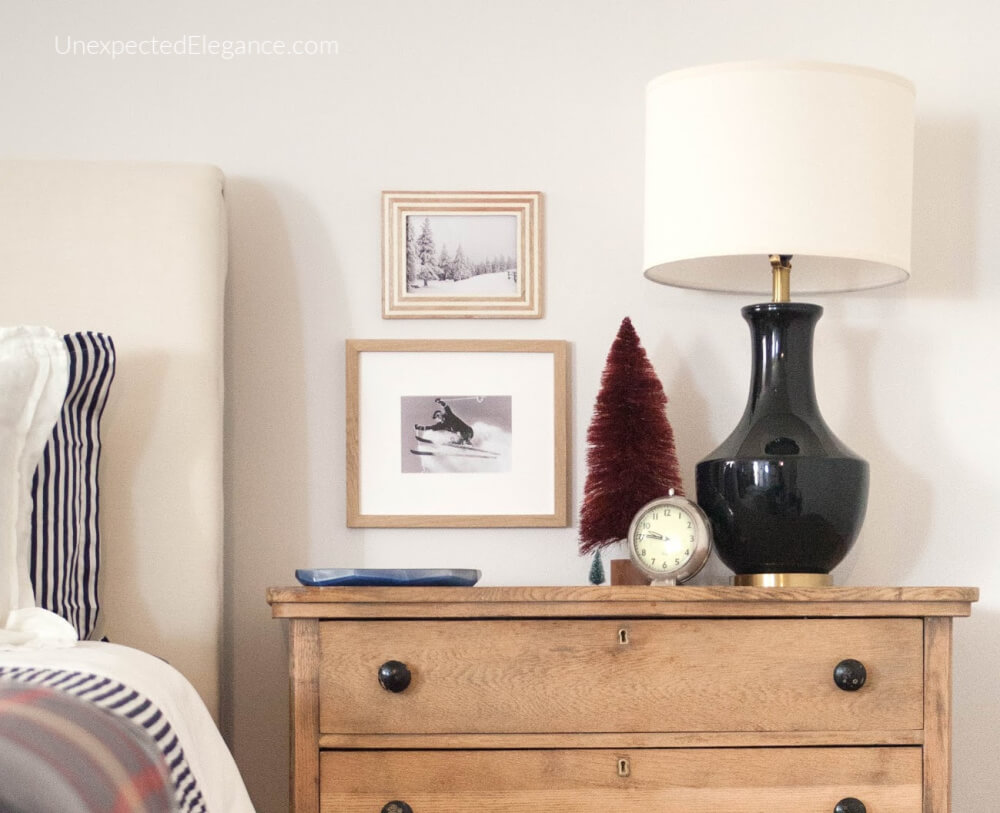 The live tree in the corner adds a wonderful smell and when the lights are on at night it's kind of magical!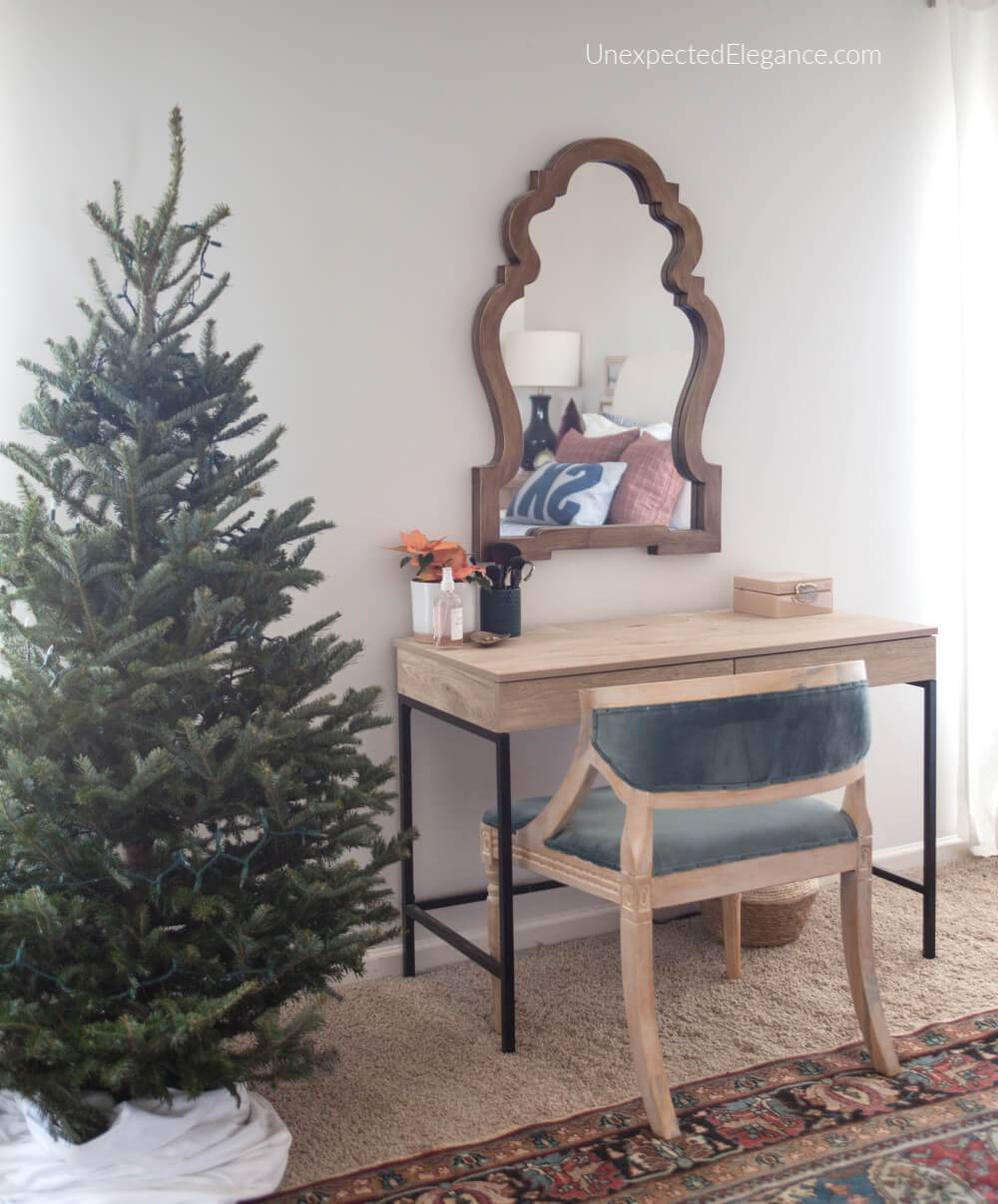 At the end of a long day there's nothing better than throwing on a comfy pair of pj's and curling up in a cozy bed, am I right!?!
The Layla Pajama Sleep set from Canopy and Crane are super comfy and help put me in a relaxed mood.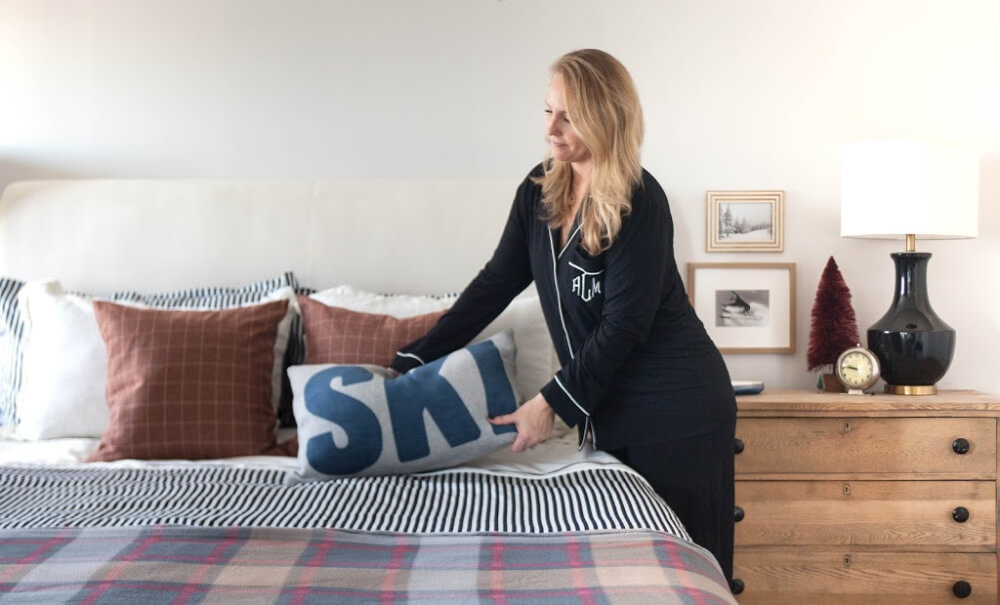 I honestly love that this room decor will be perfect until spring. It will be simple to transition it from Christmas to winter by just removing a few of the accessories.
Do you switch up your bedding for winter or decorate for the holidays?
I've joined 10 other amazing home decor bloggers who are also sharing their holiday bedroom ideas. Please check out their rooms in the links below!
Ginny @MapleCreekMarket  www.maplecreekmarket.com |Camila Pavone @camilapavone blog.effortless-style.com | Janine @happyhappynester www.happyhappynester.com | Yuni @loveyourabode www.loveyourabode.com | Sara @sincerelysarad www.sincerelysarad.com |Angela @unexpectedelegance www.unexpectedelegance.com | Amy @crazychicdesign www.crazychicdesign.com | Sarah @sarahsofiaproductions  www.sarahsofiaproductions.com | Jewel @Jeweledinteriors  www.Jeweledinteriors.com | oscar @oscarbravohome  www.oscarbravohome.com | Amie @memehillstudio www.memehill.com