Remember this statement?  "I am going to be patient and search for the right table at the right price."  Well, what I didn't mention is I have been looking for a farm or harvest table for about a year now.  The table we currently have was from my husband' parents and there is nothing wrong with…it's even still in great shape and a classic design.   BUT, it's not quite the style I have gravitated toward.  It's a little too formal for I am envisioning in that space.
Last week I found an enormous dresser with nine drawers for $10.99.  I plan to refinish it and put new hardware on it for the dining room.  And this weekend I found this beauty for $9.99!!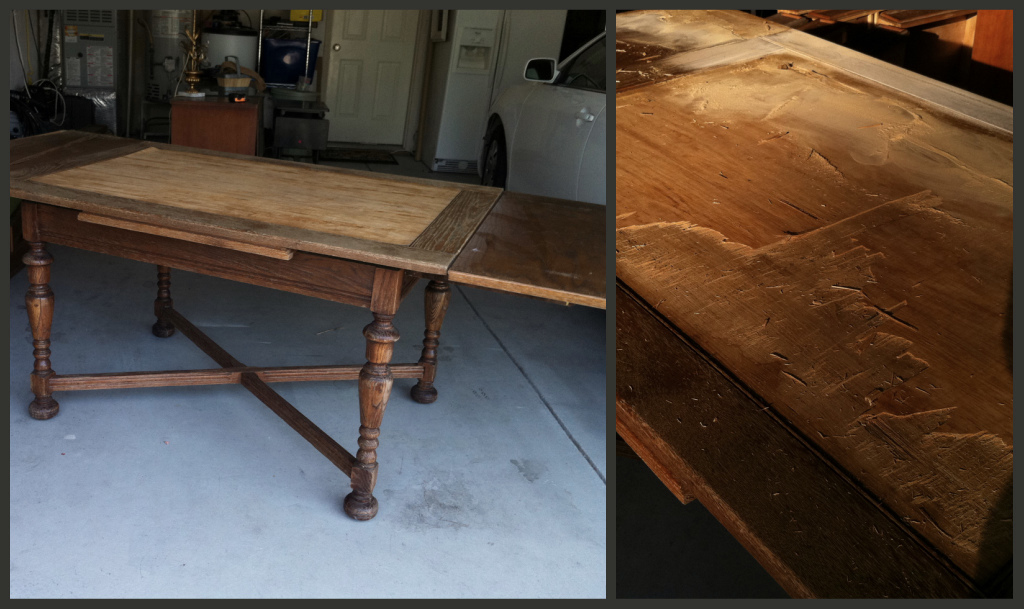 I was instantly drawn in by the base.  It needs some sanding and either wax or something, but I loved the shape.  Now the top is a completely different story.  I spent a few hours working on it, but for some reason there is peeling veneer on top of peeling, glued wood attached to the table top….nightmare!  The veneer wouldn't be that big of a problem, but the piece that has been wood glued, is almost impossible!!
So, the plan at the moment to is to replace it with something like this…
And what I love even more is Zinc and Wicker!!
Scott has agreed to the zinc…which is the biggest task!  Now I just have to get the base ready, make a top out of plywood and get an estimate on the zinc.
It is going to take me a while to complete this project!  Whew!
~~~~~~~~~~~~~~~~~~~~~~~~~~
On a side note, Madelyn starts school tomorrow!   We are having a breakfast for all the kids at the bus stop in the morning and a mom's support group after! 😉
Have a great day!
~Angela
Join Me @:Â