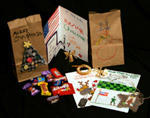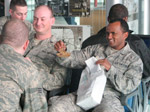 Yesterday, a wonderful follower, Shell sent me link to add to our list of giving.  I explored the website and was touched by what was happening.  The organization is called Project Rudolph/Project TLC Serves.  They are working to to give deployed and deploying service members a bit of holiday cheer through gift bags.  They are in dire need of hand written letters and decorated brown bags.  I thought this would be a perfect project for young children and something fairly inexpensive.  They also need donations to help with shipping, if you feel the tug to support them financially.
I hope you will take a few minutes and check out thier website.  All the information about where to send your handmade items is there, as well some videos to help inspire you.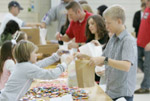 Tawny Campbell and her children founded this organization and I thought you might like to take a look at how they spend their days.  Click here to see a recent newscast of their story.