If you want to update your kitchen without starting from scratch, here are some great kitchen renovation ideas. All of this inspiration can be achieved by simply altering your existing kitchen!
Last week I promised another kitchen update, but things are moving really slow this week and I'd like to share things as I finish them.  So, I decided to share some of the kitchen renovation ideas that have helped me in making decisions.
If you've taken my free Design A Room In 5 Days Challenge, then you know I always like to start every room design with inspiration!  I think it's important to get ideas from all types of styles.  Even if you don't love everything about an inspiration room, there might be something that you would like to incorporate into your own space.
Since I am not starting from scratch on this remodel, I had to be practical and work within the parameters of the existing cabinets.  This meant using what I already have and just making it better or more interesting.
Inspiration for altering an existing kitchen…
Coffee and Microwave Cabinet
We have a large cabinet next to our refrigerator that is intended for a wall oven.  I don't have a need for a second oven, so originally we had used that space for a microwave.  However, there was a large area around the microwave that was wasted.
Here is what it looked like with the microwave ↓ (The panels above and below it are just covering up the space behind them!)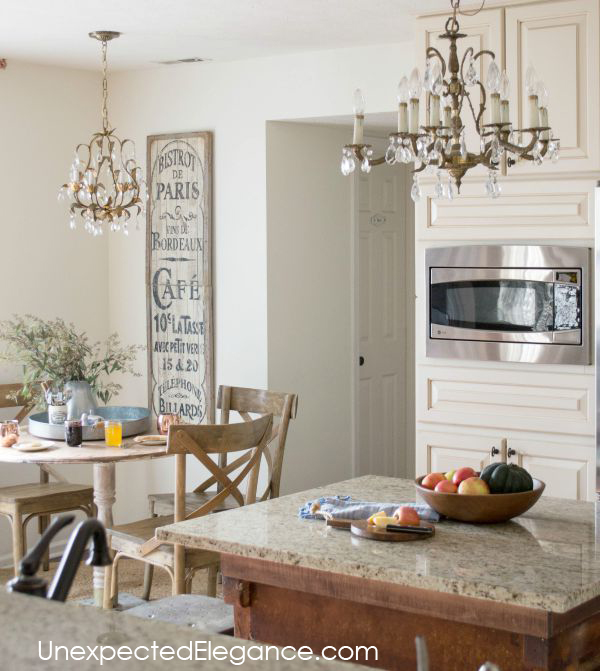 I purchased all new doors for the cabinets, which included doors to cover the area where the microwave is currently housed.  I'm crossing my fingers that it fits perfectly and will work to create a more built-in area for a coffee station and microwave storage.  (Stay tuned for that once I get the doors and they are installed!)
These were some of the MANY kitchens that I got inspiration from for this portion of the kitchen makeover ↓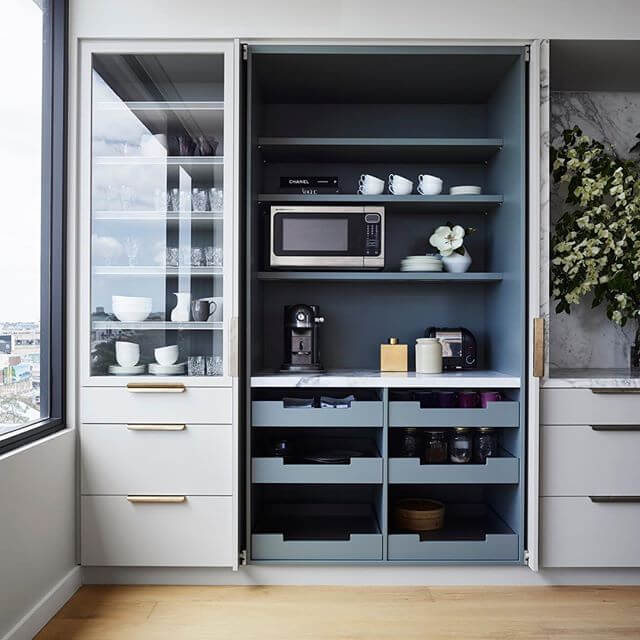 📷: Arent & Pyke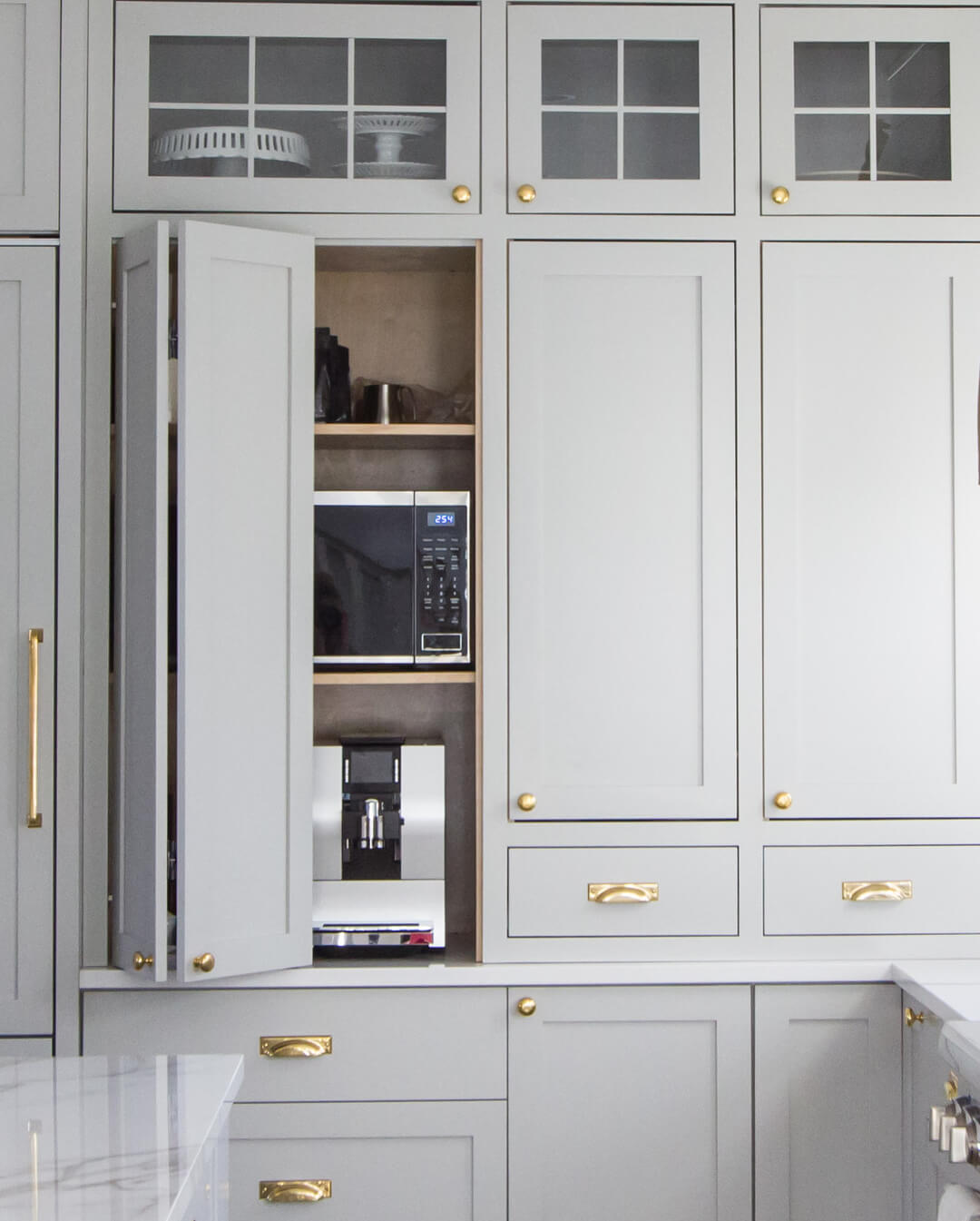 Pull-Out Shelves
One of the things I am hoping to create is more effective storage.  Some of my cabinets are so deep that it's hard to see everything and a major pain to get to things I need.  My goal is to add several pull-out shelves like these ↓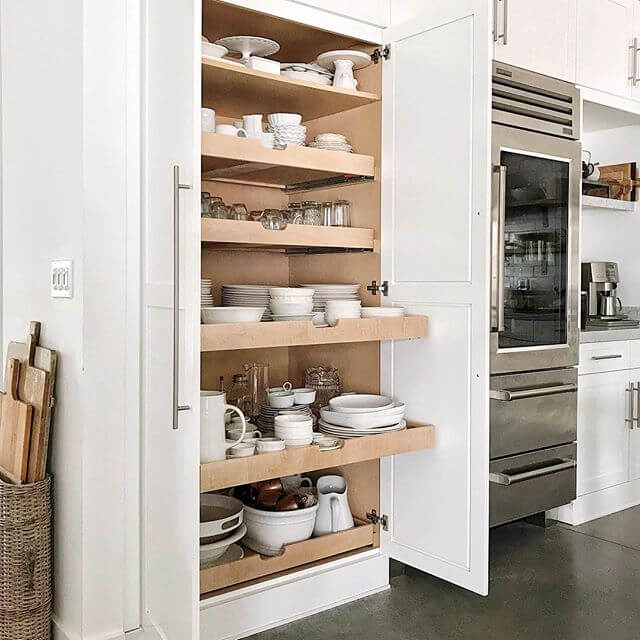 Floor to Ceiling Tile
One of the things that a lot of high-end kitchens have is floor to ceiling tile.  It's a great way to bring in texture and instantly give an updated feel!
I'll add as much tile as my budget allows, but I'd love to take it around to this area, as well. ↓  The table is going away and I'm adding two cabinets (on both sides of the doors) for some extra storage.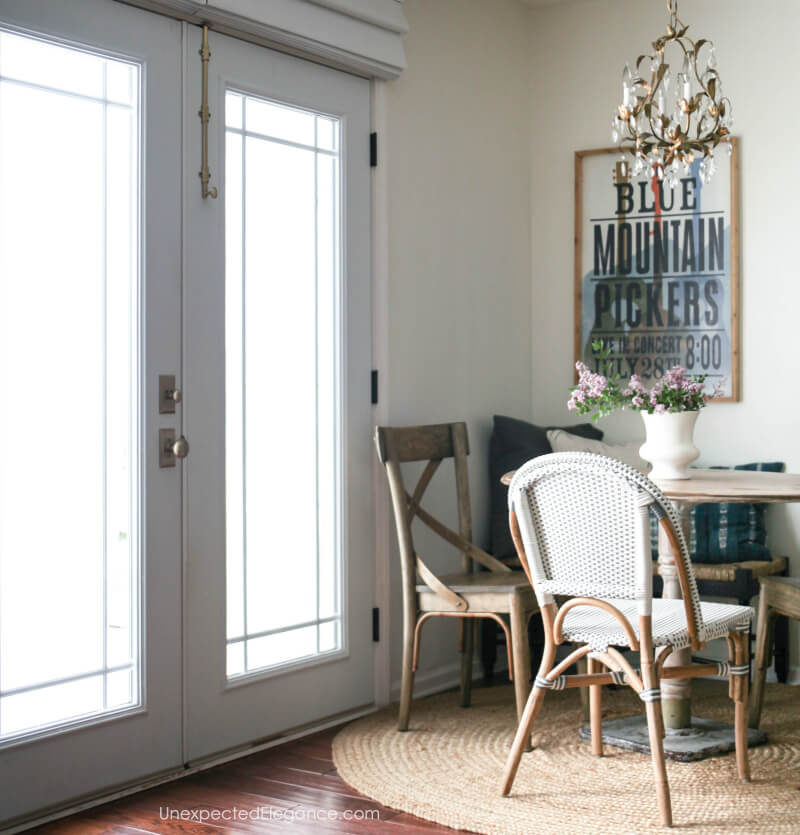 These are a few of the inspiration photos: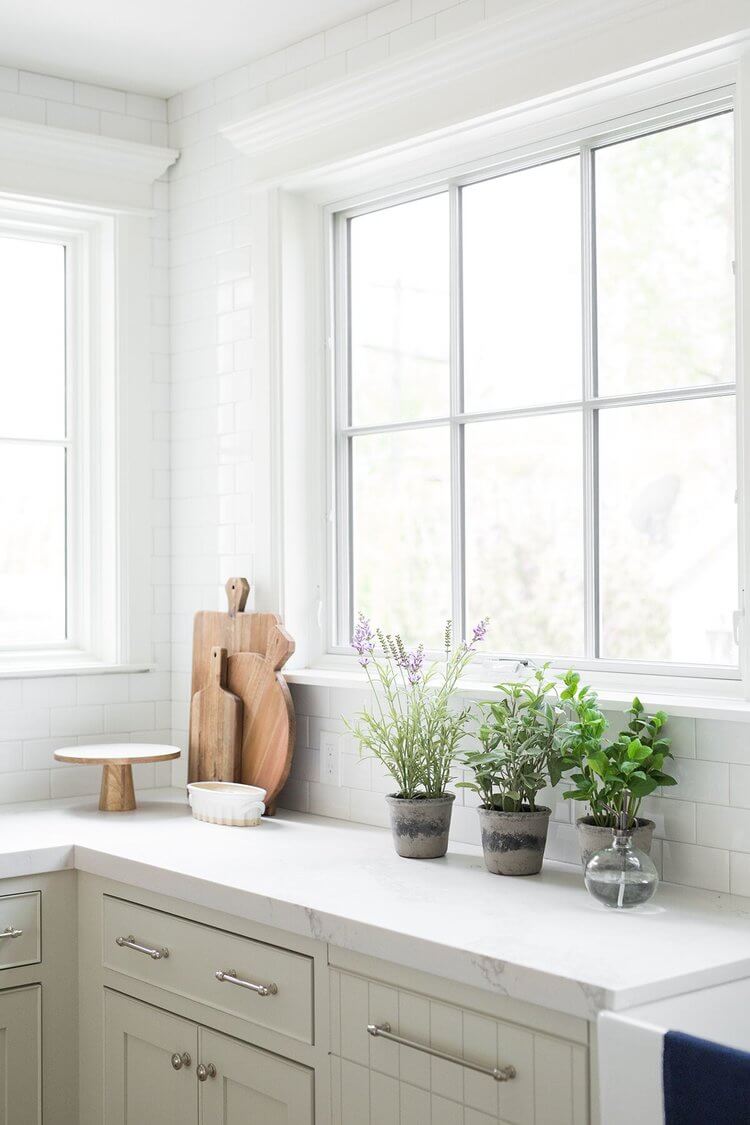 📷: Studio McGee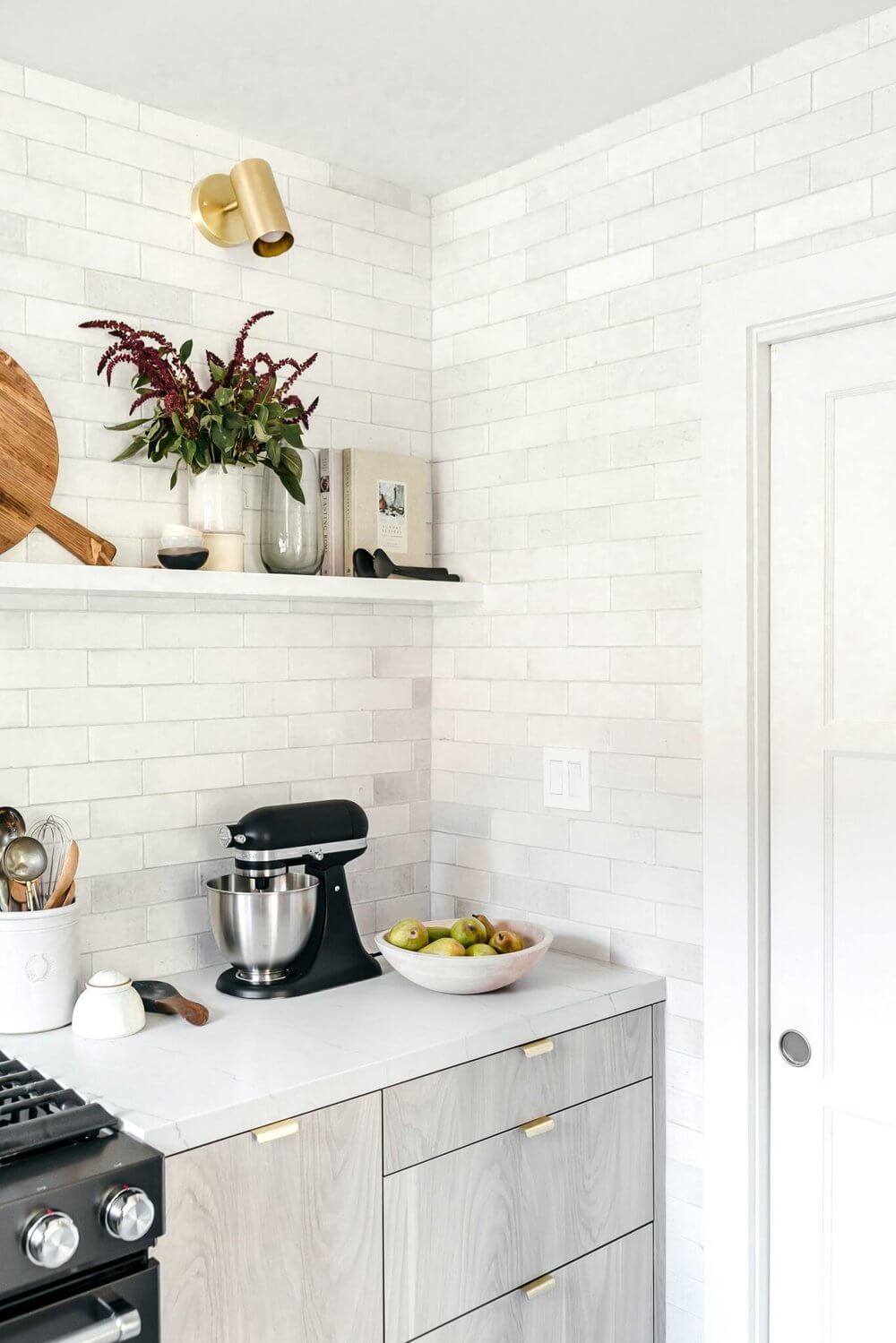 📷: Studio McGee
Flush Baseboards
I HATE how dirty it gets under the cabinets, so I would love to have the baseboards flush with the bottom of the cabinet doors. I hadn't really considered this until I saw Heather Bullard's kitchen.  It looks so clean and I'm excited to implement this design.
(I will be doing a tutorial to share with you if it works!)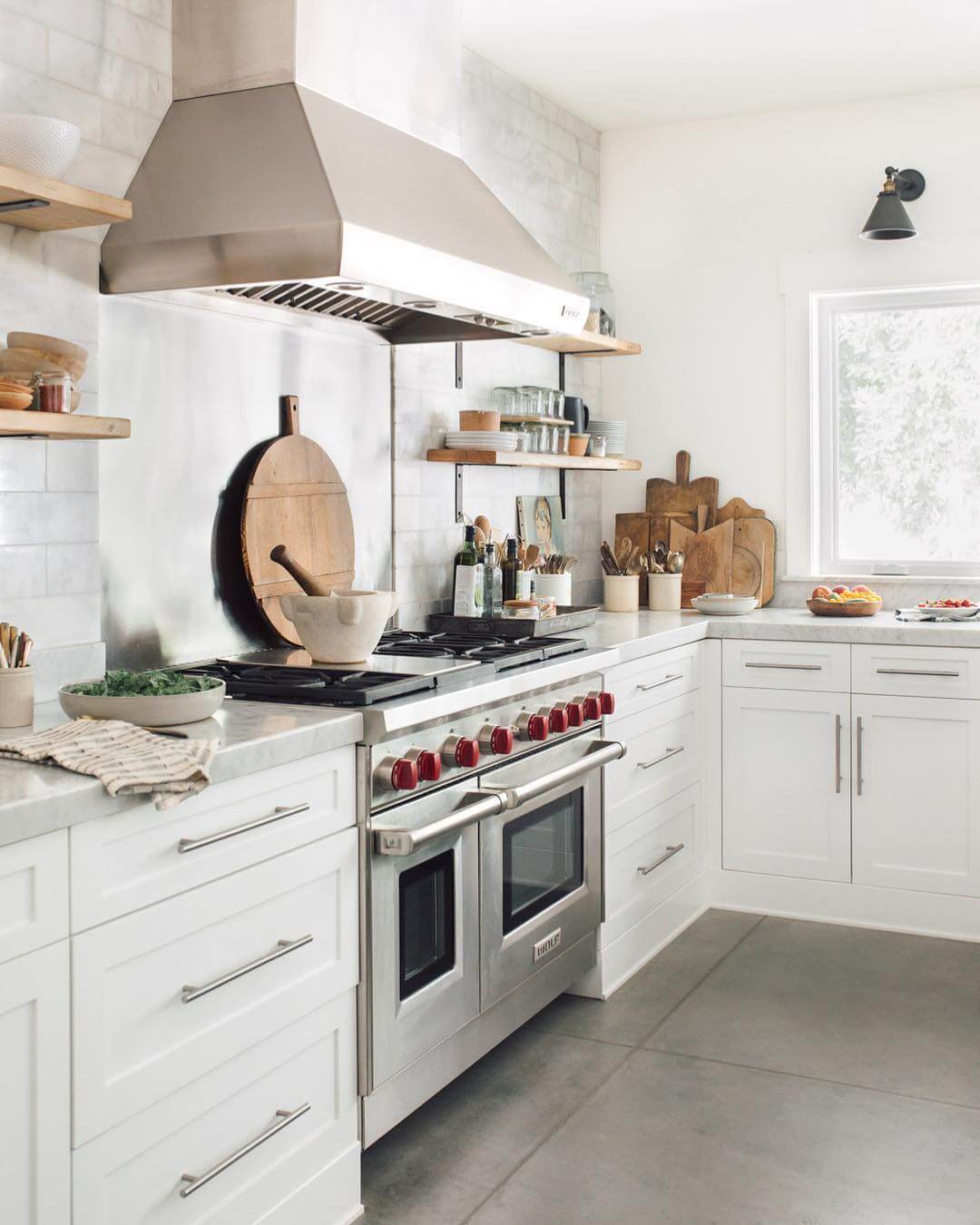 Cabinet Sitting on Countertop
Another way to create a custom kitchen when you aren't changing out everything is to add a cabinet that sits flush with your countertops.  I am adding one on this wall that currently has open shelves ↓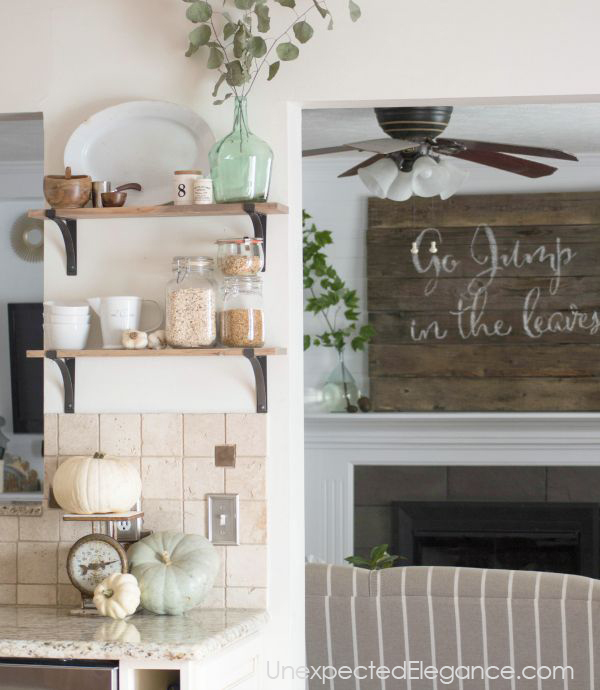 There are so many inspiration kitchens that have this feature, so be sure to find one that's right for your space and the function you want it to perform.  My cabinet will have solid doors to hide my backing supplies and a drawer on the bottom to corral all our electronics.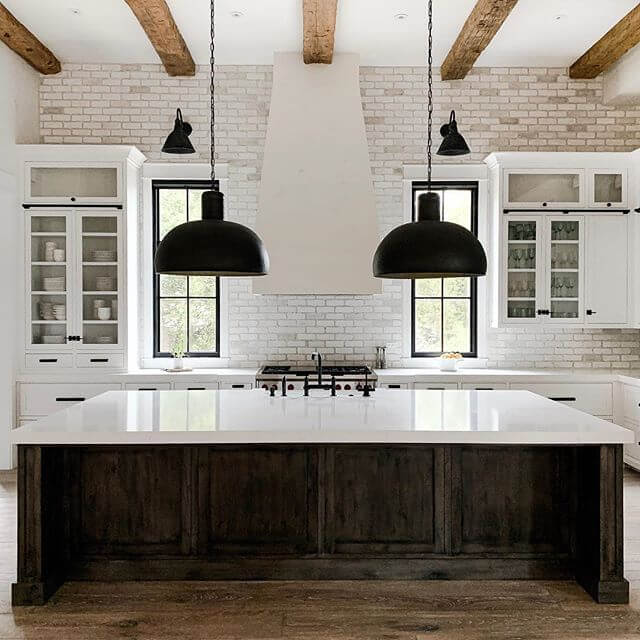 If you are looking for a ton of inspiration all in one place, follow my Dream Kitchen Board on Pinterest where I have over 650 pins!  Also, check out my BEFORE Kitchen Renovation post to see what I'm starting with, as well as a video walking you through the space.