Check out this tutorial on how to replace your outdated carpet with an inexpensive stair runner.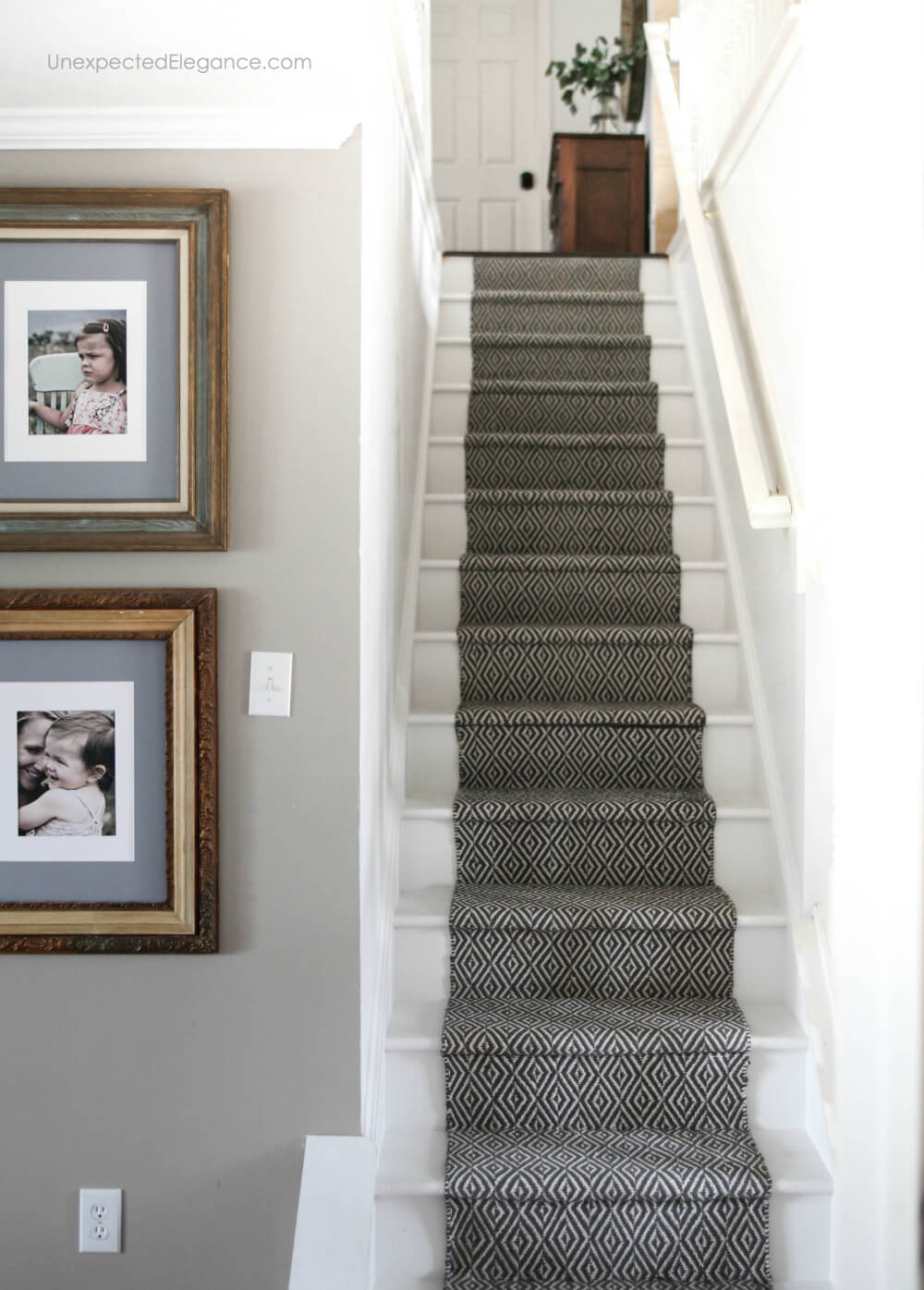 I've been anxious to share this inexpensive stair runner project I just completed last week.  These stairs have needed a makeover for a while!
We moved into our house 9 years ago and replaced the carpet and painted…but we hadn't touched that part of the house since then.  To say it was time for an update would be an understatement.
Here's what it looked like BEFORE.  It was a toupe frieze carpet with yellowish colored walls and cracked paint around all the trim.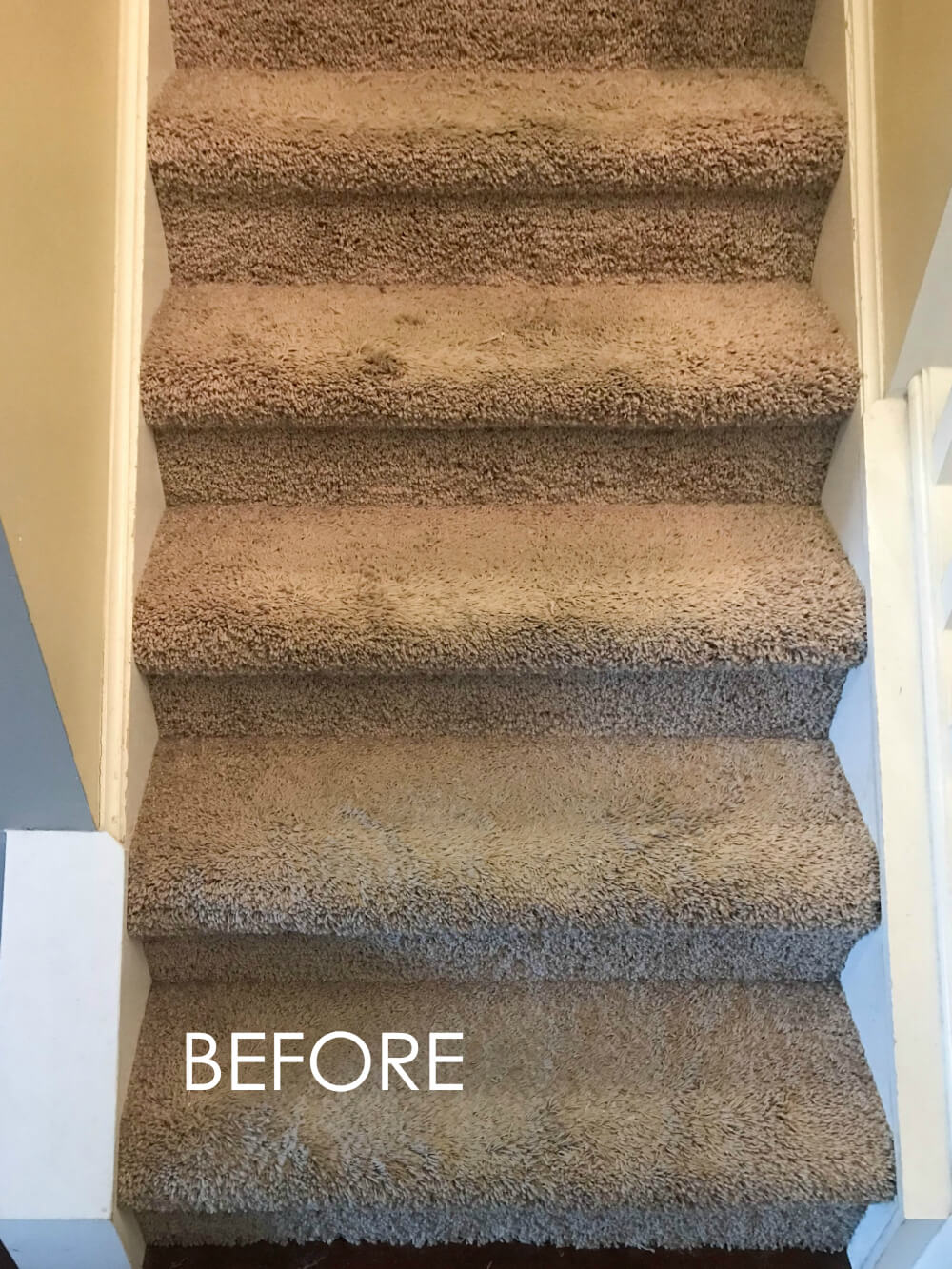 My husband doesn't handle home construction very well, so I knew this project wouldn't go over well…especially considering we NEED to go up and down the stairs.  I'd been waiting for him to go out of town, so I could start this!

I gave him a heads up, but he told me I needed to finish it before he got home from his business trip.  Did mention he was only gone for a little less than 2 days?!?
Supplies for Inexpensive Stair Runner:
The specific rugs I used were small 2'x3′ size from Aldi that I found for $3.99 each.  I can't link to those, but I did find this one.  Honestly, a longer rug will be much easier to use because you'll have to hide fewer seams.  They come in different lengths, but make sure you purchase more than you "think" you'll use!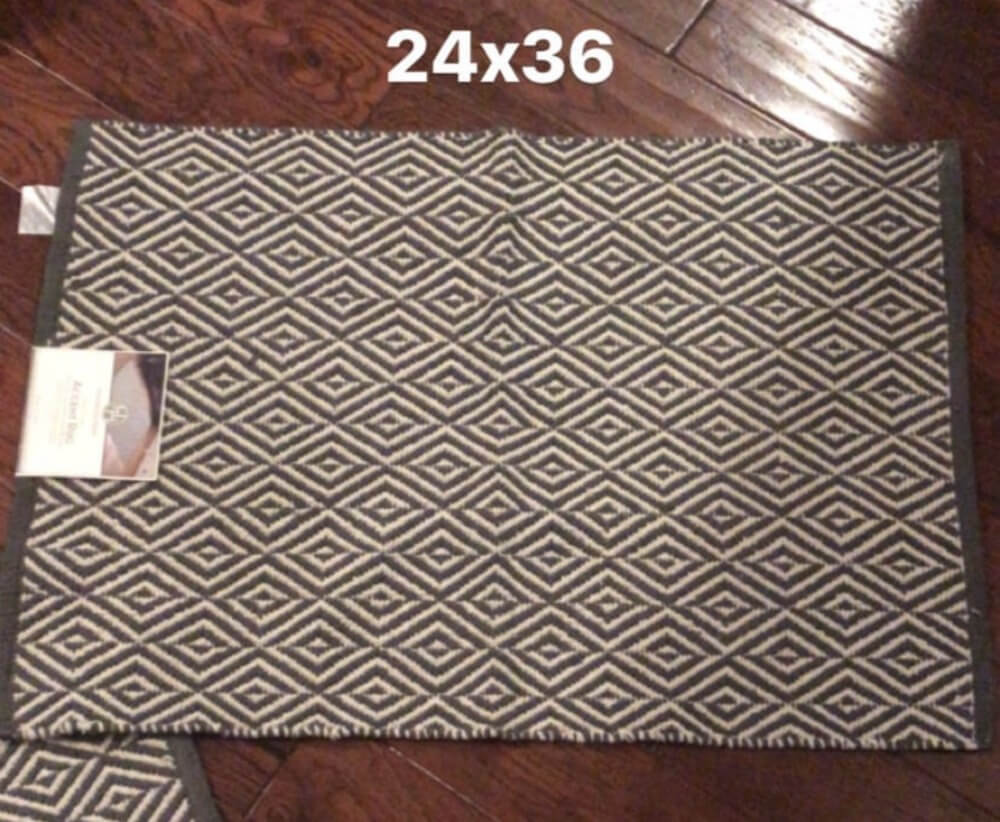 The paint I used was Pittsburgh Paints & Stains® Paramount™ in Arctic Cotton.  I LOVE this paint because it goes on smooth and only requires touch ups-not a second coat!
I ripped out all the old carpet first.  It was simple to pull up, but was a little bit of a workout!  Removing it was easy compared to all the prep work that came afterward.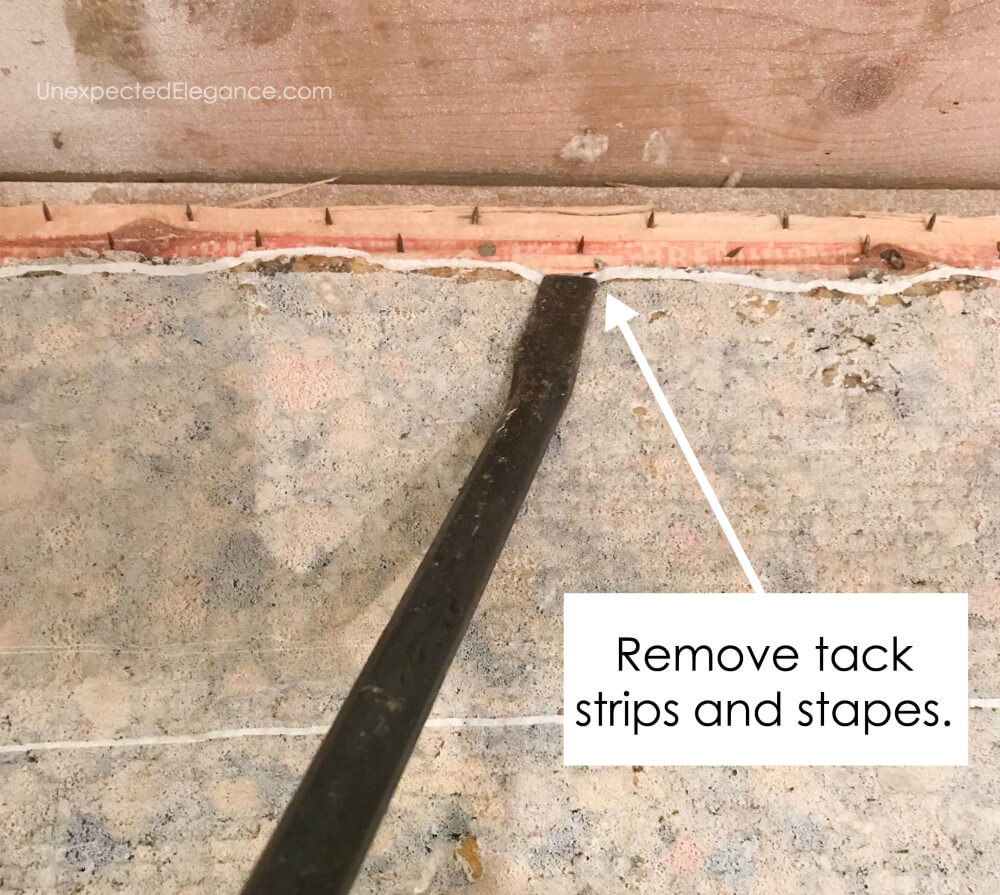 Once the carpet was gone, there were a bazillion staples and a tack strip on each stair tread. It took me several hours to get all the staples, but you want to make sure there are NONE left.
Note:  Use a prybar and hammer to get up the strips easily, then pliers to remove the staples.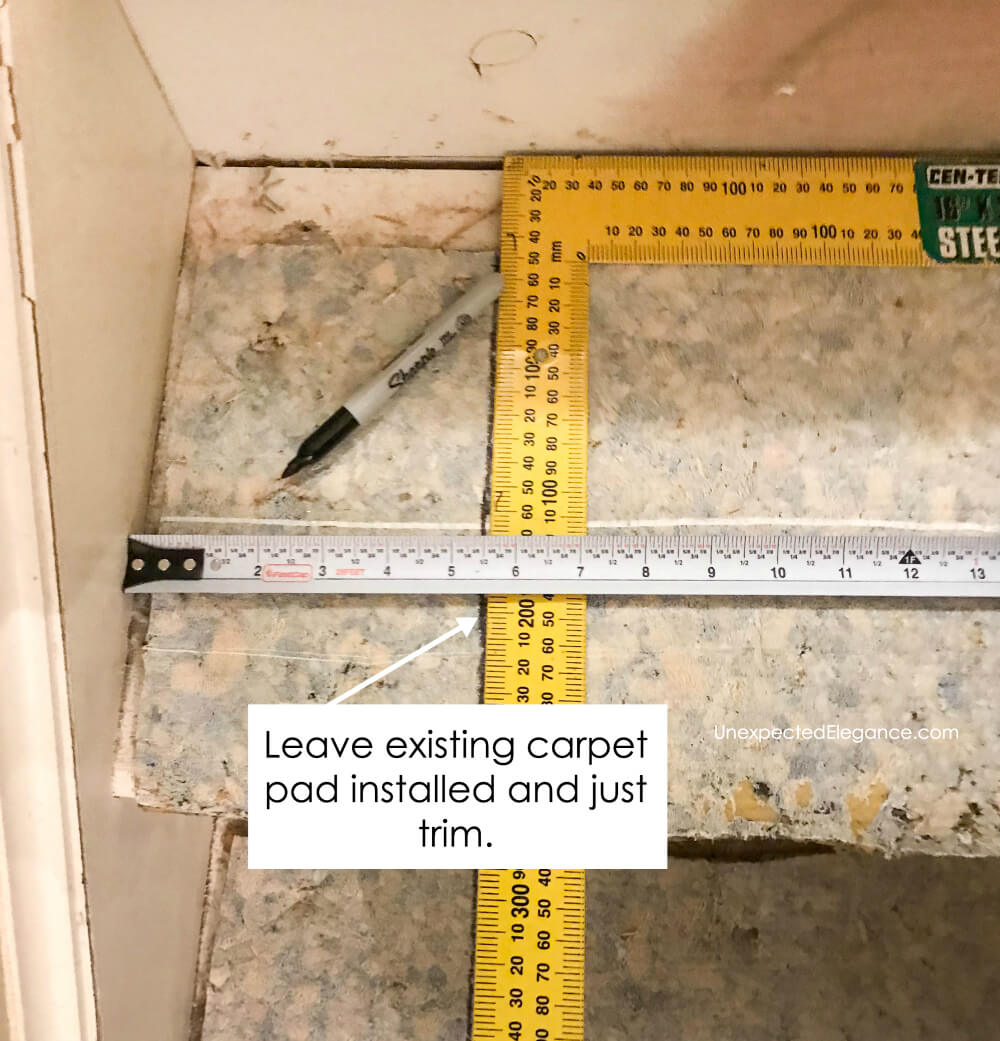 It's important to have a pad under the rug, so to save some time and money I just trimmed the pad that was already there.
Here's where a little bit of math comes into play.  I measured the width of the rug, then subtracted 3 inches.  (You want the sides of the rug to hang over the pad about an inch and a half on both sides.)
I found the center of the step and then measured out how much pad needed to stay.  Using a straight edge, I made lines to show where the pad needed to cut and used scissors to remove the excess.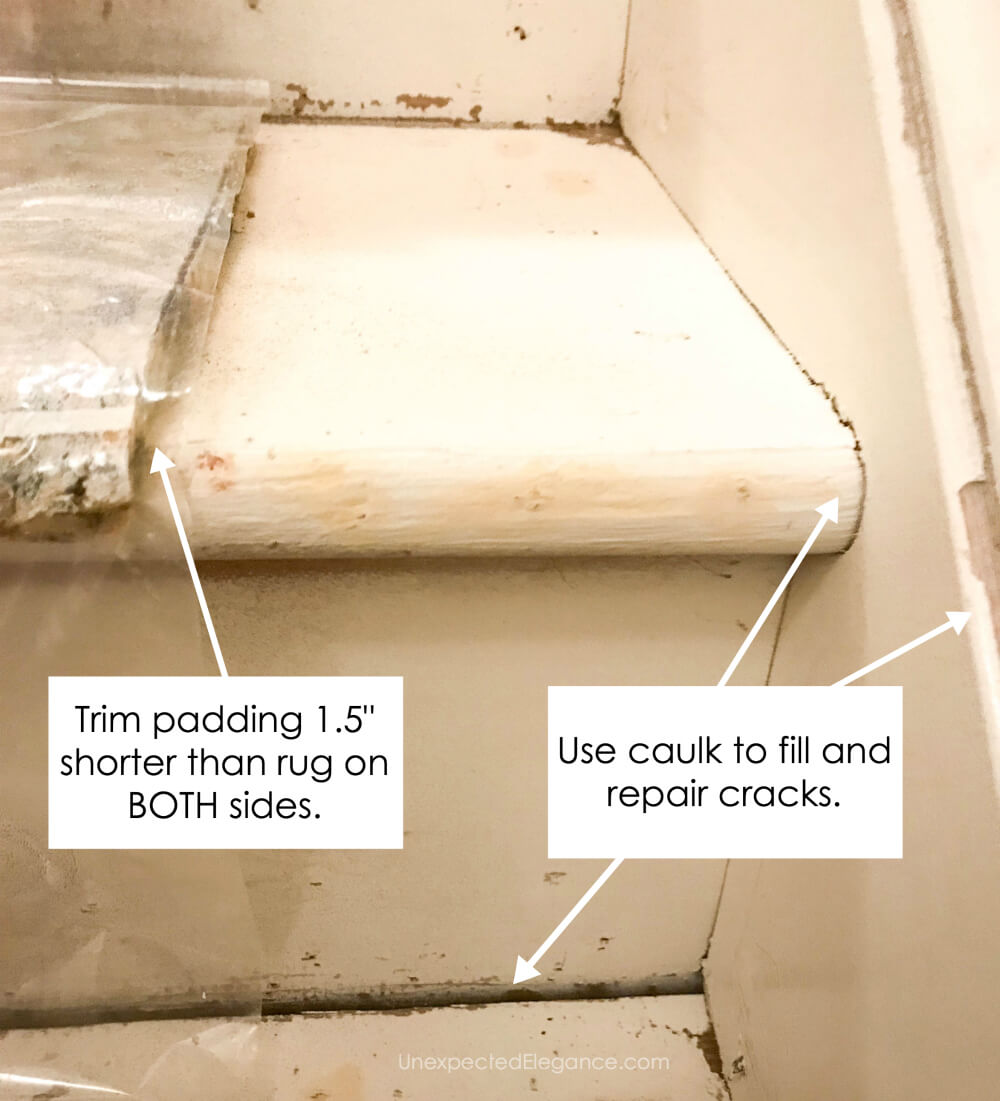 I filled in all the cracks with paintable caulk and then added a replacement riser to the top step.  We had hardwoods installed in our upstairs hall a couple of years ago and this is what that riser looked like: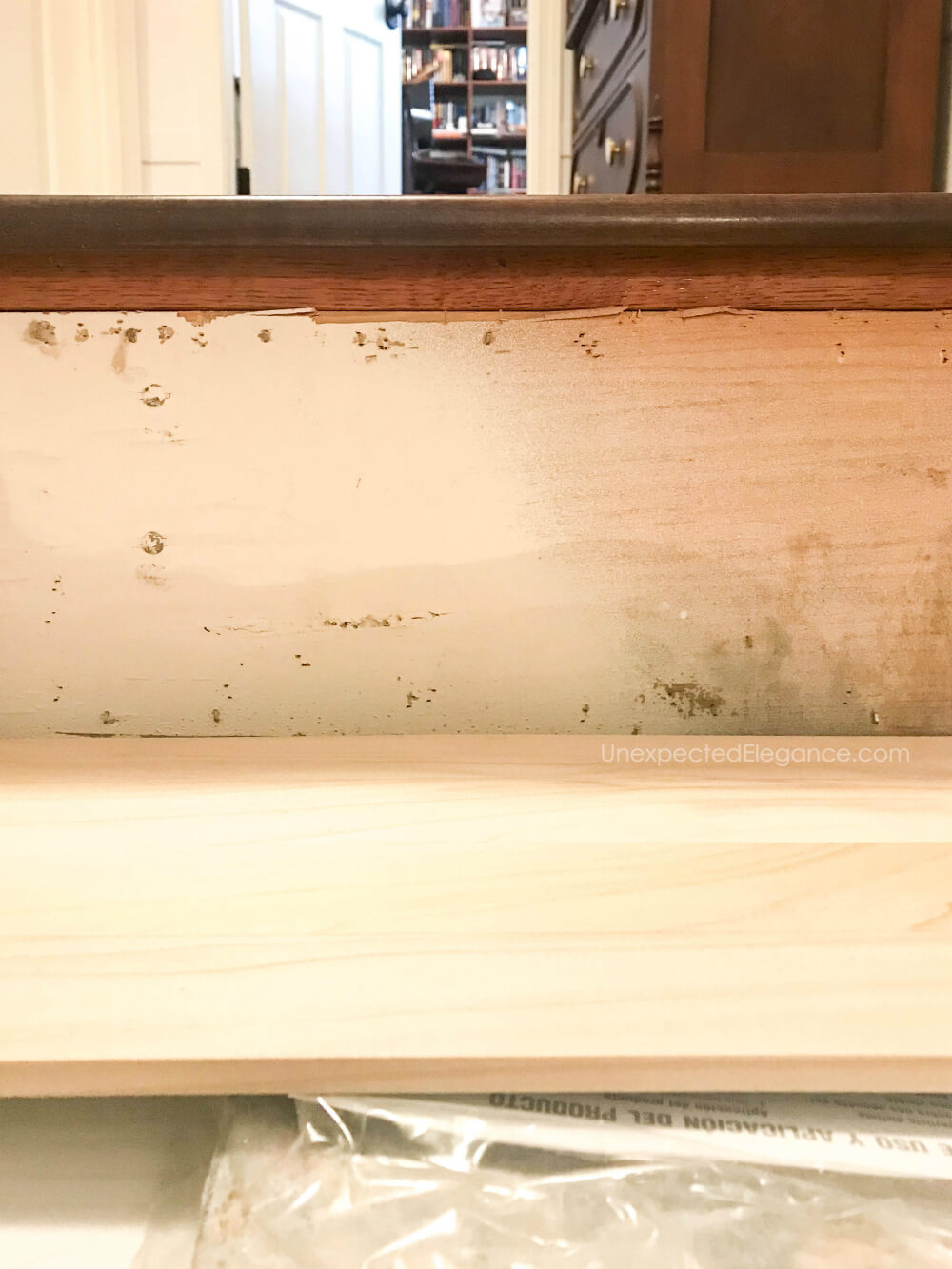 I purchased a pre-made riser that I just trimmed.  I was a very easy fix!
Then the tedious task of attaching all the small rugs started.  (If you are using longer rugs this won't take you quite as long because you won't have to hide as many seams.)
I started at the top of the stairs since that is where your eye tends to look first.  To attach the rug I stapled the underside first, then folded it over to hide the staples and edge of the rug.  This is also how I transitioned each new rug.
(Tip:  I cut off the hem of each rug to eliminate some of the bulk.)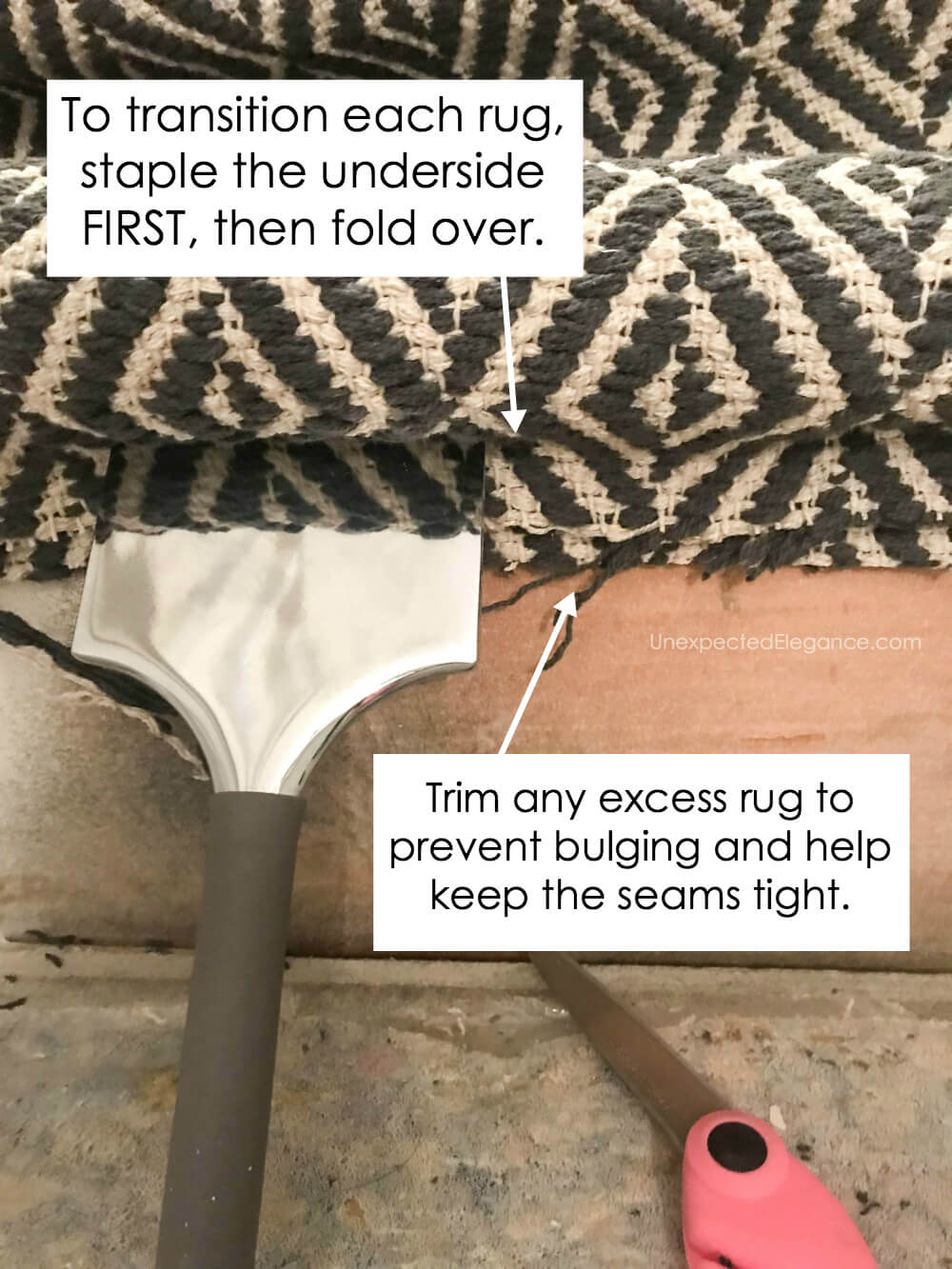 I used the carpet tool, you see in the photo above, to hold the rug in place while I stapled.  The tool created a tight and crisp seam.
To hide the staples as much as possible, I attached the rug underneath the nose of each step and at the base of the riser.  (See the photo below for a visual.)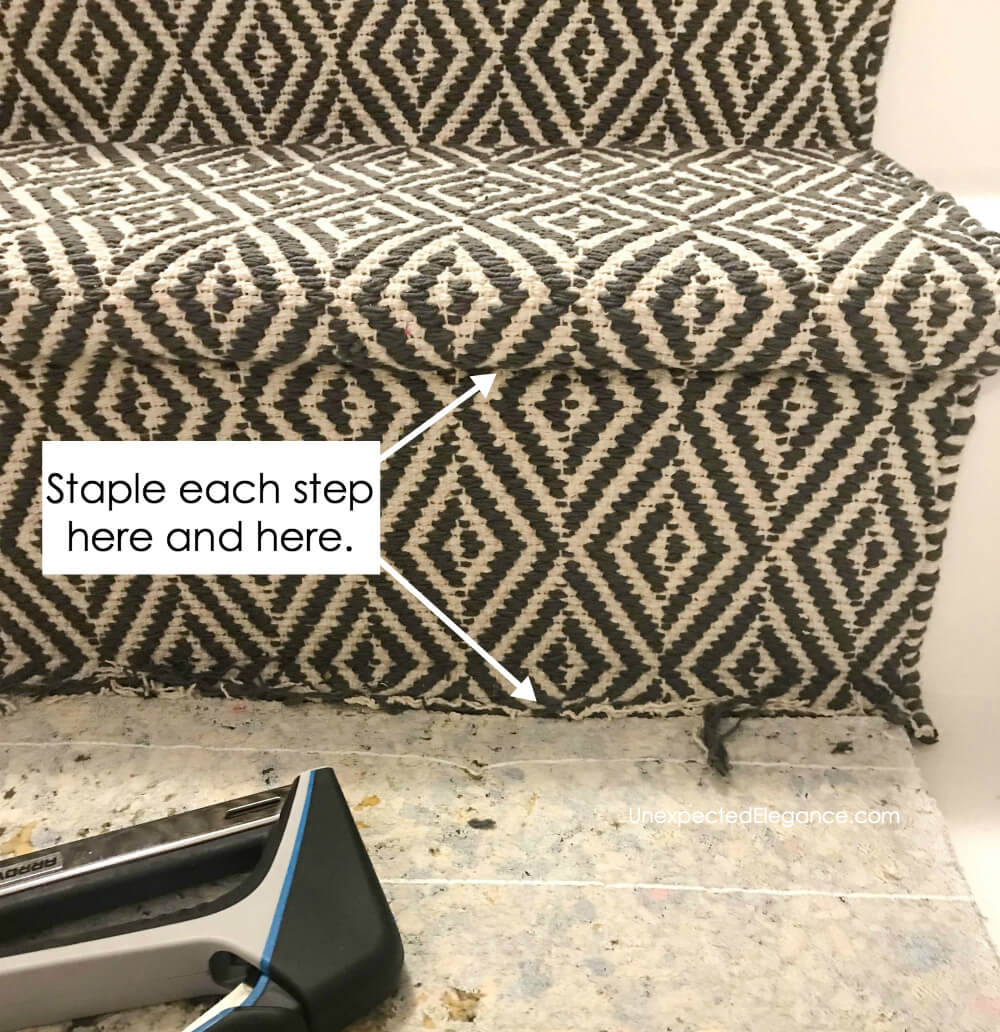 Some things to remember and tips:
Measure before attaching the rug every time…this will keep it centered.
Try to create a straight line with the staples when you are transitioning to a new rug.
USE AN ELECTRIC STAPLER IF POSSIBLE!  I used a manual one and it was so much more work.
As you go, hammer down all the staples on each step so they are flat.  You don't want anything sticking up.
If I have forgotten anything or you have questions, please feel free to ask in the comments below and I will do my best to answer quickly!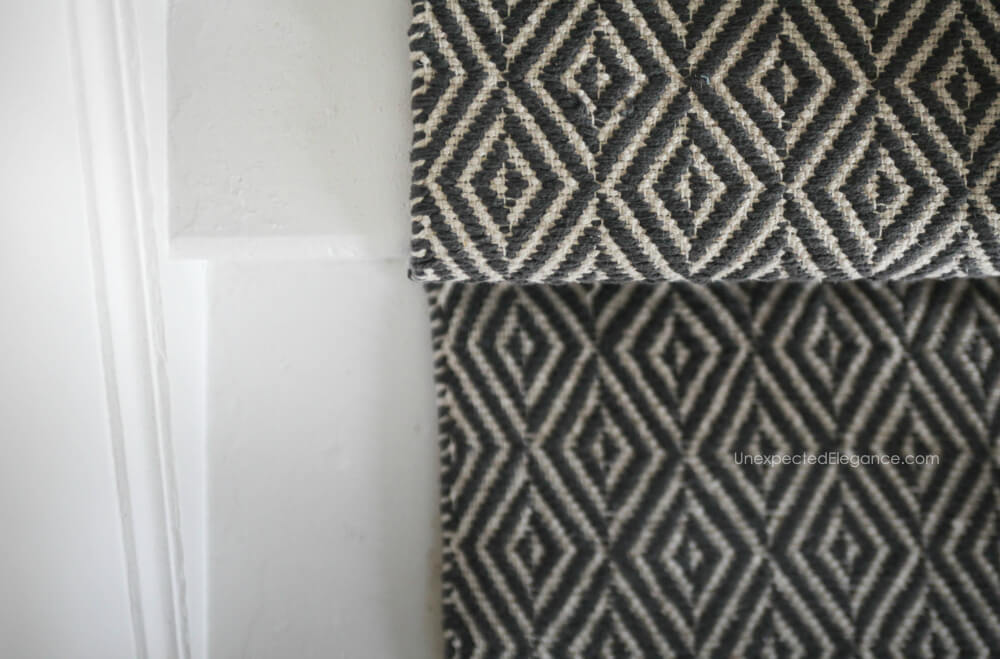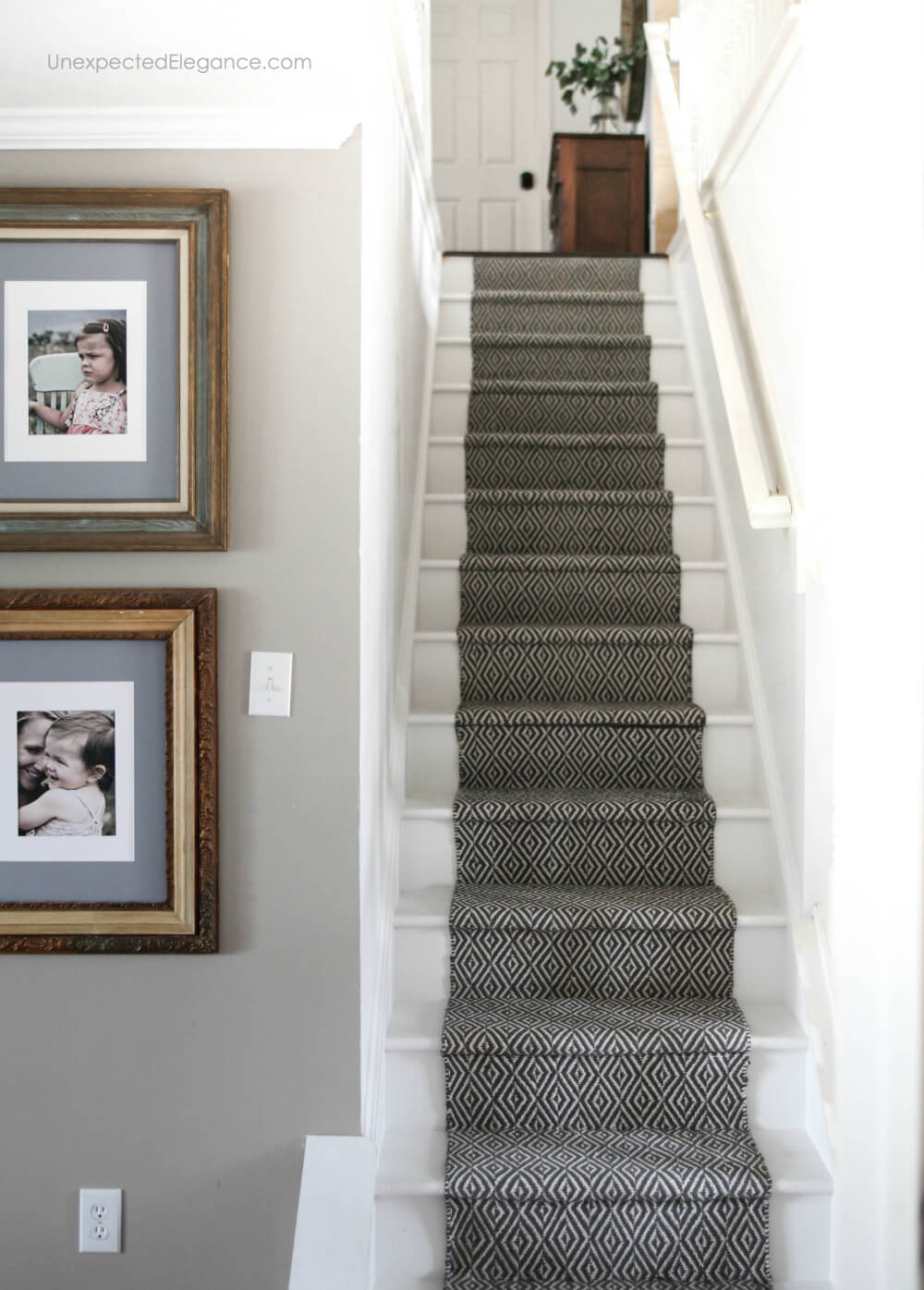 Cost Breakdown for an inexpensive stair runner:
$55- 13 rugs at $3.99+tax
$37- Paint (I bought a gallon, but only used about a quart)
$16- Carpet Tool
$5- Staples
$10- Replacement Riser
I had all the other supplies already.
Project Total:  $123