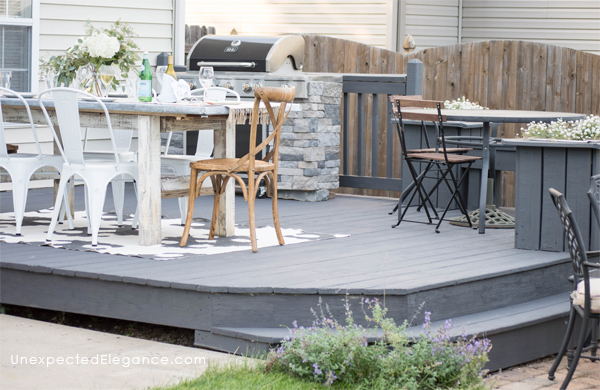 Our decks were new when we moved in 8 years ago.  With that said…I have either stained or painted them 3 TIMES in that 8 years, and it's not an easy or quick process!  The last two times I used a stain but I wanted to make sure this last and FINAL time, I wouldn't have to do anything else for a VERY long time.
The picture below shows you just how bad they were a few months ago.  Some of the boards had even popped up and were splitting.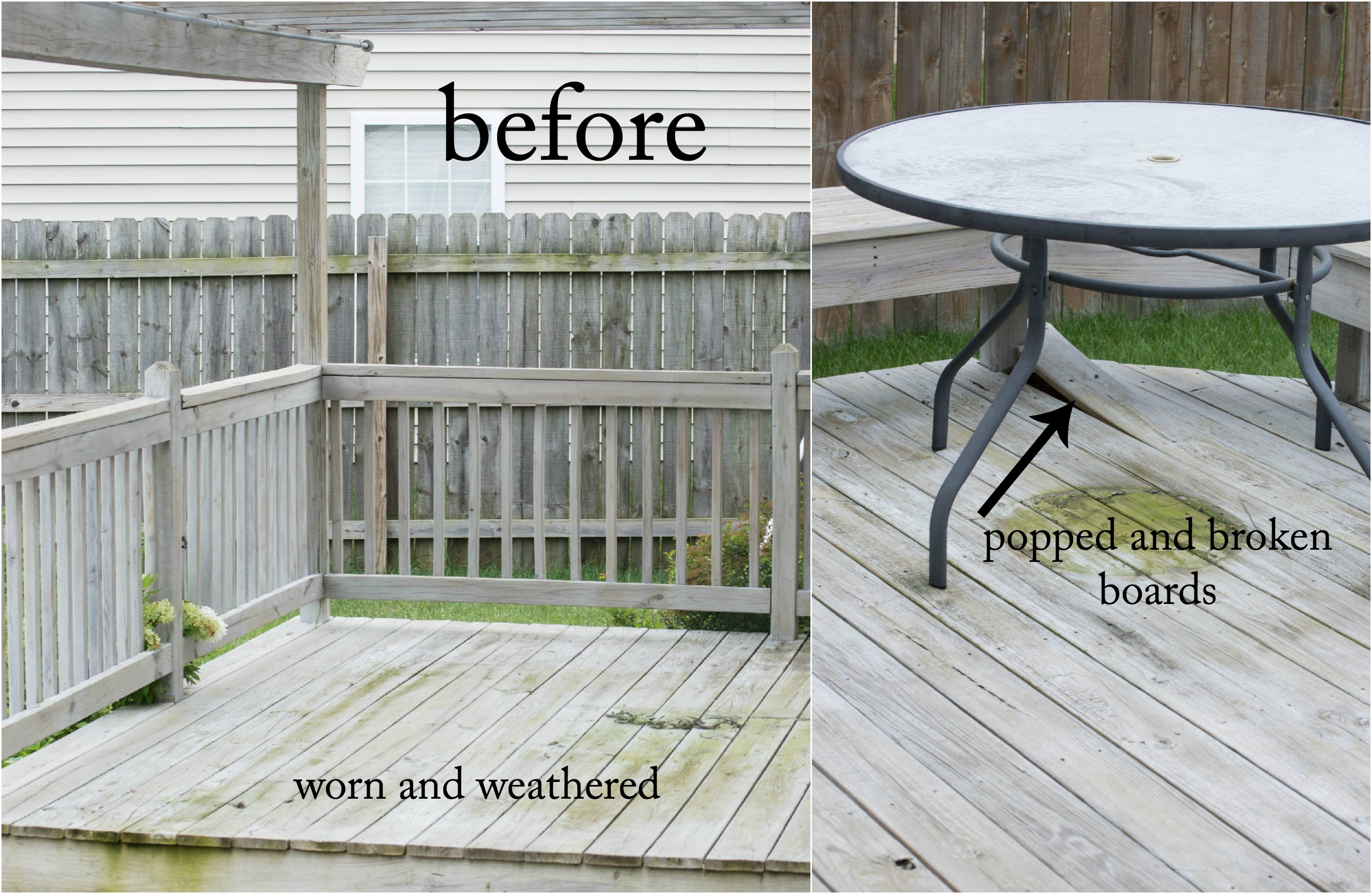 After a lot of research, we decided to use Rust-Oleum Restore®.  It's a resurfacer that forms a tough, resilient coating over existing decks, locking down splinters and filling cracks up to 1/4″.  It was the answer to our problem!!
To prep the decks we replaced a few of the really bad boards, then pressure washed everything.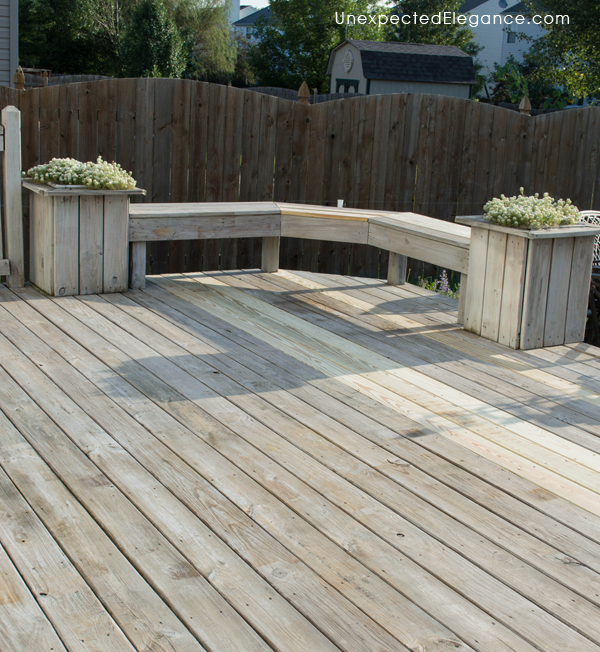 For the railings, planter boxes and pergola we used the Restore® 2X.   It's a solid stain that features NeverWet properties which provides hydrophobic water beading and superior water repellency to extend the life of the deck. It's also algae and mildew resistant!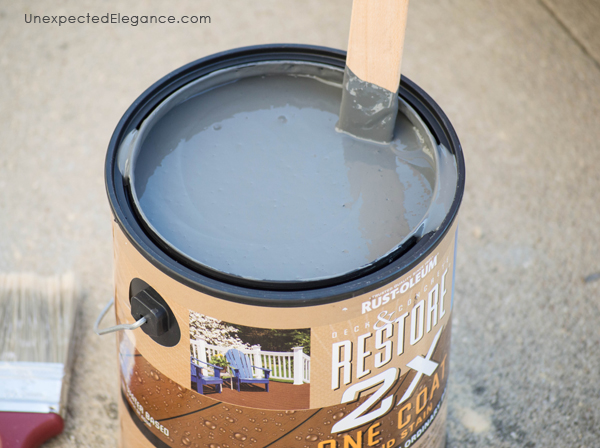 My girls were even able to help with this step!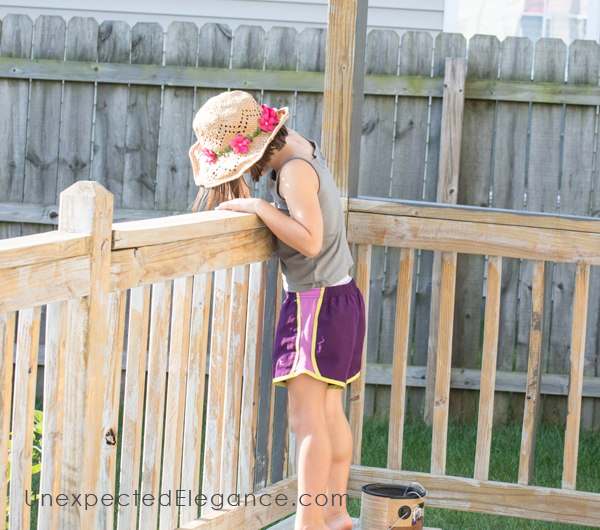 Once all the upper areas were finished we started on the floor decking.  We used Restore® Deck Start Wood Primer.  One gallon covered both of our decks, which is about 445 square feet.  Don't skip this step…prep is the most important part of most projects!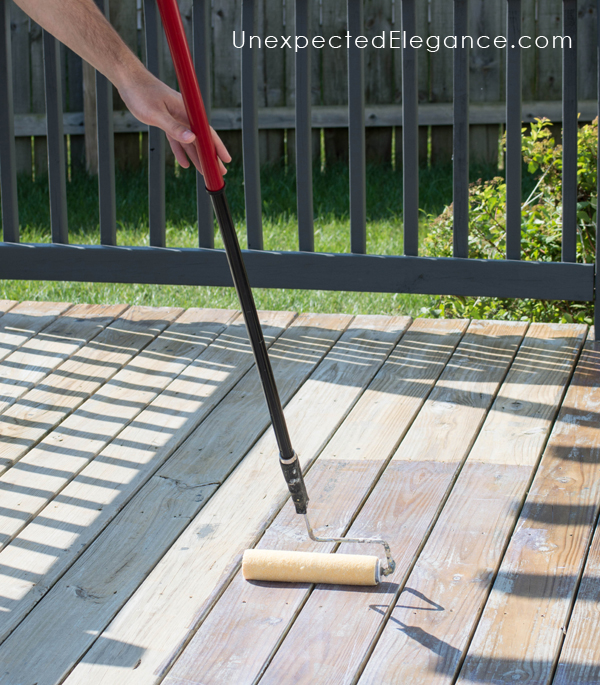 Then we brought in the big guns.  This Restore® 10x is no joke!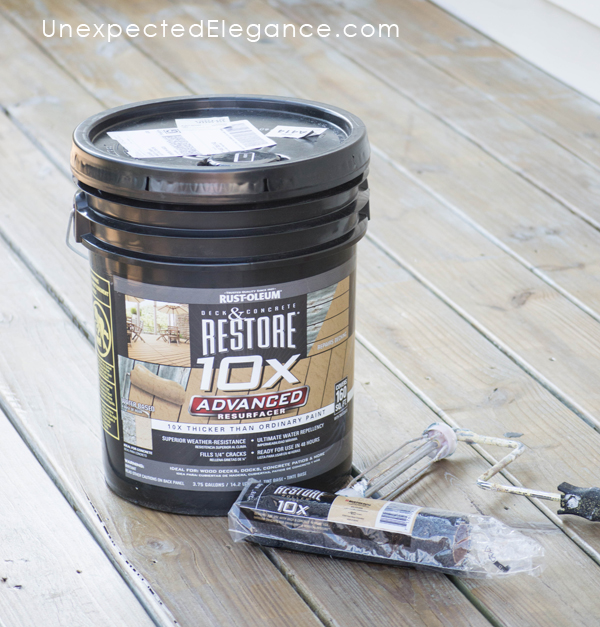 You will need to purchase a special roller for this product.  It goes down very thick and requires two coats for proper coverage.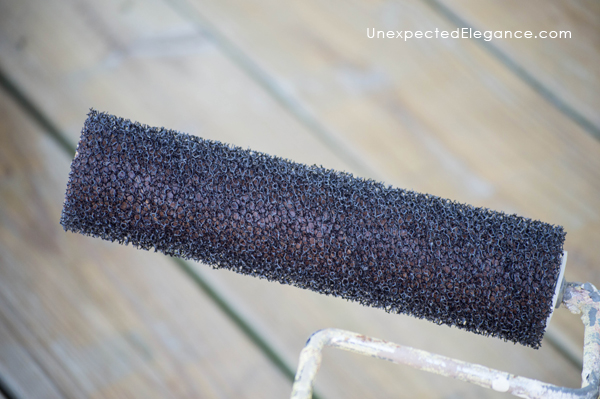 There are two different finishes that you can achieve with this coating.  The first is to  just roll it on and it will be a rougher texture, but I wanted it a little smoother.  The method I used requires two people.   One person rolling it on and the other person using a synthetic brush smoothing it out.  I also ran a metal scraper down the cracks between each board.  You can see the finished texture in the photo below.  (Find a video for how to apply properly HERE.)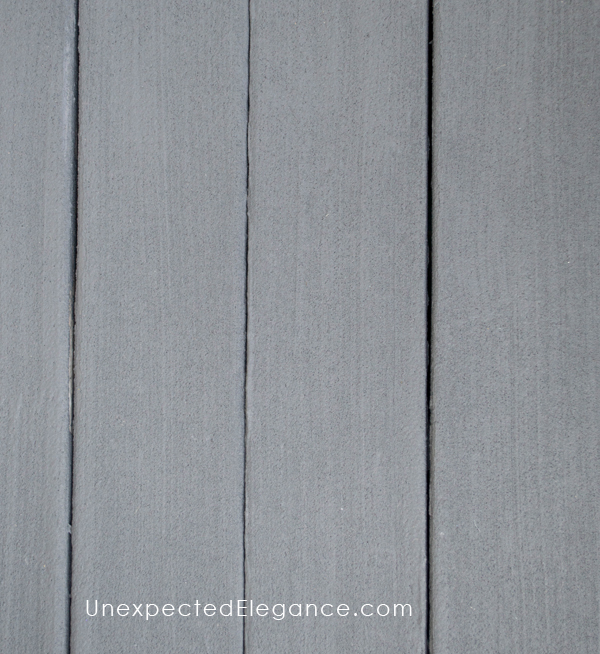 I am so happy with how they turned out.  It took us a lot longer to complete this project because of some weather delays but it was well worth it…we won't be touching these decks again while we live in this house!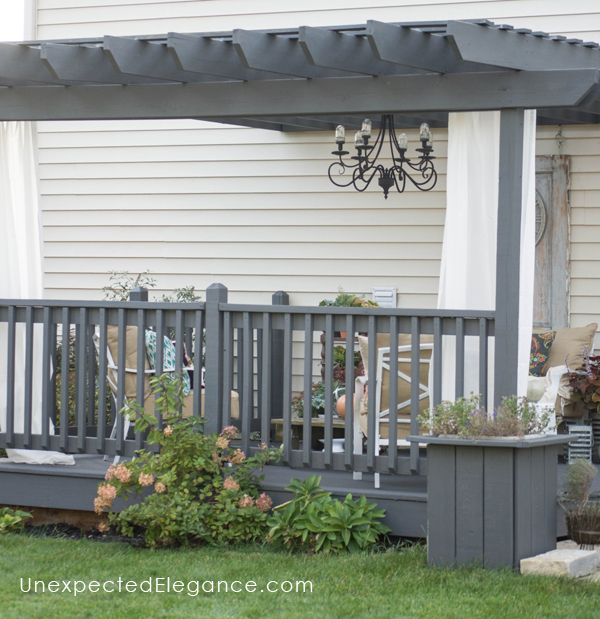 In the spring we plan to use Restore® 10x on the concrete patio, so I'll give you an update then on how the decks held up over the winter.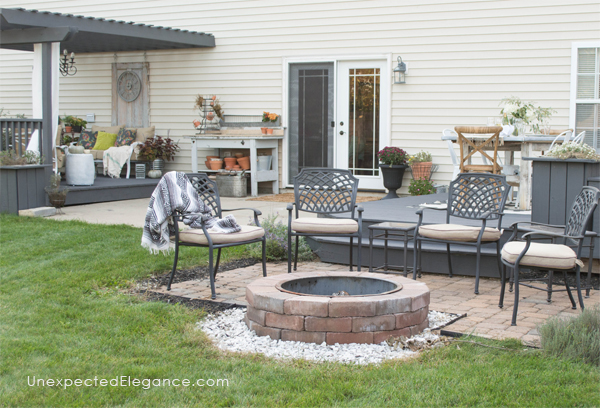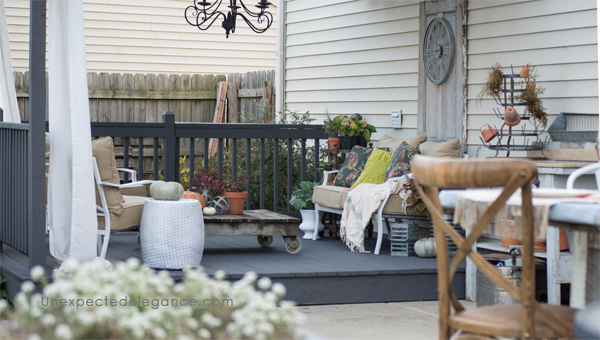 You know how this works right…you do one change to a space and it causes a chain reaction!  So I had to update my furniture, once the decks were shiny and new. 😉  The color I chose for the decks is called Carbon and it's a very dark, charcoal gray.  Our furniture was a darker color too, so to get it to pop, I spray painted the frames a shiny white and bought new cushions (on clearance at the end of the summer).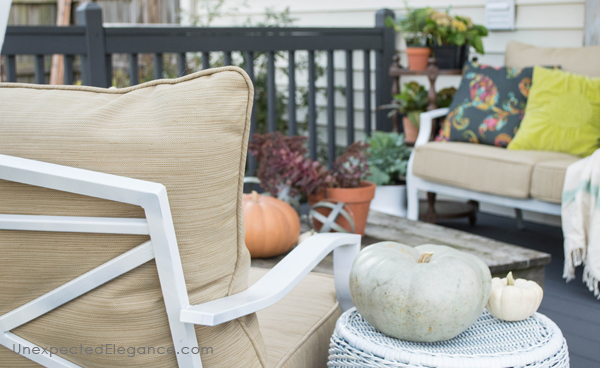 The top it off, our outdoor table also got switched out with the zinc table top from my dining room.  You can see the post on that HERE.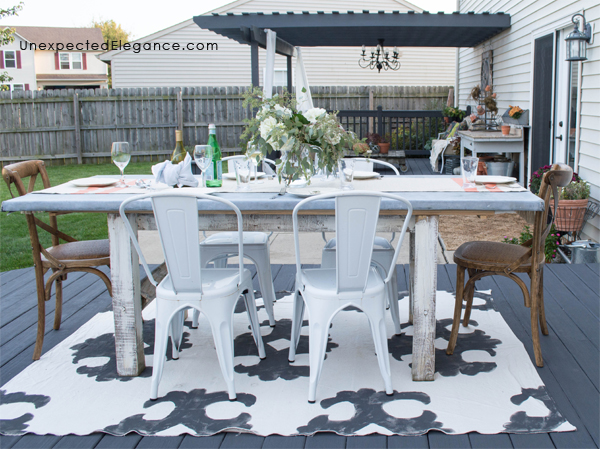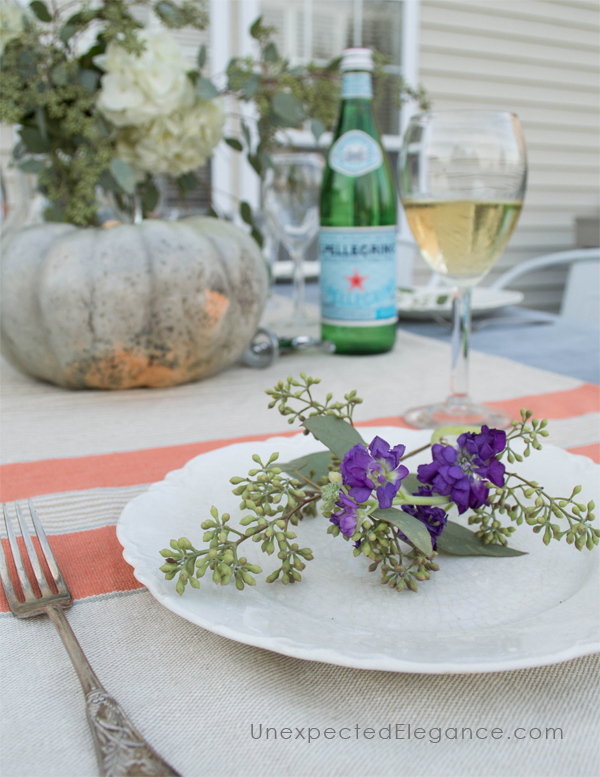 I love our outdoor space and right now is the perfect weather to enjoy it!