Sorry, I am a little behind.  Yesterday was pretty busy and I ran out of time, so here is yesterdays post and the last one of the series.
The biggest part of any party is FOOD.   If you are not hiring a caterer, which most of us do not, food can be the most stressful element of the event!  I thought I would share some of my go to appetizers that you can make ahead.  They all freeze really well and you can make them a week or more ahead of time.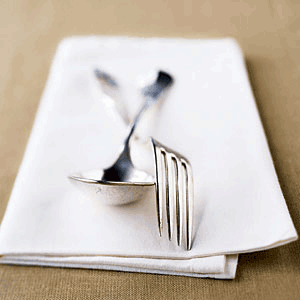 (source)
Shrimp Puffs
Ingredients:
* 6 slices of firm white bread
* 1 lb. frozen, uncooked shrimp peeled and deveined
* 2 cloves of garlic, minced
*1 Tbs. butter
* 1 Tbs. olive oil
* 1-1/2 C shredded Gruyere or Havarti cheese
* 1 tsp lemon zest
* 1 tsp dried dill weed
* dash of pepper
* 3/4 c mayo
Directions:
Preheat oven to 300 degrees F. Using small cookie cutter, cut out four rounds from each slice of bread. Place on cookie sheet and bake in oven for 10-15 minutes or until bread is crisp and dry, turning bread rounds over once halfway through baking time. Cool on wire rack.
Heat butter and olive oil in heavy skillet and cook garlic and shrimp just until shrimp curl and turn pink. Remove from heat and set aside for 10-15 minutes to cool slightly.
In large bowl, combine cheese, lemon zest, dill, mayonnaise, and pepper. Finely chop shrimp and add to cheese mixture.
Top bread rounds with shrimp mixture, mounding and smoothing the shrimp. Freeze in single layer on baking sheet, then store in freezer container in single layer.
When ready to eat, bake puffs, frozen, in preheated 400 degree oven for 10-13 minutes until golden brown and bubbly. Serve immediately. You can also bake the puffs without freezing them, in a 400 degrees F oven for 8-9 minutes. Makes 24 appetizers.  (From busycooks.about.com)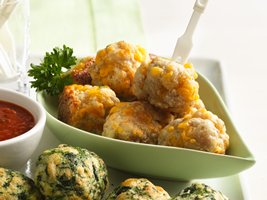 (BettyCrocker.com)
Sausage Cheese Balls
Ingredients:
1 lb. Italian sausage
2 C shredded Colby cheese
*Â  1 egg, beaten
*Â  dash of cayenne pepper
*Â  2-3 cups biscuit mix ( I use Bisquick)
Directions:
Preheat oven to 375 degrees.  Place uncooked sausage, cheese, egg,cayenne pepper, and 2 cups of the biscuit mix in large bowl and mix well until blended.  If you can, work in an additional 1/2 to 1 cup of biscuit mix (dough should be stiff and slightly dry).  Form into 1″ balls and place on ungreased cookie sheet
Bake at 375 degrees fro 10-18 min. until deep golden brown and cooked through.  You may want to turn them over halfway through cooking time so they brown more evenly.  You can either serve or freeze.  (Unsure of where I got this one!)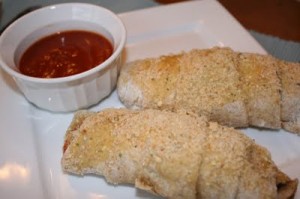 (Remodelaholic.com)
Pizza Rolls
Ingredients:
pizza dough  (I buy frozen balls at Sam's Club, but you can make your own)
mozzarella cheese
toppings
Parmesan cheese
Italian bread crumbs
Directions:
Roll out 1/2 of dough into very large pizza round, about 20 inches around.  Use a pizza roller to cut it into quarters, then quarter or third those sections.

Place desired toppings onto outside edge(no sauce!!).  Roll each individual wedge tightly into center.

Brush roll-up with beaten egg whites. Then, roll it in Italian Bread crumbs (with some added Parmesan cheese mixed in).  Place on cookie sheet and bake at 350 for 20 minutes.

When you are done.  Either eat with a side of pizza dipping sauce, or freeze in a Ziploc bag.

When reheating roll-up.  Place in Microwave for approx. 2 minutes (more if you have more than one roll reheating).  Then place in a toaster oven and toast it (like on the bread setting)  They will be hot and gooey on the inside, and crisp on the outside, like they are fresh out of the oven.

I hope this quick series has helped you in some way.  I know it has helped me prepare for my upcoming party.  I will share it with you next week.
Previous Holiday Entertaining Ideas: