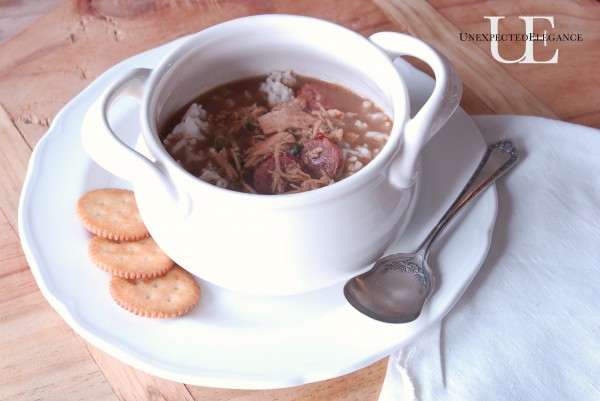 A week or so ago, I made gumbo for dinner and I posted about it on Facebook. I had a few people interested in the "recipe," so here goes…
It's not really a recipe, per say.  It's a method I use and taste and then taste some more.  I also have two very important secret ingredients.
1.  Doguet's Roux.  I get this when from my Mom normally because it is made in Beaumont, TX.  I have found it in some Wal-Mart stores on the East Coast and Midwest.
2.  Onion Soup Mix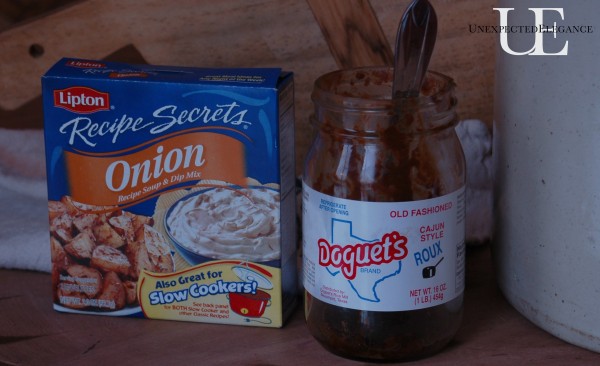 For those of you who can't find Doguet's roux.  Here's my alternative…
In a sauce pan, mix 1 cup of vegetable oil and 1 1/3  cup of flour.  Whisk together on medium/high heat.  When it starts to bubble, reduce the heat to medium/low and stir with a wooden spoon.  The mixture should turn golden, then a darker brown.
I'm not going to lie, this takes a while.  It took me about 40 minutes to get mine the color I wanted.  DO NOT STOP STIRRING!  It will burn and be ruined.  One pan makes what you see below.  You can either use it right away or refrigerate it.  This jar is straight from the fridge, so the oil has settled on the top.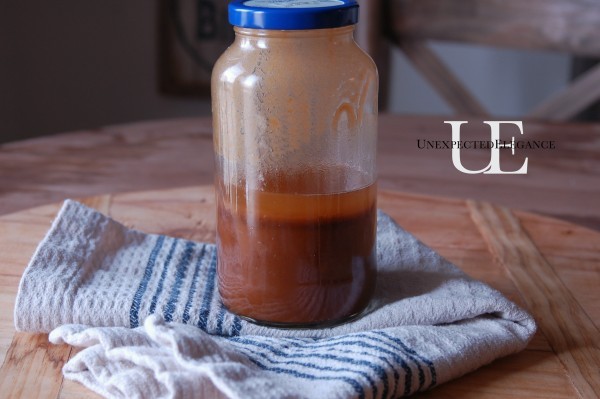 Now that we know about the roux, here's what I do:
Fill a stock pot with water about 3/4 full.  (None of this is a science and it will all work out in the end.)  Bring the water to a rolling boil and add spoonfuls of the roux.  (I always drain off most of the oil, so you will have a pretty thick paste.)  Use approximately half of your mixture or half the jar.
The water should be turning a dark brown.  Then add two packets of onion soup mix.
I like to use chicken and sausage, but you could use any type of meat you like.  I put frozen chicken breasts right in the pot as it's boiling together the roux and onion soup mix.  Once the chicken is fully cooked it will float on the top.
Remove the chicken and reduce the heat to medium/low.
Shred the chicken and add back to the pot.  I also like to add Tony' Chachere's Original Creole Seasoing.  This is a matter of preference, so you will need to taste as you go.
Chop up one link of sausage, add it to the pot and cook for about 30 min.
Lastly, chop a "bunch" of green onions and add it the finished gumbo.
Serve over rice and EAT! YUM!!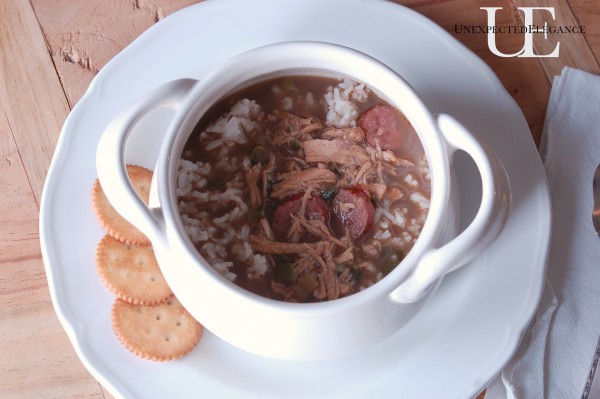 There all kinds of ways to make gumbo.  Some people use okra in theirs and some people add potato salad to the middle of theirs.  It's all a matter of preference.
I grew up eating gumbo and my family still has it for Christmas dinner together.
I hope you'll try it, sha! 😉 (a word my Memaw uses often, meaning "dear" in cajun)
Angela