This post brought to you by Steel Meister. All opinions are 100% mine.
I absolutely LOVE this time of year…most of you already know that!  Both sides of our family live out-of-state so our holidays are either spent traveling or we have guests staying at our house for extended periods of time.  It's so wonderful to be able to stop from all the madness and just "BE" with these people that I love to spend time with, but don't get it often enough.
On the other hand, since our immediate family doesn't live close our friends have become our family.  It's so amazing how that happens!?  I truly feel blessed to be able to call these amazing people family.  Most of them live in our neighborhood and because of the close proximity and chance meetings at the mailbox, we spend a lot of time together.  Between all the different couples in our neighborhood, we seem to have spread out the holidays that we all host.  Mine happens to be Christmas…bet you wouldn't have guessed that?!?  I sometimes get a little carried away.  😉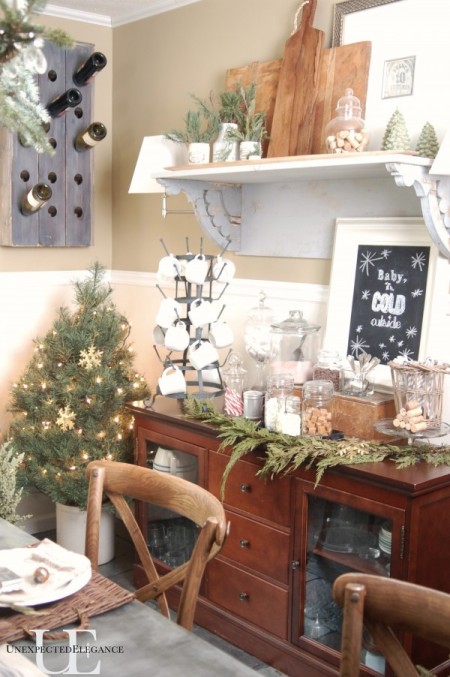 I normally spend days (OK maybe weeks) getting ready for what is now our annual party.  I am one of those people who do crazy things like hang new sconces (including all the wiring) the day of the party…true story.  AND I clean things like the inside of the fridge because you never know who is going to peek inside and think "WOW she's a slob, look at that veggie drawer!"
Anything I can do to clean beforehand and KEEP it clean for the party (or any time, for that matter) is a huge help.  So when I was offered to sample a cleaning product that promised, what sounded like a miracle, I was all in.
It's a stainless steel cleaner called Steel Meister that  cleans, polishes, conditions and shines without streaking and leaves a microscopic coating which absorbs into the surface to repel dirt, smudges and fingerprints.  If you have stainless steel appliances, this sounds pretty amazing right?
Well, here's how it really works….
The embarrassing and disgusting front of my stove door BEFORE I used Steel Meister: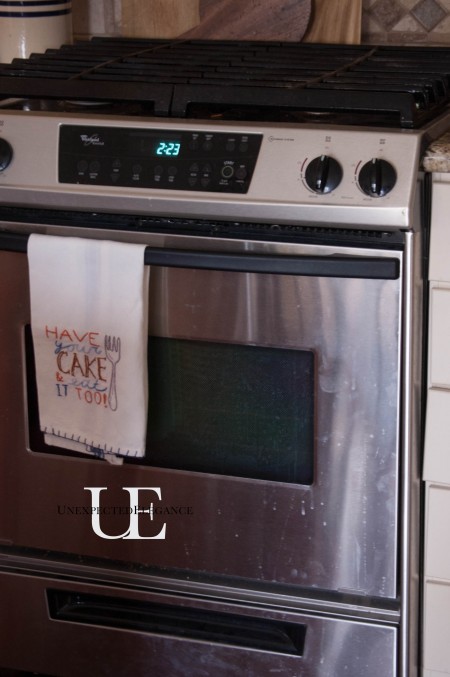 It comes in an aerosol can that looks like this: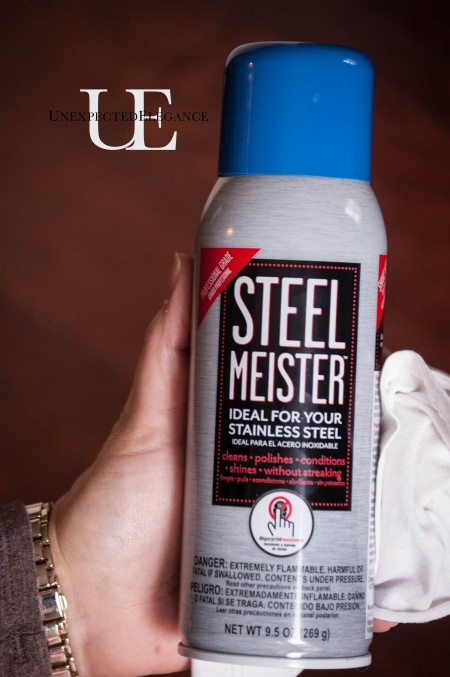 It's really easy to use.  You just shake it and then use a lint free cloth (I used an old t-shirt) to wipe it on in a circular motion.  It's like you are waxing your stainless steel. 🙂  If there is any excess, wipe it with a clean rag.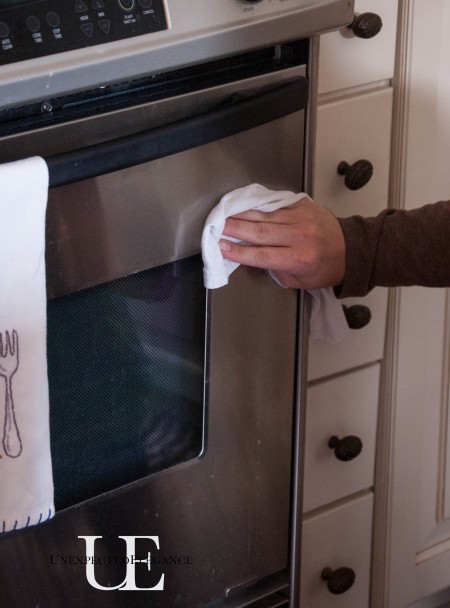 AND this is what it looked like after I used it…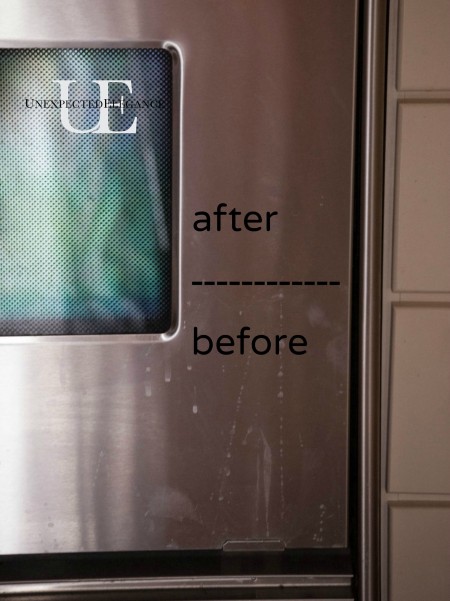 I put this to the test on my fridge as well, but couldn't get a great shot.  After 4 days there were still NO FINGERPRINTS, and I have two kids!  I'm sold on this product!!!
Check out product reviews and see what other people think: Steel Meister reviews
For more cleaning inspiration and ideas:
Like/Follow Steel Meister on:  Facebook Twitter Pinterest
I'd love for you to follow my "Cleaning-Before and After" board on Pinterest and as always feel free to pin away!
 Steel Meister is sold only at Home Depot IN THE APPLIANCE DEPARTMENT in-stores, so make sure you pick some up before you start your holiday cleaning!
OK, so tell me: What surfaces do you struggle with the most to clean?  Do you stress out about cleaning during the holidays?