You have HOPEFULLY noticed the ad on my sidebar.  It is for the "French Flea Market" at Horton's in Tipton, IN.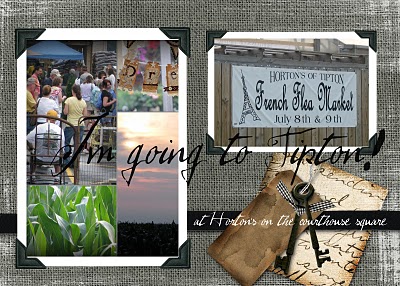 Well, I have to kick myself into hight gear, because I will be a vendor there in a few weeks.  July 8th & 9th to be exact.  I am so excited!
My first time to visit the store was yesterday.  A friend, who I have done a few shows with before, set it all up for us to do together.  So, yesterday I headed to the small town of Tipton to "check it out."  It was such a cute little town and the owner is so nice.  She showed me our space and walked me through everything. 
To take a tour of Tipton, click here.
If you time on the weekend of July 8-9th, I would LOVE to meet you.  I know you will have a great time!
Happy Friday!
~Angela