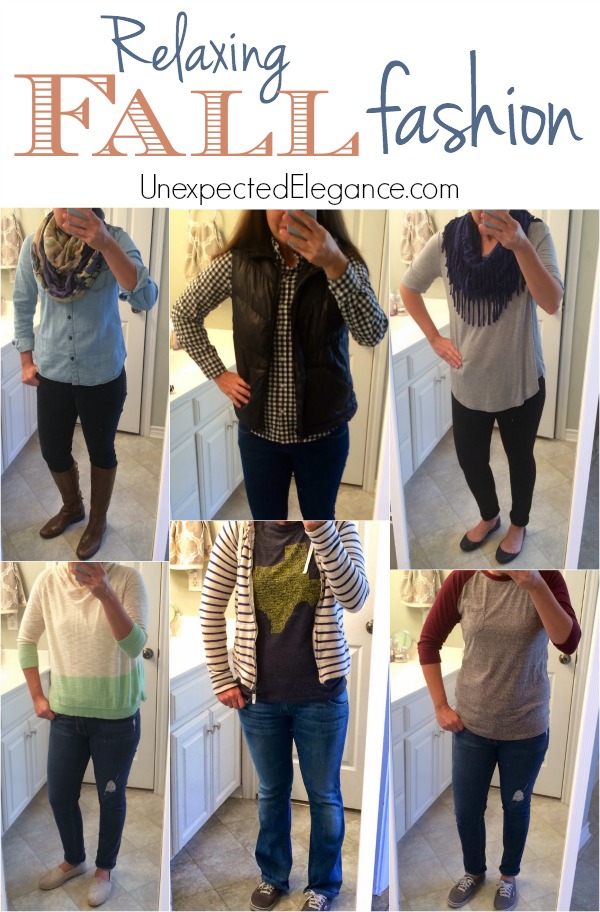 ****************
Here are some outfits to help you transition into fall.  This is my favorite time of year.  We get a break from the heat and finally get a chance to wear layers.  I love Autumn because it's cool enough to wear scarves, cardigans, and boots.  I've given you some options if you are in a warmer climate like me (in Texas) or if you need layers like my friends in the North.
#1
Black jeggings: AG bought at Nordstrom Rack
Gray top: H&M
Blue fringe scarf: Target
Black flats: Steve Madden bought at DSW
#2
I love the color combination navy blue and orange.
Skinny jeans: H&M
Dark orange top: Anthropologie
Navy sweater: Banana Republic outlet
Brown boots: DSW
#3
I've had this vest several years, and it's still one of my favorite pieces to add to an outfit when I need a cozy layer.
Skinny jeans: H&M
Black and white gingham shirt: Old Navy
Vest: Old Navy
Black boots: Banana Republic outlet
#4
It's hard to tell in this photo but these pants are corduroy and they are a great dark teal color.
Cords: Old Navy
Chambray shirt: Old Navy
Floral scarf: Charming Charlie
Brown boots: DSW
#5
It's good to have a go-to outfit for each season.  This is mine for fall.  It's comfortable but still looks put together when I'm running errands.  The alternative is yoga pants and a t-shirt.
Skinny jeans: Rich & Skinny bought at Nordstrom Rack
Poncho/Hoodie: Anthropologie
TOMS: Whole Foods
#6
This is my "soccer mom" outfit.  The hoodie will keep me warm when I'm at an early morning soccer game cheering on my little guy.
Vintage Texas t-shirt: Tumbleweed TexStyles
Striped hoodie: Purchased on vacation at a local shop in Red River, NM
Jeans: Hudson
Shoes: Vans
#7
One more comfortable weekend outfit.
Same jeans as outfit #5.
Baseball tee: Forever 21
Same Vans as #6.
#8
This is my "church lady" outfit.  I would wear something like this to church on Sunday morning.
I saw a similar outfit in Boden and realized I had all the pieces in my closet already.  It's a simple black and gray combo, but I think those two colors are classic together. I threw on some patterned tights to give it a little something interesting.
Gray sweater: Gap
Black skirt: Talbots purchased at TJ Maxx
Tights: Old Navy
Black suede wedges: Target