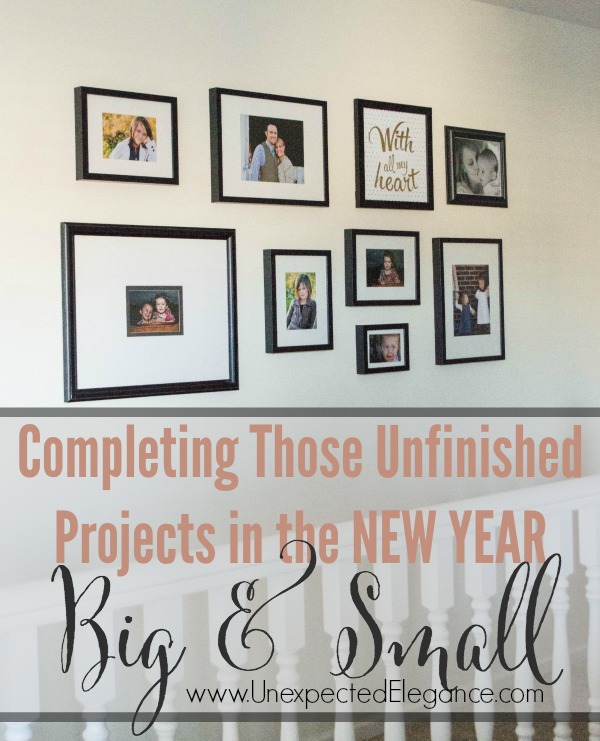 For me it seems that some of the smallest and easiest projects get pushed to the side.  Bigger projects sometimes take center stage because they are right in my face all the time, but what I've learned over the years (and forgotten many times) is that I SHOULD be completing smaller more manageable projects in-between.
Tackling smaller projects helps me feel like I've accomplished something.  It lets me check something off a to-do list and motivates me for the larger more complicated jobs.  Checking off a list is a big deal!  According to a Forbes post:  "Even when you are overwhelmed with tasks, the most important thing you can do is make a plan on how to get them done, starting with a to-do list. Simply writing the tasks down will make you more effective."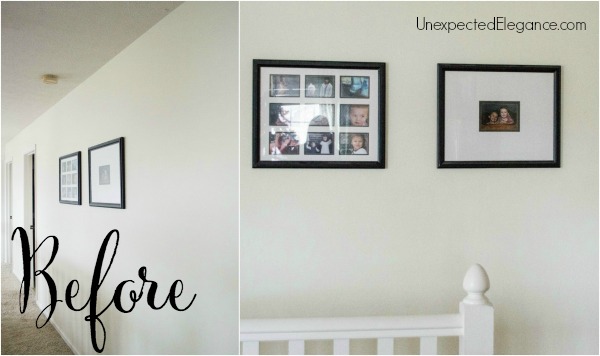 Here's an example, I bought frames at Ikea back in October to make a collage of family pictures in our upstairs hall.  The frames have been sitting in my room just waiting… Last week as I was cleaning up, I decided that I needed to bite the bullet and get started.  Honestly, why do I wait so long?  This small project took me a few hours and looks so much better!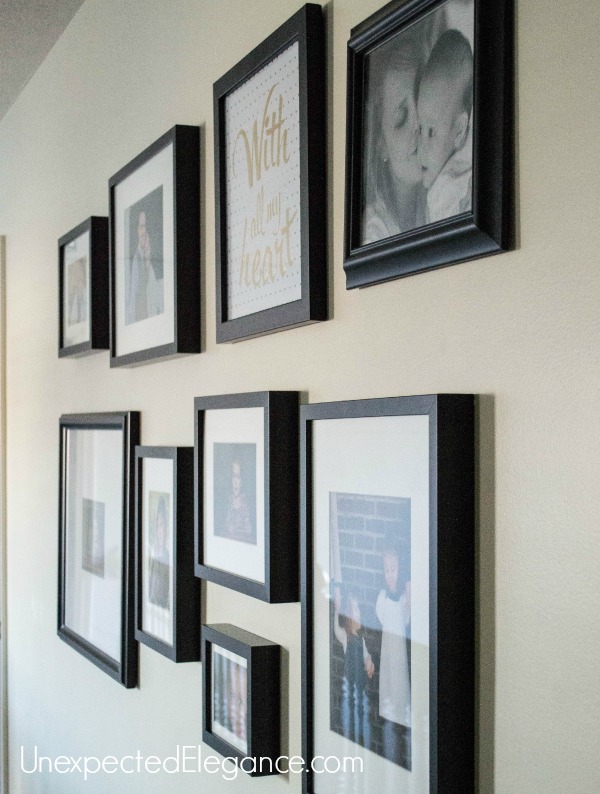 Most of the frames I used were Ikea Ribba so the whole wall cost me around $50.  I used the inserts from the frames to tape to the wall and figure out my design.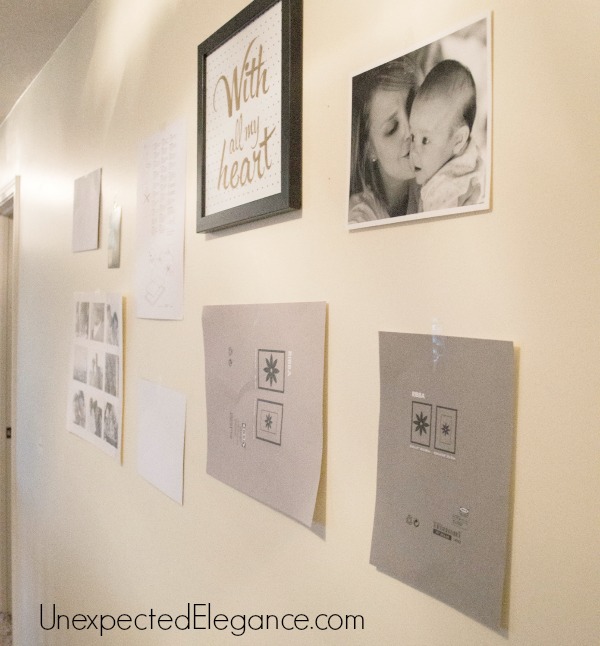 Although… one project might lead to another!  Now that the new pictures are up, I think the wall needs to be repainted and I want to add some color.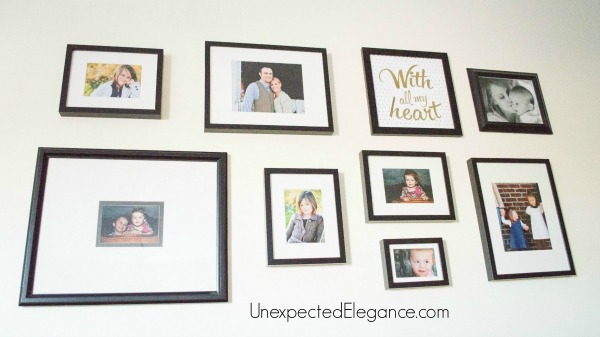 Any way you look at it, the point is to GET STARTED.  Make a list of all the big and small projects you want to accomplish for the year.  Get momentum by checking off a few smaller, easier ones and you will find motivation to tackle the larger jobs.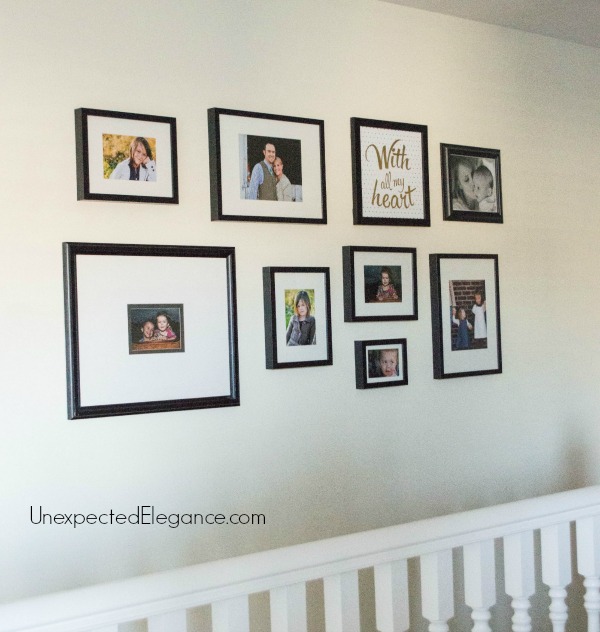 For some more GREAT ways to make 2015 THE BEST YEAR EVER, check out these other bloggers: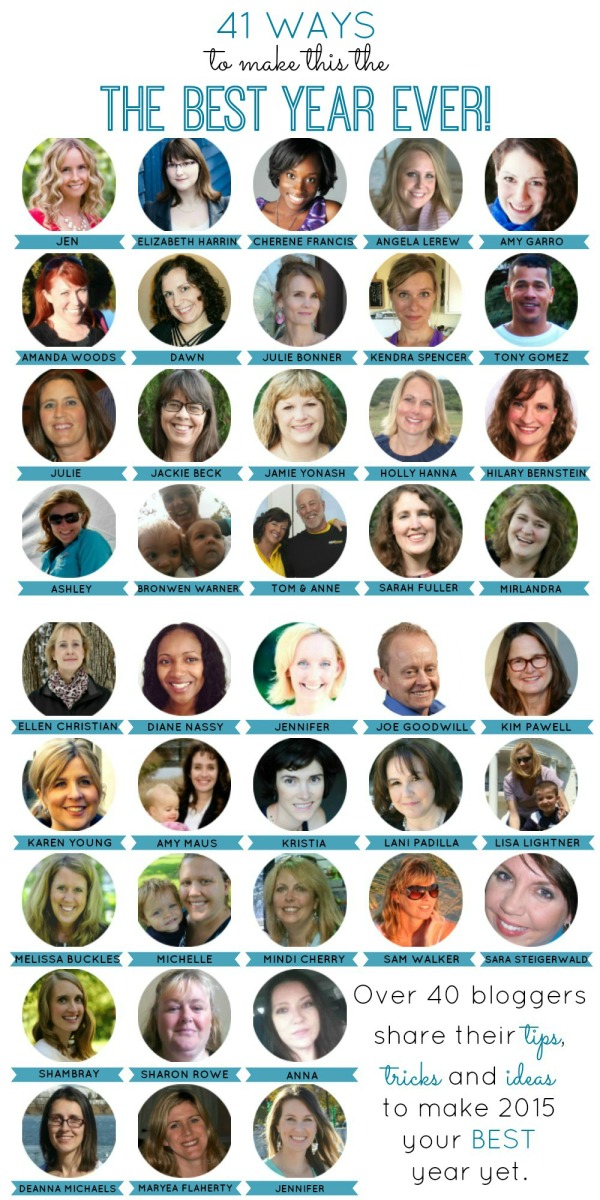 1. How to Set and Keep Goals to Make This the Best Year Ever | Jen @ Girl in Garage
2. 15 Ways to Stay Organised at Work During 2015 | Elizabeth Harrin @ A Girl's Guide to Project Management
3. How Personal Style Will Help You Achieve Goals Faster in 2015 | Cherene Francis @ Aura Image Consulting
4. Completing Those Unfinished Projects in the NEW YEAR | Angela Lerew @ Unexpected Elegance
5. 42 Ways to Practice Perfectly & Become an Expert at Almost Anything | Amy Garro @ 13 Spools
6. Easy Exercises to do on a Cruise Ship | Amanda Woods @ Adventures All Around
7. 10 Simple Ways to Eat Healthier This Year | Dawn @ Reveal Natural Health
8. 31 Days to a More Fabulous You | Julie Bonner @ Mom Fabulous
9. How to Make This the Best Gardening Year Ever | Kendra Spencer @ A Sonoma Garden
10. 5 Ways to Make this Your Best Monarch Season…Ever! | Tony Gomez @ Monarch Butterfly Garden
11. 12 Scriptures for Goals and Guidance | Julie @ Loving Christ Ministries
12. How to Build a Starter Emergency Fund in 30 Days or Less | Jackie Beck @The Debt Myth
13. Family Verse of the Week Challenge for 2015 | Jamie Yonash @ Life is Sweeter By Design
14. Hot Work at |Home Jobs for 2015 | Holly Hanna @ The Work at Home Woman
15.  A Year of Intention | Hilary Bernstein @ Accidentally Green
16. 2015: Our Best Year Yet | Ashley @ Leaving the Rut
17. Create a Better Life Story | Bronwen Warner @ Tummy Time and Beyond
18. Get Ready to Get MDfit | Tom and Anne @ Eat & Be Fit
19. 5 Free Ways to Learn Something New This Year | Sarah Fuller @Earning and Saving with Sarah Fuller
20. Healthy Leek Soup | Mirlandra @ Mirlandra's Kitchen
21. Health Resolutions: Baby Steps to a New You | Ellen Christian @ Confessions of an Overworked Mom
22. 5 Ways Busy Moms Can Get Motivated to Work Out | Diane Nassy @ philZENdia
23. Be Prepared for the New Year | Jennifer Dunham Starr @The Memory Journalists
24. 3 Steps to a Healthier Life in 2015 | Joe Goodwill @Average Joe Cyclist
25. New Year's Resolution: Cook More Often! | Kim Pawell @ Something New for Dinner
26. I Should What? 28 Ways to be Happier | Karen Young @ Hey Sigmund
27. 9 Ways to Get Healthier In The New Year | Amy Maus @ Home and Farm Sense
28. In 2015 Resolve to Take Control of Your Money | Kristia @Family Balance Sheet
29. Eucharisteo: A Year of Thanksgiving | Lani Padilla @ Simply Fresh Vintage
30. No More Tears at IEP Meetings: Make This Your Best Year Ever! | Lisa Lightner @ A Day In Our Shoes
31. Learn to Save Money on Groceries | Melissa Buckles @ Everyday Savvy
32. How to Achieve Your New Year's Resolution – For Real This Time! | Michelle @ Dishes and Dust Bunnies
33. 52 Weeks to a Better You: Week 1 – Go to Bed Early | Mindi Cherry @ Moms Need to Know
34. Food Street: How a Community Has Joined Forces to Start a Street Farm | Sam Walker @ Bubble 'N Squeak
35. Organizing Coupons with the Binder Method | Sara Steigerwald @ Sisters Shopping on a Shoe String
36. How to Make This Year the Happiest Yet | Shambray @ Shambray.com
37. A New Year, A New You | Sharon Rowe @ How to Get Organized at Home
38. 5 Ways to Get Paid for Losing Weight This Year | Anna @Real Ways to Earn Money at Home
39. Tips for Successful Whole30 | Deanna Michaels @ From This Kitchen Table
40. 75 Ways to Be Healthier in 2015 | Maryea Flaherty @ Happy Healthy Mama
41. How to Make 2015 the Best Year Ever! | Jennifer @ My Boys & Their Toys
Bonus links:
Fashion Resolutions: How to Add Style to Any Outfit | Ellen Christian @ The Socialite's Closet