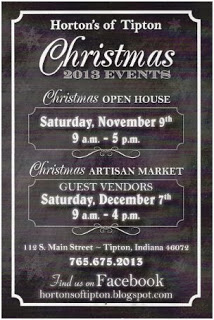 This coming Saturday is Horton's Annual Christmas market!  If you are local, be sure to check it out.  Every year it's a lot of  fun and this year they are expanding it to have even more vendors.  It's always a great place to find gifts, holiday inspiration and decor, and enjoy homemade fudge and hot apple cider!
I would LOVE to see some of you there:
Saturday, November 9th
9 a.m.-5 p.m.
112 S. Main St., Tipton, IN
 Here are just a few pictures from last year: