I know you probably are not be thinking about taking down all your Christmas decor yet, but I thought we could be proactive this year.  (Hey, I get it…some of you might not have even put up your tree at this point!)  Never the less, your tree and ornaments will have to come down sooner or later, and after the expense of Christmas, who wants to spend more money on the storage of all the decorations?  It's so much easier if you take the time to store everything nice and neat but you don't have to spend a fortune.  There are many items in your house that can be repurposed and other items that can be bought on the cheap.  Here are a few CHEAP CHRISTMAS STORAGE HACKS:
Wrapping Paper Tricks
1.  Use a cardboard toilet roll and a rubber band to keep opened wrapping paper tidy.  Cut a slit in the tube and put it around the end of the paper then add a rubber band and slide down to the middle of the roll. (I have seen a lot of people suggest just cutting the toilet paper roll but with my experience it didn't stay very well.)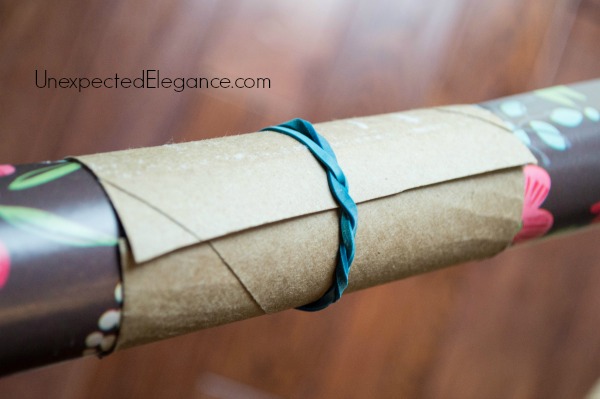 2.  A hanging garment bag is perfect to store wrapping paper out of the way until next year!  See how simple this is from The Chic Site.
Storing Lights
1.  Use a hanger to store christmas lights.
2.  For an even cheaper storage solution, use pieces of cardboard.
Storing Ornaments
1.  Repurpose egg cartons for the smaller, more delicate ornaments.  They work great for my small vintage ornaments that don't have a box!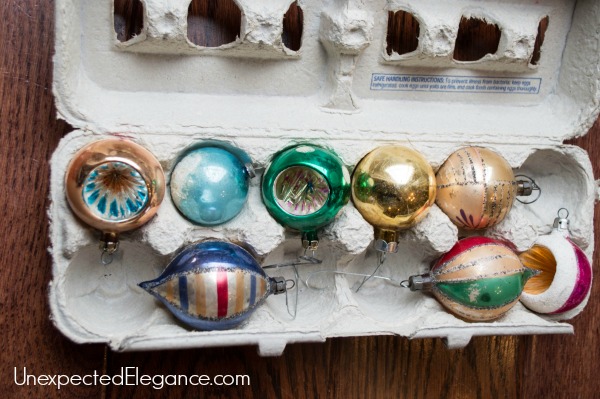 2.  Use plastic cups glued to a piece of cardboard or wood for storing the larger, breakable ornaments.
Storing the Artificial Tree and Wreaths
1.  When you disassemble the tree, do it in sections and duct tape each section together, labeling as you go.
2.  If you hate the massive amount of space that your tree takes up year round, use two 8-in.- diameter concrete form tubes, wrap each layer of the tree in twine and store half the tree layers in one tube and half in the other.
3.  If you have the room, why not just wrap the entire, decorated tree in cellophane?!?
4.  Use a hanger and plastic bag to hang your wreath either in a closet or from a beam in the attic.  To get all the details, check out it out HERE.
Delicate Objects
1.  Store tapered candles in paper towel rolls.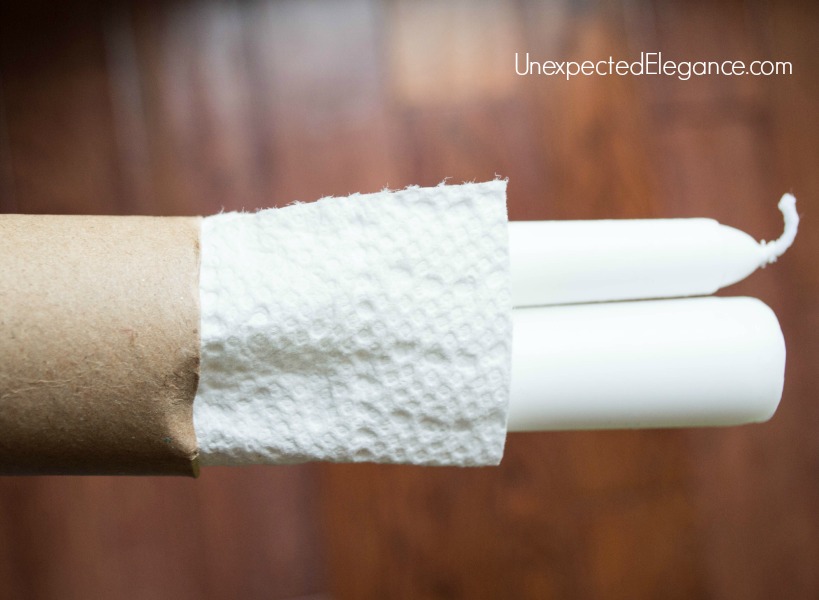 2.   For other delicate items, use empty (cleaned out) butter tubs or shoeboxes.
Do you have any great ideas for saving money of decoration storage?  We would all love to know about it, so leave it in the comments below and I will add it to the post.