This is a Sponsored post written by me on behalf of BMO Harris Bank N.A. Member FDIC. All opinions are 100% mine.
Our first house was a 1920's Tutor style, twin home.  For those of you who don't know what a twin home is, it's two houses connected by a center wall.  The minute walked in we knew we were going to make an offer.  It was located right across the street from my husband's office, in our price range, had loads of character and a ton of potential!  Before we even moved in, we had to rip out carpet and paint some walls, but we were so excited to own our first house that we were giddy to jump in.  The house wasn't very big and only had one very old, outdated bathroom.  When I say old, I mean the bathtub was about 4 feet long (definitely not big enough for any adult) and had no shower, were people REALLY that small back in the day?!?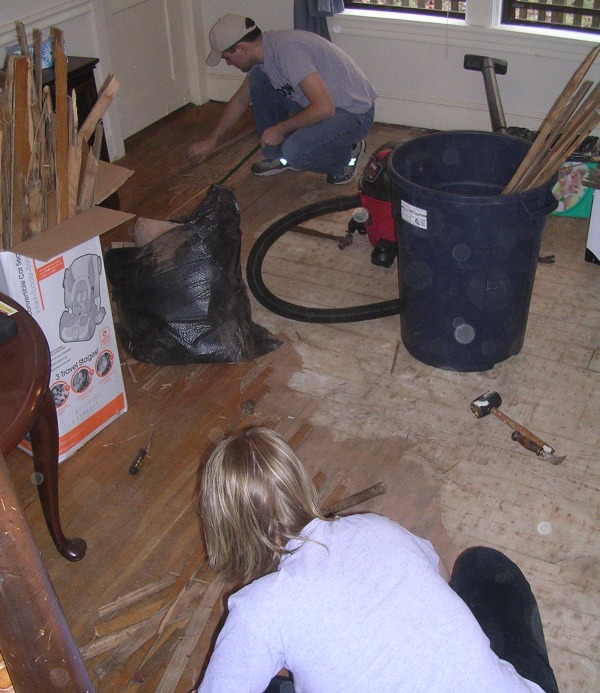 (Those of you thinking we were crazy for ripping out the old hardwood floor, let me just tell you…it smelled REALLY bad.  The previous owner had cats that must have mistaken the floor for a litter box?! You didn't notice the smell so much until it rained. It must have been the humidity?)
I LOVED that house.  We put a lot of sweat equity into it and were so sad to leave it. Although, now looking back I don't know how we all fit?  Our family had slowly grown from the two of us and a dog…to the two of us, a dog, a toddler and an infant.  Did I mention that most of our family and friends lived out of state, so we always had people staying with us?   We had outgrown our home and it was perfect timing because we were relocated in Indiana for Scott's job.
The one thing I learned about our first house was that buying something we could afford was SO important.  When making the decision on what we wanted to spend on our first home, we took into account that we would be having kids and I would be staying home with them. We carried that thinking over into our second home in Indiana.
What we could get over double the square feet in Indiana, compared to Pennsylvania.  It's amazing how quickly your perception can change.  Because we had gotten so much equity out of our first house, I was able to jump into the home renovations with this house too.  I had a toddler and a 6 months old but somehow we survived a kitchen remodel.  I did some of the work myself but we hired out the cabinets and counter tops.
This was what it looked like when we moved in:
And this is a pretty recent shot: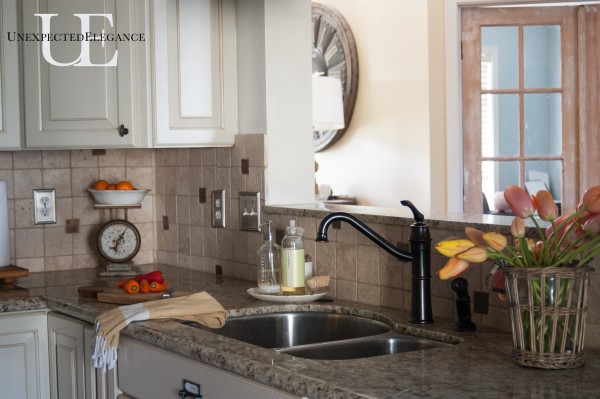 Buying a new house is so much fun, but can also be a stressful process.  AND who doesn't want to put their stamp on their new home?  We want our homes to express our personality not the previous owners, and it almost always cost more than you think it will in the long run.  I've teamed up with BMO Harris to share with you their BMO Harris Bank Scavenger Hunt Sweepstakes!  It super simple to enter.  Just like them on Facebook and play through their scavenger hunt.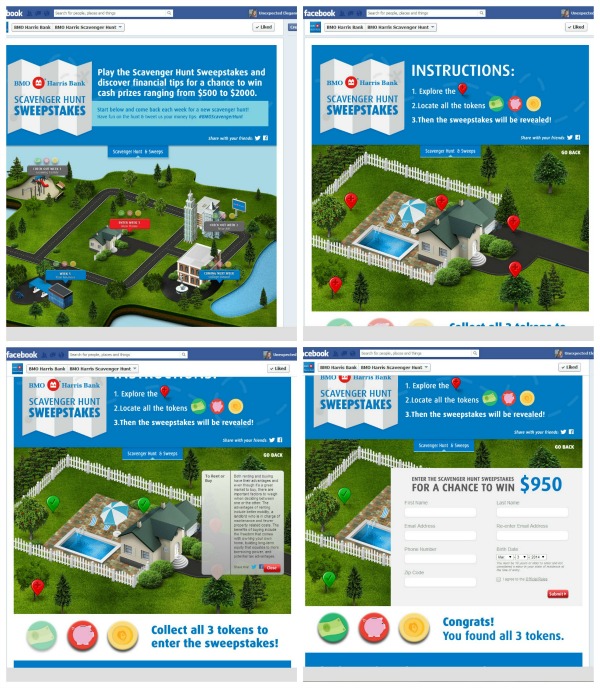 This week you will be collecting tokens around an estate.  You just have to click on each coin and either answer a True/False question or read a quick tip.  Simple!  Once you have all your tokens you can enter for your chance to win this week's prize of $950.
The drawing will run from:
Start Date/Time: 12:00:00 pm CT on 3/3/14
End Date/Time: 11:59:59 am CT on 3/10/14 Drawing Date: 3/13/14
The next 2 weeks I will continue sharing some more personal experiences with you and letting you know how you can enter for a chance to win some more cash! 🙂
Are you considering buying a home or refinancing your current one?!?  Either way we could all use some cash to spruce up our homes.