If you have read my blog for any length of time, you know that I love going to auctions.  If you have never been to one, it can be intimidating and overwhelming.  But I want to clear up a misconceptions about auctions.
**Some of you might think they are filled with old or used "junk" that someone else doesn't want.  This is true of some but not all.  There are three categories of auctions (these are my made up categories so there could be more).**
1.  Estate/Real Estate Auctions. These are auctions normally at someones home.  They are either selling the belongings out of the home, the house itself, or both.  I have the most fun at these auctions, because I almost always find a hidden treasure.
2.  Commercial/ Liquidation Auctions.  These auctions are normally for businesses that are either closing or need to get rid of their inventory.
3.  Consignment Auctions.  These normally take place on the same days each month and are usually held at auction houses.  People bring in things they would like to sell and they are separated into lots.  Generally there is a buyers premium, most of the time it is 10%.
I have been to all three types and have found GREAT deals at all of them. But, today I wanted to talk about commercial/liquidation auctions.  When we first moved into our current home, we started some renovations right away.  We had some things we had to do, replacing carpet, and some things we wanted to do, renovating the kitchen.  Which left very little money for anything else.  I was trying my best to stick to my budget for the kitchen and still get everything I wanted,  so I started looking on Craigslist for granite.  I found a listing for an auction that was selling excess inventory for a plumbing-type company.  They specifically said they had granite for sale.
So, on a snowy day in December I went to this auction, not sure of what I would find and a little apprehensive of where it was and the weather conditions.  When I got there, I found a warehouse FULL of new home improvement materials.  YAY!
I stayed all day and found some amazing deals!  The granite I was hoping to buy, was a STEAL.  I got granite for three bathrooms for $75.  One piece is for a double sink!  We hadn't planned on remodeling any bathrooms for a while, but I got a great cabinet for $125…it was a no brainer!
Some of you might hate me for this, but we remodeled my daughter's bathroom (minus the shower) with top of line materials for around $350.
I didn't take any before pictures, but here are some afters.  It was really hard to get a good angle.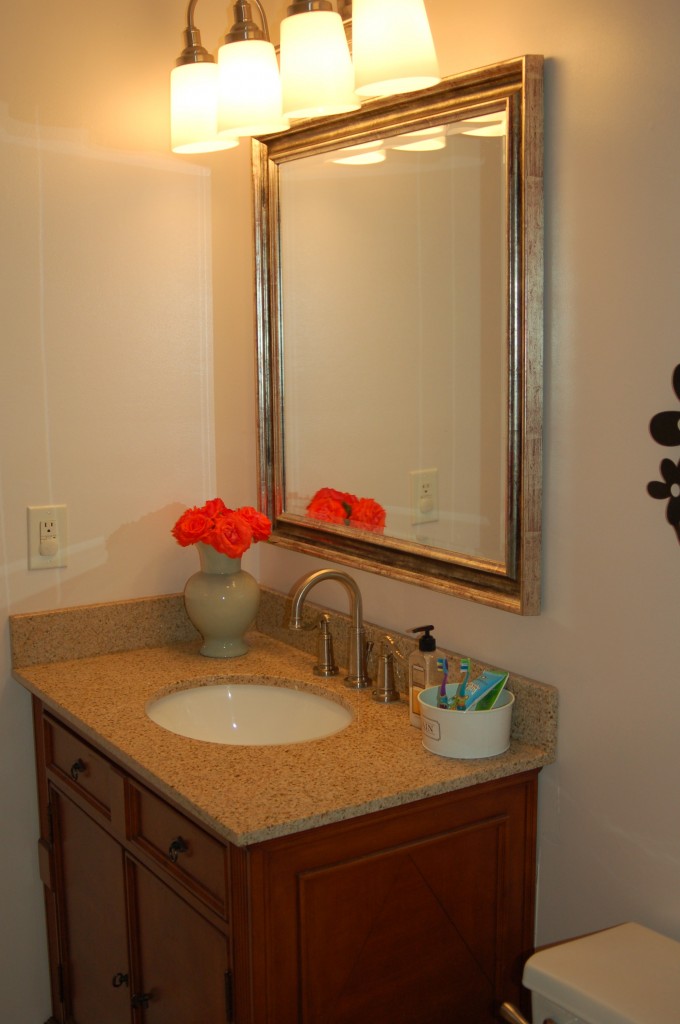 Check out the detail on the cabinet…for $125, seriously!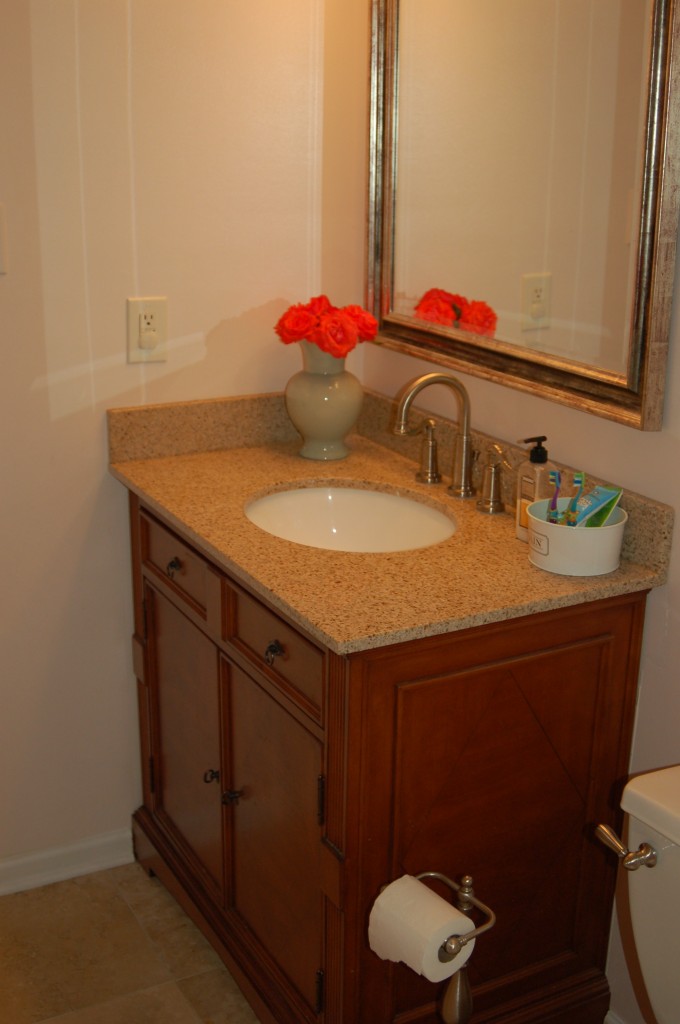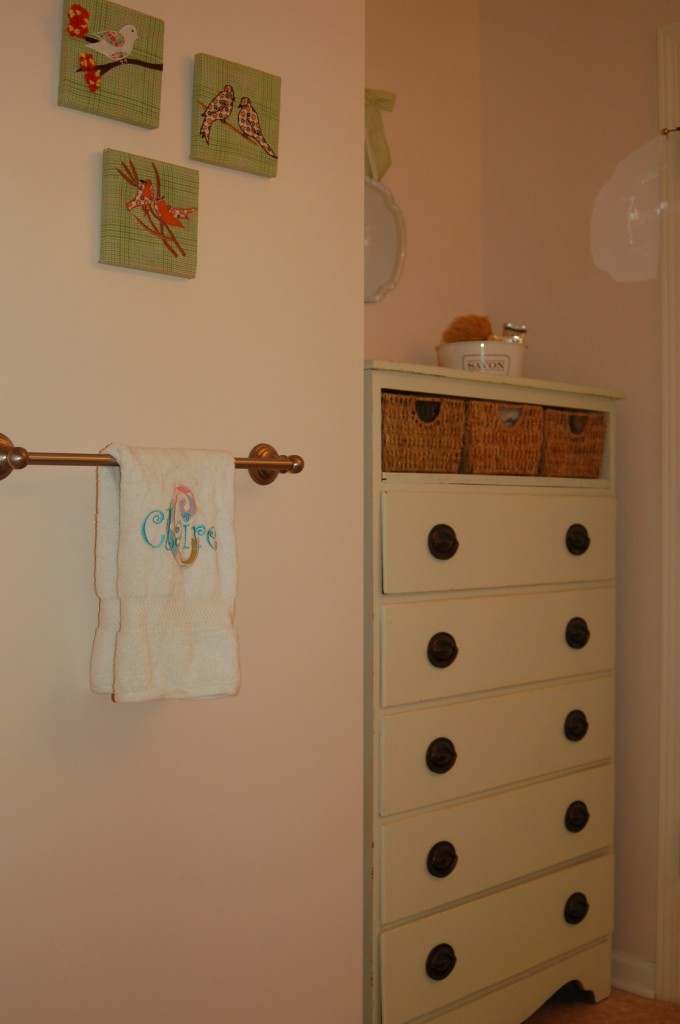 Here's a break down of cost
* Vanity/granite/sink:  Auction $175
*Faucet:  Overstock.com (w/coupon) $55
*Travertine flooring:  Home Improvement store $60 for supplies (my father-in-law installed it for us)
*Lighting: Pottery Barn Outlet $45
*Towel Storage (A.K.A Dresser):  Goodwill $1 (I just used leftover paint and spray painted the hardware)
* Accessories:  Homegoods <$30
I already had the mirror, and it just happened to fit perfectly!
So if you have ever considered going to an auction, now  is the time.  You never know what you will find!