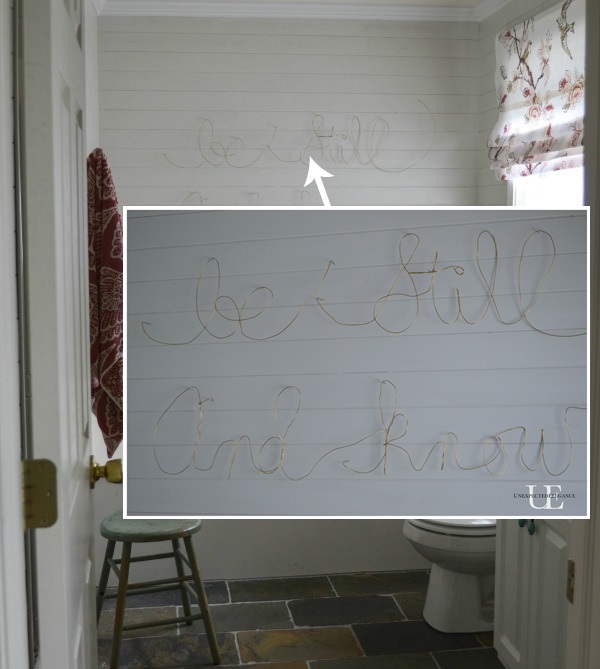 My bathroom saga continues and today it is with the back wall.  All good things, all good things…(done in an Olaf voice.  We have seen that movie one too many times!! 😉 )  ANYWAY, it's coming along and I'm VERY close to finishing it!
I have had some issues with the lighting for above the bathtub but I'll share that another day.  Today I want to share the "artwork" that I made for this space.  I had seen a wire script sculpture on the Antropologie site that I thought was cool but the wording didn't really go with this room and it was small for $48.  You can find the original HERE.
SO I decided to make my own.  BIGGER. And FOR FREE.  (I had everything on hand, but if you had to buy the supplies it would be less than $10.)
Supplies:  metal wire (medium gauge from the hardware store), side cutters,  jewelry wire (from craft store), larger paper, pencil, and straight edge
You want the wire to be substantial but easy to work with.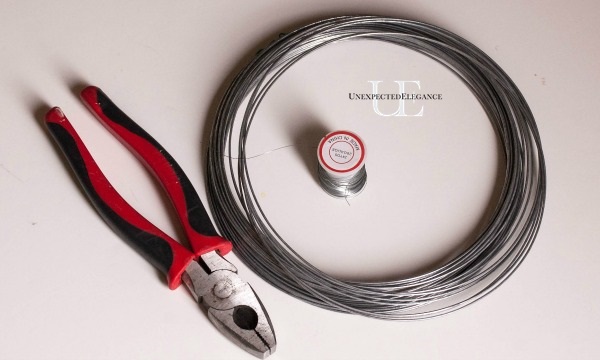 1.  Use a large piece of butcher paper or craft paper and draw a top and bottom line for your lettering.  This will be dependent on how large you want your words.
2.  Then write out what you would like it to say in cursive within the lines.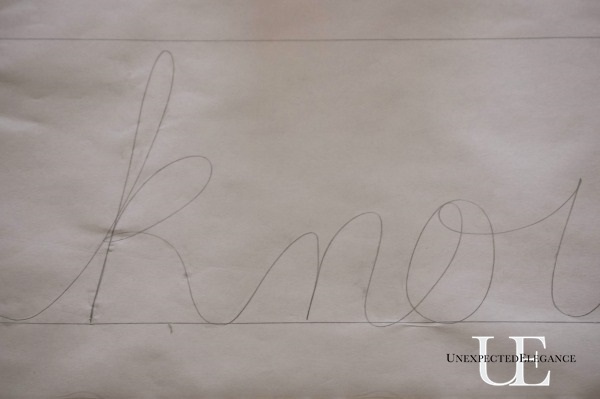 2.  Cut of a piece of the larger wire (longer than you think you need) using the side cutters.
3.  Follow the template you made as closely as possible. 😉
This will take a little trial and error to figure out how it works best for you.  I was able to loop the wire around certain letters to make them a little stronger.  See the picture below.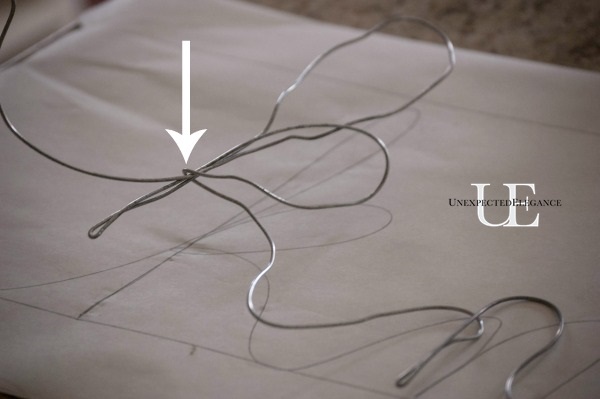 To make letters like "w, m, and n" double the wire and then use the side cutters (not the part that will cut) to clamp down the bend.   Otherwise, you will have a bubble on the tip.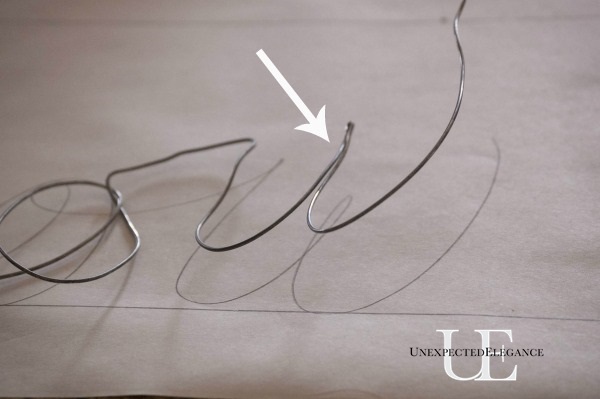 4.  For any letters that have overlapping wire, use the jewelry wire to secure.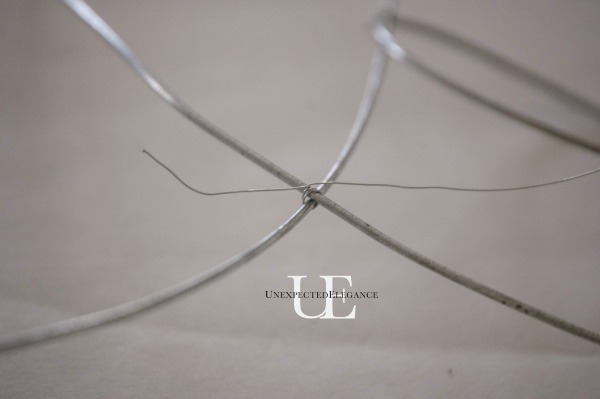 The two letters that were the trickiest were the "t and i".  Thankfully they were next to one another!  I used a leftover piece and made a circle on one end then wrapped it around the "t's" stem.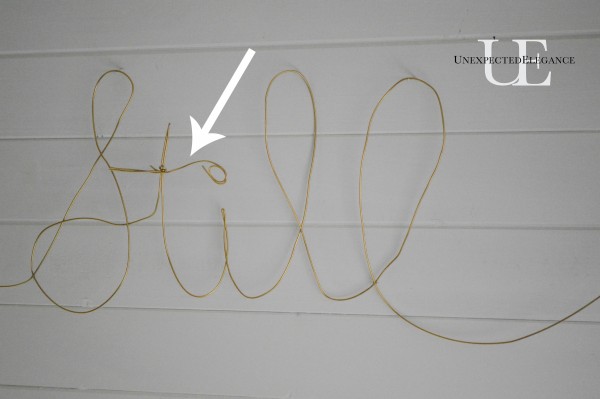 5.  Spray paint or not.  I chose to spray paint mine but you can just leave it a silver color. 🙂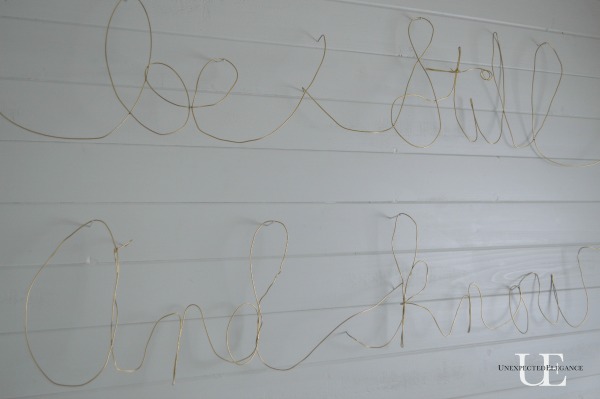 It was really hard to get a good photo of it because it is slightly raised off the wall and the window creates a shadow.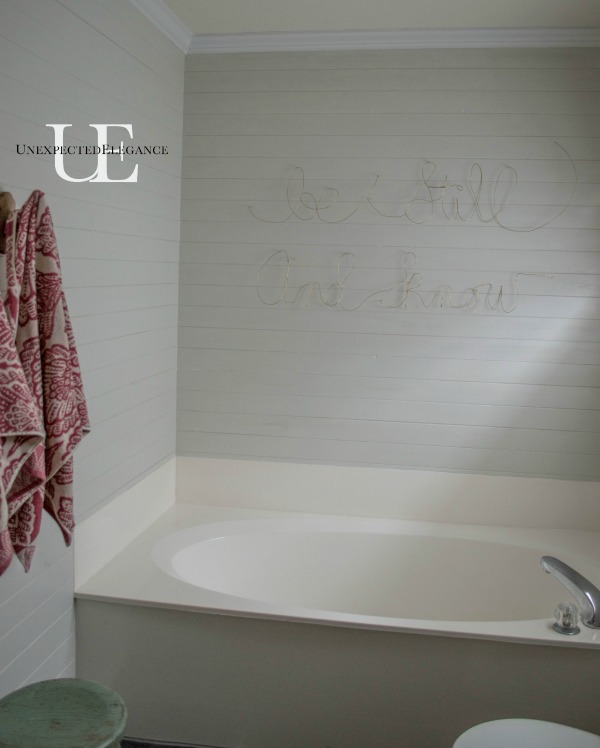 The Bible verse is from Psalm 46:10, "Be still, and know that I am God."  It's a good reminder when I'm getting ready in the morning for my day and going to bed at night.  Life gets hectic and I need to slow down and spend the first and last part of my day with God.
Here's the breakdown for this project:
Difficulty:  easy
Time to make:  <1 hour
Cost:  <$10
I saved $48 and the best part: this project is completely customize-able! 😉