If you want a farmhouse inspired kitchen then check out these 7 INEXPENSIVE tips to help give your kitchen a farmhouse feel!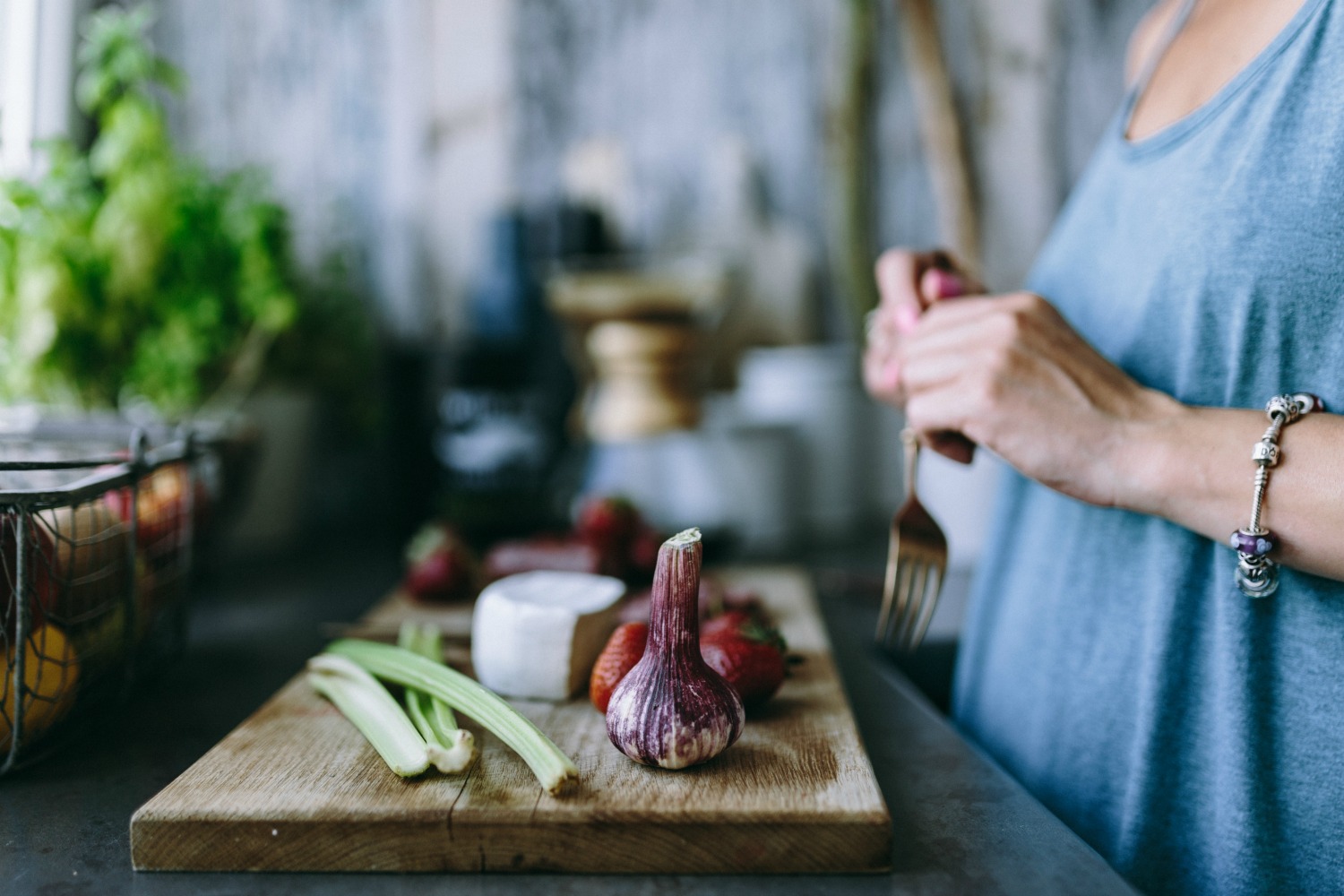 Have you always loved the look of a farmhouse inspired kitchen but aren't ready to rip out your old (or new) cabinets and countertops? There is a way to add a few inexpensive elements that can give you the feel you want!  Most of these don't require any work, and the ones that do, are simple DIY projects.  Adding some of these touches is a great way to give you the farmhouse kitchen you want without breaking the bank!  These farmhouse kitchen ideas on a budget are so simple to implement!
BE SURE TO GO TO THE ORIGINAL SOURCE FOR EACH PHOTO FOR MORE GREAT PICTURES! 🙂
Open Shelving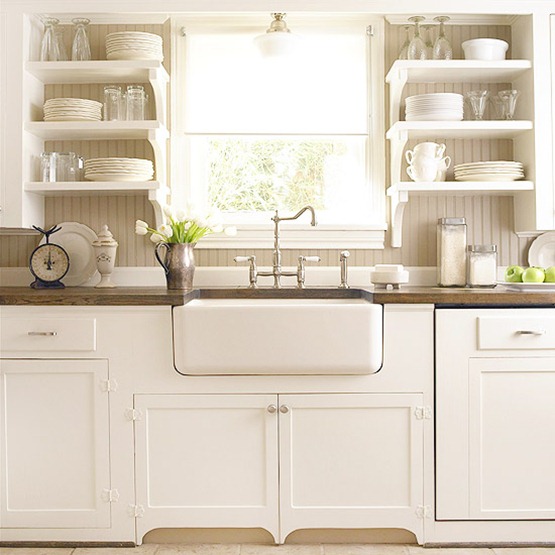 via BHG
Open shelving is a great way to add some farmhouse charm.  They are fairly simple to install and one of the biggest bangs for your buck when it comes to storage.  All you need is a level, a few brackets, a piece of wood, and a stud finder.  An even easier option would be to just take the doors off of your existing upper cabinets!
Wire Baskets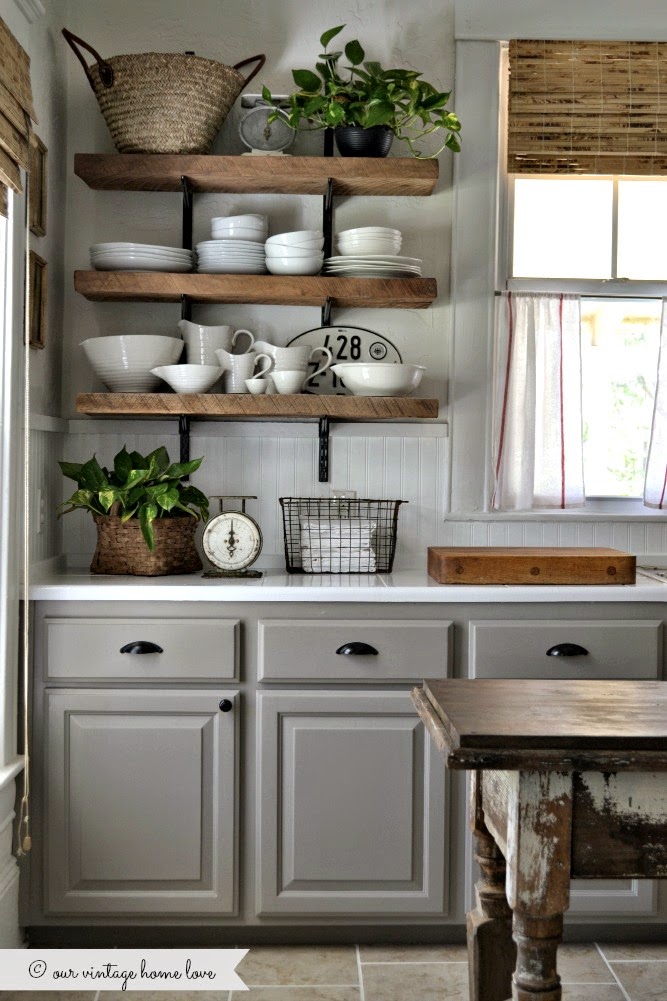 Wire baskets are great for storage.  They can hold anything from linens to veggies.  Add them to your open shelves for easy access to your everyday items.
Beadboard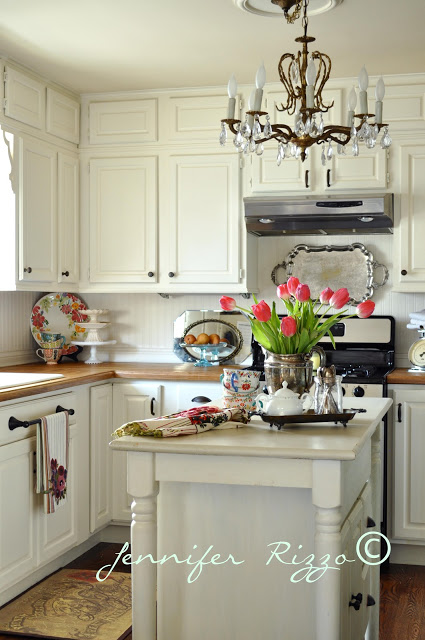 via Jennifer Rizzo
Beadboard is an inexpensive material that can add instant charm.  You can use it as a backsplash, face the sides of an island or put it up on a wall to add texture.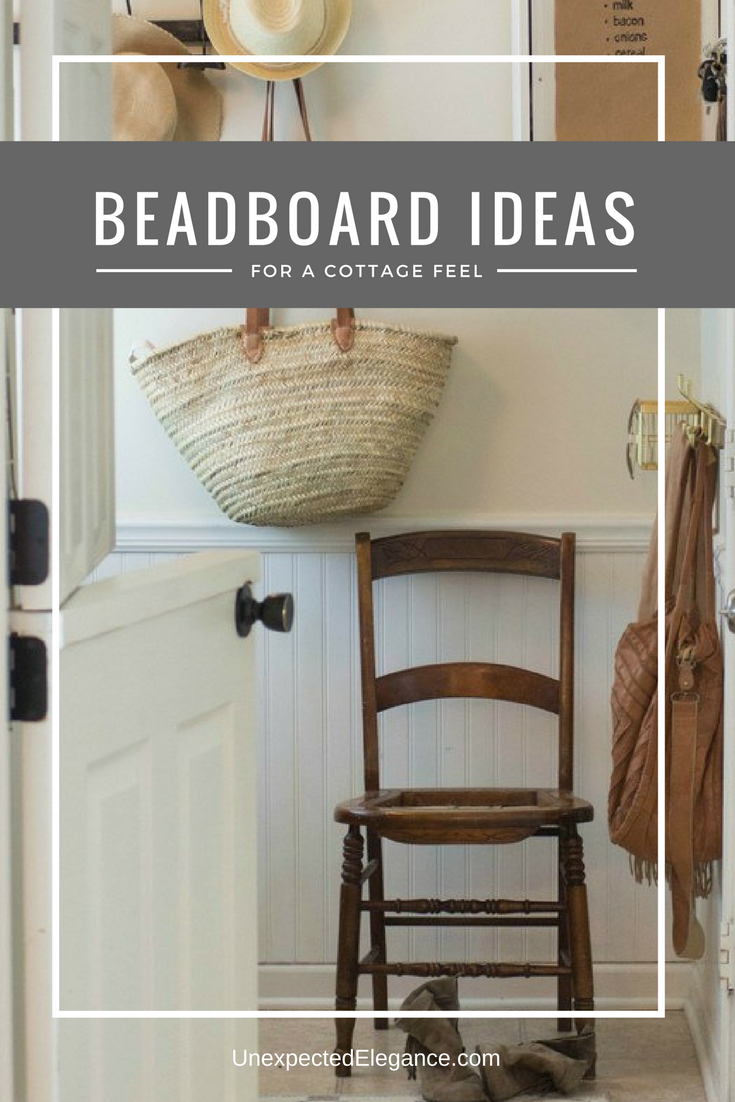 Check out this post for more beadboard ideas HERE.
Natural Wood Accents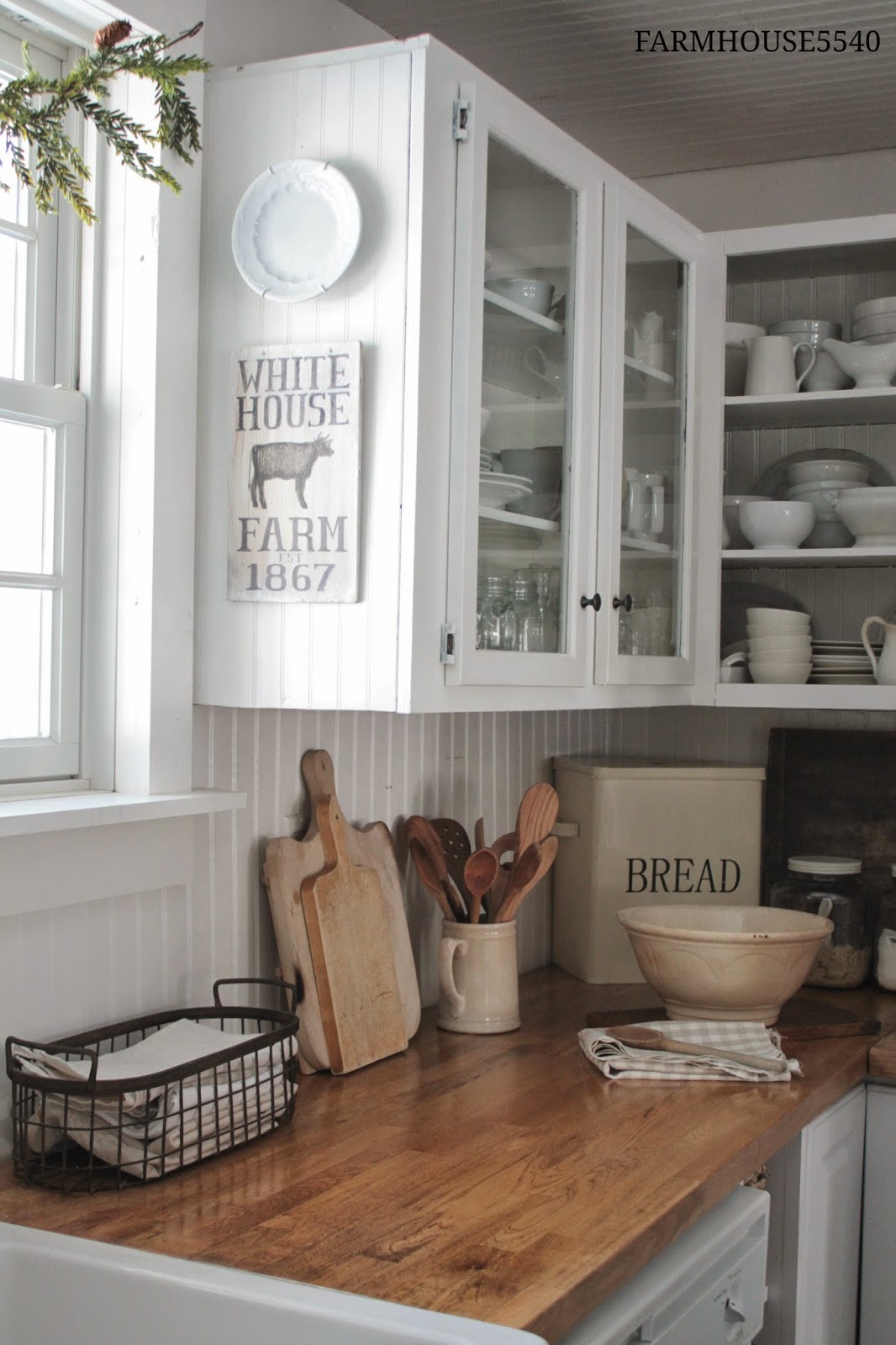 via FARMHOUSE 5540
Butcher blocks, cutting boards and wooden utensils can add the warm tones you need for a farmhouse feel.  Display your utilitarian objects to warm up the space.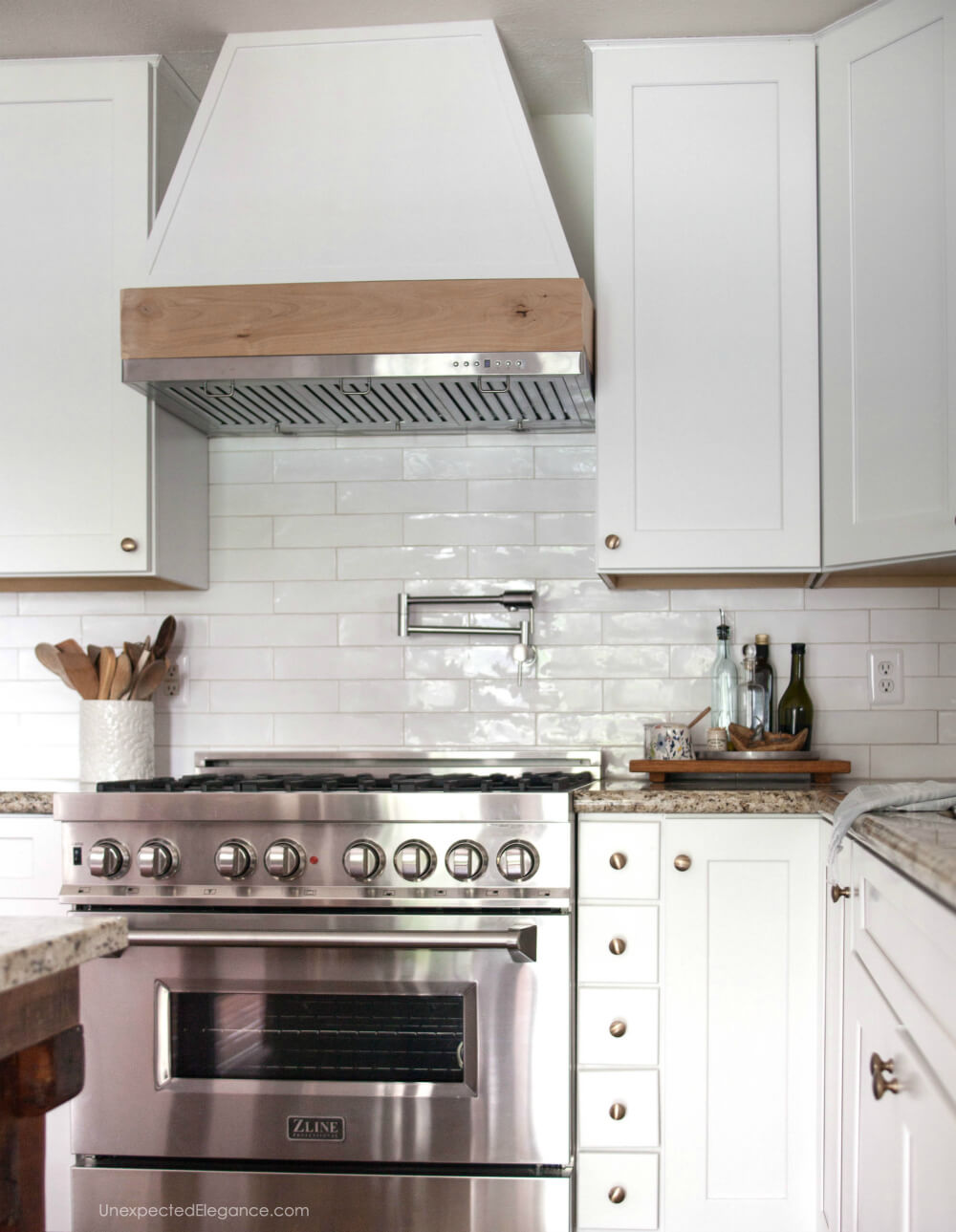 Large Glass Canisters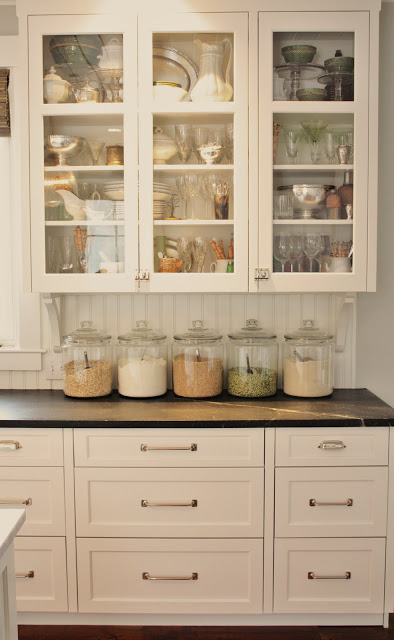 Display your sugar, beans or oatmeal in large class containers.  It will add some interest and give your kitchen an older feel.  Make sure you don't forget the scoops! 😉
Old Scale
via VIBEKE DESIGN
Old scales can be found at flea markets and antique shops but there are also some great reproductions out there.  Here are a few reproductions that I've found:  Amazon and Wayfair
Galvanized & Metal Accents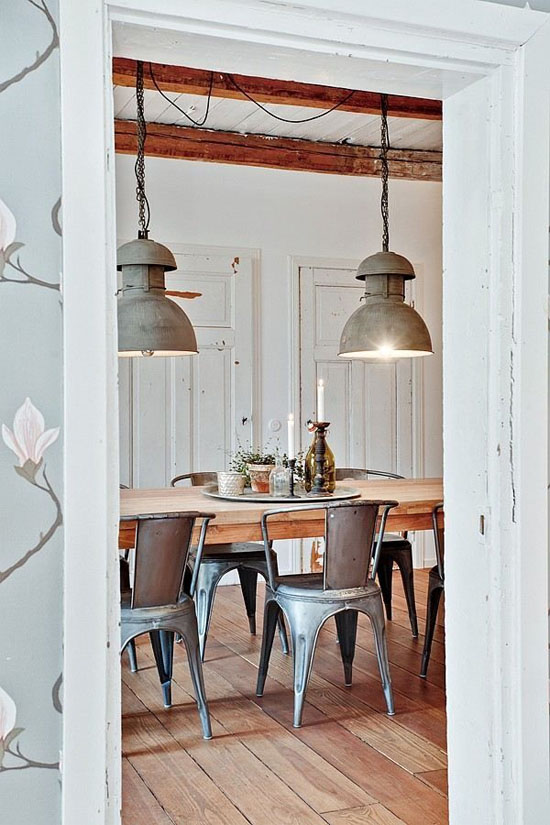 via At Home in Love
I personally love a little touch of metal to a farmhouse kitchen.  Galvanized pots for herbs or silverware are a simple and easy way to add a metal accent.  Other ways would be to incorporate metal seating or lighting.
What would you add to this list?!?!  AND for great decor ideas, check out my HOME DECOR TIPS section.
Do you need some help getting started? Get my FREE Mini Project Planner below!