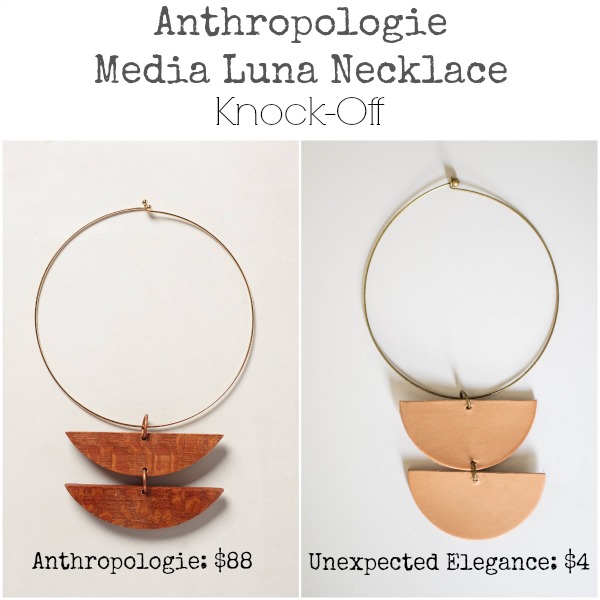 I love Anthropologie!  I'll be honest, I shop there frequently and purchase things (mostly on sale) but I always love finding things that I can duplicate myself.  Last week I got their magazine in the mail and this Media Luna Necklace was on the cover.
This Anthropologie Necklace Knock-Off  costs around $4 (I got all the supplies on sale), took approximately 10 minutes and was super easy!
(I got all the supplies at Hobby Lobby but you can find them at most craft stores.)
Supplies: leather circles approx. 3.25″ (found with leather crafts), wire necklace, 12mm heavy gauge jump rings, scissors, tape measure, corn-on-the-cob holder (or a large needle!)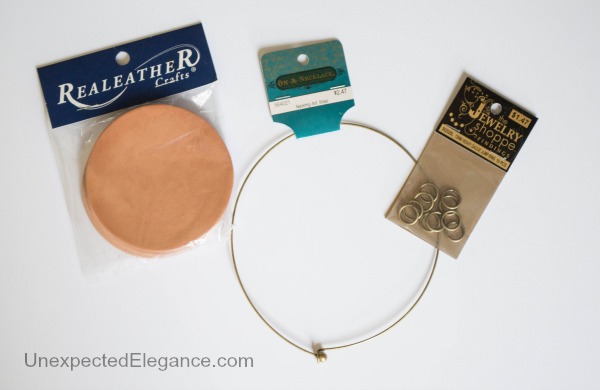 Start by measuring and marking the center of the circle, then use scissors to cut it in half.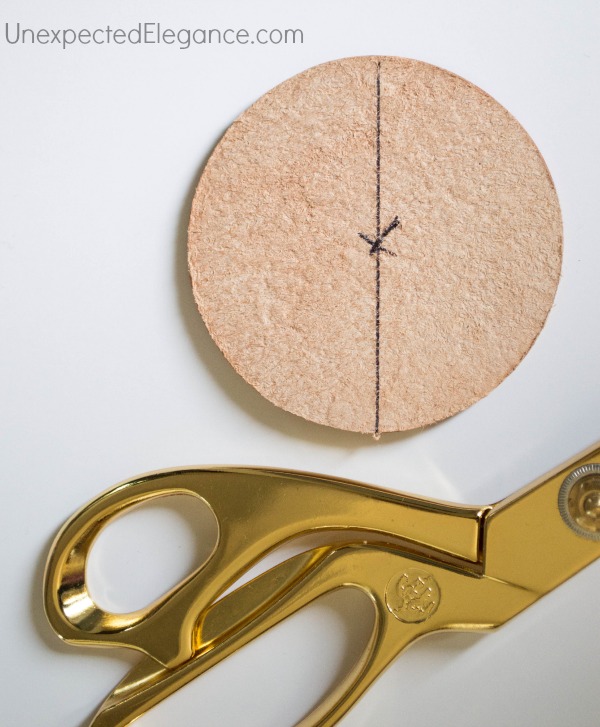 Leave a mark in the center of each half for the holes.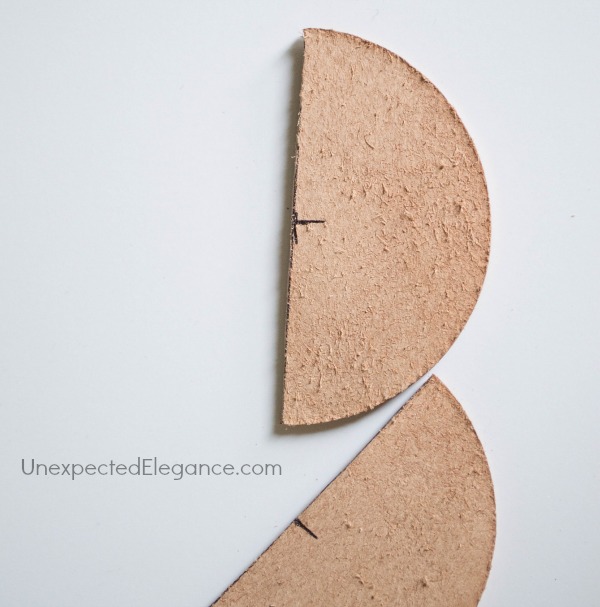 Using a corn-on-the-cob skewer or large needle, make a hole at the top and bottom of one of the half circles and another hole just at the top of the other one.
I was in my kitchen when I made this, so the skewer was handy and it worked GREAT!! 🙂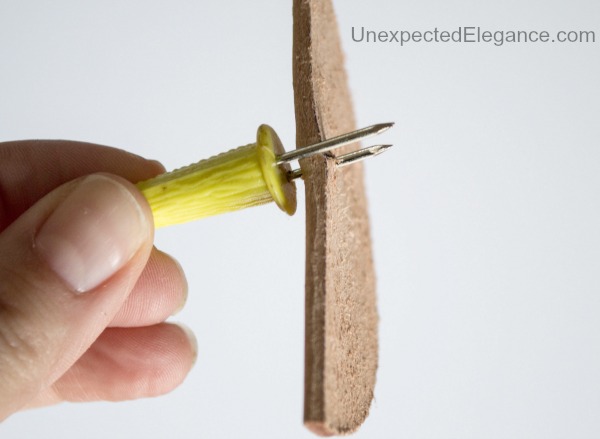 You might need to use something a little bigger to stretch the holes out a little bit.  I use a chop stick to make mine a tad bigger.
The two pieces should look like the photo below.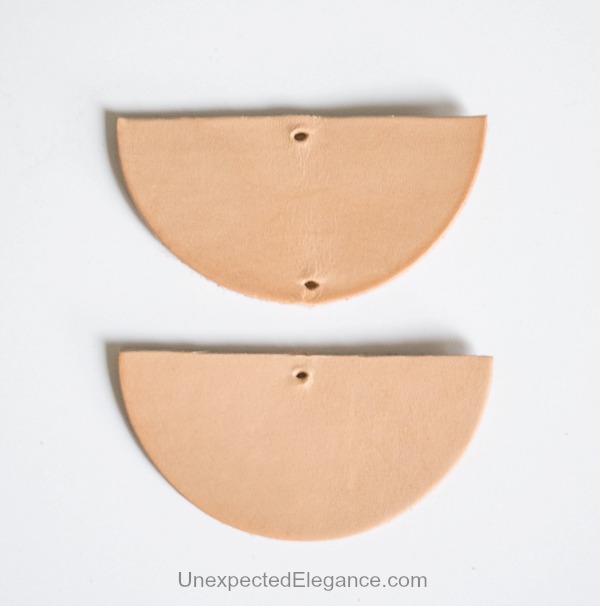 Attach a jump ring between the two pieces by opening it slightly then closing it back.  Repeat that to the top piece and attach it to the necklace.
See the photo below.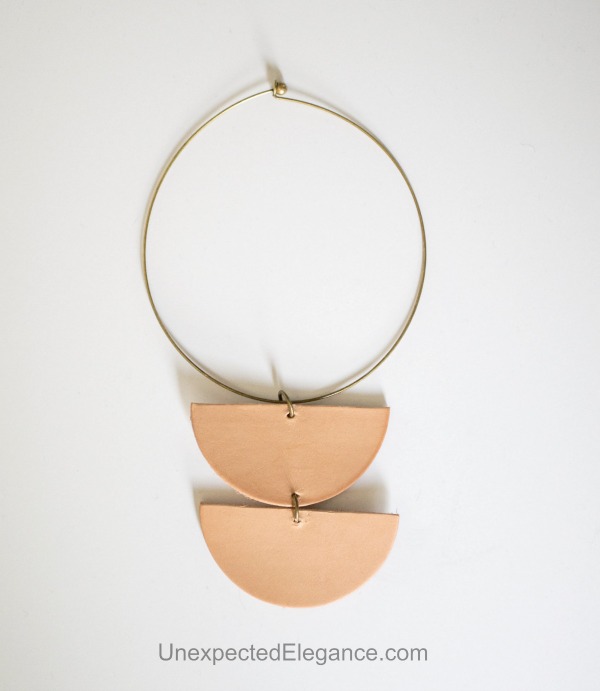 This literally took me less than 10 minutes to make and cost a LOT less than the original!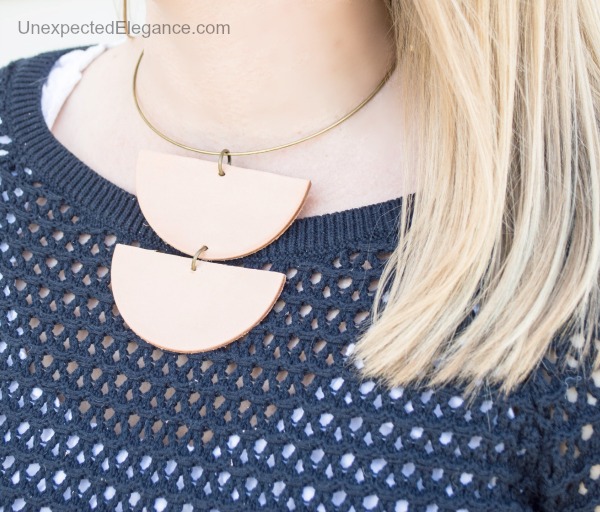 My version is different in the fact that I used leather instead of wood, but you could easily make the change.  The leather made this craft so simple because I used scissors to cut it.  No saw or stain required! 😉
What do you think of my version?  Is it comparable to the original or would you spend the extra $84?
********
I'm joining the party over at Living Well Spending Less!