This quick and easy oven roasted zucchini flatbread recipe is perfect for a meatless dinner or easy appetizer. Give it a try this week!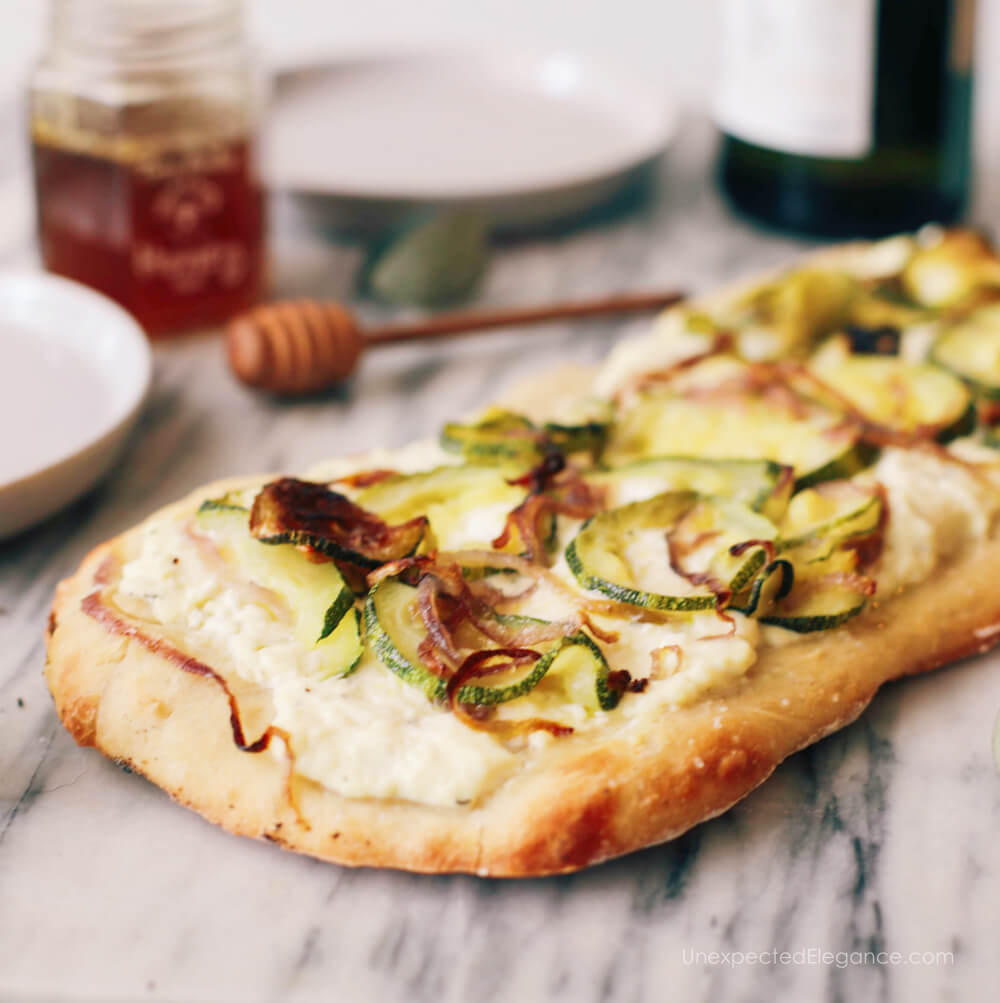 One of my all-time favorite foods is PIZZA.  My addiction is really bad…so bad that we have pizza every Sunday night, just so I won't be tempted to eat it every day of the week!
"Hi, my name is Angela and I'm a pizza addict!" (And pepperoni is my favorite!)
With that being said, I'm always looking for ways to get pizza without all the grease and calories that come with the pepperonis and cheese.  Flatbread is a great way to for me to have the best of both worlds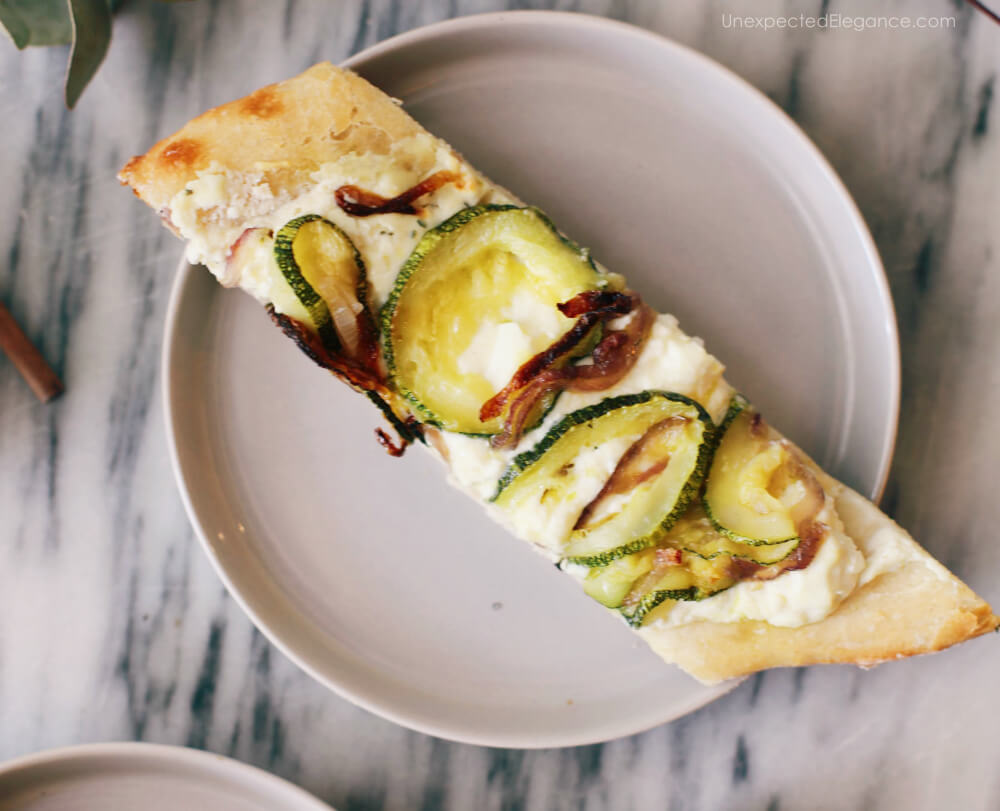 This oven roasted zucchini flatbread recipe is great for a meatless dinner with a fresh salad or even an appetizer.
If you're like me and you like to eat leftovers, this can make a quick meal.  Just don't cook the crust until you're ready to eat it.
The dough will last for 2 days in the refrigerator and you can store the oven roasted veggies in an airtight container for up to 3 days.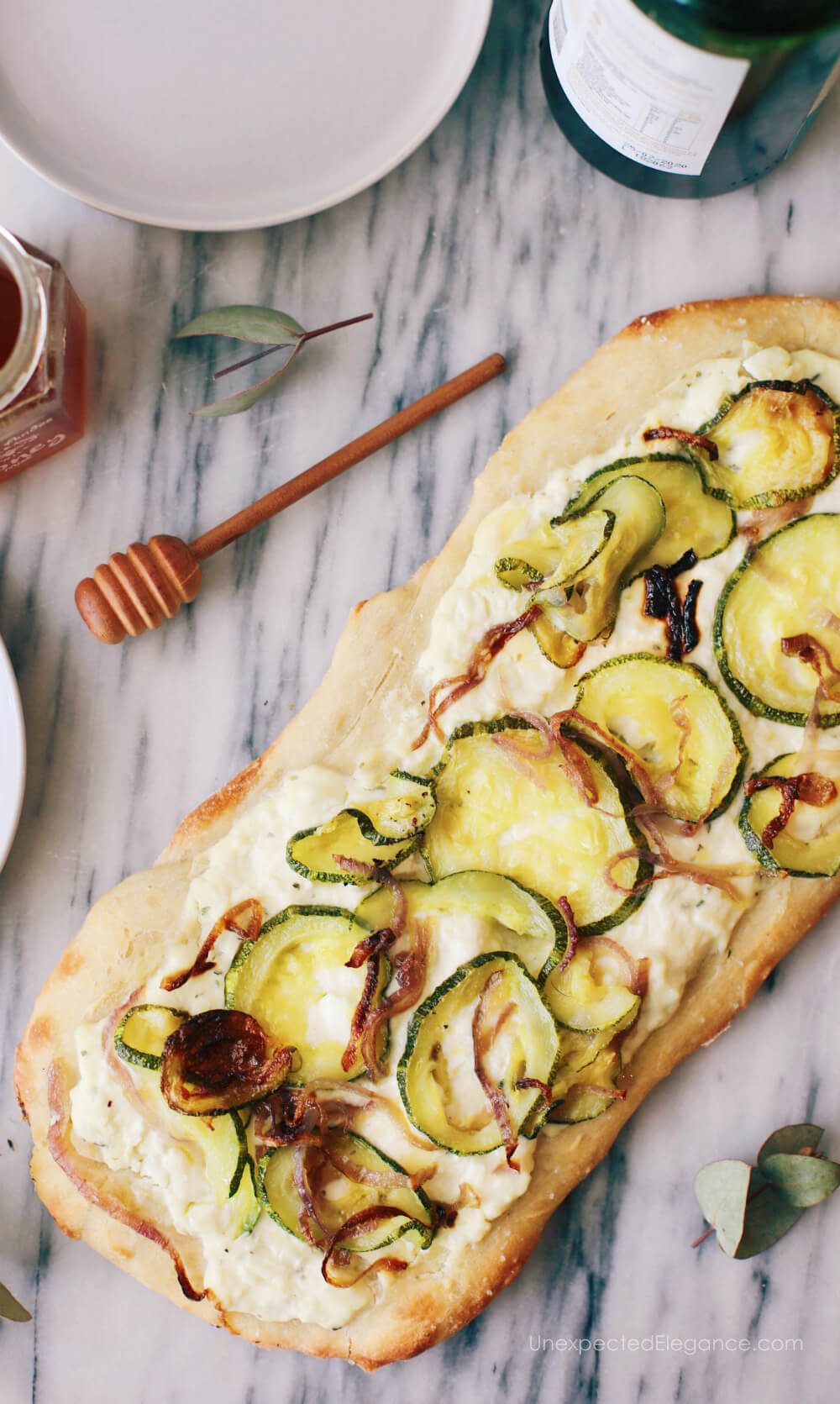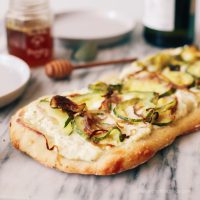 Oven Roasted Zucchini Flatbread
Ingredients
3/4

cup

water

(lukewarm is better)

2

cups

flour

1 1/2

tsp

dry yeast

1

Tbsp

honey

1

tsp

salt

1

Tbsp

olive oil

2

big zucchinis, sliced

1

red onion, sliced

4

Tbsp

olive oil

1

tsp

salt

1

garlic clove, minced

1 1/2

cups

ricotta

1/2

cup

parmesan

1/4

cup

heavy cream
Salt and pepper to taste & Honey as a drizzle
Instructions
In a bowl combine the water with the honey and salt.

Add the active dry yeast and the flour.

With the help of your hands or with the hook attachment. Mix the flour with the water.

Add the olive oil and continue kneading until you have a smooth ball. Cover and let rise for 40 minutes.

Meanwhile oven roast the veggies. Preheat the oven to 350 degrees. in a bowl mix the zucchini and red onion with the olive oil, salt and pepper. Place on a. baking sheet and put in the oven for 30 minutes or until slightly golden.

In a food processor combine the rest of the ingredients.

Once the dough is done, place it in the center of a large baking sheet and spread to make a crust.

Cover with the ricotta mix and the caramelized zucchini and onion.

Put it in the oven and bake for 20 minutes or until done. Remove from oven and drizzle with honey
You can find more quick and easy recipes here!