This past weekend was the only weekend in September that I will be home without anything major going on, so Scott and I decided to go to the BMW Championship golf tournament.  We actually had a lot of fun watching all the golfers come through and got to spend some time with friends.  Sunday I got some work done and finished up the curtains in the kitchen.  I've had them hanging for a week now, but never hemmed them.  It feels good to finally have that checked off the to-do list!  Here are the new curtains…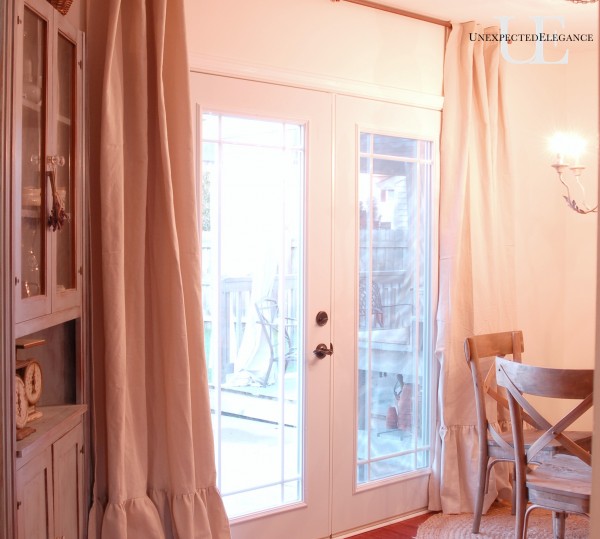 I used a 9'x12′  drop cloth that cost less than $13!  (I got it at Harbor Freight on sale and used a 20% coupon…just try to find ANY set of curtains that cheap at the store.)  I love working with this fabric because there's not much cutting involved.  I just cut a little snip where I want a straight line and then rip.  It makes a straight line every time and that's pretty much what curtains are, straight lines!  I'm also not a fan of making a ruffle.  I can't seem to get the fabric to bunch right when I pull the string, so I just bunch fabric as I go.  I find it SO much easier…but that could just be me!?!?!  These curtains didn't come out how I had originally planned and I had to tweak them along the way, but I'm happy at the finished result.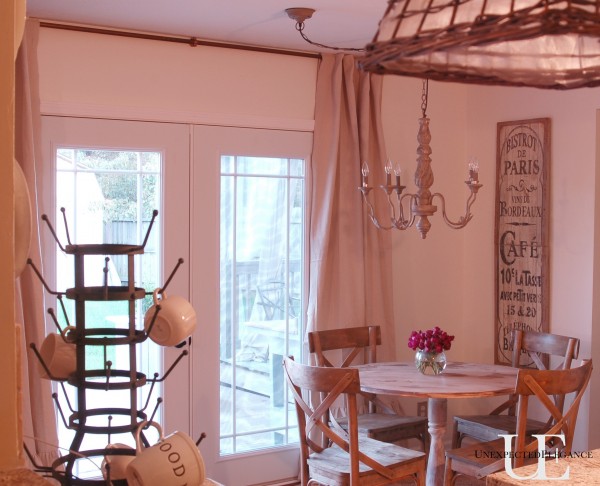 I debated about not having anything on the the doors, but the morning sun is a beast.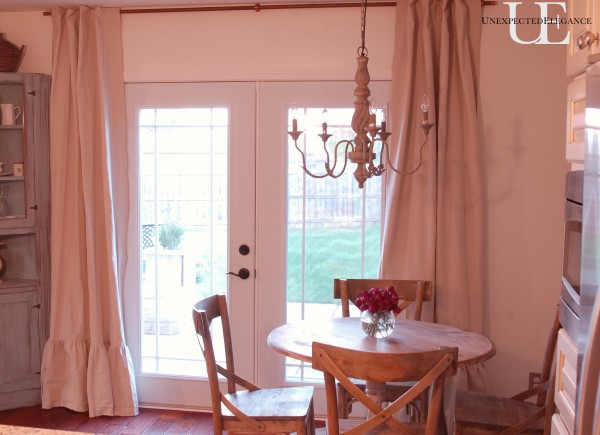 The curtain rod that I had originally used above the old sliding glass doors was just a tad too short and I wanted to extend it too more than 9 ft.  Long curtain rods are very expensive!!! So, I went to the hardware store and came up with a solution.  I'll share the details on Wednesday.
Have a great start to the week…I'm feeling a little worn out this morning, so wish me luck on this VERY busy week! 😉
~Angela