I had so much planning this Spring party!  I used a lot of natural elements and everything took minutes.  To see how I used the seed and skin of the avocado check Part 1, here.
Today I'll finish up all the other details and throw in a cocktail.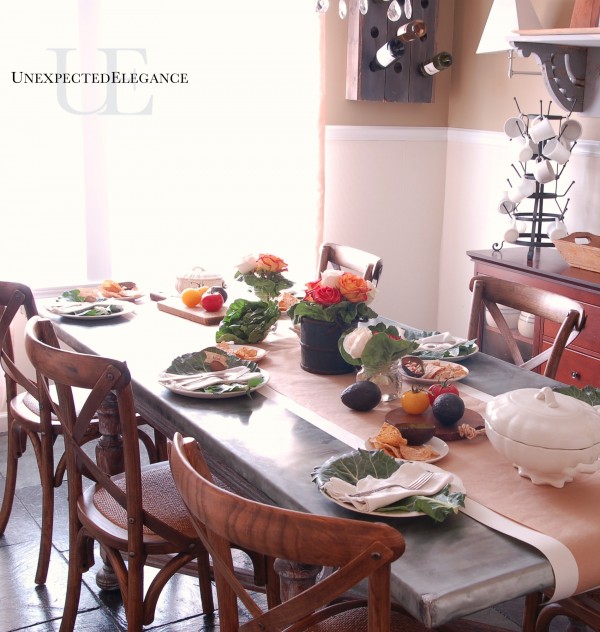 Before I set the table, I made a simple table runner out of craft paper from the girl's loft.  I was fortunate to have to have different widths in white and brown, but one solid color would work just as well.  I love using paper on my tables, and an added perk is you can write directly onto the table.  It makes labeling food a snap.
The centerpiece was another very simple and inexpensive accessory.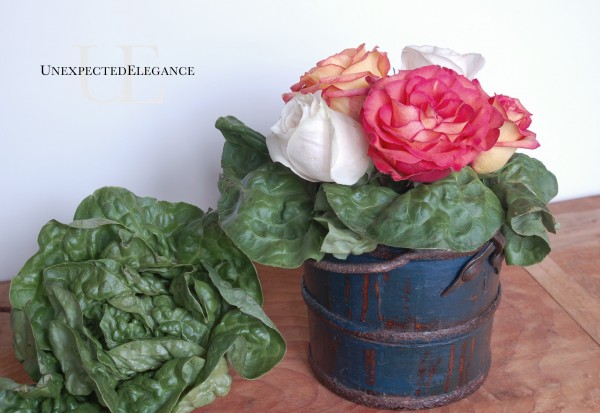 I get a bouquet of flowers from the discounted section of the grocery almost every time I'm there. (I got all the roses for $4.99!)  I also picked up a head of Boston lettuce.  Then you just need two different size containers.  I used this small antique pail and a mason jar.  Gauge how tall you need to cut the flowers, then make a small bouquet using a rubber band or twine to hold it together.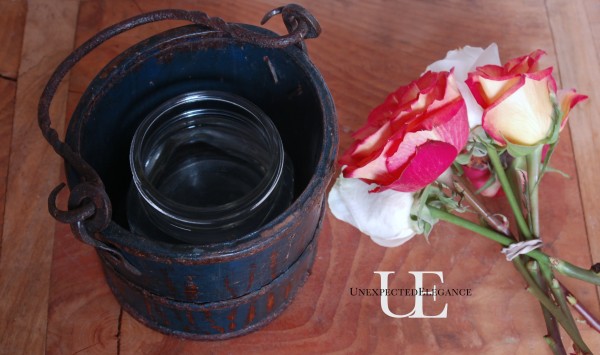 Fill the smaller container with water and place it in the bigger (prettier) container.  Then carefully peel off the outer layers of the lettuce and place them around the outside of the smaller and inside of the larger container.  If my ramblings don't make sense, I gave you a picture! 😉  Then put the flowers in the water and your done.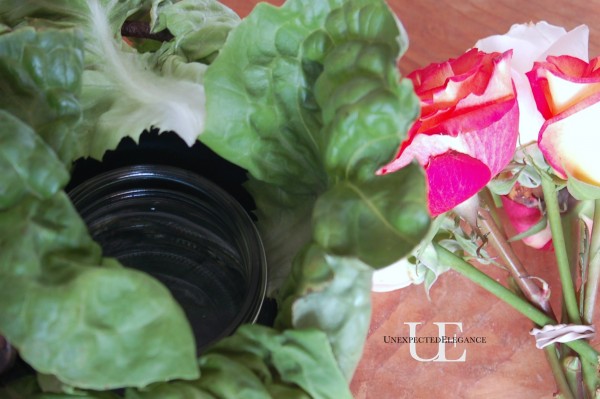 This little trick can take a small amount of cheap flowers and turn it into a more expensive looking centerpiece…don't you think!?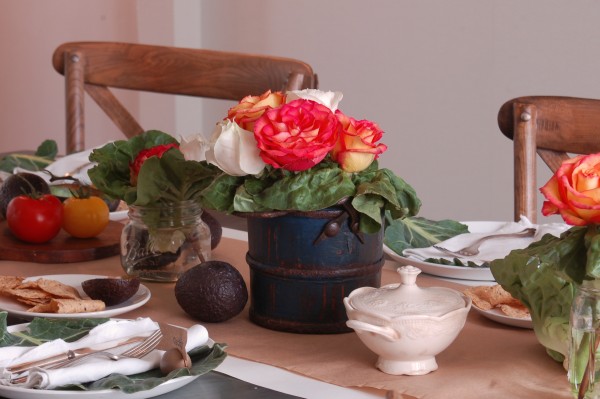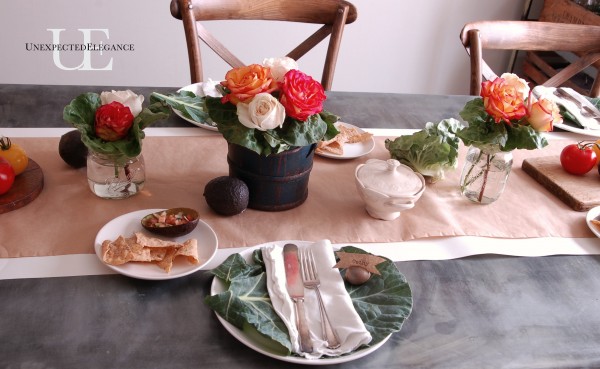 If you used the avocado to make placecards and individual bowls, chances are you might have some of the fruit left.  So why not make a cocktail for the party?
Here's my own made up concoction!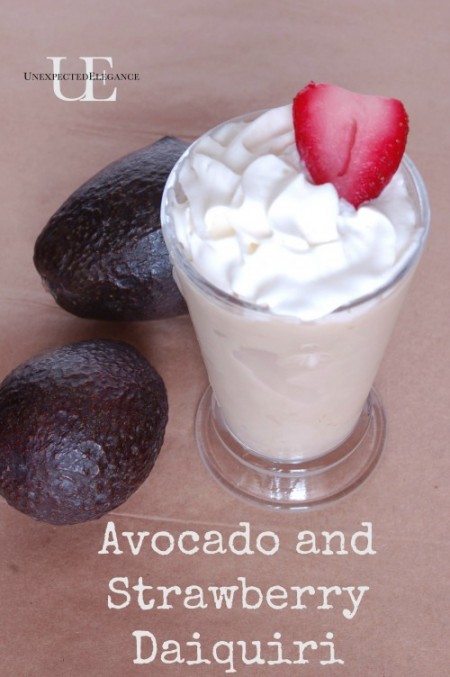 Avocado and Strawberry Daiquiri
1/2 avocado
1/2 cup frozen strawberries, or chopped fresh
2 cups ice
1 tsp lemon juice
1 1/4 cup simple syrup (2 parts sugar to 1 part water, bring to a boil and let cool)
1/4 cup rum
Whip cream to top it!
If it's not sweet enough add about 1/2 cup of any juice you have on hand.  This drink is pretty creamy and not super sweet.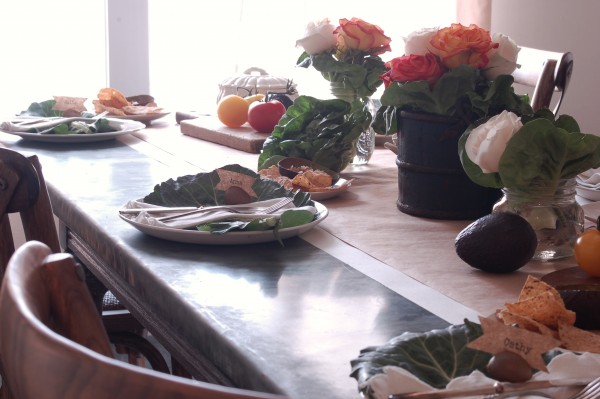 And because I don't like to send people home empty handed, AND I had a ton of avocados, I made guacamole kit favors.  It's just store bought guacamole mix that I transferred to clear treat bags and tied with twine, 2 avocados and one tomato in an old berry basket.  I put a small piece of parchment paper in the basket, then piled everything on top.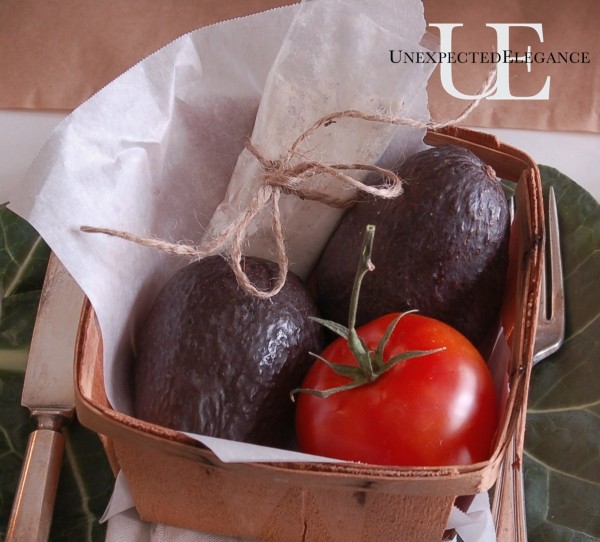 Please don't forget to sign-up for your chance to win the Avocado Gift Pack from Avocados from Mexico.  Click here to enter.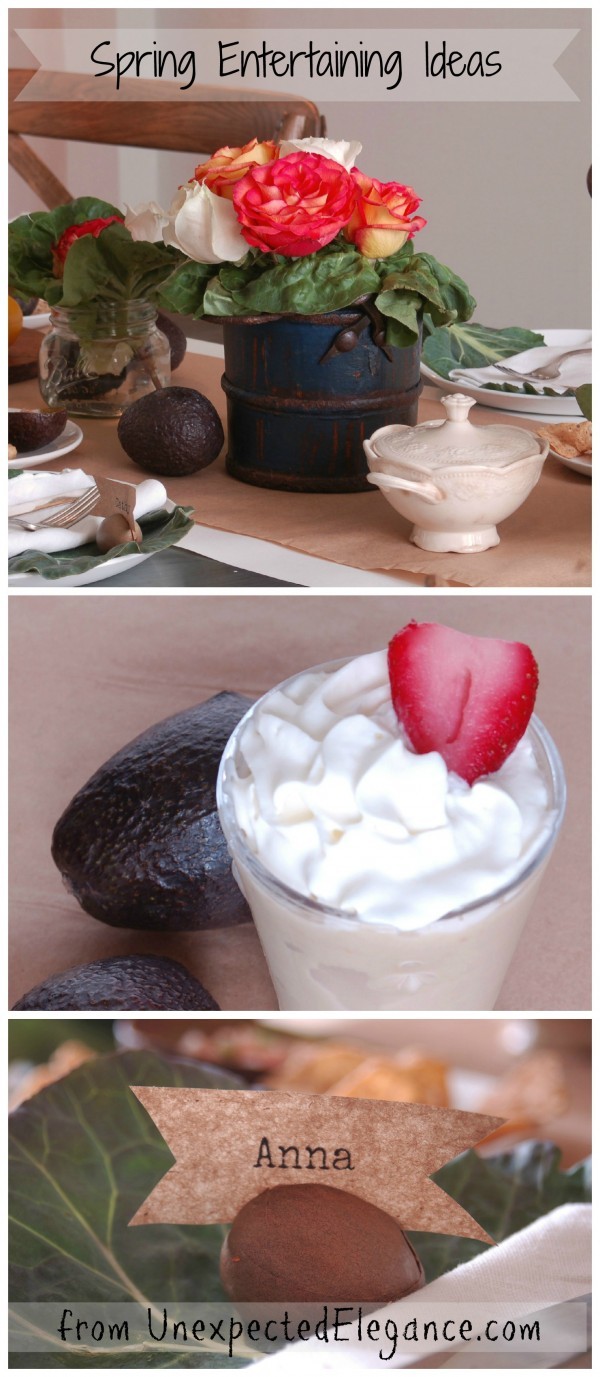 Have a great rest of your week!
Angela